This week's stock market did exactly what we predicted in our October 2 Post.
September: Big drop in the first day, bullish morning star in the second day and strong rebound next 5 days and returned to where it was before the drop.
October: Big drop in the first day, flat in the second day followed by 5 days of strong come back during the next 5 days and returned to where it was before the big drop.
All major indexes gained over 4% this past week. See the chart: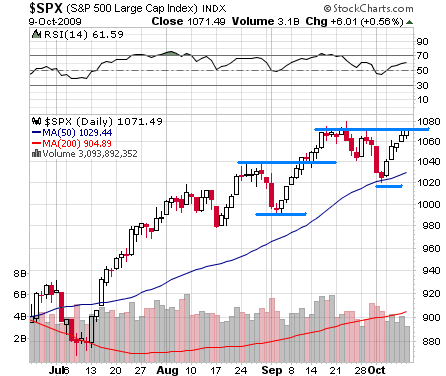 If the trend continues, we will see further gains in the market this week.
Unemployment rate keep raising. But that does not mean all that bad for investors. Companies cut expenses, laid off employees during recession to become lean and try to turn to profit. Alcoa (NYSE:AA) is such an example. This company turned to a profitable quarter by cost cutting even the revenue is still flat. As a result, the stock got another boost. GCI, MNI, etc all benefited from it. We may see more good reports from company earnings in coming weeks.
If one made a wrong judgment on the market direction last week and hold all in cash, he/she will miss another big run in the stock market.
What is the investment strategy during bull market run.

"Buy-And-Hold good quarlity low priced stocks and add positions if there is any big drop in stock market"

That is what we have been doing since last November and gave us handsome returns during the bull run.

I am fully believing that many small investors still lose money even during the biggest bull run in US stock market history.

Let me explain how this could happen using the S&P 500 indexes price trend as an example. As the price movement of over 70% of stocks follow market indexes direction.

Investors may rush to add positions after the S&P 500 break-out on August 21, 2009.

But market topped after the break-out and had a big drop during the first day trading in September 2009.  See my post on possible break-out trap on market.

Many experts came out and made claims on that day that market correction will be unavoidable in September as September has been traditionally the weakest month in a year and it will be case in particular this year as the market runs too far and too fast.

The investors faced the possible big loses for September correction. They believed the expert's claims and rushed into market to dump their holdings in September 2, 2009. Market gapped down at open on September 2, which reflected most small investors mood on that day. They took their loses and hold all in cash.

But market rebounded strongly starting from September 3. Five days later, S&P 500 had a new high.

Dipressed small investors felt that they may be left out of the market for the run, they rushed into market and loaded stocks again.

Market continued its runs and topped at around September 21. At that time, the small investors felt very happy as almost all of their recent buyings gave them good short term profit. They decided to buy-and-hold.

But market started two week's small correction and had a one day big drop during the first day of October.

Now our experts came out again. They claim that correction will be here in October. US economy is weak, unemployment rate keep raising. One even claimed in SeekingAlpha that - We have 10 reasons that market will suffer imminent crash this month.

The sad thing is that article has more than 1,700 followers. but mine has only 19. Not many believed me.

I fully believe that those followers (most were small investors) were shaked out in October 2, 2009. Marker had another gap down at open and kept low during that day.

As market was lower on October 2 than on September 11, most small investors suffered the second loss in a little bit of more than one month time.

But market made another strong come back last week. Now it returned to where it was before the big drop.

Now the small investors faced a difficult choice:

Should I rush into the market again this week?

Here is the list of event the small investors may have done after August 21:

1. August 21: Buy on S&P 500 break-out;

2. September 2: Sell on possible September correction to take a loss;

3. September 11: But on another S&P 500 break-out;

4. September 21: All were happy for good paper profit;

5. October 2: Sell on possible October market crash to take a second loss in a month;

6. October 12: Buy or not Buy?

That is how small investors did not make any money even during the biggest run in US stock market history.