With today's big drop, gold price entered an oversold territory for the forth time in last 12 month. See gold 12 month daily chart below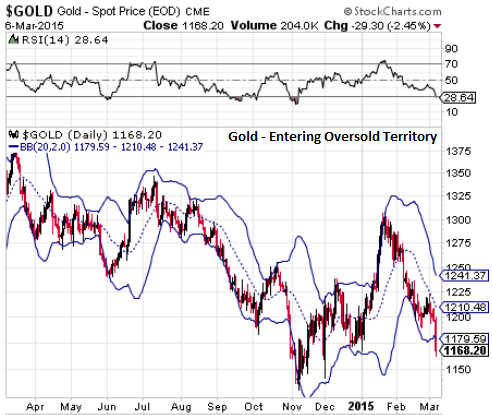 Observations:
1. RSI at 28.64, below 30 for the forth time in the last 12 months;
2. gold price at 1,168.20 is 11.39 below the lower bound of the BB, the second time this happended in the last 12 months. Last time this happended was on October 30, 2014.
3. when gold price had a vertical drop, the following rebound will be quick and strong;
4. most likely, we will see further drop next week but the bottom will also be in next week.
5. identify the bottom: when gold price down further but gold miner ETF such as GDX or GDXJ move up, gold price is bottomed.
6. another way to identify the bottom: RSI reading turns up from its low
Disclosure: The author has no positions in any stocks mentioned, but may initiate a long position in GDX over the next 72 hours.