ABK - Major bond insurer. The stock price currently is trading at the bottom of its one year trading range of $0.70 - $2.00.

ABK price had big swings in November. It went to as high as $1.60 in early November and tanked to as low as $0.64 in the middle of this past month and closed at $0.77 at the end of November. The followings are the series of events happened during the month:

11/04 - The company reported a surprising profitable Q3 before market open. The company announced third quarter 2009 net income of $2,188.3 million or net income of $7.58 per diluted share. In the previous day, the stock closed at $1.10 and opened at $1.44. Trading volume was very high that day and the stock closed at $1.50.

11/05 - The stock cannot hold its gains. Investors realized that the profit is paper gain and the company still suffered heavy operating loss and cash flow negative. Stock gaped down and closed at $1.20.

11/06 and 11/09 - Stock stayed flat. The company submitted 10-Q after market close on 11/09. MBI reported quart loses of $728 million after hours 11/09.

11/10 - Stock tanked 33.1% to $0.79 for the day due to MBI loss and the company's possible pre-packaged bankruptcy warnings in its 10-Q report "Risk Factor" section.

11/11 - Stock was dumped again but bargain hunting stepped in at $0.64 and brought the stock back to $0.80 level.

11/12 to 11/17- Stock stayed at depressed level as investors were waiting for its 11/16 Statutory capital surplus report.

11/17 - Stock run up 34% for the day and closed at $1.01 after the company reported a capital surplus of $856 million as of September 30. It also announced the commutation of four derivative contracts valued $5.03 billion for $520 million (10 cents for a dollar) and will gain $40 million tax refunds from US government.

11/20 - Stock went down after The street.com reported that the ABK reported data entry error on its previous Q1 and Q2 statements , which enabled the company to meet the minimum capital requirement in its earlier quarters.

11/24 and 11/25 - Stock continues its slide after the company announced its CFO resignation.

11/27 - Stock went down fifth day after Dubai World announced its $60 billion bond payment delay.

11/30 - Stock down for the sixth day in a row as people still digesting all the bad news. But it is still above its previous low of $0.64.

12/02 - S&P raised its rating to CC. Stock gaped up and touched $1.00 again. But profit taking met with heavy selling and stock closed at $0.88.

12/03 to12/08 Stock going back to its low $0.80's and the gap filled on 12/08. Volumes have been low.

ABK financial:

Its financial has been very weak for more than one year, its stockholder's equity has been negative since the end of 2008. As of September 30, 2009, total assets is $18.0 billion and total liability is $20.9 billion. That is, it has negative equity of $2.9 billion.

In normal cases, the company should long be placed in bankruptcy. Things may change after the company recently successfully negotiated to commute $5 billion CDO debt for $500 million. Because of this, equity may become positive for the first time in more than a year.

On the other hand, operating lose is still huge. If the company can do more commutation with less claims in future quarters, more rating upgrades are possible.

Recent chart showed a bullish Ascending Triangle with higher lows and $1.00 becomes its major resistance.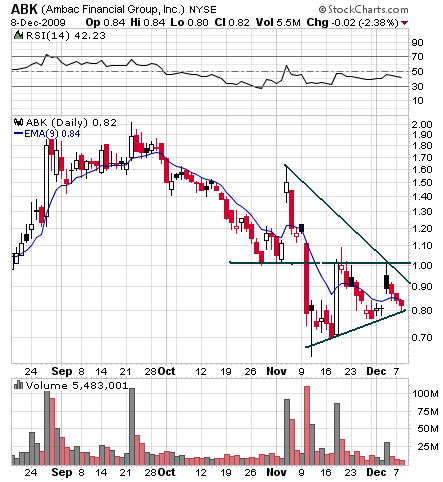 Disclosure: disclose: LONG on ABK