Our Momentum Play service manages three virtual Portfolios:
Momentum Portfolio
$5K Portfolio &
Core Portfolio
We launched our Momentum Portfolio in April 2017 with $30,000 seed money and plan to run the Portfolio for 4 years, then reset it back to $30,000.
The Momentum Portfolio gained 141.32% during its first year of existence.
The current round of $5K Portfolio and Core Portfolio run was launched in August 2014 with $20,000 and $300,000 seed money respectively.
The Portfolios had run for 4 years by the end of July 2018 and gained 156.08% and 192.12% respectively via S&P 500's 45.87% return.
We have reset our $5K Portfolio and Core Portfolio back to $20,000 and $300,000 by the end of 2018 and start another round of run.
The market is clearly in a downtrend now. The NASDAQ is already in a bear market, down more than 20% from its all-time high and SP 500 and Dow 30 may follow later.
We may see more drops coming into 2019. The degree of the market downturn is anyone's guess.
Investment Strategy for 2019 - Prepare for a Possible Market Downturn
The stock market is in a clear downtrend now and may go much lower in 2019. But this will create many future 10-fold ~ 20-fold stocks once the storm is over.
Becoming a Millionaire will not be a dream if one can survive this round of market downturn and then invest into the future multi-baggers
The following is what we will be doing during the market downturn or the surviving kits.
Surviving Kits for the 2019 market downturn
Holding cash;
Play defensive;
Using 3xbear ETF to hedge;
Identify fundamentally strong and short-term oversold stocks to trade for profit which is what we did during a 2008-2009 market crash.
Investment Strategy for Momentum Portfolio
Maintain our goal for a 150% annualized Portfolio return;
Can hold a maximum number of two stock at a time when the Portfolio balance is at below $100,000, three when the balance is in $100,000 - $150,000; four when the Portfolio balance is in $150,000 - $200,000, etc.;
The maximum holding period is 3 days and most are within one day or day-trade to avoid the overnight risk;
May consider taking our profit if the pick gained 2%+ after our buy and the stop-loss in most cases is set at 2%.
What kind of stocks to buy:
Fundamentally strong or grossly undervalued stocks.
The stock must have good liquidity. Average daily trading volumes should be at least 1 million shares. The higher the better.
No penny stocks; no over the counter stocks; no pink sheet stocks.
The best picks should be the stocks which are in their momentum run. That is, the stocks should be in an uptrend or in recent strong sectors or newly breakout from strong resistance. or  
The stock is building a base and buy at its bottom in the range; or
The stock is in a downtrend but moves in a well-defined down channel. Buy at the bottom of the channel; or
Investment Strategy for $5k Portfolio
Maintain our goal for a 50% return in 2019;
Can hold a maximum number of two stocks at a time;
The maximum holding period is 1 month;
10% stop-loss is a must;
May consider to take our profit if the pick gained 5% - 10% after our buy;
Can hold all in cash if no good short-term investment opportunity is found;
No 3x leveraged ETFs. Stocks only; Do not hold a stock over its earnings release;
What kind of stocks to buy
The same strategy used for our Momentum Portfolio buys will also be used for our $5K Portfolio. 
Investment Strategy for Core Portfolio 
Maintain our goal for a 40% return in 2019
Maximum hold period is 3 years;
Each position uses $10,000 cash to start with;
No stop-loss is set after our buy if we do not see any change in their fundamentals. We will double our position if the stock is down 50% from our buy price. In general, we will not hold a penny stock. That is, if a stock falls below $1.00, we will sell it.
Profit Protection rules - we have some modifications
Take our profit if we feel that the pick has reached our goal.
If a stock closes 7% - 60% higher than our buy price, we should not let it turn from a win into a loss. We will set a trailing-stop at half of its gain. We will sell half position when the trailing-stop is hit and hold the other half position. The other half position will be sold if the stock continues falling and hit the break-even price.
If a stock closes 60% - 100% higher after our buy, we will set two trailing stops: 1). 10% below its gain; 2). 50% below its gain. We will sell half position when the first trailing-stop is hit and sell the remaining half when the second trailing stop is hit.
If a stock makes a double after our buy, we will sell half of our position and let the other half run. But will sell the other half if the stock pulled back 50% from its closing high.
What kind of stocks to buy
Fundamentally strong. Want to see stocks with highly profitable with high growth.
Severely beaten down but can survive its downturn;
For biotech stocks, will pick up stocks with good progress on their trials, or consistently achieve better than expected revenue growth if the drug is approved even it is still losing money.
Technically, want to buy stocks in its uptrend, or stocks at its base building stages, or stocks in their key support levels if they are traded in clear ranges;
3xbear leveraged ETF can be used as a hedge
How Much Lower Is The Market May Go Coming into 2019?
During the last 30 years, we have experienced two bear markets:
2000-2002 Internet Bubble and
2007-2009 Sub-Prime Lending Crisis.
Internet bubble - The market topped in 09/2000 and ended in 10/2002. That is, the bear market lasted 25 months.
S&P 500 dropped 48.83% from 1,530.09 to 782.96 during the bear run. Nasdaq lost 78.09% of its value: from 5,078.86 all the way down to 1,112.08
Subprime Lending Crisis - The market topped in 10/2007 and bottomed in 03/2009. lasted 16 and a half months.
S&P 500 fell 57.30% from 1,576.09 to 672.88.Nasdaq went down 53.92% from 2,856.51 to 1,316.15.
What we are at during the current bear run:
The market hit its all-time high at around the end of 09/2018 and now lasted three months. Based on December 24 close prices, Nasdaq, S&P 500 and Dow 30 were down 23.64%; 19.78% and 18.77% respectively.
They dropped around 10% in December alone.
Let us use S&P 500 average P/E ratio to give an estimate as for how much lower the S&P 500 may go.
S&P 500's P/E ratio is currently at about 19.00, which is well below its recent high of roughly 24 but is still much higher than its historical median of 14.73. Perhaps, even more, telling, the Schiller P/E ratio is currently at 27.40, just starting to come off its second highest level ever of about 33.5, and still far higher than the median 15.69.
If the S&P 500 falls back to S&P 500 historic mean and S&P 500's Schiller historic mean values, the S&P 500 could fall to 2,050 or 1,550 level.
Please be noted that 1,550 is S&P 500 previous highs or its key support levels.
S&P 500 closed at 2,350.10 yesterday and needs to drop an additional 14% to the 2,050 level and drop an additional 34% to 1,550. Keep these two numbers in mind - 2,050 and 1,550.
How much longer do we expect the downturn last coming into 2019?
If the S&P 500 keeps the falling pace we experienced in December, it needs only two more months to touch 2,050 level and four more months to touch 1,550.
But we don't think that the market will keep this degree of declines with no strong rebound forever, and a strong rally is normal during its bear run.
And we expect that the current bear run will end much quicker than its two previous market crash. It could end in May - June or at most October.
Below is the two Portfolios' performance during its last 4 year's run: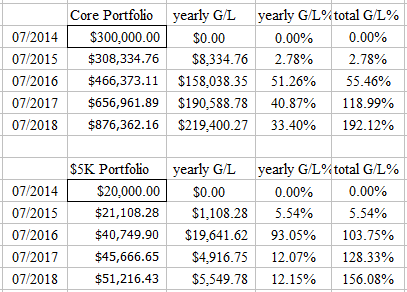 S&P 500 was up 45.87% during the same period.
Disclosure: I/we have no positions in any stocks mentioned, and no plans to initiate any positions within the next 72 hours.