Earning surprises are the source of most of this week's top movers.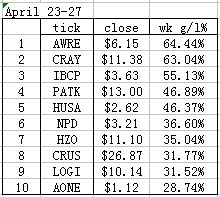 AWRE - Stock soared 64.44% Friday after the company announced $75 million deal to sell certain of its patents to Intel and said that it will use part of the proceed to pay $1.15/share one-time special dividend to its shareholders.
CRAY - Strong Q1 earning result and raised 2012 outlook pushed the stock up 63.14% for the week. Company announced $0.13 Q1 EPS far more than $0.03 estimated.
PATK - In Building material sector. This company benefited greatly from recent housing recovery. Net sales up 47.80% from 2011 level. Net income is $0.47/share compared with a -$0.13 loss in the same period last year.
Other top gainers such as IBCP, HZO, LOGI, CRUS are all seeing their net income soaring.
NPD - China ADRs are keeping hot. Stock was up $0.73 Friday after the company announced an one time special dividend of $0.60.
HUSA and AONE - Both are bounced back strong from oversold conditions. AONE had a break-out last week after successfully tested its double bottom.