U.S. stocks fell on Friday as investors puzzled over the Federal Reserves decision to maintain its stimulus measures as they heard opposing viewpoints from top Fed officials. Despite lower closes in the past two sessions, the major stock indexes ended higher for the week. The Dow rose 0.49%, S&P 500 gained 1.30% and the Nasdaq advanced 1.41%. For the month so far, all major indexes rose three weeks in a row and Dow was up 4.36%, S&P 500 gained 4.71% and Nasdaq leads the gains again, up 5.15% with one week to go.
Our view: market cannot keep running like this for long. All major indexes are at the tops of their uptrend channel. See the daily chart for S&P 500 and weekly chart for Nasdaq below: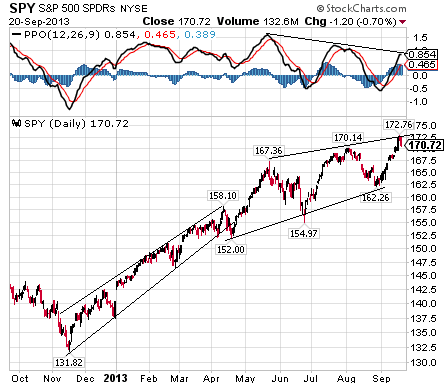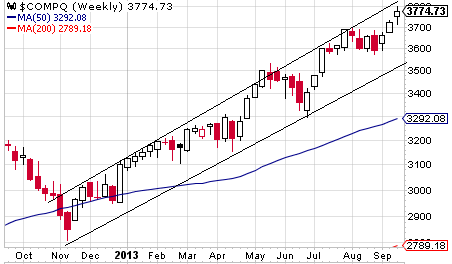 Fundamentally, valuations are high with the S&P P/E ratio now at over 19 and the average over its 120 year history is only 15.
US dollar is going to break down $80, its key support level: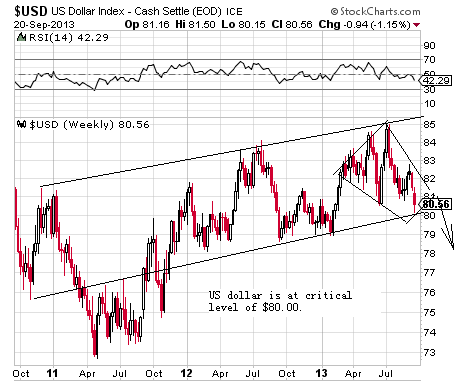 On the other hand, lower US dollars support stronger resource prices such as gold/silver, etc. We still stand for higher gold prices looking ahead. Last Wednesday's one day jump on GLD does not change the big picture that GLD should find bottom at around $120.00 level. See its daily chart below: