Gold price has dropped three weeks in a row and is entering 1,080-1,100 area again.
But I still do not buy the claim that the gold is bottomed now.
Look at gold daily chart below: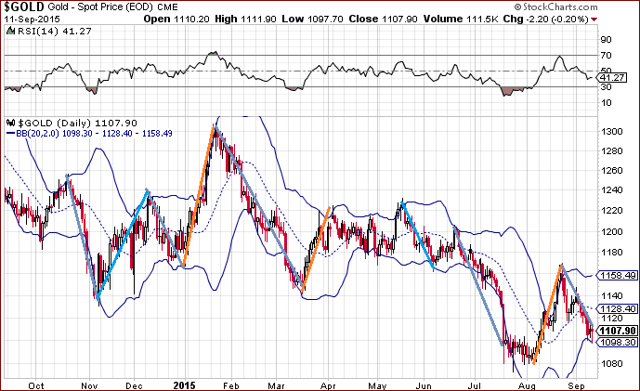 Observations:
1. Gold price bounced from 1,098 low and closed at 1,107.9 last Friday. It touched its bottom of the BB line last Friday, a sign of possible bottom.
2. But both RSI and MACD are still trending down now up.
3. This drop lasted 13 days now, a magic number. During its previous drop, the down trend lasted 21 days or 13x1.618 = 21 days.
4. It is my belief that the down move will be a repeat of last drops: last 21 days and we have 7 more days to go.
6. We may see new lows for both gold and GDX during the process: gold 1,064 level and GDX 12.00 level.
7. It is Fed meeting week. Gold cannot go up big before meeting result comes out. The final down move will be seen after Fed meeting result announcement.
8. No matter whether Fed will increase its interest rate this Thursday, gold will change its trend next week as the gold now already priced in the possible Fed rate increase.
9. If Fed does increase its interest rate, gold will have a relief rally. The rally may be a long term one as gold and Fed Fund interest rate historically have long term positive correlation.
10. If Fed does not increase the rate, gold price will also rally. The reason is simple: recent gold price drop is purely due to possible rate increase. If rate does not raise, gold will go back to where it was before the drop.
Disclosure: I/we have no positions in any stocks mentioned, but may initiate a long position in JDST, DUST, JNUG,NUGT over the next 72 hours.