Overview of our Momentum Portfolio's Performance
Our Momentum Play service was launched in seekingalpha.com's Marketplace platform on April 11, 2017 and lasted a little more than 2 years now.
Among three model Portfolios we managed, our focus is on the Momentum Portfolio.
The Momentum Portfolio is designated for small active investors who have at least $30,000 to invest, have time to trade during the market hours and want to achieve above market investment return with their money no matter how the market conditions are.
The Portfolio started its run with $30,000 in seed money and set our target to achieve a 150% annualized return.
Now, 2 year and 3 month passed, the Portfolio has grown to $196,080.82 - a 550.27% net gain or 215% annualized return. This is far better than our original goal. See the Portfolio's monthly performance since its launch: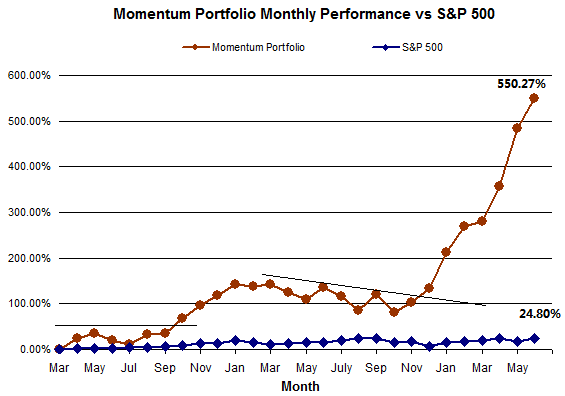 Further more, our Portfolio gained 183.87% during the first six months this year compared to the S&P 500's 18.35% return. That is far better than our expected 150% annualized return. See the Portfolio's 2019 weekly performance below: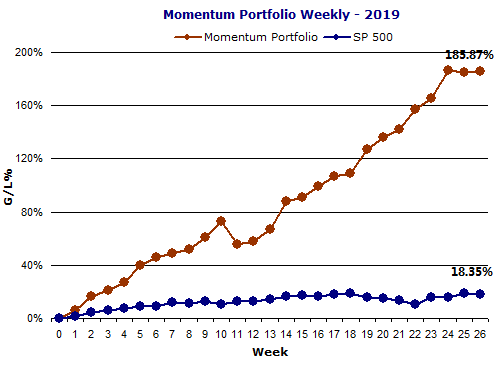 If we can keep the pace in the next 6 months, it may give us 338% annualized return. Of course, past performance can never be used as the indicator for its future results.
The reason behind improved performance this year:
Implemented a better risk control strategy and
Developed a better way to identify the picks.
For a more detailed discussion, please read my recent article.
Review of Our Portfolio's 2019 Weekly Performance
The table below listed the Portfolio's weekly performance during the 26-week period: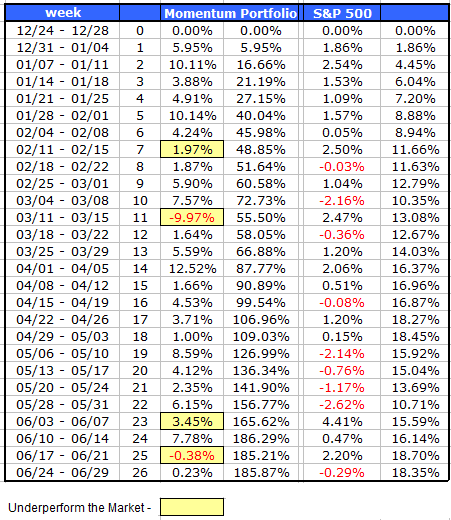 Observations:
During the 26 weeks period, our Portfolio had 2 down weeks and 24 up weeks. The maximum draw-down is 9.97% and the maximum recovery period is 3 weeks. The reason for the two down weeks – all due to holding our picks over the weekend or so called overnight risk.
During the 26 weeks, there were 4 weeks that our Portfolio underperformed the market and 22 weeks it outperformed the market.
During the 26 weeks, the market had 9 down weeks and 17 up weeks. Our Portfolio never lost money when the market was down.
On the average, our Portfolio gained 4.06% per week vs S&P 500's 0.64% weekly' gain.
The Portfolio maximum weekly gain - 12.52% and had 3 weeks with a gain of greater than 10%, 10 weeks with a gain of > 5%. 14 weeks with a gain of > 4%. On the other hand, the maximum weekly gain for S&P 500 is 4.41%; 6 weeks with a gain of > 2% and 13 weeks with a gain > 1%.
The Portfolio maximum weekly loss - -9.97% followed by -0.37%. The S&P 500 worst weekly loss is -2.62% followed by -2.16%.
From our observation, we can conclude that if we can consistently achieve > 4% weekly gains, the Portfolio can give us huge monthly returns. In the next session, we will give our revised investment strategy based on our above observation.
A Review Some of Our Recent Trades
A stock/ETF always moves in one of three ways: moving up – in an uptrend, moving down – in a downtrend or moving sideways - sideways.
But only very few stocks/ETFs are moving in well-defined chart patterns at any given time frame.
A well-defined chart pattern can be defined as
If a stock/ETF is in an uptrend or a downtrend, it is moving in a well-defined uptrend/downtrend channel.
If a stock/ETF is moving sideways, it is moving in a well-defined trading range.
No matter how bad the market conditions are, we can always find a list of stocks or ETFs moving in well-defined chart patterns. Buying them at support -low and selling them at resistance - high can be highly profitable.
The followings are some stocks/ETFs we identified, which are moving in well-defined patterns recently and also our recent favorite picks to have made very profitable trading.
Advanced Micro Devices Inc (AMD) - $30.37. Since bottomed at $16.03 on December 26, 2018, the stock has been moving up and moves in a well-defined uptrend channel recently. See its daily chart below. Buying at the bottom of the channel and selling at the top of its channel can be highly profitable. Recent channel bottoms were $26.00, then $29.00.
If the chart pattern is still valid, the next resistance will be at $37.00-$38.00.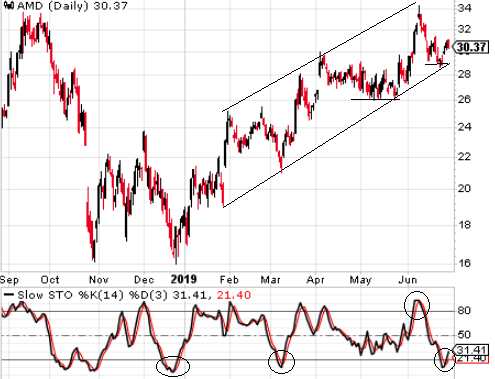 AMD is one of the semi stocks with intense discussions in SeekingAlpha with diverse views on its valuations. I don't have the capacity to give a proper valuation on this stock. What I can do is to follow the chart and make the trades accordingly.
Turtle Beach Corporation (HEAR) - $11.56. HEAR is one of my long-term holdings. Since bottomed at 8.47, the stock has been moving up in its uptrend channel. $11.00 is served at its recent bottom and next resistance is at $13.00.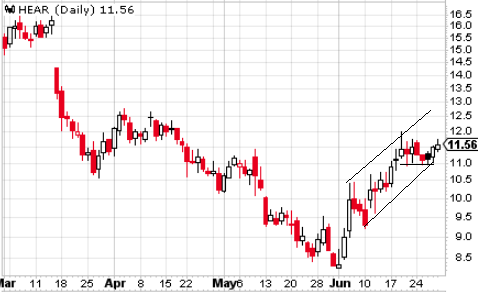 Intrexon Corporation (XON) – This stock is in biotech sector and is an under-followed stock. But it has been in our watching list since bottomed at $4.00.
The stock is also my favorite pick for short-term trading: it first traded in $4.00 - $4.50 range, then a breakout brought its trading range up to $4.50 - $5.00. The stock had a huge momentum run after another breakout until topped at $8.75, a more than double move in less than 2 months.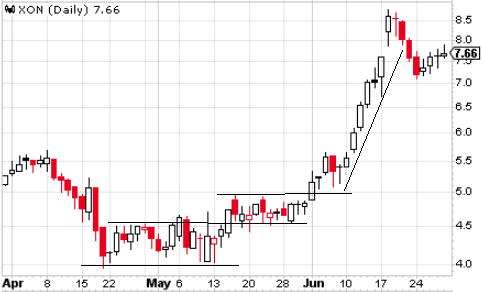 An important thing to be noted is that any stock/ETF's chart pattern cannot last forever. It will change sooner or later. Once its chart pattern changes, we have to adjust our trading strategy timely to avoid possible big loses.
One such example is SPDR Biotech ETF (XBI). This ETF has been in a downtrend since topped at $94 in April, then traded in sideways since the middle of May and turned into an uptrend recently. We do not trade XBI directly. Instead, we have been trading its 3x leveraged ETF – Direxion Daily S&P Biotech Bull 3x Shares ETF (LABU) and Direxion Daily S&P Biotech Bear 3x Shares ETF (LABD) pair quite a few times. See its recent daily chart below:
XBI - $87.71. It has been traded in sideways since the middle of May in a well-defined range of $80.00 - $84.00. It closed at $79.44 on May 31st, almost made a breakdown move but survived. LABU has been in $40-$44 range and LABD in $22 - $24 range most of the times during this period.
Making LABU/LABD pair trading has been highly profitable during its sideways period.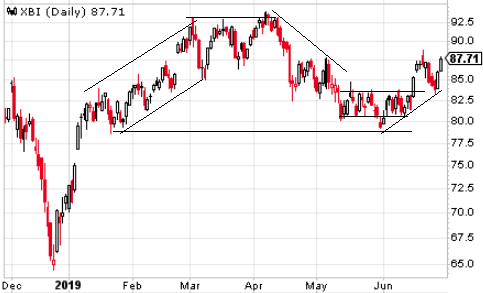 But a news changed its sideways pattern. XBI gapped up on Monday, June 17, after Pfizer Inc (PFE) announced to acquire Array BioPharma Inc (ARRY) with a 60% premium. As ARRY is one of XBI holdings with 2.09% weight, this deal alone should have boosted XBI value 1.30% higher.
I happened to have bought LABD on Friday, June 14, at $22.20, its range low and it closed at $23.28, a one-day 4.84% gain, or more than $2,600 gain. But I did not sell it as the ETF is still way below it's normal range top.
But the XBI's Monday gap up resulted in LABD big drop and I had to sell it Monday at a breakeven price. This LABD's over-weekend gap down together another pick's over-weekend gap down resulted in a total of $4,500 profit reduction. The other trades during the week made a total of $4,000 profit.
That is, holding two picks over-weekend resulted in a 0.37% weekly net loss.
XBI is now moving in a higher-lows pattern but not in higher-highs yet. We still need to identify its new pattern before initiating another trade.
Discuss Ways to Serve Better to Our Subscribers in the Following Months
After reviewed some of our recent trading successes and failures, we have made some revisions of our investment strategy and this revised investment strategy will be used to guide our trading in the following months. Our focus will be on the following three aspects:
Further improve our risk control strategy
Future improve our stock/EFT pick strategy
Make our trading strategy actionable or more-friendly to our subscribers.
Better risk control is still our number one concern.
Stock investment is full of risks. Overnight risk is one of the most frequently occurred risks. Overnight risks can happen on individual stock/ETF or can happen on the sudden change on the market sentiment.
Better risk strategy also involves in a better stock/ETF pick strategy.
The followings are our revised investment strategy:
More diversification. Once our Portfolio balance reaches $200,000 mark, we will increase the maximum number of holdings at any one time from 3 to 4.
No over-weekend holding. The maximum holding period is 5 days and we will not holding any stock/ETF over the weekend in most cases unless we believe that our pick closed at the low end of its recent trading range.
Stock/ETF is moving in a well-defined pattern. We only buy stock/ETF which are moving in a well-defined pattern, buying them on dips and expect to give us a > 4% return after our buy within a week.
Give a list of possible picks in Weekend Updates. This will allow our subscribers to have enough time to do their own study in the weekend.
Make trade more actionable for our members. We will try to make less day-trade and more swing trade. In general we will always allocate one spot for day-trade. We will not make quick trade, a trade which closes a round trade in less than 10 minutes. Often times, it is hard for our members to act quickly to profit from stock's quick move up. The minimum holding period for any of our buys will be few hours in most cases.
The followings are some of our possible picks for the following week:
AMD – $30.37, still a good entry price. a better buy will be at $29.00 level.
HEAR – $11.56. Near-term target is $13.00+.
VelocityShares 3x Long Natural Gas ETN (UGAZ) - $16.40. Natural gas price has been moving in a downtrend recent months. We played it once and made a small gain and bought it back when it fell to a new multi-year low of $2.159 last week, its recent downtrend channel low. It closed at $2.312 laast week, its weak resistance. A breakout run may bring it to $2.400. Trade it with cautions.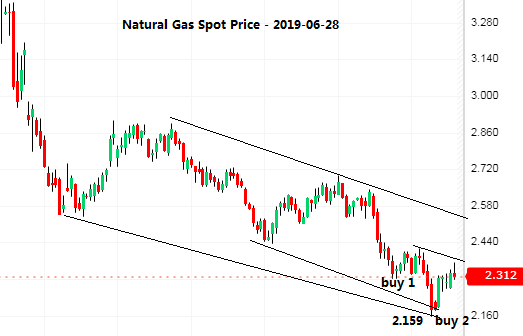 Source of Chart: from investing.com
SPDR Gold Trust ETF (GLD) - 1,413.70. In this year's round table discussion, organized by SeekingAlpha, I predicted that
Gold will shine in 2019. We may see 1,400+ even though the US dollar will stay strong.
And now, gold is definitely in a momentum run since breaking out its down trend in early June. It ran to a new 6-year high last week. The chart pattern is very similar to our Momentum Portfolio's 2-year daily chart. If our chart has any indication, we will not be surprised to see the gold price runs to $2,000 later. Current support is at $1,390 level. We may continue playing Direxion Daily Junior Gold Miners Index Bull 3x Shares ETF (JNUG) or Direxion Daily Gold Miners Index Bull 3x Shares ETF (NUGT) accordingly.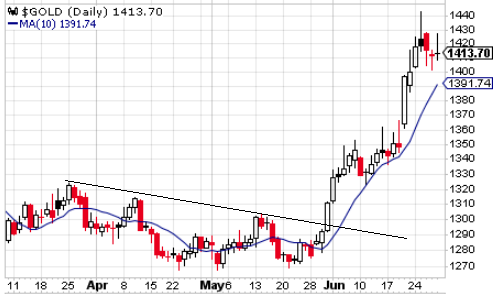 To see a complete list of our coming week picks, I encourage interested to sign in our service and take a two-weeks of free trial. Cancel it at any time during the trial period.
Conclusion
Our Momentum Portfolio performed very well in its first two years of existence and runs better and better as time passes.
We will continue finding ways to improve our service to serve our members better. Ur current goals are
Grow the Portfolio to $300,000, making it a 10-fold return in less than 3 years.
Improve our risk control strategy and stock/ETF pick strategy. That is, achieve a higher return with lower risk.
Disclosure: I am/we are long amd,hear,labu.