The Market
The market was traded with very high volatility last week, very similar to its August pattern: big drops last Tuesday and Wednesday in response to weak report of U.S. factory activity, followed by impressive rebound the next two days when September job report showed that 136K new job created and eased the concern that the US is headed into a recession. For the week, the S&P 500 fell 0.33%, the Dow Jones dropped 0.92%, and the Nasdaq gained 0.54%.
SPX - 2,952.01. It dropped to as low as 2,855.96 last week and closed at 2,952.01. Key level to watch: if it breaks down 2,820 support, a double top pattern will be confirmed.
Our view for coming week: as the Q3 earnings season will not start until next week (only Delta Air Lines, Inc. (DAL) to report this week - on 10/10), the market will mostly be driven by economic news and sentiment. If the market follows its August pattern, we may see a revisit of last week's low.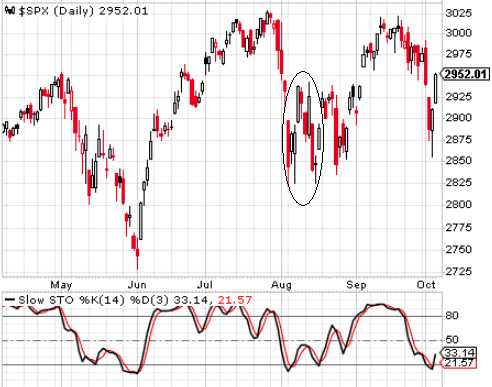 Related ETF: SPDR S&P 500 Trust ETF (SPY)
US Dollar - 98.49. The US dollar did not move to 100.00 as we expected and topped at 99.25. The chart showed that it may drop further with a strong support at 98.00 level.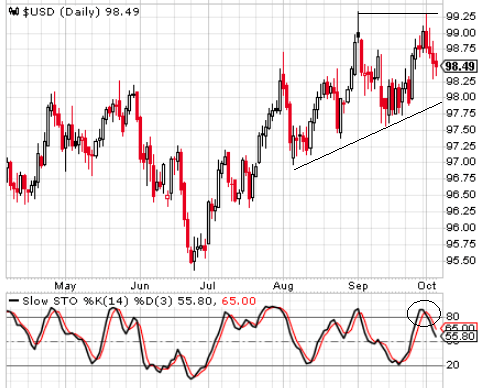 Related ETF: Invesco DB USD Bullish ETF (UUP)
Gold - 1,512.90/oz. The gold price is still closely correlated with the US dollars inversely, not correlated with the market. It made a big move last week in response to the US dollar's weakness. Last week's high was 1,525 and may see 1,535 this week. The gold overall trend is down now.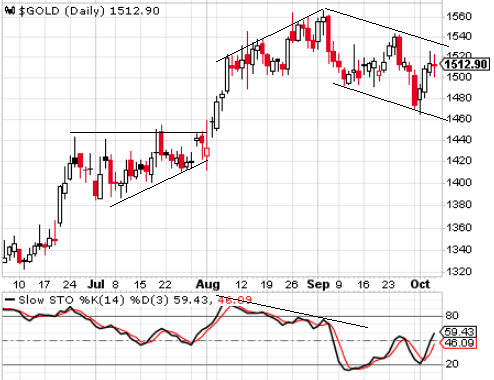 Related ETF: SPDR Gold Trust ETF (GLD)
VanEck Vectors Gold Miners ETF (GDX) - $27.87. This gold miner ETF is also in a downtrend since topped at 31.00. Current strong resistance is at 28.50 and support at 25.50 - 26.00.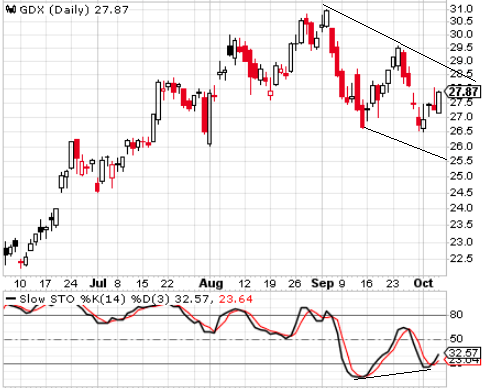 We were long on Direxion Daily Gold Miners Index Bull 3x Shares ETF (NUGT) & VelocityShares 3x Long Gold ETN (UGLD). Booked our profit on those two ETFs last week. May buy them back later at support.
Crude Oil - 52.81/bbl. After ten down days in a row, the crude oil price finally closed green last Friday. Last week's low was 51.01 and tested its 50-51 bottom for the forth time. Another weekly API and EIA inventory report will be released this week and we will look at how the market reacts to the data. Even with recent drops, the oil price is still up 16.50% so far this year.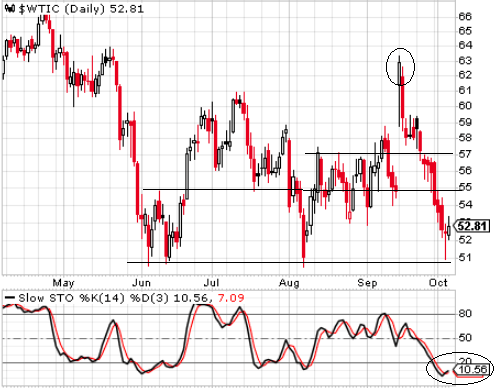 Below are the recent weekly API inventory data:
08/06 - a build of 3.4M barrels
08/13 - a build of 3.7M barrels (Crude oil dropped to 50.60/bbl low)
08/20 - a draw of 3.5M barrels
08/27 - a draw of 11.2M barrels
09/04 - a build of 401K barrels
09/10 - a draw of 7.23M barrels
09/17 - a build of 592K barrels (Crude Oil spiked to 63.20/bbl high)
09/24 - a build of 1.4M barrels.
10/01 - a draw of 5.92M Barrels (10/02 - EIA reported a build of 3.1M barrels.).
Will we see the crude oil dip to below $50.00/bbl. this week? Possible but unlikely.
Our view: the oil price will still be in $50-$60 range the rest of this year. But we will prepare to see it dip further in coming weeks.
Related ETF: The United States Oil ETF, LP (USO); VelocityShares 3x Long Crude Oil ETN (UWT) and VelocityShares 3x Inverse Crude Oil ETN (DWT).
Natural Gas - 2.349. Finally it found support at 2.160 and bounced back strong last two days. Our long-term bull view on the natural gas price still stays.
Our view the natural gas recent low of 2.030 will be the bottom.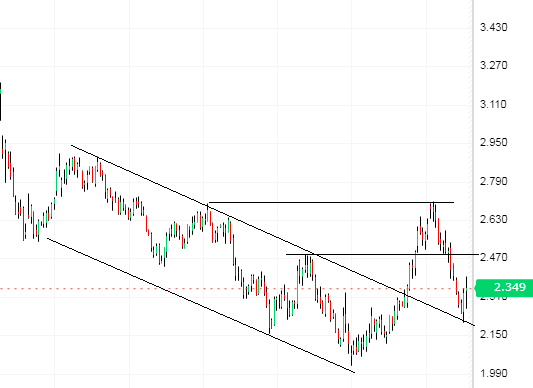 Related ETF: The United States Natural Gas ETF, LP (UNG); VelocityShares 3x Long Natural Gas ETN (UDAZ) and VelocityShares 3x Inverse Natural Gas ETN (DGAZ).
Our Portfolio currently holds six picks in energy sector: UNG, UWT, Halliburton Company (HAL), California Resources Corporation (CRC), VAALCO Energy, Inc.(EGY) , and Southwestern Energy Company (SWN). May add more later.
CRC - $8.70. We are long on this stock even its debt load is big (~$5.7 billion). The market speculates that the company may be the next in energy sector to file bankruptcy. But we see it otherwise. Below is our reasoning:
The stock is rated as undervalued by Yahoo Finance. Seven analysts cover this stock and give the average one-year target price of $25.76.
Its financial matrix continues improving in the last few years.
The company denied a restructuring report on Sept. 20 saying that the company is not considering restructuring or hiring advisers for de-leveraging its debt.
"As discussed on our earnings calls, we are actively looking at asset sales, royalty monetizations and other transactions similar to those we have done in the past to help us deliver," the company says.
The stock has been actively traded with very high volatility. Its year low $8.28 was set on August 30, 2019.
It dropped to as low as $6.47 back on August 21, 2017 about two years ago and ran to $50.34 high one year later.
Will we see a similar price pattern? Only time can tell.
We also bought SWN recently as we believe that natural gas price bottomed and $1.56 should be its bottom.
Earnings
10/10 - DAL. The first major airline stock to report. Will see how the market reacts to its result. The stocks in major airline sector are all fairly valued and we will buy some of them back later if they drop further. We owned DAL and United Airlines Holdings, Inc. (UAL) this year and booked our profit recently.
Portfolio Performance Updates
We started our MarketPlace service on SeekingAlpha on April 11, 2017.
Core Portfolio
The Portfolio was reset back to $300,000 on January 2019 and it was up 22.10% so far this year.
Momentum Portfolio
The Portfolio was launched on April 11, 2017 with a seed money of $30,000 and has run 2 year and 6 months so far.
It gave us a 618.02% return so far vs S&P 500's 25.24% gain during the same period.
The Portfolio was up 215.65% year-to-date vs S&P 500's 18.76% return. See our Momentum Portfolio's monthly performance chart below: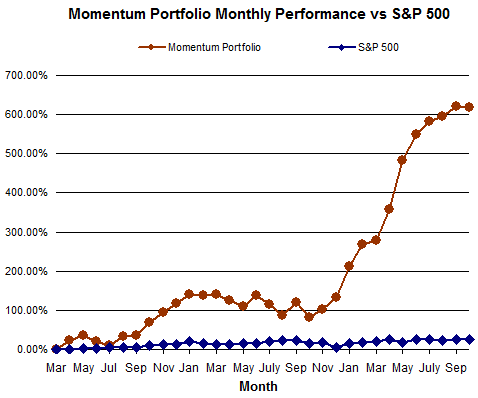 We are not satisfied with our result and believe that we can do much better. We are in the process of testing our new algorithm and plan to reset our Momentum Portfolio back to $30,000 by year end and will use our new algorithm to run the Portfolio in 2020.
Disclosure: I am/we are long crc,ung,uwt,swn,hal,egy.