The Market
The market's bull run continued but with a slower pace.
Last week's 5 sessions: up on Monday, down on Tuesday and up next three days in a row. That is, 4 up days with only one down day.
The trading pattern: first four days always opened high but closed low. Only last Friday was "opened low but closed at day high". All three major indexes closed with new all-time highs.
SPX - 3,093.08. It is only 7 points away from 3,100, the low end of our year-end target. We may see 3,100+ this week. But the technical indicators are all pointing to overbought conditions and the index is approaching to the top of its uptrend channel. Since its low in Sept 30, the index has been moving up 5 weeks in a row. Be prepared for any sudden drops.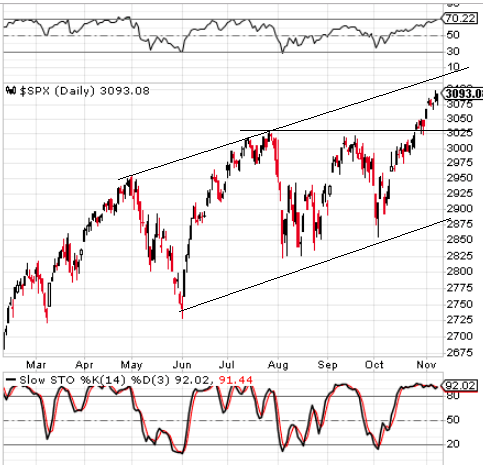 Related ETF: SPDR S&P 500 Trust ETF (SPY); Invesco QQQ ETF (QQQ)
USD - 98.20. The US dollar did have bounced back strong from its 97.00 support. Technically it is overbought now. Strong resistance will be in 98.50-98.75 area. If it does pull back from that area, the first support will be in 97.75 level.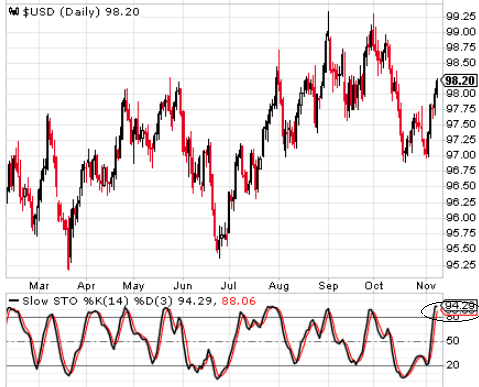 Related ETF: Invesco DB USD Bullish ETF (UUP)
Gold - 1,462.90. The gold dropped hard last week due to US dollar's strong moves and further confirmed the continuation of its downtrend. The projected bottom of the downtrend channel should be in 1,440 - 1,456 area or 0.4% - 1.5% lower. More likely 1,456 level. The key: whether the gold price will make a breakdown move. Our view: it is unlikely as the global economy is still facing a lot of uncertainty.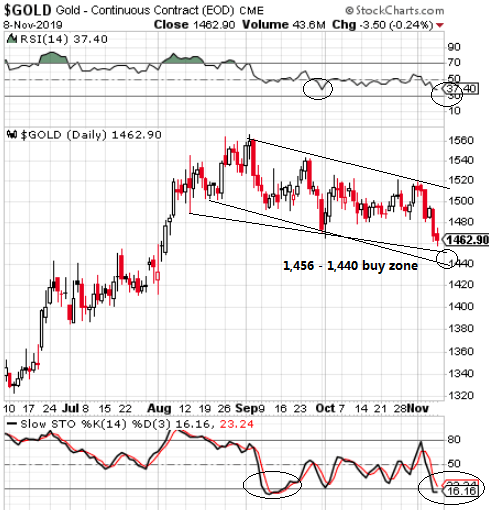 SPDR Gold Trust ETF (GLD) - 137.39, the bottom should be in 136.84 - 135.33 area.
VanEck Vectors Gold Miners ETF (GDX) - 26..23. GDX did not drop as hard as gold did and bounced back from its recent low of 26.14. That is, 26.00 is its strong support now. It may be traded in 26 - 28 range for a while. Once 26 is broken, GDX may drop further to 24-24.50, witch we believe unlikely at the moment.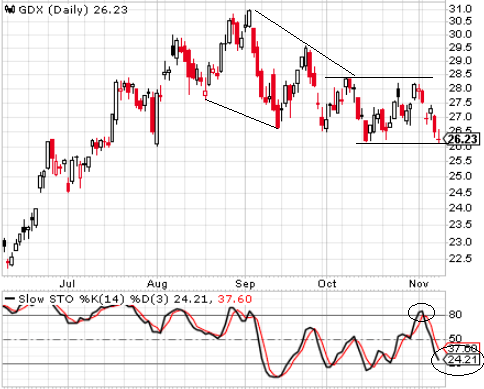 Related ETF:
Direxion Daily Gold Miners Index Bull 3x Shares ETF (NUGT);
Direxion Daily Gold Miners Index Bear 3x Shares ETF (DUST)
Crude Oil - 57.24/bbl. The oil price spent the whole week traded in 57.80/bbl - 56.00/bbl range. Our view: it will touch the bottom of its current uptrend this week - 54.50/bbl - 55.00/bbl.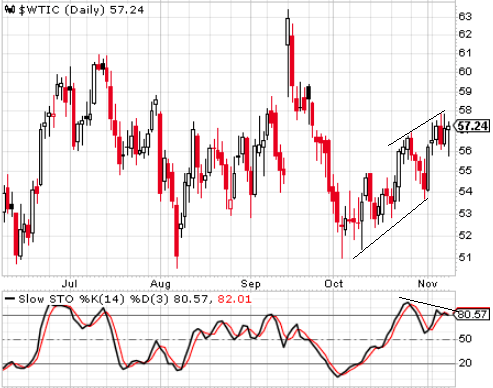 Related ETF:
The United States Oil ETF, LP (USO);
VelocityShares 3x Long Crude Oil ETN (UWT);
VelocityShares 3x Inverse Crude Oil ETN (DWT)
Natural Gas - 2.789. The natural gas price took some rest last week after the big run but the run may resume at any day. 3.000 is the next target.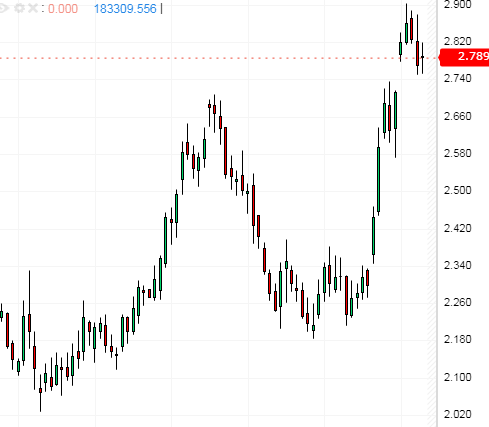 Related ETF:
The United States Natural Gas ETF, LP (UNG);
VelocityShares 3x Long Natural Gas ETN (UGAZ);
VelocityShares 3x Inverse Natural Gas ETN (DGAZ)
Disclosure: I am/we are long ugaz,dwt,nugt,gld.
Additional disclosure: Please be noted that 3xleveraged ETFs have big time-decay risks and are not suitable for all the investors. Invest with caution.