Apple Inc. (AAPL.O) revolutionized the world of digital music with iTunes and retailing with its Apple stores, but are competitors Amazon, Best Buy, EBay, Pandora and Google nipping at its heels?
Amazon is now competing directly with Apple, offering its own version of iTunes - a standalone music app called Cloud Player for Mac that combines iTunes and the Amazon music library. Music can be accessed at any time, even when offline. Moreover, there's talk that Amazon intends to compete with Apple TV's set-top box in spring 2014.
Amazon is famous for reporting losses as its business grows and grows. Looking toward Q4 2013, analysts' consensus earnings estimate is $0.69 per share, but according to StarMine, the company has a negative Predicted Surprise (see chart 1 below). According to two five-star analysts with a very accurate rating, its EPS could be as low as $0.63 (which is still up more than 200% over the $0.21 per share reported in Q4 2012). A $0.69 EPS would be a 227.3% growth rate in earnings. For Q1 2014,StarMine analysts say Amazon expects to see a 208.4% jump in earnings.
Chart 1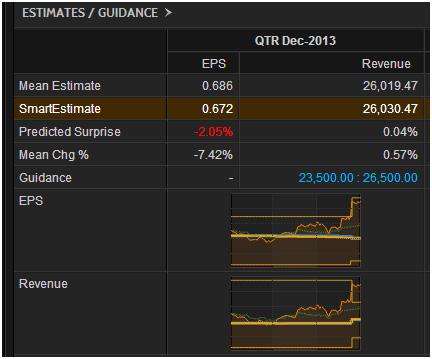 Source: Thomson Reuters Eikon/StarMine Professional
Best Buy
Best Buy has holding its own in the face of strong competition from Apple and Amazon. Once a victim of "showrooming" (where people check out products in a store, then go online for a lower price), the retailer has trained its customer representatives to compete with Apple's famous customer service. As a result, when shoppers visit Best Buy to "play" with the items, now its knowledgeable reps are able to close the deal.
According to StarMine, Best Buy boasts an Analyst Revision Model (ARM) score of 99 (see chart 2 below), which places it at the top of the top decile of all U.S. companies in the ARM. The higher a company's ARM, the more top-ranked analysts have been boosting their earnings forecasts and the greater the likelihood that they will continue to do so.
Analysts also like the new management team. They've produced positive results last quarter in spite of a weak consumer spending environment. They posted a near-flat Same Store Sales number, an improvement from the negative comparison in the previous quarters, which analysts believe justifies the stock price.
Analysts are also optimistic about Best Buy's business model going into the holiday season. The company is introducing a shop-within-a-shop concept for Windows and Samsung products (Apple competitors).
The new video consoles will also be launched in Q4 and sold at Best Buy. The company's "buy online and ship from store" service has been a success and analysts believe that because of management's strong initiatives, the retailer will continue to do well in the holiday season.
Chart 2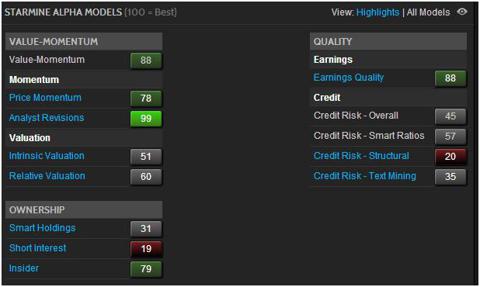 Source: Thomson Reuters Eikon/StarMine Professional
EBAY
It's a mixed outlook for online auction site eBay.
According to StarMine, the company scores in the bottom decile for the Price Momentum (2) and Value-Momentum (8) models (see chart 3 below). Analysts haven't seen an improvement in growth. As a result, the company has lost both Wall Street confidence and investor sentiment.
Analysts seem pleased with eBay's U.S. performance given the weak consumer environment, but international growth is anemic despite the easier year-over-year comparison. One additional factor on the positive side is that analysts are impressed with the growth of its merchant services.
Looking ahead, there could be upside potential in eBay's innovations (buyer guarantees and technology enhancements). Comparables could ease and the macro may improve. Analysts also see upside on eBay's e-commerce initiatives, the addition of new merchants, global expansion, and the consistent growth of BillMeLater.
Chart 3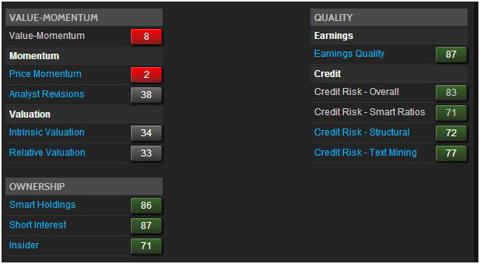 Source: Thomson Reuters Eikon/StarMine Professional
Pandora
According to StarMine: Pandora scores in the bottom decile when it comes to the RV, Val-Mo and Short Interest models (see chart 4 below). Still, the stock has been heavily shorted. StarMine's Short Interest model gives Pandora a score of 10 on a 1-100 scale. Moreover, the relatively higher proportion of short sales means that the odds of a short squeeze driving the share price higher are possible; the StarMine Short Squeeze indicator stands at 96.
This unique measure combines analysis of the number of short positions and indicators of volatility. Those stocks with a rating closer to the top level of 100 are most likely to experience such a squeeze from a big upward movement as short sellers scramble to get out of their bearish positions. In Pandora's case, investors are not shorting for hedging purposes, but because they believe the stock is overvalued.
This goes hand in hand with the StarMine Relative Valuation Model, where Pandora scores in the bottom decile, earning a score of 2 on a scale of 1 to 100.
Within the Internet radio industry, Pandora is the most popular service, but not the best stock in the sector today. On a P/E basis, the company is trading at 136.5 times earnings. Analysts believe that iTunes has a higher user monetization system and better cost structure.
Chart 4

Source: Thomson Reuters StarMine Professional
Google
Google currently has an EPS estimate of $12.22 for Q4 2013, and according to StarMine, a five-star analyst with a very accurate rating believes EPS could go as high as $13.26. According to StarMine, analysts are very confident about Google due to strength from retail advertisers, e-commerce initiatives, Chrome hardware demand and Google Play's popularity.
Google has also improved its offering on YouTube by allowing longer-form video content - this has helped increase brand advertising revenue.
There are also some risks. Google competes directly with Apple in terms of mobile hardware and software. Analysts see Google's risk increasing if users start to adapt Apple's Siri audio search or users migrate to a Siri-like or voice-enabled general search solution.
Additionally, as a handset manufacturer, Google's Motorola division now competes against the Apple iPhone, where Apple has developed a dominant franchise. Also, Motorola competes against suppliers of mobile devices that use the Android mobile operating system, which is a key competitive advantage for Google in a mobile world.
Chart 5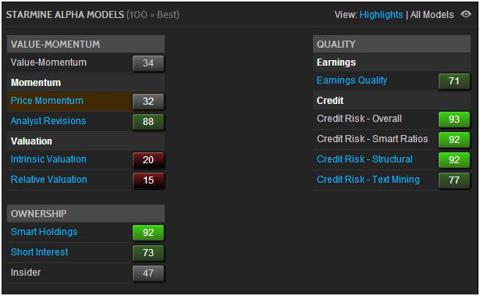 Source: Thomson Reuters Eikon/StarMine Professional
Worried shoppers
Consumer sentiment has been on the decline over the past couple of months. Worries about job security are uppermost, due to the government's lack of leadership and instability in the economy.
Many people are saying that instead of going on a shopping experience, they might try to cultivate a more at-home experience during the holiday season, making gifts vs. buying. The housing market has seen improvements in the past year and consumers have shifted their buying habits accordingly. Instead of shopping for clothing and other items they have focused on big-ticket items for the house. Creating an at-home atmosphere could encourage shoppers to stay … at home.
Receive stories like this to your inbox as they are published. Subscribe here and follow us @Alpha_Now on Twitter. If you are looking to access Thomson Reuters data or analytics, register for a free trial.