Real Estate Daily Recap
Our Real Estate Daily Recap discusses the notable news and events in the real estate sector over the last trading day and highlights sector-by-sector performance. We publish this note every afternoon at HoyaCapital.com and, by reader demand, occasionally on Seeking Alpha to cover significant news or outsized daily performance. Check out our website and join our mailing list to make sure you never miss the latest developments in the commercial and residential real estate sectors.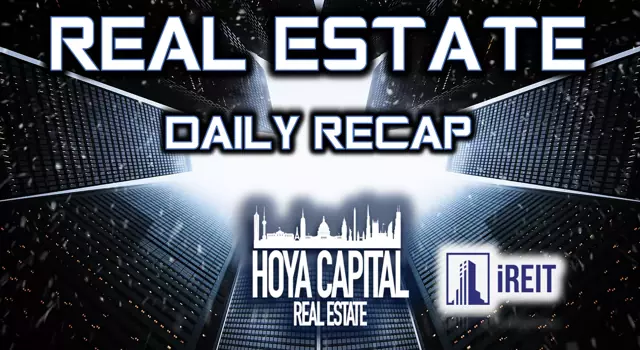 US equity markets fell for the third straight day after a series of back-and-forth comments between the U.S. and China called into question the likelihood of a trade deal between the two largest economies ahead of the December 15 tariffs. The S&P 500 ETF (SPY) declined 0.7% while the Nasdaq ETF (QQQ) fell 0.8%, but each closed near their session highs. The 10-Year Treasury Yield (IEF) retreated by 12 basis points on the day to end at 1.71%, matching the lowest closing level since late October. The domestic-focused and yield-senstive equity sectors generally outperformed with the broad-based Real Estate ETF (VNQ) gaining 0.6% on the day.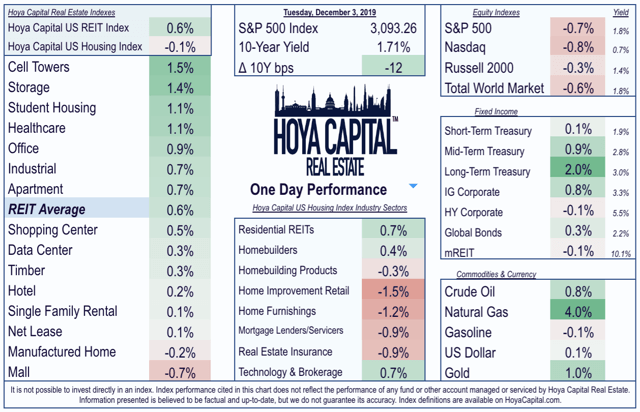 Led by the cell tower and storage REIT sectors, thirteen of the fifteen real estate sectors finished the day in positive territory. Mall REITs lagged after high-yielding CBL & Associates (CBL) suspended its dividend on both common and preferred stocks, sending the common stock lower by 25% and slashing half the value from the preferred equities. In our latest report on the mall sector, Mall REITs: Do Or Die Time, we noted that, "the three low-productivity mall REITs [CBL, WPG, PEI] will continue to teeter on the edge of relevancy and believe that a sizable chunk of their malls is a recession away from extinction, highlighting the need for investors to be highly selective in their real estate allocation decisions."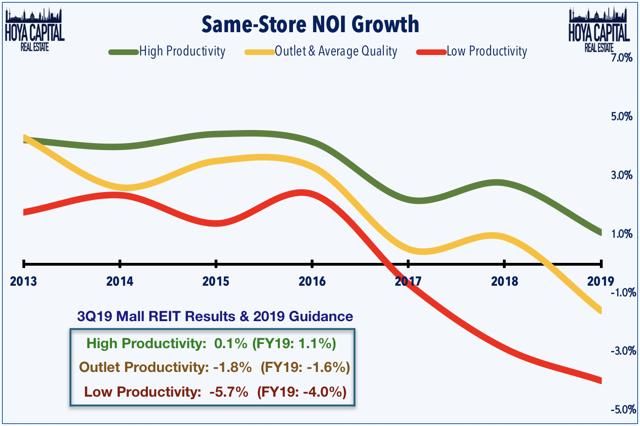 Led by strong performance from the residential REIT sector, the Hoya Capital Housing Index, the benchmark that tracks the performance of the US housing industry, outperformed the broader indexes but still finished the day marginally lower. Senior housing REIT HealthPeak (PEAK), and self-storage REITs ExtraSpace (EXR), Public Storage (PSA), and CubeSmart (CUBE) were among the best-performing REITs on the day. Aside from the residential REITs, Redfin (RDFN), Simpson (SSD), and KB Home (KBH) were all higher by at least 1.5% on the day. 

Among equity sector ETFs, Commercial Real Estate (XLRE) was the top-performer, followed by the Utilities (XLU) sector. Energy (XLE), Financials (XLF), and Industrials (XLI), meanwhile, were each down by more than 1% on the day. REITs are now higher by roughly 23% YTD on a price-return basis in 2019 compared to the 24% gains on the S&P 500.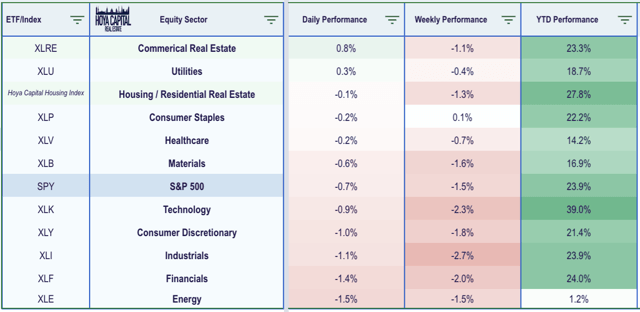 Today, we published Net Lease REITs: Exploiting A Competitive Advantage. Net Lease REITs may be expensive, but perhaps that's a good thing. Utilizing "cheap" equity capital, Net Lease REITs have reasserted themselves as the external growth engines of the REIT sector. While yield-focused investors tend to view the sector less favorably when valuations are extended (and dividends lower), we believe that the total return potential of the sector is higher when the sector is trading with elevated equity valuations, as these REITs are able to grow AFFO and dividends via accretive external acquisitions.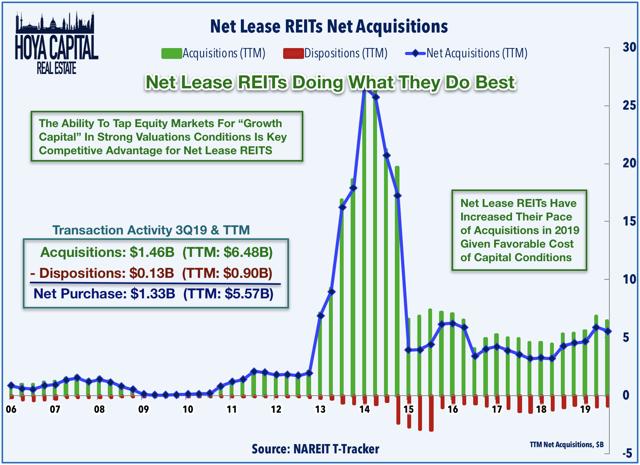 Compared to malls and shopping centers, net lease REITs typically own and lease smaller properties (generally single-tenant) under longer lease terms. Because the tenant is responsible for most expenses, these REITs operate with significantly higher gross margins and have lower capital expenditure requirements. Most leases have contractual rent bumps, often tied to the CPI index or a fixed annual percentage. Because of this structure, property-level upside potential is generally retained by the tenant and net lease REITs are more sensitive to changes in interest rates and inflation. Below, we discuss the advantages and disadvantages inherent with these different retail models.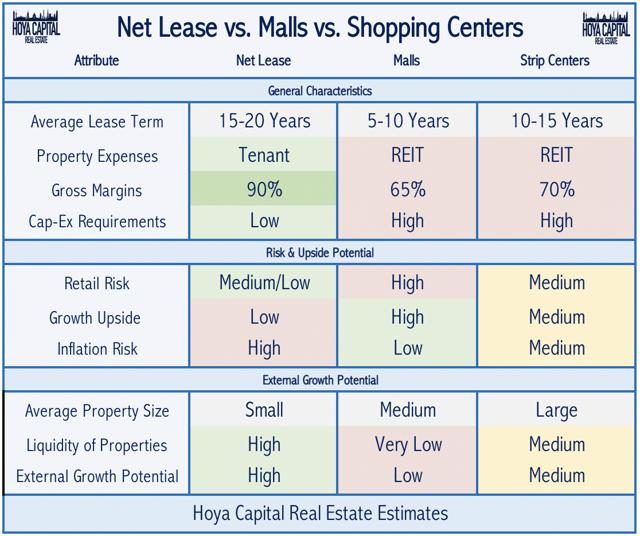 Economic Data This Week
As discussed in our Real Estate Weekly Outlook, it'll be another busy week of economic data with a full slate of employment data including ADP nonfarm data on Wednesday and the headline BLS nonfarm Payrolls data on Friday. Economists are projecting 180k jobs added in November following last month's better-than-expected report that showed 128k jobs added despite the drag from the GM (NYSE:GM) auto workers strike. Average hourly earnings are projected to rise by 3.0%, continuing a mild slowdown since wage growth - and inflation data - peaked in 2018.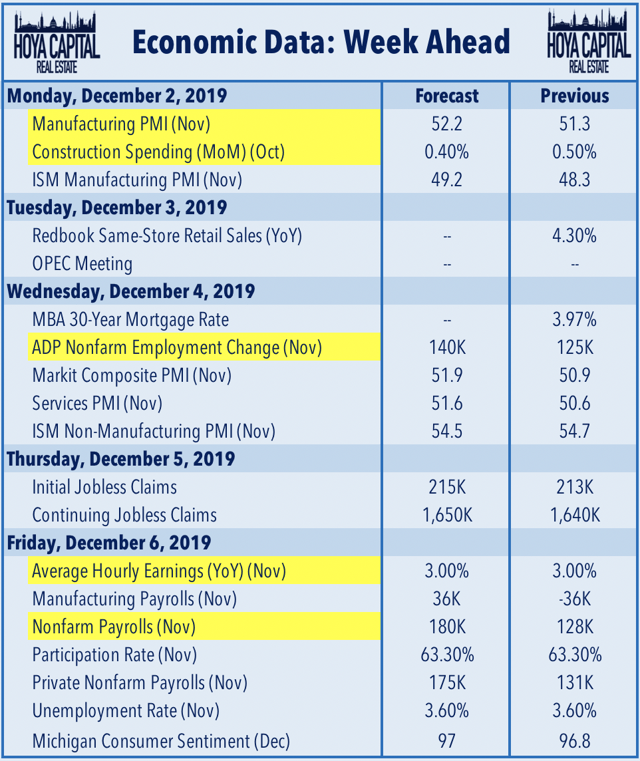 Join our Mailing List on our Website
Visit our website for free access to our full research library including coverage of Apartments, Homebuilders, Student Housing, Single-Family Rentals, Manufactured Housing, Cell Towers, Healthcare, Industrial, Data Center, Malls, Net Lease, Shopping Centers, Hotels, Office, Storage, Timber, and Real Estate Crowdfunding.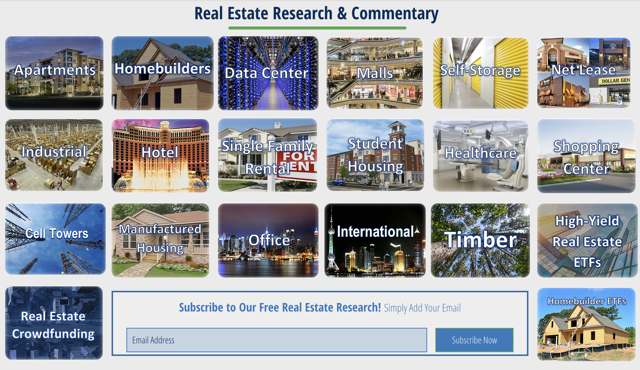 Hoya Capital Teams Up With iREIT
Hoya Capital is excited to announce that we've teamed up with iREIT to cultivate the premier institutional-quality real estate research service on Seeking Alpha! With a focus on high-quality, total return, and sustainable income, our suite of tools and commentary help investors navigate the most critical asset class in the world and avoid the common pitfalls that trouble REIT investors. Sign up today and receive a free two-week trial!

Disclosure: Hoya Capital Real Estate advises an ETF. In addition to the long positions listed above, Hoya Capital is long all components in the Hoya Capital Housing 100 Index. Real Estate and Housing Index definitions and holdings are available at HoyaCapital.com.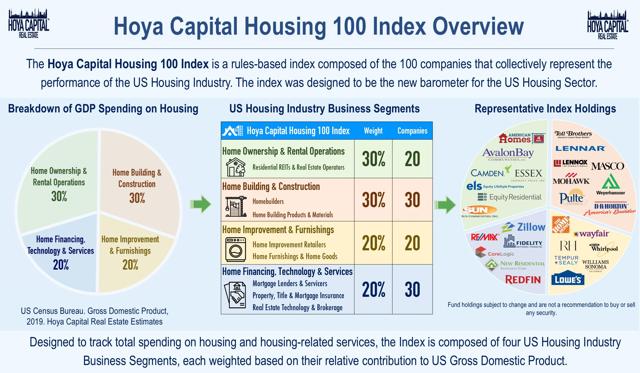 Additional Disclosure: It is not possible to invest directly in an index. Index performance cited in this commentary does not reflect the performance of any fund or other account managed or serviced by Hoya Capital Real Estate. All commentary published by Hoya Capital Real Estate is available free of charge and is for informational purposes only and is not intended as investment advice. Data quoted represents past performance, which is no guarantee of future results. Information presented is believed to be factual and up-to-date, but we do not guarantee its accuracy.