Real Estate Daily Recap
Our Real Estate Daily Recap discusses the notable news and events in the real estate sector over the last trading day and highlights sector-by-sector performance. We publish this note every afternoon at HoyaCapital.com and, by reader demand, occasionally on Seeking Alpha to cover significant news. Subscribe to our free mailing list to make sure you never miss the latest developments in the commercial and residential real estate sectors.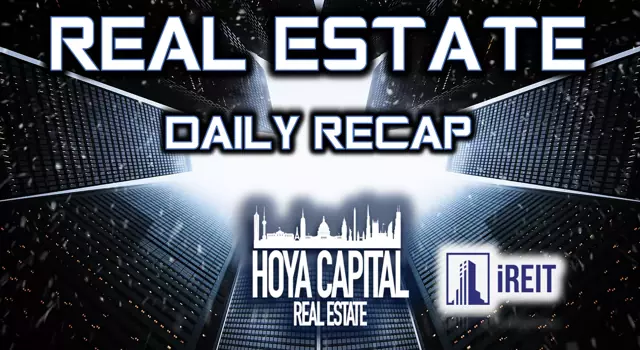 U.S. equity markets rallied for the third straight day, erasing the coronavirus-related losses over the prior two weeks, as earnings results, economic data, and domestic political developments have renewed investor optimism this week. The S&P 500 ETF (SPY) finished higher by 1.1%, closing at new record highs, while the Dow Jones Industrial Average (DIA) added another 480 points after yesterday's 400 point gain. After dropping as low as 1.51% on Monday, the 10-Year Treasury Yield (IEF) recovered another 5 basis points to end the day at 1.65%, boosted by strong ADP employment data this morning. The broad-based commercial Real Estate ETF (VNQ) underperformed for the second-straight day, finishing fractionally higher and giving back it's YTD outperformance relative to the S&P 500.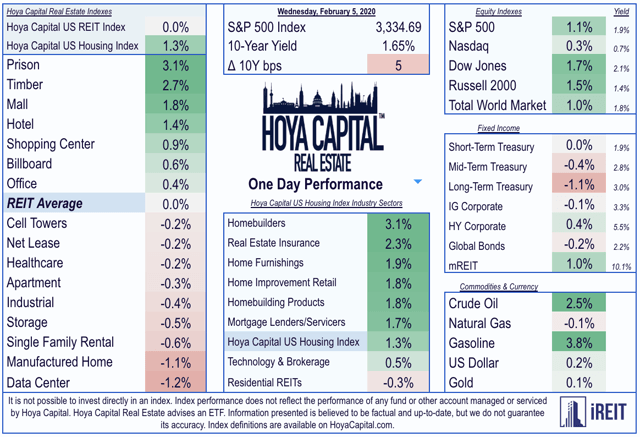 Homebuilders led the Hoya Capital Housing Index, the benchmark that tracks the performance of the US Housing Industry, to gains of 1.2% on the day. Consistent with strong results from a handful of homebuilders that reported last week, Taylor Morrison (TMHC) reported earnings results that showed a 25% jump in net orders from the same period last year while small-cap builder M/I Homes (MHO) reported a 43% surge in orders. Mortgage market data was also strong this morning as the Mortgage Bankers Association reported that the unadjusted Purchase Index - a leading indicator of Existing Home Sales - increased 8% compared with the previous week and was 11% higher than the same week one year ago. Apartment rental operator AvalonBay (AVB) reported results this afternoon, trading higher in the after-hours session after forecasting 3.0% same-store NOI growth at the mid-point and 5.1% Core FFO growth in 2020.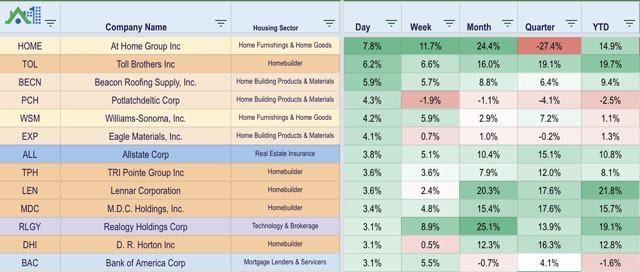 Characteristic of a 'risk-on' day, among equity sector-ETFs, the Financials (XLF), Healthcare (XLV), and Materials (XLB) sectors were the leaders on the day while the Energy (XLE), Commerical Real Estate (VNQ), and Utilities (XLU) sectors were the laggards. For the week, REITs are now higher by 1.3% compared to the 3.3% gains from the S&P 500. After outperforming for all of January, REITs are now underperforming the S&P 500 on a YTD basis. For the year, REITs are up by 2.5% compared to the 3.3% gain on the S&P 500. As discussed in our recent 2019 Real Estate Recap, REITs delivered their second-best year of the decade in 2019, delivering a total return of nearly 29%, falling just short the impressive 31% return on the S&P 500.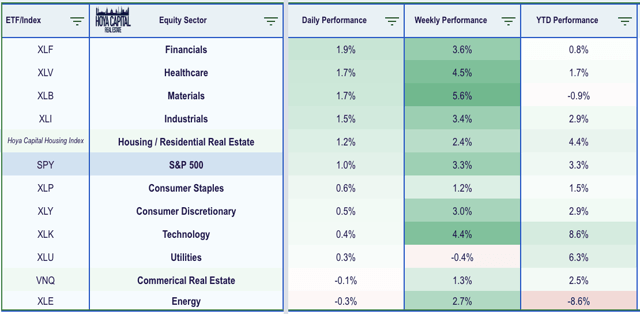 On the commercial real estate side, mall REITs remain in-focus after yesterday's reports that Simon Property (SPG) held merger talks with fellow mall REIT Taubman (TCO). TCO jumped another 7% on the day and is now higher by nearly 30% over the last month. Investors Real Estate (IRET), not to be confused with iREIT, also jumped more than 5% after it was announced that it's moving into the S&P SmallCap 600. The politically-sensitive prison REITs, GEO Group (GEO) and CoreCivic (CXW), were higher by more than 2.5%, correlating with a rise in the betting market odds of a Trump reelection following the State of the Union Address last night.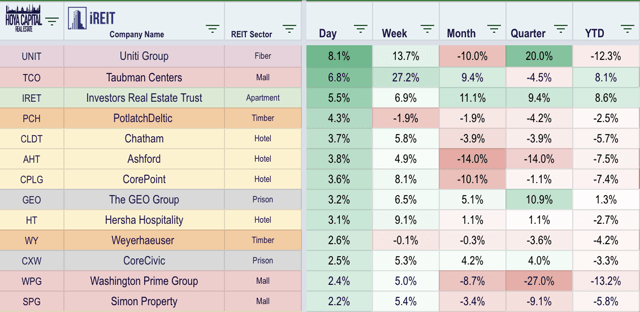 This morning, Brookfield Properties (BPY) reported generally in-line results, ending the day lower by 0.6%. The earnings slate this afternoon includes healthcare REIT Omega Properties (OHI), timber REIT Rayonier (RYN), and office REIT Cousins (CUZ) and headlining tomorrow's slate will be mall REITs Macerich (MAC), CBL & Associates (CBL), and data center REIT CoreSite (COR). We recently published our 4Q19 Real Estate Earnings Preview: 5 Trends To Watch This Earnings Season. We'll have additional coverage as REIT earnings season ramps up next week on iREIT on Alpha.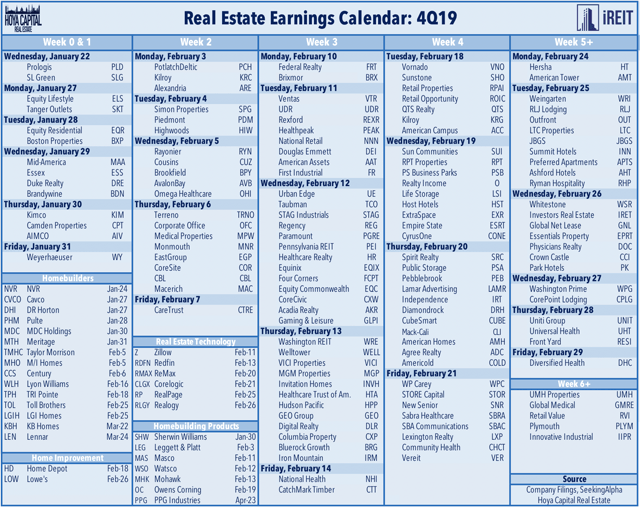 Real Estate Sector Reports
On Monday, we published Real Estate CEFs: Satisfying A High Yield Fix. While CEFs are generally significantly more expensive and less tax-efficient than their ETF counterparts, CEFs can use leverage to amplify returns and have produced comparatively strong performance over the past decade. Real Estate CEFs typically hold a broader range of securities than ETFs including preferreds, convertibles, and bonds. Unlike High Yield REIT ETFs that typically invest in riskier or troubled companies to achieve their sky-high yields, CEFs can achieve comparable yields by levering-up a relatively higher-quality underlying portfolio.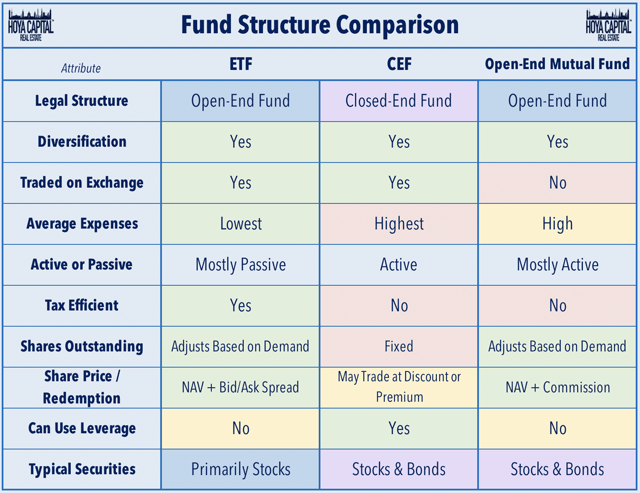 We examine the most popular CEFs with an average dividend yield of 7.0%. While we believe ETFs are the more suitable option for the vast majority of investors, CEFs can make sense for certain investors seeking high income, access to leverage, active management, and are willing to pay a steep expense premium for it. For investors who absolutely need the 6-7% yield from their real estate allocation, we like the Cohen & Steers suite of levered CEFs: RQI and RNP and believe that these may indeed be slightly better options for sophisticated investors than the high-yield REIT ETFs covered in the last report, especially for tax-advantaged accounts that wouldn't benefit quite as much from the substantially superior tax efficiencies of ETFs.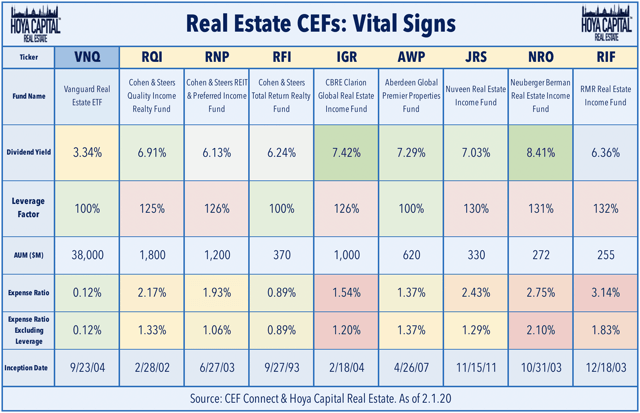 This Week's Economic Calendar
Employment data highlights this week's busy economic calendar, headlined by the BLS nonfarm payrolls report on Friday. Economists are looking for 161k in job growth following last month's slightly disappointing 145k print. Average hourly earnings are expected to increase by 3.0%, down a tenth of a percent from last month, while the unemployment rate is expected to stay steady at 3.5%. We'll also see a flurry of PMI data throughout the week.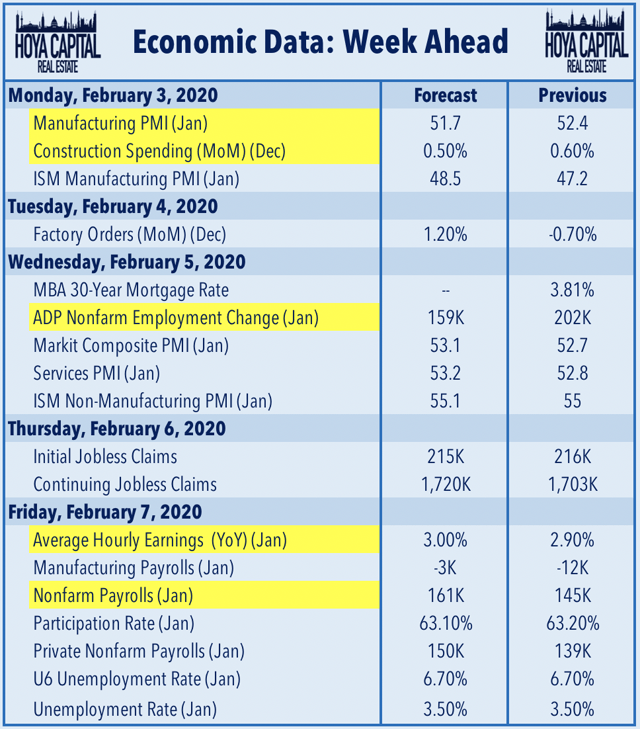 Join our Mailing List on our Website
Visit our website for free access to our full research library including coverage of Apartments, Homebuilders, Student Housing, Single-Family Rentals, Manufactured Housing, Cell Towers, Healthcare, Industrial, Data Center, Malls, Net Lease, Shopping Centers, Hotels, Office, Storage, Timber, and Real Estate Crowdfunding.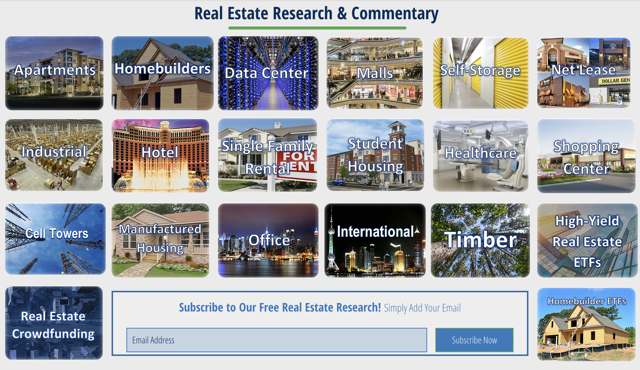 Disclosure: Hoya Capital Real Estate advises an Exchange Traded Fund listed on the NYSE. In addition to the long positions listed above, Hoya Capital is long all components in the Hoya Capital Housing 100 Index. Real Estate and Housing Index definitions and holdings are available at HoyaCapital.com.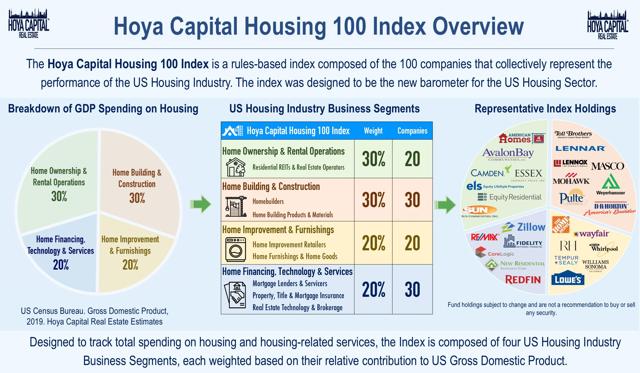 Additional Disclosure: It is not possible to invest directly in an index. Index performance cited in this commentary does not reflect the performance of any fund or other account managed or serviced by Hoya Capital Real Estate. All commentary published by Hoya Capital Real Estate is available free of charge and is for informational purposes only and is not intended as investment advice. Data quoted represents past performance, which is no guarantee of future results. Information presented is believed to be factual and up-to-date, but we do not guarantee its accuracy.
Hoya Capital Teams Up With iREIT
Hoya Capital is excited to announce that we've teamed up with iREIT to cultivate the premier institutional-quality real estate research service on Seeking Alpha! Sign up today and receive a free two-week trial!