Real Estate Daily Recap
Our Real Estate Daily Recap discusses the notable news and events in the real estate sector over the last trading day and highlights sector-by-sector performance. We publish this note every afternoon at HoyaCapital.com and, by reader demand, occasionally on Seeking Alpha to cover significant news. Subscribe to our free mailing list to make sure you never miss the latest developments in the commercial and residential real estate sectors. You can also follow our real-time commentary on Twitter and LinkedIn.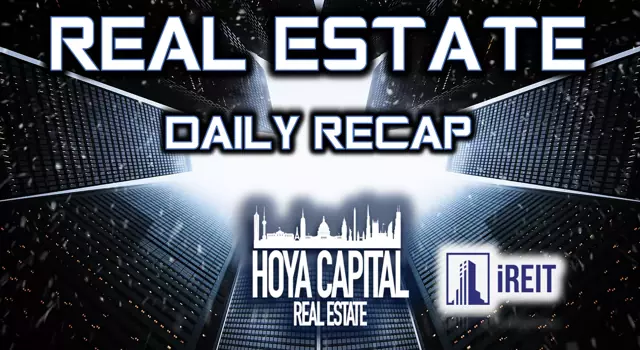 U.S. equity markets retreated from record-highs as investor attention reverts back to the potential economic fallout of the coronavirus outbreak following Apple's (AAPL) sales warning last night. After gains of 1.6% last week, the S&P 500 ETF (SPY) finished lower by 0.3% while the Dow Jones Industrial Average (DIA) retreated by 165 points after gaining more than 1,100 points over the prior two weeks. The 10-Year Treasury Yield (IEF) declined by 3 basis points to end at 1.56%. Coming off its best week in more than a year, the broad-based commercial Real Estate ETF (VNQ) outperformed again but still finished lower by 0.1% on the day ahead of a jam-packed week of real estate earnings results.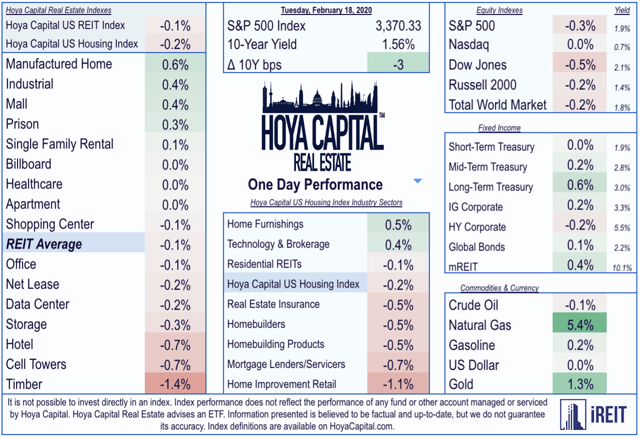 The Hoya Capital Housing Index, the benchmark that tracks the performance of the US Housing Industry, retreated by 0.2% on the day after closing at record-highs last week. Homebuilder Sentiment remained near 20-year highs in February, as the NAHB cited "steady job growth, rising wages and low interest rates" as drivers of housing demand. Tomorrow morning, we'll see Housing Starts and Building Permits data for January and on Friday, we'll see Existing Home Sales. Single-family rental REIT Invitation Homes (INVH) reported results this afternoon, forecasting solid 2020 same-store revenue and NOI growth of 4.0% and 4.25%, respectively, at the midpoint. Student housing REIT American Campus (ACC) also reported strong results and announced it was selected as the strategic housing master plan partner for West Virginia University, trading higher by 4% in after-hours trading.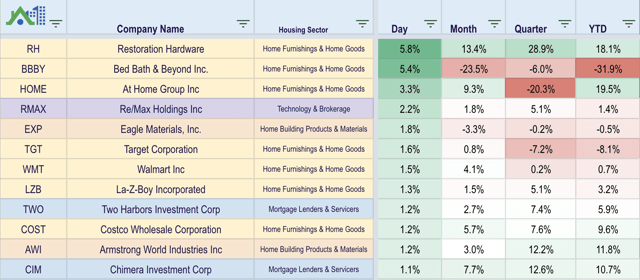 The sector performance today was characteristic of a "risk-off" pattern with the Utilities (XLU), Consumer Discretionary (XLY) and Commerical Real Estate (VNQ) among the top-performing sectors while the Financials (XLF), Energy (XLE), and Industrials (XLI) sectors were the laggards. For the year, REITs are now higher by 7.2% compared to the 4.6% gains from the S&P 500. Homebuilders, meanwhile, are higher by more than 15%. As discussed in our recent 2019 Real Estate Recap, REITs delivered their second-best year of the decade in 2019, delivering a total return of nearly 29%.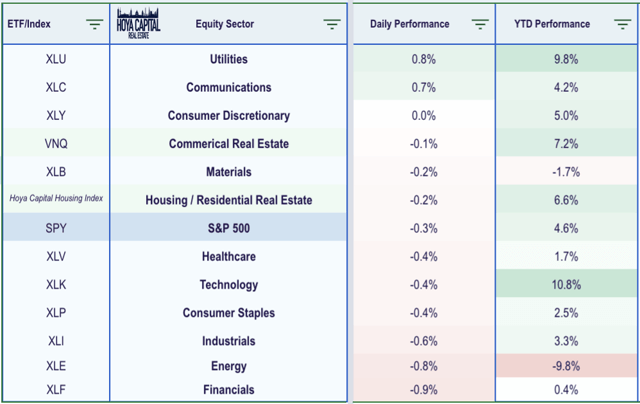 "Merger mania" continued in the commercial REIT sector as small-cap single-family rental REIT Front Yard Residential (RESI) jumped more than 10% after it agreed to be acquired by privately held real estate firm Amherst Residential for $12.50 per share in cash in a deal valued at roughly $2.3 billion that is expected to close in 2Q20. As analyzed in our Single Family Rental REIT report, RESI owns a portfolio of roughly 14,000 homes. The lone REIT to report this morning, NexPoint Residential (NXRT) retreated from recent record-highs after the small-cap apartment REIT reported earnings results that were slightly shy of estimates. Consistent with reaccelerating rent growth in 2019 observed across the residential REIT sector, NXRT reported strong 4.3% growth in same-store revenues and a 6.7% rise in same-store NOI.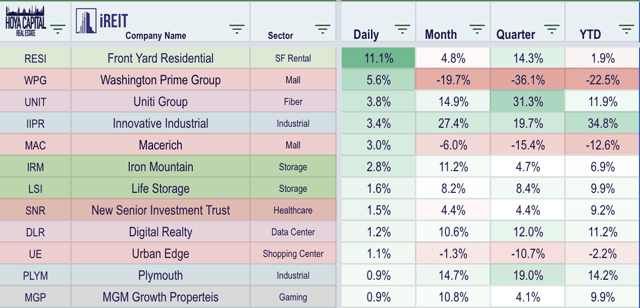 It'll be a busy afternoon of earnings with reports from self-storage REIT ExtraSpace (EXR), office REIT Vornado (VNO), industrial REIT PS Business Parks (PSB), data center REIT QTS Realty (QTS), and shopping center REITs Retail Opportunities (ROIC) and Retail Properties (RPAI). We recently published our 4Q19 Real Estate Earnings Preview: 5 Trends To Watch This Earnings Season. We'll have additional coverage on iREIT on Alpha as well as our Real Estate Weekly Outlook.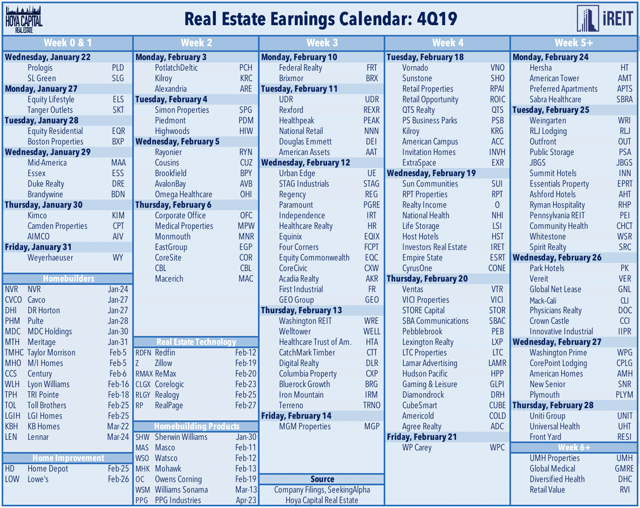 Real Estate Sector Reports
Today, we published Innovative Industrial: A High-Flying Cannabis REIT. Our inaugural "Small-Cap REIT Spotlight" report focuses on Innovative Industrial Properties (IIPR), a truly "high-flying" REIT focused on a unique segment of the real estate market: cannabis cultivation facilities. One of the newest and fastest-growing REITs, IIPR was founded in 2016 with just a single property but has been on a continuous acquisition-spree over the last three years. IIPR serves as a de facto lender to the cash-strapped (and generally unprofitable) cannabis cultivators who struggle to finance their businesses due to the intensely challenging competitive and regulatory environment. Trading at sky-high valuations, IIPR is a highly speculative - but immensely interesting - REIT by any measure. We discussed the firm's business strategy and the economics of cannabis-focused real estate ownership.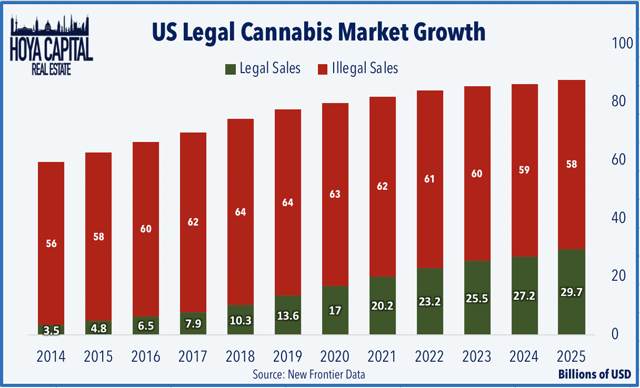 Last week, we published Renter Nation Is Alive And Well. Apartment REITs reported reaccelerating rent growth in 2019, as robust employment and wage gains have powered growth in both renter and owner household formations. Millennial-led gains in the homeownership rate did not come at the expense of the rental markets. Apartment occupancy rates remain near record highs, while turnover rates dipped to new record lows. Apartment REITs returned 26% in 2019 and are off to a hot start in 2020, as the employment outlook remains resilient. Sunbelt markets performed particularly well last year. The 2010s will be remembered as a decade of historic underbuilding. Despite a US population nearly double the size of the 1960s, the US produced 30% fewer housing units, which has led to the persistent rise in rents and housing costs.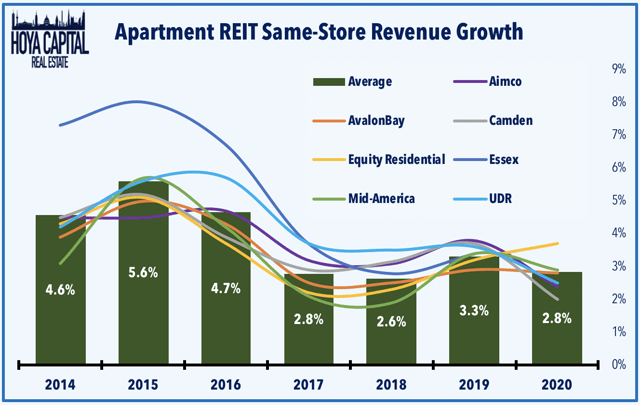 Last week, we also published The Taxman Cometh: REIT Tax Myths. With tax season (unfortunately) upon us, we address some of the most common questions and respond to some of the outright myths that we hear related to REITs and taxes. Functionally, from a tax reporting perspective, an investor's experience with REITs shouldn't be any different than a typical dividend-paying stock. REITs report using the standard 1099-DIV, not a K-1. For REITs, dividend distributions for tax purposes are heavily weighted to ordinary income -the majority of which qualifies for a 20% Qualified Business Income (QBI) deduction - with the balance coming from capital gains and return of capital, each of which are typically taxed at lower rates.

This Week's Economic Calendar
As discussed in our Real Estate Weekly Outlook, a busy two-week stretch of housing data began today with Homebuilder Sentiment, and follows on Wednesday with Housing Starts and Building Permits and concludes on Friday with Existing Home Sales. Besides housing data, we'll see PPI inflation data on Wednesday and PMI data on Friday.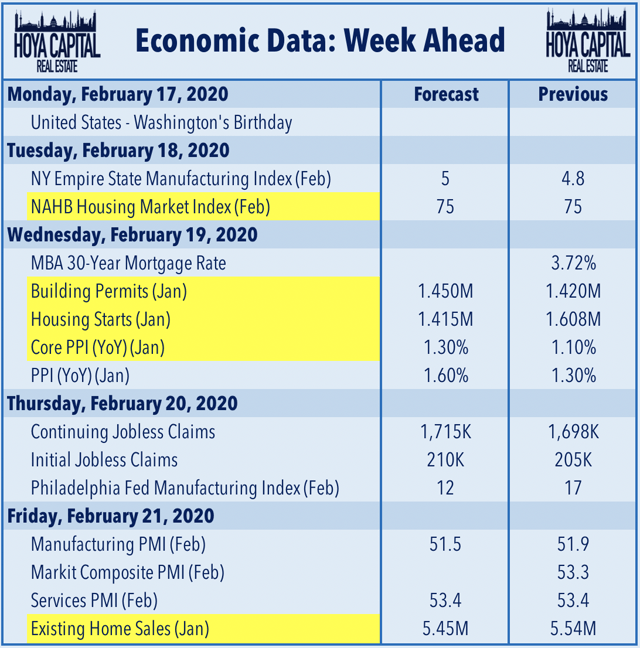 Join our Mailing List on our Website
Visit our website for free access to our full research library including coverage of Apartments, Homebuilders, Student Housing, Single-Family Rentals, Manufactured Housing, Cell Towers, Healthcare, Industrial, Data Center, Malls, Net Lease, Shopping Centers, Hotels, Office, Storage, Timber, and Real Estate Crowdfunding.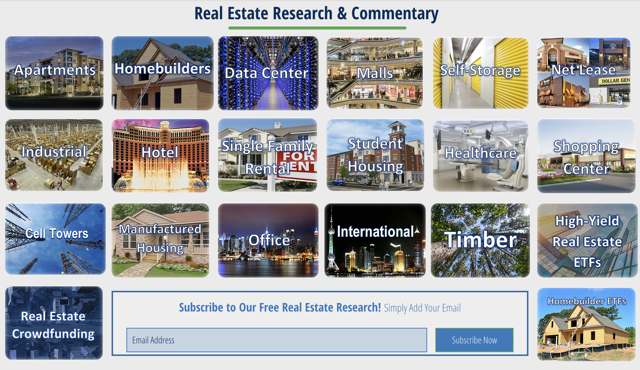 Disclosure: Hoya Capital Real Estate advises an Exchange Traded Fund listed on the NYSE. In addition to the long positions listed above, Hoya Capital is long all components in the Hoya Capital Housing 100 Index. Real Estate and Housing Index definitions and holdings are available at HoyaCapital.com.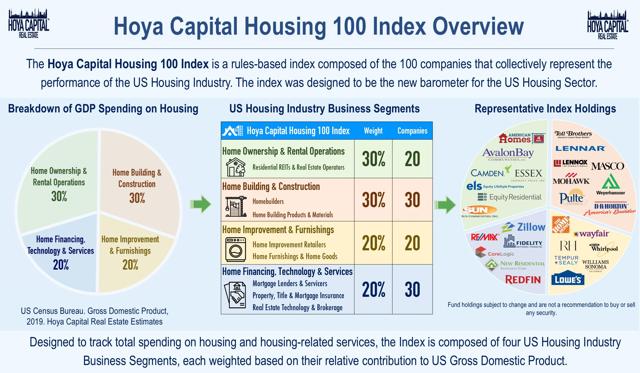 Additional Disclosure: It is not possible to invest directly in an index. Index performance cited in this commentary does not reflect the performance of any fund or other account managed or serviced by Hoya Capital Real Estate. All commentary published by Hoya Capital Real Estate is available free of charge and is for informational purposes only and is not intended as investment advice. Data quoted represents past performance, which is no guarantee of future results. Information presented is believed to be factual and up-to-date, but we do not guarantee its accuracy.