Real Estate Daily Recap
Our Real Estate Daily Recap discusses the notable news and events in the real estate sector over the last trading day and highlights sector-by-sector performance. We publish this note every afternoon at HoyaCapital.com and, by reader demand, occasionally on Seeking Alpha to cover significant news. Subscribe to our free mailing list to make sure you never miss the latest developments in the commercial and residential real estate sectors. You can also follow our real-time commentary on Twitter and LinkedIn.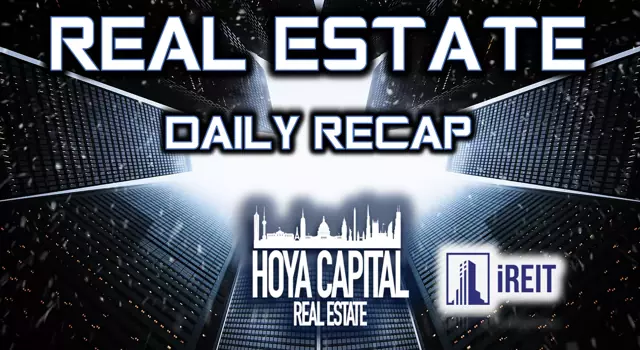 On a relatively calm day by coronavirus crisis standards, U.S. equity markets bounced back on Thursday led by many of the most recently-beaten-down equity sectors as policymakers and central banks continue to take action to combat the economic effects of the virus-related shutdowns. After a dip of 5% yesterday, the S&P 500 ETF (SPY) finished today higher by 0.2% while the Dow Jones Industrial Average (DIA) gained 188 points after dipping 1,300 points yesterday. Following a nearly 10% dip yesterday, the broad-based commercial Real Estate ETF (VNQ) gained 0.4% today led by a recovery in the mall, hotel, and healthcare sectors while the recently-outperforming REIT sectors including data centers and cell towers were among the laggards.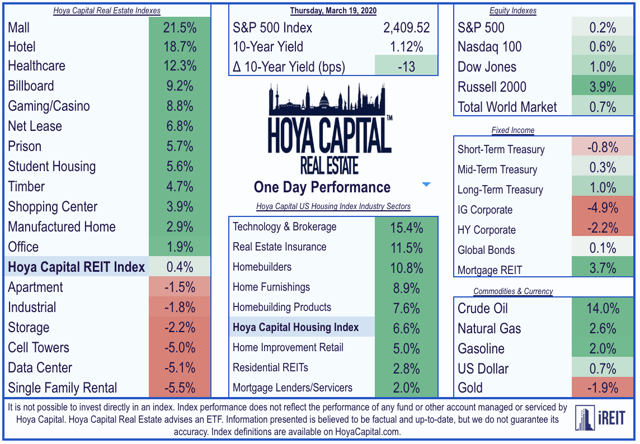 One of the most real-time indicators of labor market conditions is initial jobless claims data, and the normally overlooked data every Thursday morning will surely become a closely-watched report in the coming weeks. Prior to the coronavirus crisis, initial and continuing jobless claims data were at-or-near historically-low levels. Jobless claims data is lagged one week, so this week's report reflects data compiled through the end of last week. Initial jobless claims climbed to 281k last week, not as bad as many economists feared. Next week's report is expected to show a historic (but hopefully temporary) jump that could easily top 1.5 to 2 million. By comparison, the single-week peak during the financial crisis was 665k.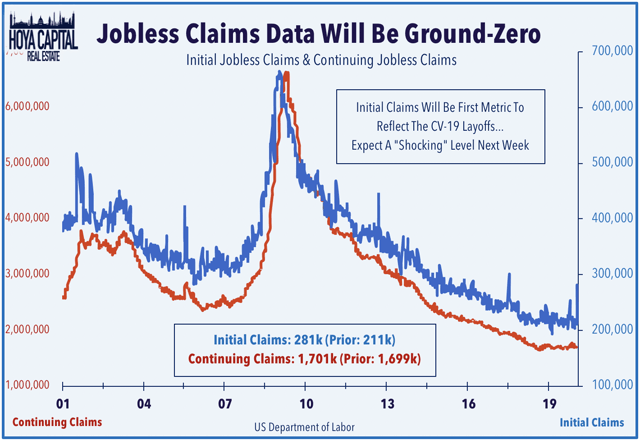 It was a mixed day in the bond market, however, as investors piled into Treasuries, but continued to flee investment-grade and high-yield credit amid continued uncertainty over potential Fed actions to address signs of stress in the funding markets. The 10-Year Treasury Yield (IEF) declined by 13 basis points to close at 1.12% while the Investment Grade Corporate Bonds (LQD) declined by 4.9%. Among equity sector ETFs, the beaten-down Energy (XLE), Consumer Discretionary (XLY), and Materials (XLB) sectors were the leaders today while the Utilities (XLP), and Consumer Staples (XLP) sectors lagged. For the year, REITs are now off by 32.3% compared to the 25.3% decline on the S&P 500.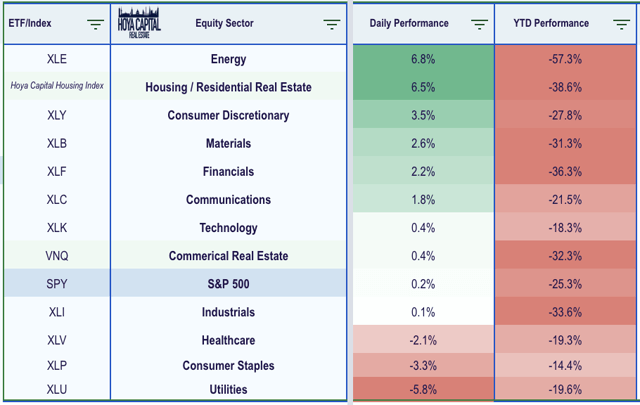 Homebuilders and other housing-related names bounced back strongly today amid an otherwise rough month. The housing markets were red-hot into late February before the coronavirus crisis and absent the outbreak, 2020 was poised to be a huge year for the recently resurgent U.S. housing industry. The sharp sell-off over the last month reflects a belief - a mistaken belief in our view - that the effects of the coronavirus crisis on the residential real estate market will mirror those of the 2007-2009 financial crisis. Lennar (LEN) reported another blockbuster earnings report with deliveries jumping 17% and net orders up 18% and noted that amid the crisis, it is "still selling homes." Re/MAX (RMAX), Tempur Sealy (TPX), At Home (HOME), Radian (RDN), and Realogy (RLGY) all jumped more than 35% on the day.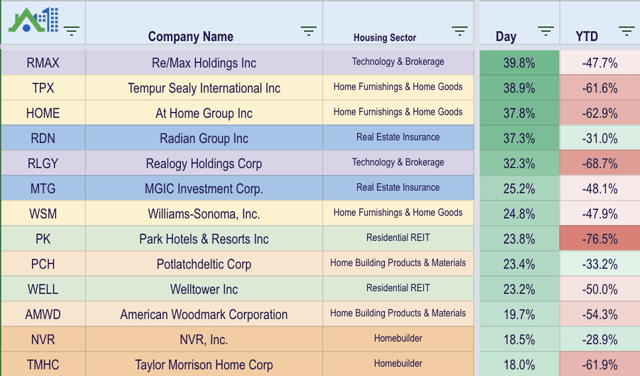 Overshadowed by the continuing coronavirus coverage, housing data was quite strong up through the end of February during the early-onset of the virus outbreak. Yesterday, the Census Bureau reported that Housing Starts came in at 1,599k units in February, beating estimates of 1,500k while the prior month was revised higher. Building Permits came in at 1,500k, slightly missing estimates of 1,551k while the prior month's revisions were unchanged. Despite reaching cycle-highs in early 2020, however, housing starts are still below the 1970-2010 average of 1,600k and substantially below the pre-crisis peak of roughly 2,200k. The U.S. housing industry entered this period of uncertainty on stable footing amid a lingering undersupply of housing, extremely favorable near-term demographics, and a decade of deleveraging, a vastly different fundamental environment than the pre-crisis period.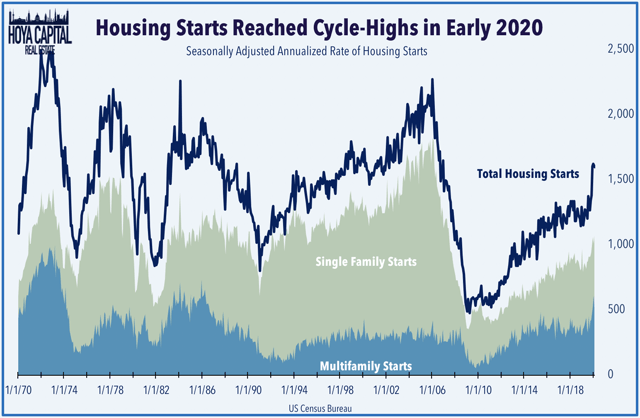 On the commercial real estate side, it was an upside-down day relative to recent patterns as the "coronavirus losers" were winners today while the recent outperformers were among the laggards. A dozen REITs gained more than 30% on the day, led by Ashford Hospitality (AHT), which remains lower by 55% this year despite surging more than 150% on the day. Mall REIT stalwart Simon Property Group (SPG) delivered one of it's best days of all time, surging nearly 25% despite announcing the closure of all of its properties until March 29th while fellow mall REIT Washington Prime (WPG) jumped more than 20% despite slashing its dividend by 50%. Skilled nursing REITs Omega Healthcare (OHI) and Sabra Healthcare (SBRA) were higher by 50% and 35%, respectively, their best single-day performances of all time.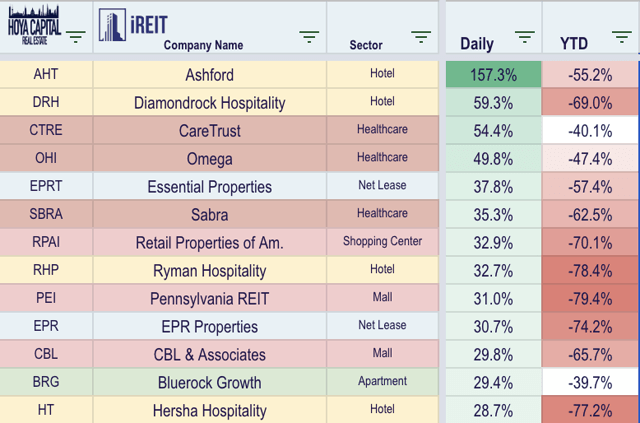 Real Estate Research Reports
This week, Brad Thomas published a report thorugh iREIT that examined the sector-by-sector exposure to the coronavirus crisis. The "stress test" scored each of the REIT sectors based on three metrics: average leverage metrics (debt/market value and EBITDA coverage), FFO Payout ratio, and CV-specific sector risk. We concluded that the manufactured housing, timber, cell tower, and single-family rental sectors were among the least-exposed across these metrics while the lodging, gaming, billboard, and mall sectors were among the most at-risk. Of course, within each sector, individual REITs have very different leverage and payout metrics, but the analysis serves as a useful guide to drive sector-level allocations amid the evolving CV-19 outbreak.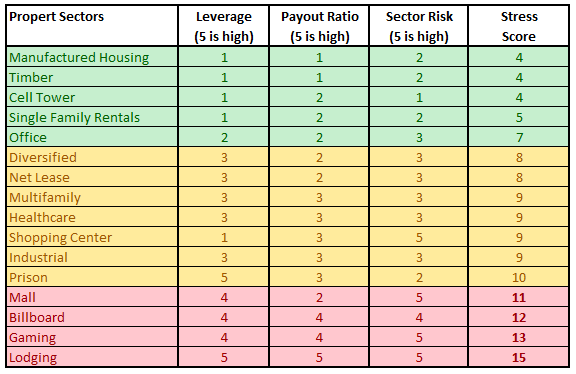 Last week, we published REITs: This Time Is Different. It may be hard to believe now, but things will get better, but in the meantime, we believe that the residential and commercial real estate sectors are more than prepared to weather the storm. Owing to the harsh lessons learned during the financial crisis, most REITs have been exceedingly conservative with their balance sheet and strategic decisions in the post-recession period. With the scars still visible enough to be daily reminders of more dismal times, REITs have been "preparing for winter" for the last decade, perhaps to the frustration of yield-hungry investors that have turned to higher-leveraged and riskier alternatives in recent years. Conservatism has positioned these REITs exceedingly well relative to more highly leveraged private equity competitors in the event of a sustained slowdown in fundamentals related to the coronavirus outbreak.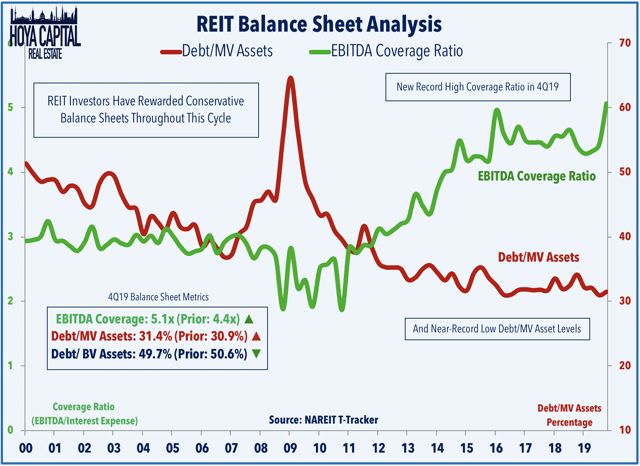 This Week's Economic Calendar
As discussed in our Real Estate Weekly Outlook, a busy two-week stretch of housing and economic data concludes on Friday with Existing Home Sales.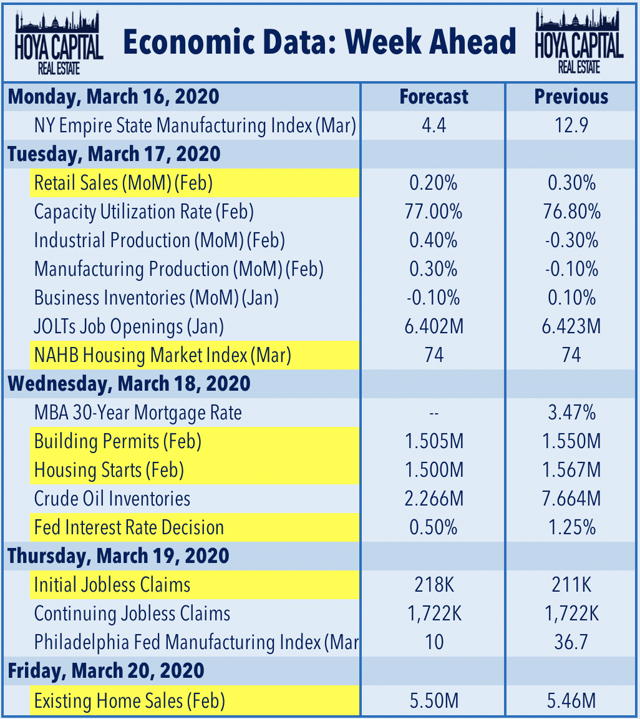 Join our Mailing List on our Website
Visit our website and join our email list for free access to our full real estate research library: HoyaCapital.com. You can also follow our real-time commentary on Twitter and LinkedIn.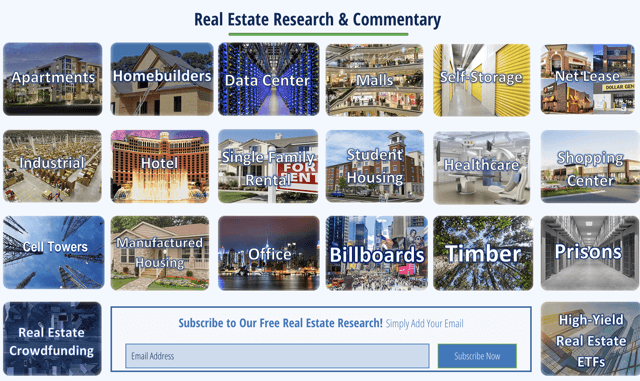 Disclosure: Hoya Capital Real Estate advises an Exchange Traded Fund listed on the NYSE. In addition to the long positions listed above, Hoya Capital is long all components in the Hoya Capital Housing 100 Index. Real Estate and Housing Index definitions and holdings are available at HoyaCapital.com.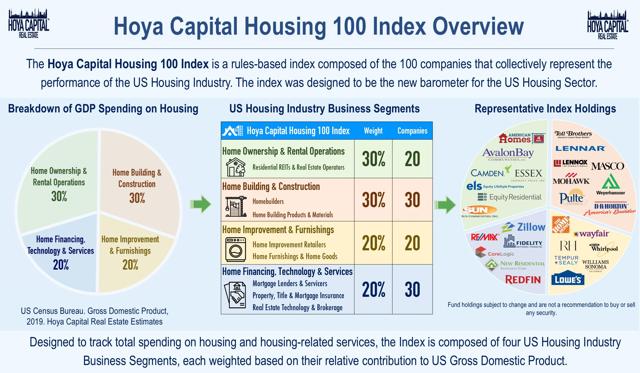 Additional Disclosure: It is not possible to invest directly in an index. Index performance cited in this commentary does not reflect the performance of any fund or other account managed or serviced by Hoya Capital Real Estate. All commentary published by Hoya Capital Real Estate is available free of charge and is for informational purposes only and is not intended as investment advice. Data quoted represents past performance, which is no guarantee of future results. Information presented is believed to be factual and up-to-date, but we do not guarantee its accuracy.
Hoya Capital Teams Up With iREIT
Hoya Capital is excited to announce that we've teamed up with iREIT to cultivate the premier institutional-quality real estate research service on Seeking Alpha! Sign up today and receive a free two-week trial!