Real Estate Daily Recap
Our Real Estate Daily Recap discusses the notable news and events in the real estate sector over the last trading day and highlights sector-by-sector performance. We publish this note every afternoon at HoyaCapital.com and, by reader demand, occasionally on Seeking Alpha to cover significant news. Subscribe to our free mailing list to make sure you never miss the latest developments in the commercial and residential real estate sectors. You can also follow our real-time commentary on Twitter and LinkedIn.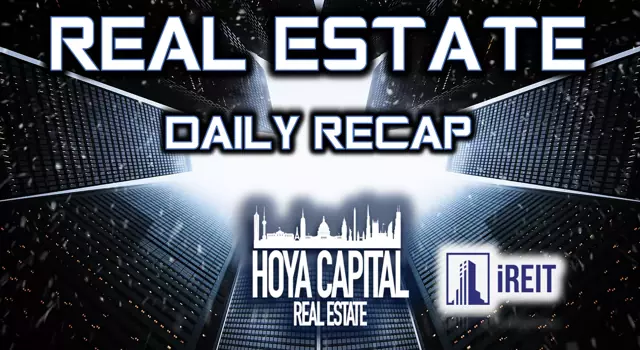 U.S. equity markets gained for the third straight day on Thursday, ending the shortest bear market in history on hopes that fiscal stimulus can offset near-term economic pain from coronavirus-related shutdowns. Following a combined 10.6% gain over the last two days, the S&P 500 ETF (SPY) gained another 6% while the Dow Jones Industrial Average (DIA) added nearly 1,351 points to the two-day 2,600 point gain. Adding to their two-day gain of nearly 15%, the broad-based commercial Real Estate ETF (VNQ) was again a leader today, gaining 7.1% with all 17 of the 18 REIT sectors in positive territory. Mortgage REITs (REM) jumped another 21% after yesterday's 25% surge as short-term funding concerns subside.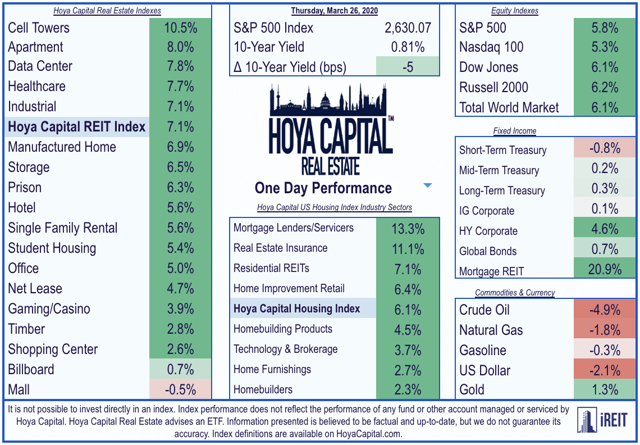 Don't fight the Fed. The far-healthier action in the corporate bond market over the last week - aided by support from the Federal Reserve - laid the seeds to the equity market rally this week. It was another strong day for corporate credit as Investment Grade Corporate Bonds (LQD) gained 4.6% while High Yield Corporate Bonds (JNK) rose 0.7%. The 10-Year Treasury Yield (IEF), meanwhile, declined by 5 basis points to close at 0.81%. Among equity sectors, the Utilities (XLU), Commerical Real Estate (VNQ), and Healthcare (XLV) sectors were top-performers while the Consumer Discretionary (XLY) and Materials (XLB) sectors were laggards. For the year, REITs are now lower by 24.6% compared to the 18.8% decline on the S&P 500. REITs are now roughly 25% higher from their low on Monday while the S&P 500 is up 17%.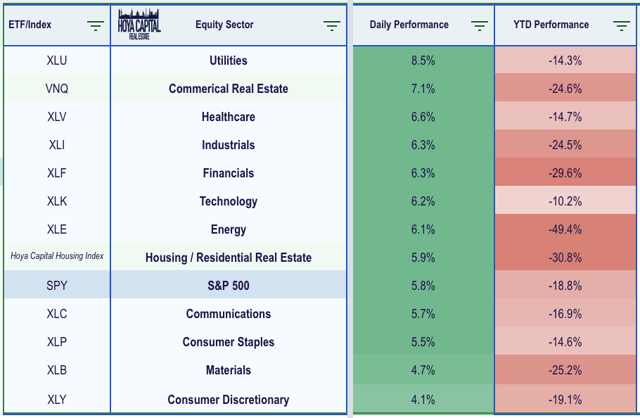 As discussed earlier in our post on iREIT on Alpha, the gains today come despite (or perhaps because of) a historic Initial Jobless Claims report this morning which skyrocketed to the highest level on record as broad coronavirus-related economic shutdowns put nearly 3.3 million Americans out of work last week. The 3.3 million print was nearly 5 times higher than any single-week during the 2008 Financial Crisis as Initial Jobless Claims topped-out at 665,000 in March 2009. Markets rallied immediately after the report and never looked back perhaps on expectations that either a) further stimulus could be expected given the "shockingly high" jobless claims data; or b) that there will be a higher tolerance for transitioning to a more "targeted" shutdown approach to avoid the extreme economic damage from more indiscriminate shutdowns.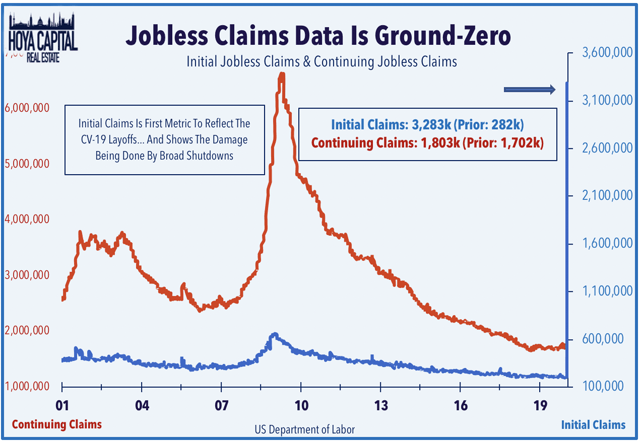 It was the third-straight strong day for housing-related equities. Gains today among the Hoya Capital Housing Index were led by residential real estate financial services firms as residential mortgage REITs and mortgage insurers, which were hit especially hard amid the intense volatility last week, delivered double-digit gains today. Perhaps the biggest news came after-hours with homebuilder KB Home (KBH) reporting better-than-expected results across-the-board with net orders surging 31% year-over-year, while noting that "we continue to close homes and generate revenues." Homebuilders have surged a staggering 40% over the last three sessions alone after trading at P/E and P/B valuations below that seen during the lows of the 2008 recession.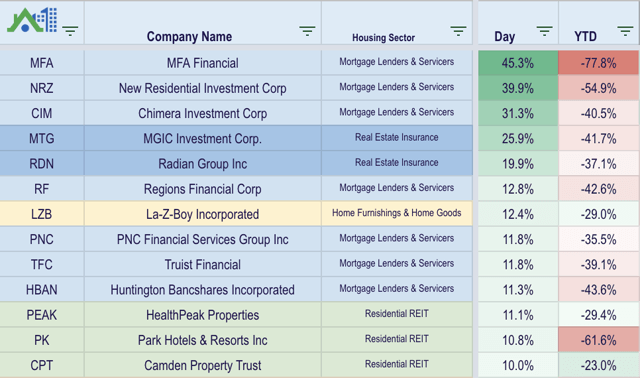 There may be many areas of the economy to worry about, but housing is pretty low on the list at the moment. Why is "this time different" for the U.S. housing market? For one, lending standards have been brutally tight over the last decade. Subprime and variable-rate mortgages, which were at the root of the cascade of foreclosures that sparked the financial crisis, have been almost nonexistent. "Super Prime" (760+) accounted for 54% of all originations from 2010-2019, and that share has steadily risen to more than 60% in 2019. Add that to the significant under-building and demographic-driven demand and it's far easier to envision a scenario where housing leads the recovery once the dust settles than a 2008-like scenario of cascading issues across the sector.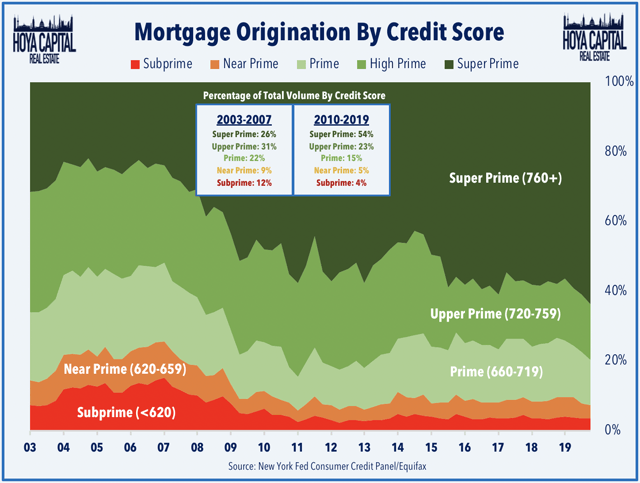 On the commercial real estate side, every REIT sector besides malls were in positive territory on the day, led by the cell tower, apartment, and data center sectors. Mall REITs were impacted by yesterday's report that Cheesecake Factory (CAKE) has been telling landlords that it won't be able to make rent payments due April 1, perhaps setting a precedent of rent forgiveness from retail landlords, which impacted shares of mall REITs Simon Property (SPG) and Macerich (MAC). Five REITs broke into positive territory for the year including Digital Realty (DLR), Crown Castle (CCI), Equinix (EQIX), and Innovative Industrial Properties (IIPR). 

Real Estate Sector Reports
Earlier this week, we published Cheap REITs Get Cheaper. Earlier this year, we published a report titled "Cheap REITs Stay Cheap" that analyzed the "factors" that exhibited persistent outperformance in the REIT sector over the past several decades. Key takeaways from this report included the observation that higher-yielding, higher-leveraged, and "inexpensive" REITs tended to produce inferior total returns over most measurement periods.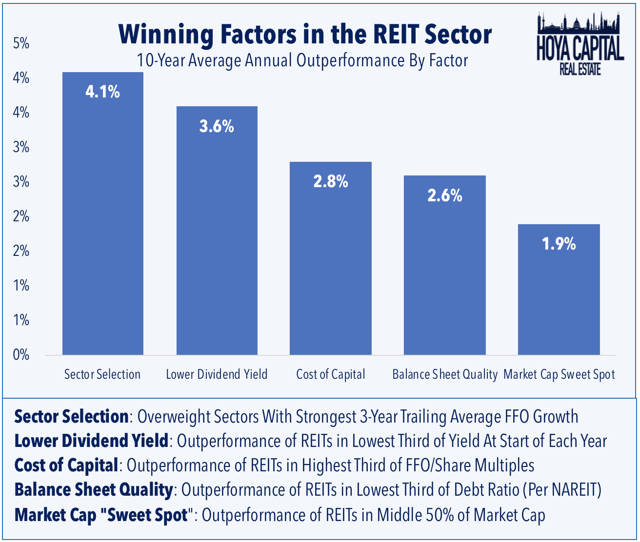 These "factors" have been on full display at extreme levels amid the violent volatility related to the coronavirus shutdowns. We revisit analyze the performance trends within the REIT sector. Broad-based REIT ETFs wiped out nearly 5 years of total returns over the last month. Higher-yielding REITs have been hit especially hard, plunging nearly twice as far as their lower-yielding counterparts. We've observed some clear "baby out with the bathwater" trends over the last two weeks presenting opportunities to rotate into higher-quality REITs in more resilient sectors.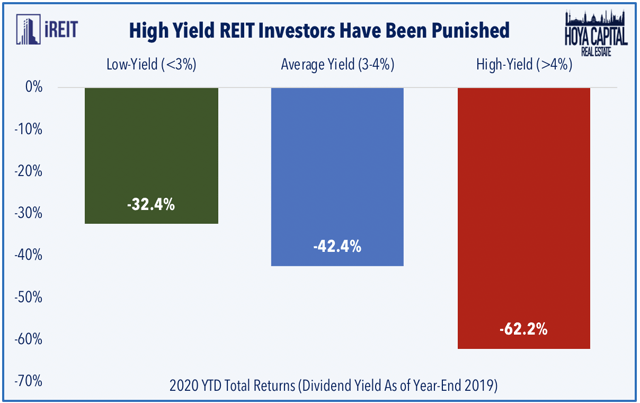 This Week's Economic Calendar
Tomorrow, we'll see some inflation data and personal spending from February and will recap the week of economic data in our Real Estate Weekly Outlook.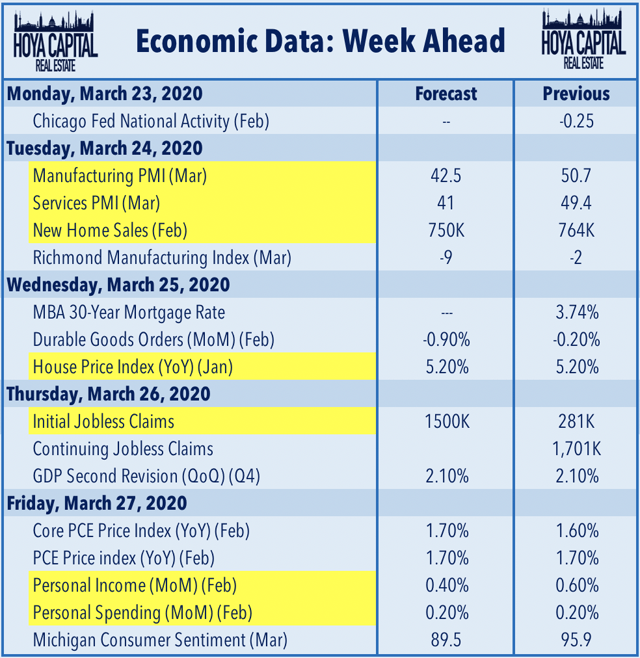 Join our Mailing List on our Website
Visit our website and join our email list for free access to our full real estate research library: HoyaCapital.comwhere we have quick links all of our real estate sector reports and daily recaps. You can also follow our real-time commentary on Twitter and LinkedIn.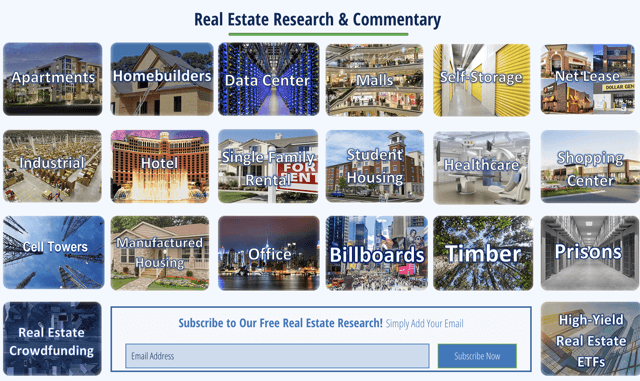 Disclosure: Hoya Capital Real Estate advises an Exchange Traded Fund listed on the NYSE. In addition to the long positions listed above, Hoya Capital is long all components in the Hoya Capital Housing 100 Index. Real Estate and Housing Index definitions and holdings are available at HoyaCapital.com.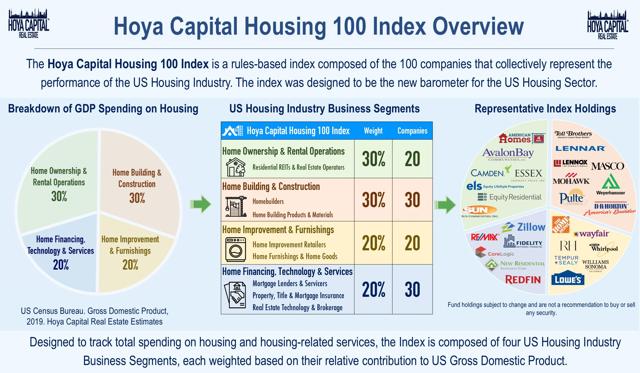 Additional Disclosure: It is not possible to invest directly in an index. Index performance cited in this commentary does not reflect the performance of any fund or other account managed or serviced by Hoya Capital Real Estate. All commentary published by Hoya Capital Real Estate is available free of charge and is for informational purposes only and is not intended as investment advice. Data quoted represents past performance, which is no guarantee of future results. Information presented is believed to be factual and up-to-date, but we do not guarantee its accuracy.
Hoya Capital Teams Up With iREIT
Hoya Capital is excited to announce that we've teamed up with iREIT to cultivate the premier institutional-quality real estate research service on Seeking Alpha! Sign up today and receive a free two-week trial!