Real Estate Daily Recap
Our Real Estate Daily Recap discusses the notable news and events in the real estate sector over the last trading day and highlights sector-by-sector performance. We publish this note every afternoon at HoyaCapital.com and, by reader demand, occasionally on Seeking Alpha to cover significant news. Subscribe to our free mailing list to make sure you never miss the latest developments in the commercial and residential real estate sectors. You can also follow our real-time commentary on Twitter and LinkedIn.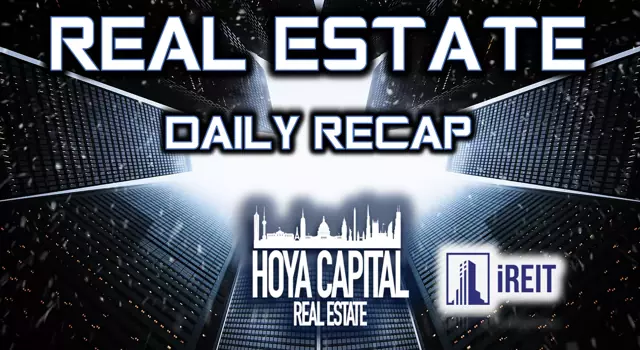 U.S. equity markets snapped a two-day skid with solid gains on Wednesday as oil prices stabilized and corporate earnings results, so far, haven't been quite as dismal as previously feared. After skidding nearly 5% on the prior two days, the S&P 500 ETF (SPY) gained 2.3% while the Dow Jones Industrial Average (DIA) gained 450 points after shedding 1,200 points in the prior two sessions. Real estate equities finished mostly higher as earnings results and updates on rent collection continue to trickle in. Following declines of 1.7% yesterday, the broad-based Equity REIT ETFs (VNQ) (SCHH) were higher by 1.3% with solid gains from residential REITs offset by weakness from retail REITs while Mortgage REITs (REM) finished lower by 1.3%.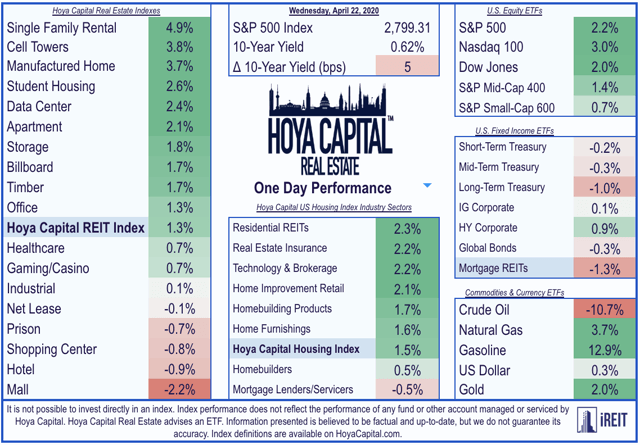 The U.S. energy markets generally stabilized today after a tumultuous two days that saw front-month oil contract dive into negative territory on Monday. Despite a bounce in front-month oil contracts today, however, the Oil ETF (USO) finished lower by 10.7% but the Gasoline ETF (UGA) recovered 12.9%. The Technology (XLK) sector led the way today and with that came outperformance from the large-cap segment of the equity market while Mid-Cap (MDY) and Small-Cap (SLY) stocks were laggards on the day. The 10-Year Treasury Yield (IEF) bounced back 5 basis points after yesterday's historic closing low of 0.57% while corporate bonds were generally higher. Today's underperformance from the real estate sector extended their YTD underperformance gap as REITs are now lower by 21.3% compared to the 13.3% decline on the S&P 500.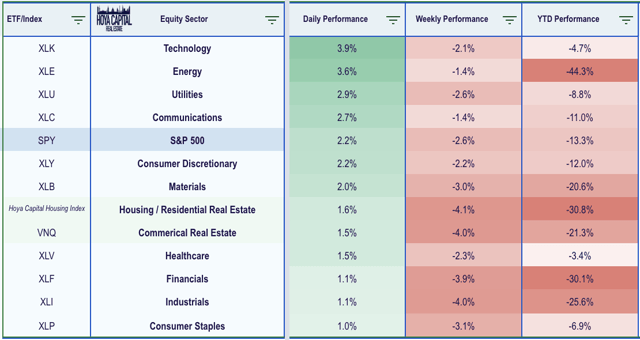 Commercial Equity REITs
Today, we published our Real Estate Earnings Preview where we noted the trends that we're watching in each of the 18 equity REIT sectors. REIT earnings should provide pivotal information on rent collection and future dividend plans. This morning, we heard from diversified REIT Armada Hoffler (AHH), which announced that it collected 77% of total portfolio rents due for April. Office tenants have paid 99%, multifamily tenants paid 96% and retail tenants have paid 56%. These trends are generally consistent with updates we've heard over the last few weeks and the results of a survey of 44 REITs published today by NAREIT. Residential and Industrial REITs are expected to report relatively limited issues with rent collection. The same can't necessarily be said about other commercial real estate sectors, particularly retail REITs.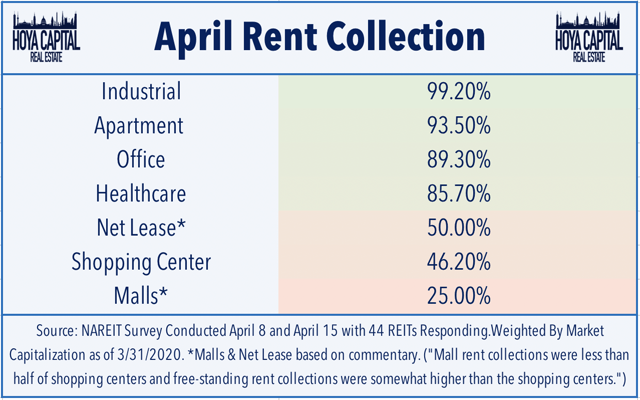 After the close today, we heard from manufactured housing REIT Sun Communities (SUI) which reported a robust 6.7% rise in same-store NOI and that MH rent collections for the month of April total approximately 98 percent as of April 21, 2020. Equity LifeStyle Properties (ELS) reported on Monday that it collected 96% of April 2020 rent compared to 97% at this time in April 2019 in the manufactured housing communities and 96% of April rent in their RV communities. Though representing just 5-8% of NOI, transient/seasonal RV sites - many of which remain closed - remain the biggest risk to 2020 results. While not an immediate impact on these REITs, manufactured housing and RV sales were already slowing before the crisis as discussed in our Manufactured Housing REIT sector report.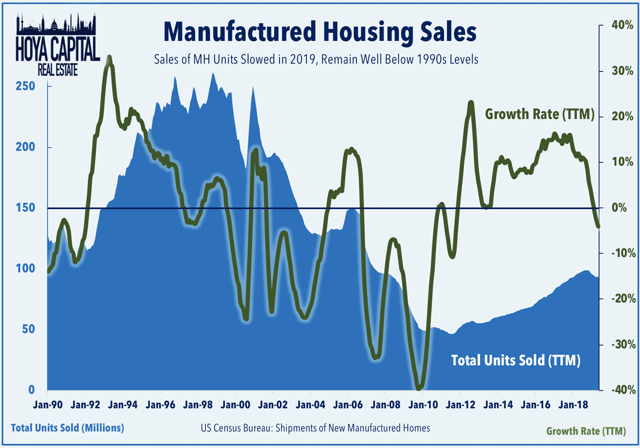 Also reporting after the close today was Retail Opportunity (ROIC), a shopping center REIT with a portfolio of primarily grocery-anchored centers. ROIC noted that all 88 of their centers were open and operating and that 78.8% were considered "essential businesses." Despite this, the firm collected just 67.5% of their April rent through mid-month, which is not a particularly good sign for other retail REITs that have a far lower percentage of "essential" retail tenants. ROIC also announced that it has temporarily suspended its dividend. We've now tracked 23 equity REITs in our universe of 165 names to announce a cut or suspension of their dividends in addition to the roughly half of mortgage REITs (20 out of 41) that have announced dividend cuts thus far.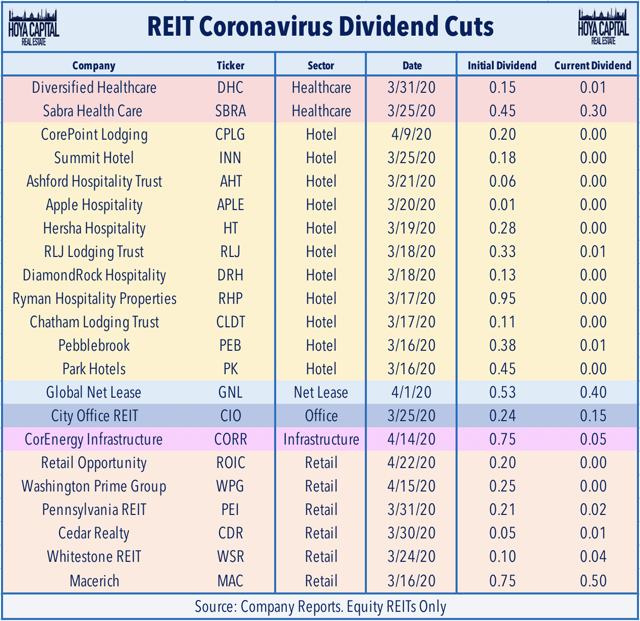 Also reporting this afternoon was office REIT Washington REIT (WRE), which reported that it collected 91% of April office rents but 95% of rents on their residential properties. Net lease REIT Spirit Realty (SRC) also announced that it expects April rent collections of 69% by the end of the month. We'll cover results from SL Green (SLG), First Industrial (FR), Brandywine (BDN), and Safehold (SAFE) in tomorrow's report. Below we compiled the notable earnings that we're watching across the residential and commercial real estate sectors, which we will update throughout earnings season on our in our Real Estate Weekly Outlook. (Note that REITs that have not yet announced an earnings date are in italics with an estimated data based on past earnings.)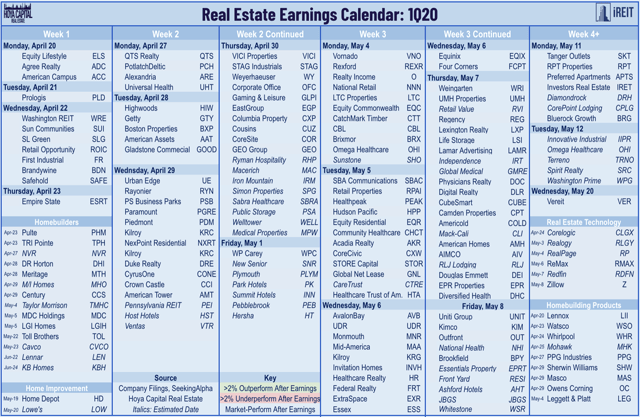 Yesterday, we published Healthcare REITs: Back on Life Support. The United States healthcare system has taken center-stage amid the coronavirus outbreak. Healthcare REITs have been on a roller-coaster ride amid evolving forecasts of the severity of the pandemic. Healthcare REITs were slammed during the early-onset of the outbreak but have recovered in recent weeks as death rate estimates have been revised drastically lower from early catastrophic figures. While likely less devastating on underlying demographics than once feared, no healthcare real estate sector is immune from the significant near-term and long-term effects of the pandemic. The positive long-term outlook for senior housing, however, remains intact as the long-awaited demographic-driven demand boom is finally arriving, but we're keyed-in on potential near-term issues with operators and expenses.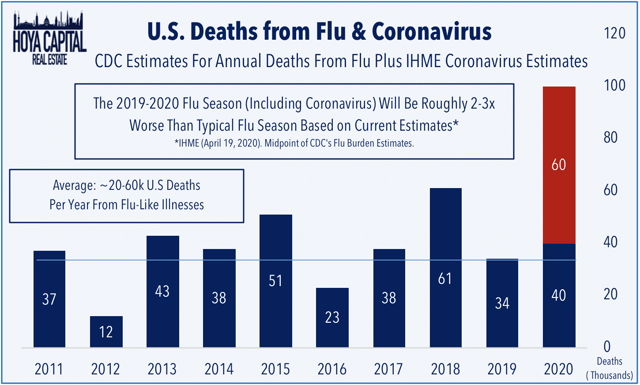 Residential Real Estate
Residential REITs and real estate insurance firms led the performance within the Hoya Capital Housing Index today. Single-family rental REITs American Homes (AMH) and Invitation Homes (INVH) delivered especially strong performance, bolstered by the generally positive news on residential rent collection over the last several days. Homebuilders finished slightly higher today ahead of New Home Sales data tomorrow morning which is expected to show a sharp pull-back in sales for March. Homebuilding products firms including Trex (TREX) and Sherwin Williams (SHW) were also among the leaders within the housing sector today.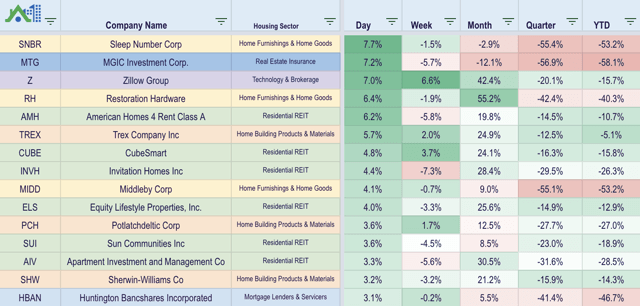 Yesterday, we reported that Existing Home Sales declined in March as the effects of the coronavirus begin to reflected in housing market data, but inventory levels ticked towards historic lows and home prices actually accelerated to 8.0% from the same period last year, consistent with our view that while we'll surely see a sharp drop in home sales amid broad "stay-at-home" orders, we believe that home values will remain firm due to the lingering undersupply of housing in most major markets. Despite a solid end to the decade for new home construction, the 2010s will ultimately be remembered as a decade of significant under-building of housing units.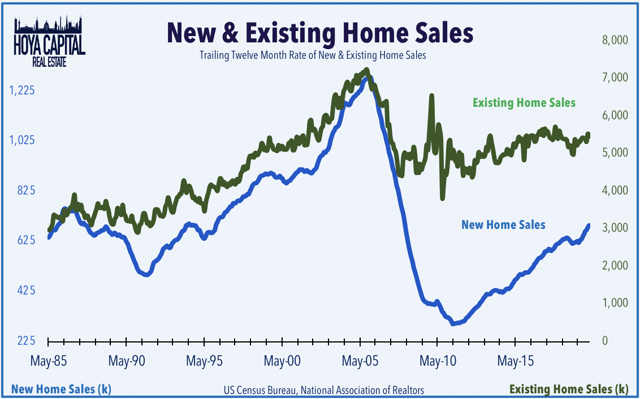 Mortgage REITs
After solid gains yesterday, mortgage REITs took a leg lower today as the industry digests the latest regulatory relief measures from the FHFA, which yesterday announced measures to provide relief to mortgage servicers to ease near-term liquidity concerns from mortgage forbearance. The FHFA plans to limit mortgage servicers' advance obligations for loans in forbearance to four months and also instructed GSEs Fannie Mae and Freddie Mac to maintain loans in COVID-19 payment forbearance plans in MBS pools for at least the duration of the forbearance plan. Granite Pointe (GPMT) led the declines today, along with New Residential (NRZ) and AG Mortgage (MITT). We'll learn quite a bit more when mREIT earnings season begins next week. 
This Week's Economic Calendar
Initial Jobless Claims data tomorrow will again be the "blockbuster" report with expectations that we will see another 3-6 million job losses, pushing the five-week total above 25 million. We'll also see New Home Sales and PMI data on Thursday and Durable Goods data on Friday.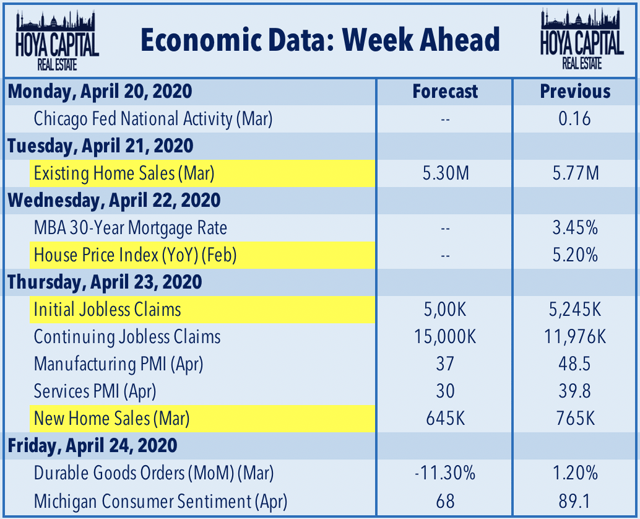 Join our Mailing List on our Website
Visit our website and join our email list for free access to our full real estate research library: HoyaCapital.com where we have quick links all of our real estate sector reports and daily recaps. You can also follow our real-time commentary on Twitter and LinkedIn.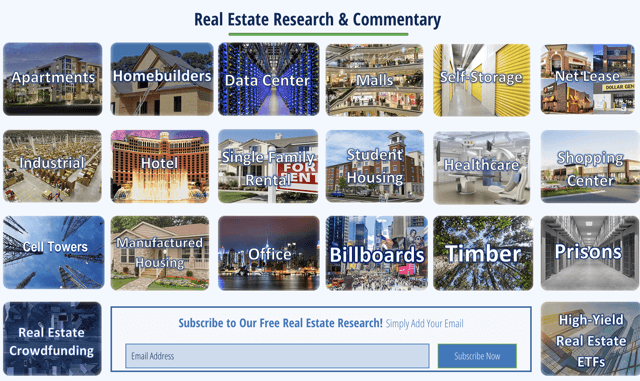 Disclosure: Hoya Capital Real Estate advises an Exchange Traded Fund listed on the NYSE. In addition to the long positions listed above, Hoya Capital is long all components in the Hoya Capital Housing 100 Index. Real Estate and Housing Index definitions and holdings are available at HoyaCapital.com.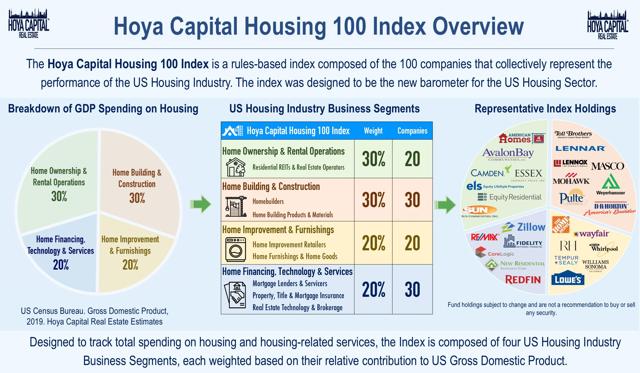 Additional Disclosure: It is not possible to invest directly in an index. Index performance cited in this commentary does not reflect the performance of any fund or other account managed or serviced by Hoya Capital Real Estate. All commentary published by Hoya Capital Real Estate is available free of charge and is for informational purposes only and is not intended as investment advice. Data quoted represents past performance, which is no guarantee of future results. Information presented is believed to be factual and up-to-date, but we do not guarantee its accuracy.
Hoya Capital Teams Up With iREIT
Hoya Capital is excited to announce that we've teamed up with iREIT to cultivate the premier institutional-quality real estate research service on Seeking Alpha! Sign up today and receive a free two-week trial!