Real Estate Daily Recap
Our Real Estate Daily Recap discusses the notable news and events in the real estate sector over the last trading day and highlights sector-by-sector performance. We publish this note every afternoon at HoyaCapital.com and, by reader demand, occasionally on Seeking Alpha to cover significant news. Subscribe to our free mailing list to make sure you never miss the latest developments in the commercial and residential real estate sectors. You can also follow our real-time commentary on Twitter and LinkedIn.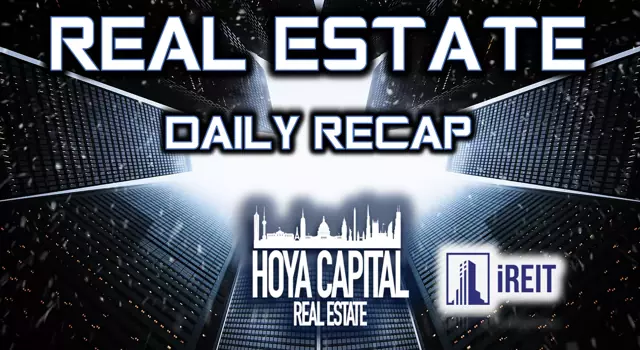 U.S. equity markets consolidated last week's strong gains on Monday as investors look ahead to another busy slate of corporate earnings results amid the gradual reopening of the U.S. economy. Following gains of 3.4% last week, the S&P 500 ETF (SPY) finished fractionally higher by while the Dow Jones Industrial Average (DIA) pulled back 110 points while the Nasdaq (QQQ) gained 0.7%. After gaining 1.3% last week, the broad-based Equity REIT ETFs (VNQ) (SCHH) declined by 1.8% on the day with 15 of 18 REIT sectors in negative territory, led to the downside by hotel, shopping center, and mall REITs while Mortgage REITs (REM) dipped 4.0% on the day.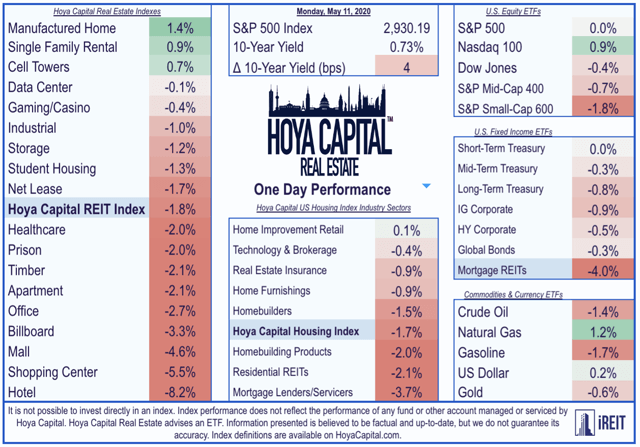 Today's trading action saw a return of the prevailing trends of 2020 with the Healthcare (XLV), Technology (XLK), and Communications (XLC) sectors leading the way while Financial (XLF), and Energy (XLE) stocks lagged. Meanwhile, Small-Cap (SLY) and Mid-Cap (MDY) stocks underperformed the large-cap indexes, falling by 1.8% and 0.7%, respectively. Bonds were also under pressure today as the 10-Year Treasury Yield (IEF) climbed 4 basis points to close at 0.73% while Investment Grade (LQD) and High-Yield (JNK) corporate bonds finished lower on the day. Today's performance from the REIT sector expanded their YTD underperformance gap as REITs are now lower by 20.4% on the year compared to the 9.1% decline on the S&P 500. 

Commercial Equity REITs
Last, we published Who Paid The Rent? Earnings Halftime Report. We're now coming down the homestretch of the most newsworthy and consequential REIT earnings season in a decade. Rent collection and dividend plans have been the primary focus of investors. Rent collection has been largely a non-issue for residential, industrial, and office REITs, as each sector has collected over 90% of April rents. For retailers, if you're not essential, you're not probably paying the rent. We have a full breakdown of all of the REIT earnings results below including the summary of our real-time rent collection tracker exclusive to iREIT on Alpha premium subscribers.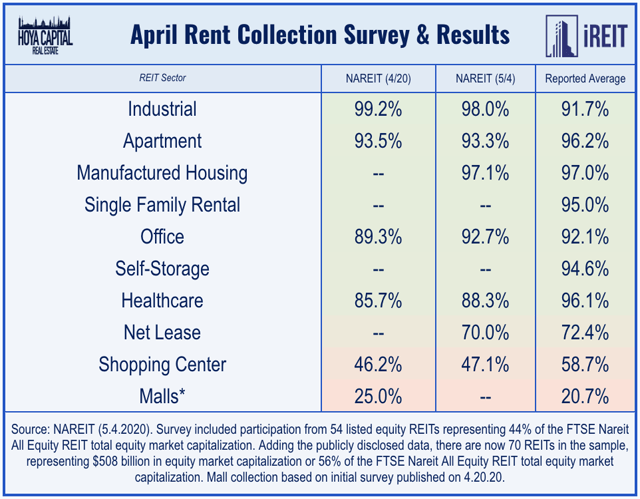 Three more REITs were added to the Coronavirus Dividend Cut list today: Tanger Outlets (SKT), RPT Realty (RPT), and Preferred Apartments (APTS). We've now tracked 46 equity REITs in our universe of 165 names to announce a cut or suspension of their dividends in addition to the majority of mortgage REITs that have announced dividend cuts or suspensions.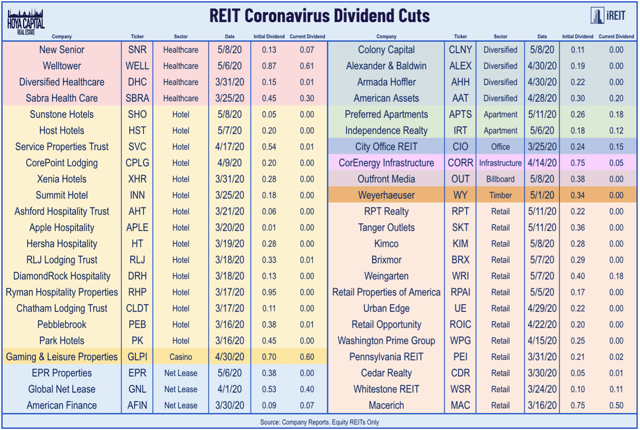 Hotels: Dipping more than 8% on the day, hotel REITs began a busy week of earnings season on a sour note. Chatham Hotels (CLDT) plunged 13.7% after announcing that its occupancy dipped as low as 17% in late March and ended April at 24%. Xenia Hotels (XHR) plunged 15.9% after announcing that it expects to suspend its dividend through the end of the year. Park Hotels (PK) dipped 8.3% after announcing that it saw occupancy of 28% in March but did not provide an April update. Services Properties (SVC) dipped 9.4% after announcing occupancy of 23% in April. After the close, Summit Hotels (INN) jumped in after-hours trading after announcing Q1 results while Diamondrock Hospitality (DRH) traded flat but did not provide occupancy metrics for March or April.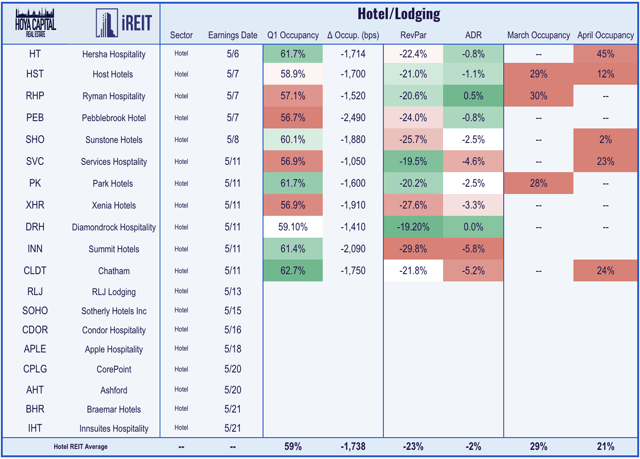 Malls: After the close today, Simon Property (SPG) announced that it has reopened 77 of its U.S. retail properties with 12 more opening today and that it intends to maintain a common stock dividend paid in cash and expects to distribute at least 100% of its REIT taxable income. SPG reported that same-store NOI was flat in Q1 while comparable tenant sales per square foot were up 2.1% on a trailing twelve-month basis. SPG did not disclose specific rent collection metrics, but we'll be listening in to the earnings call for more details. Tanger Outlets (SKT) dipped 7.0% ahead of its results this afternoon in which announced a suspension of its dividend and reported collection of just 12% of rents in April. 

Net Lease: Essential Properties (EPRT) declined by 1.8% on the day after announcing this morning that it collected of 61% of rents in April, which was below the net lease sector average of 72%. It's been a story of "haves and have-nots" in the net lease REIT sector this quarter with regard to rent collection with a wide range of collection results. EPR Properties (EPR) reported collection of just 15% of April rents while three REITs reported upwards of 95% collection.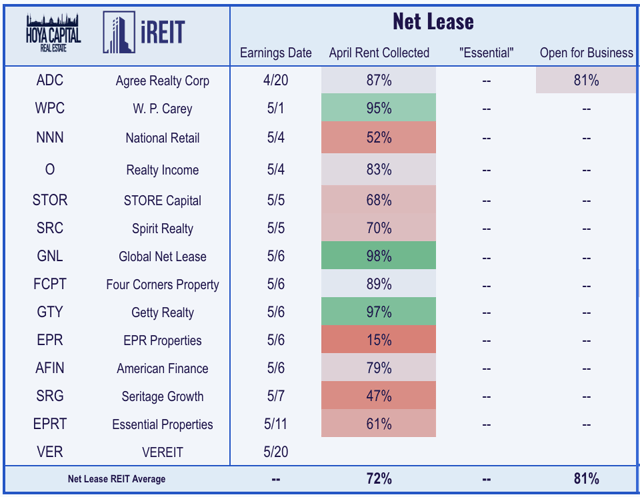 Shopping Centers: Shopping center REITs ended lower by 5.0% today ahead of earnings from RPT Realty (RPT), which reported collection of 58% of rents in April, roughly in-line with the 59% average collection reported by shopping center REITs. For retail REITs, it pays to be essential as landlords with the highest percent of "essential" tenants have generally reported the strong April rent collection results.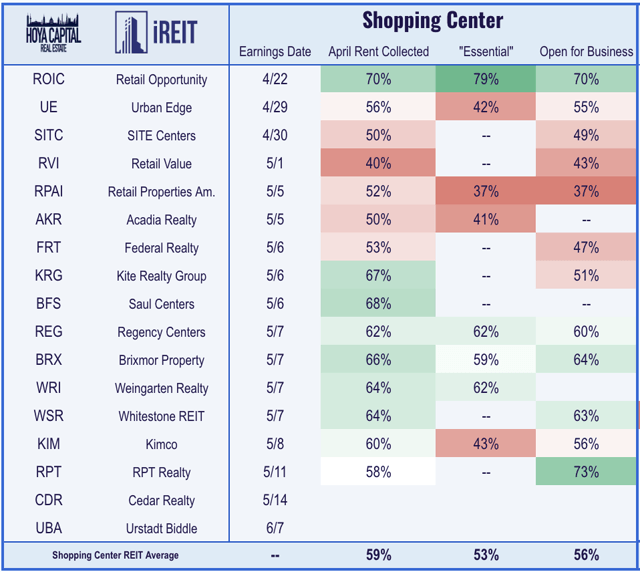 Apartments: Bluerock Growth (BRG) declined by 1.7% today despite reporting collection of 97% of rents in April. After the close today, Investors Real Estate (IRET) announced collection of 98% of April rents. Preferred Apartments (APTS) announced collection of 98% of multifamily rents in April, but reduced their quarterly dividend from $0.26 per share to $0.18 per share. APTS joins small-cap Independence Realty (IRT) as the only residential-focused REITs to reduced their dividends this year.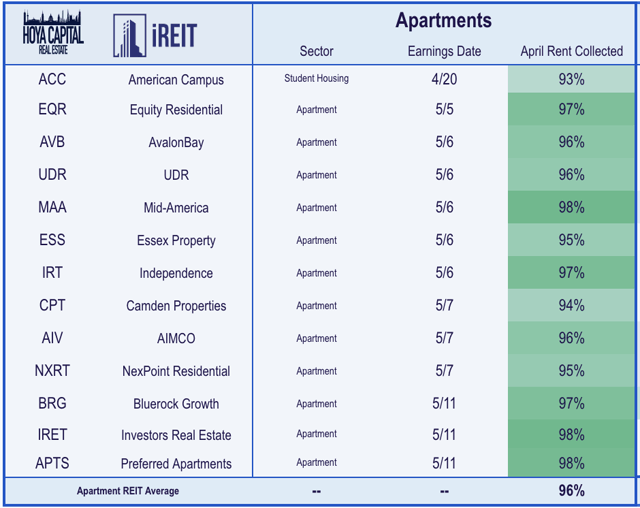 Single-Family Rental: Front Yard Residential (RESI) gained 1.3% after reporting Q1 results this morning, noting that it collected 99% of April rents as a percent of normal collections. Single-family rental REITs collected 95% of April rents while manufactured housing REITs collected 97% of rents.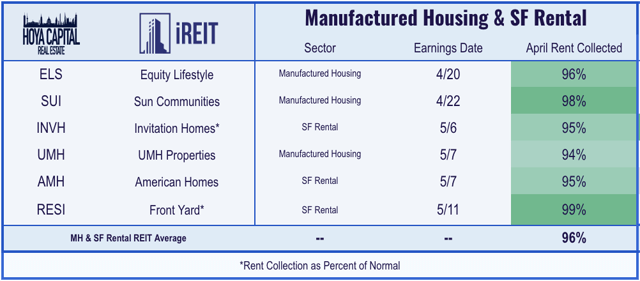 Storage: After the close today, National Storage (NSA) wrapped-up self-storage earnings season by reporting collection of 98% of normal rents in April. NSA noted that the 28% decrease in same-store move-in volume was perfectly offset by a 28% decrease in move-out volume in April. Rent collection so far has been a non-issue for storage REITs with 95% collection.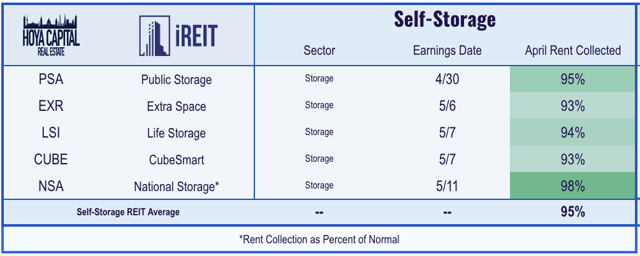 Mortgage REITs
Following strong gains of 3.8% last week, mortgage REITs declined on Monday ahead of another busy slate of earnings results as residential mREITs declined by 3.5% while commercial mREITs fell by 4.7%. Arlington Asset (AI) dipped 4.5% after reporting this morning that its book value declined by 33% Q1. Also reporting this morning, Ready Capital (RC) declined by 6.2% after reporting a 10% decline in book value.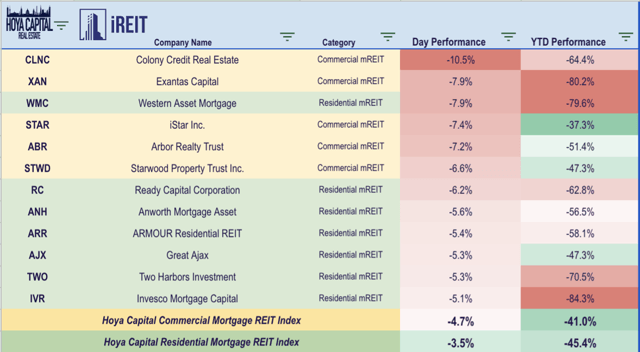 Five mREITs report results after the close today including Granite Pointe (GPMT), TPG Real Estate (OTC:PRTX), Cherry Hill (CHMI), Broadmark (BRMK), and Hunt Companies (HCFT) which we'll discuss on the Daily Recap tomorrow afternoon. The reported declines in BVs among the commercial mREITs to report have averaged roughly 10% while the average decline among residential mREITs has averaged around 30%. While most mREITs are poised to weather the storm, several were mortally wounded by the volatility in March, due primarily to massive losses on their hedging instruments.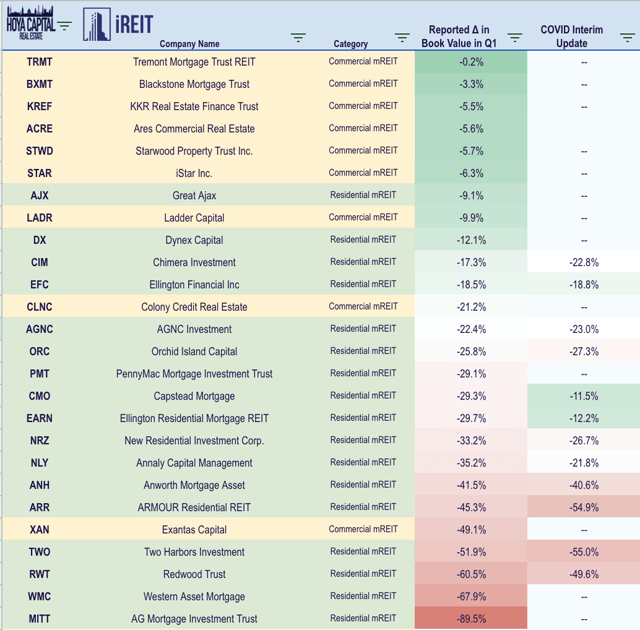 This Week's Economic Calendar
As discussed in our Real Estate Weekly Outlook report, inflation data highlights this week's busy economic calendar, headlined by CPI data on Tuesday and PPI data on Wednesday. Initial Jobless Claims data on Thursday is likely to show another 2-4 million job losses, pushing the eight-week total well above 35 million. Finally, we'll see retail sales data on Friday which is expected to show another 11.6% month-over-month decline in April following the worst month on record for retail sales growth in March.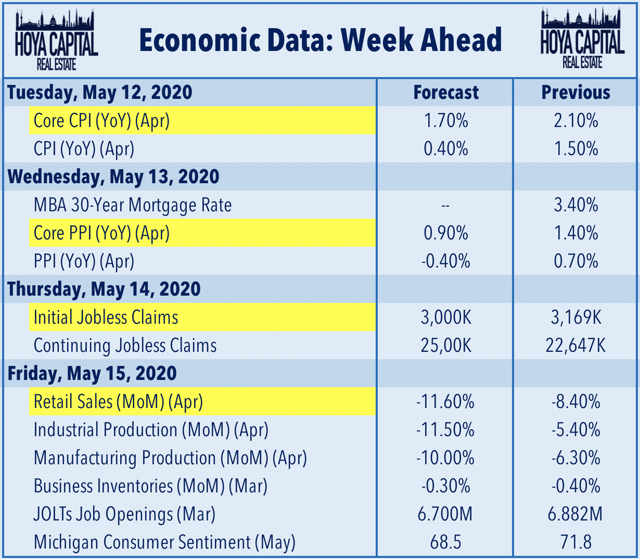 Join our Mailing List on our Website
Visit our website and join our email list for free access to our full real estate research library: HoyaCapital.com where we have quick links all of our real estate sector reports and daily recaps. You can also follow our real-time commentary on Twitter and LinkedIn.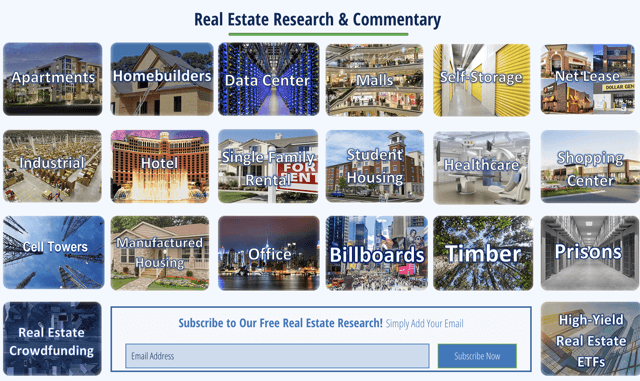 Disclosure: Hoya Capital Real Estate advises an Exchange Traded Fund listed on the NYSE. In addition to any long positions listed below, Hoya Capital is long all components in the Hoya Capital Housing 100 Index. A complete list of holdings and Real Estate and Housing Index definitions and holdings are available at HoyaCapital.com.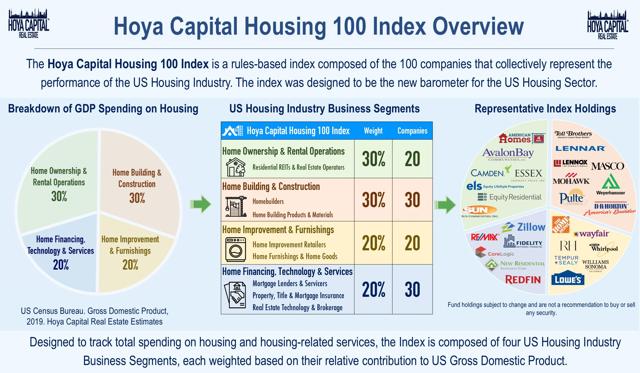 Additional Disclosure: It is not possible to invest directly in an index. Index performance cited in this commentary does not reflect the performance of any fund or other account managed or serviced by Hoya Capital Real Estate. Data quoted represents past performance, which is no guarantee of future results. Information presented is believed to be factual and up-to-date, but we do not guarantee its accuracy.
Hoya Capital Teams Up With iREIT
Hoya Capital is excited to announce that we've teamed up with iREIT to cultivate the premier institutional-quality real estate research service on Seeking Alpha! Sign up today and receive a free two-week trial!