Real Estate Daily Recap
Our Real Estate Daily Recap discusses the notable news and events in the real estate sector over the last trading day and highlights sector-by-sector performance. We publish this note every afternoon at HoyaCapital.com and, by reader demand, occasionally on Seeking Alpha to cover significant news. Subscribe to our free mailing list to make sure you never miss the latest developments in the commercial and residential real estate sectors. You can also follow our real-time commentary on Twitter and LinkedIn.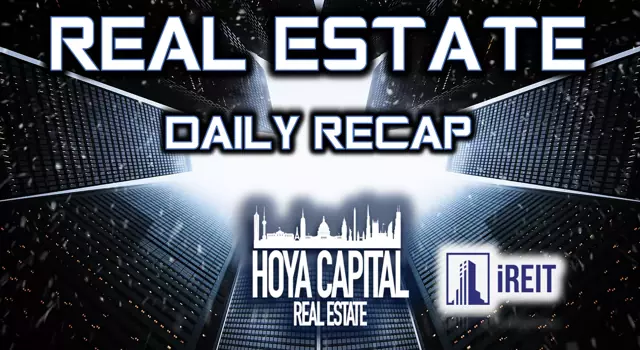 U.S. equity markets slipped on Tuesday following yesterday's strong gains as media outlets attempted to pour cold water on promising coronavirus vaccine data released by Moderna (MRNA) while investors continue to monitor the pace of the economic rebound in areas that have begun to lift lockdowns. Following yesterday's 3.2% rally, the S&P 500 ETF (SPY) retreated by 1.1% while the Dow Jones Industrial Average (DIA) dipped 390 points following yesterday's 912 point surge. After surging 6.4% yesterday, the broad-based Equity REIT ETFs declined by 1.3% with 7 of the 18 REIT sectors in positive territory led by the hotel and student housing REITs while Mortgage REITs finished higher by 0.1% following gains of 7.1% yesterday.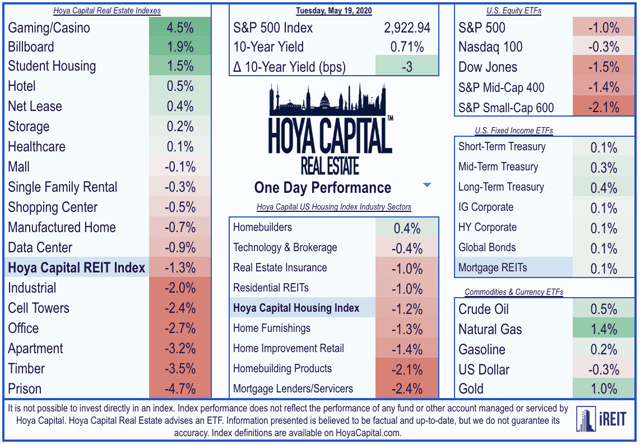 All 11 GICS equity sectors finished in negative territory on the day, led to the downside by many of the more economically-sensitive sectors that led yesterday's rally including Energy (XLE) and Financials (XLF). Homebuilders finished in the green again today following a strong day yesterday for the Hoya Capital Housing Index despite Housing Starts and Permitting data this morning that showed a sharp pullback in construction activity in April, but recent high-frequency housing data has indicated that housing activity has bounced back sharply in recent weeks. Small-Cap (SLY) and Mid-Cap (MDY) ETFs generally lagged the large-cap indexes today, declining by 2.1% and 1.4%, respectively. Today's performance from the REIT sector widened their YTD underperformance gap as REITs are now lower by 22.5% on the year compared to the 9.3% decline on the S&P 500.

Commercial Equity REITs
It was a fairly quiet day of newsflow in the REIT sector following a frenetic four weeks of earnings results and rent collection commentary. Rent collection has been largely a non-issue for residential, industrial, and office REITs, as each sector has collected over 90% of April rents. For retailers, if you're not essential, you're not probably paying the rent. Collection among mall REITs averaged around 25% while shopping center REITs collected roughly 60% of April rents. Diversified REIT Armada Hoffler (AHH) reported rent collection metrics today, noting that it has collected 78% of May rents, which is ahead of its April pace in which it collected 82% of rents. AHH collected 97% of residential rents and 100% of office rents, but just 64% of retail rents.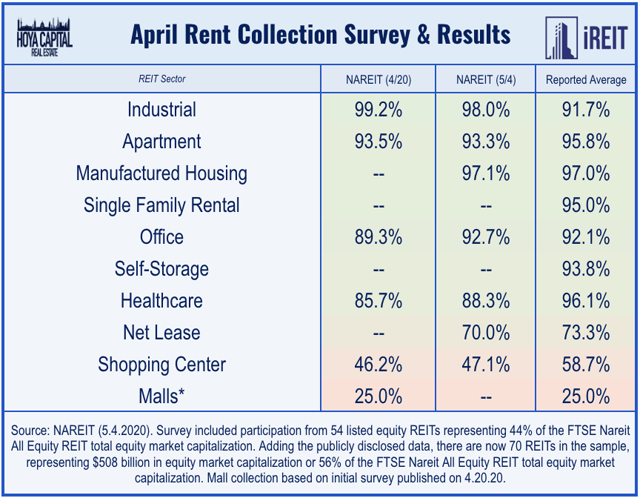 The Coronavirus Dividend Cut hasn't added any new members this week, which still stands at 48 equity REITs out of our universe of 165 names in addition to the majority of mortgage REIT. Among the few stragglers slated to report this week is Pennsylvania REIT (PEI) on Thursday while CBL & Associates (CBL) won't report until next Tuesday. A handful of hotel REITs are slated to report Q1 results this week as well, along with net lease REIT Vereit (VER) on Wednesday.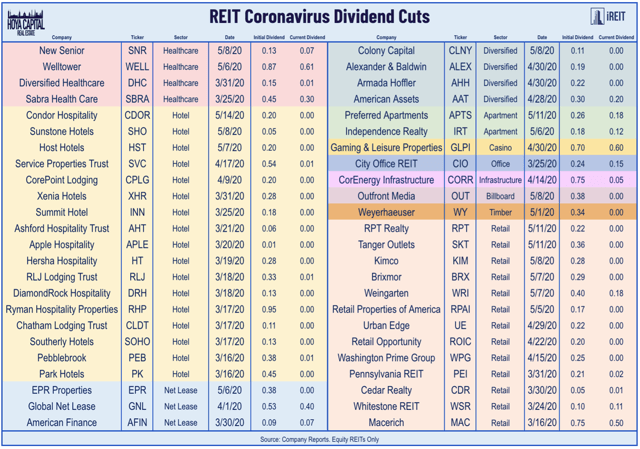 Student housing REIT American Campus (ACC) was among the leaders today as an increasing number of universities have announced plans to have on-campus classes this fall, many of which have adopted modified schedules. The gaming/casino REIT sector including Gaming & Leisure Properties (GLPI), MGM Growth Properties (GLPI), and VICI Properties (VICI) were the top-performing sector today as a handful of Las Vegas casinos announced plans to re-open over the next several weeks.

Residential Real Estate
Homebuilders have led the market rally in recent weeks on recent high-frequency housing data including reports of strength in home buying demand from Redfin and the Mortgage Bankers Association that has indicated that housing market activity has rebounded sharply since late April. Backward-looking data today released by the U.S. Census Bureau showed the magnitude of the decline in construction activity in April amid the worst of the pandemic. On a seasonally-adjusted annualized basis, housing starts and building permits fell to the lowest level since 2015 in April at 891k and 1,074k units, respectively following a relatively solid March. The U.S. housing industry was red-hot before the onset of the coronavirus crisis with Housing Starts, Building Permits, and New Home Sales all eclipsing post-cycle highs in early 2020.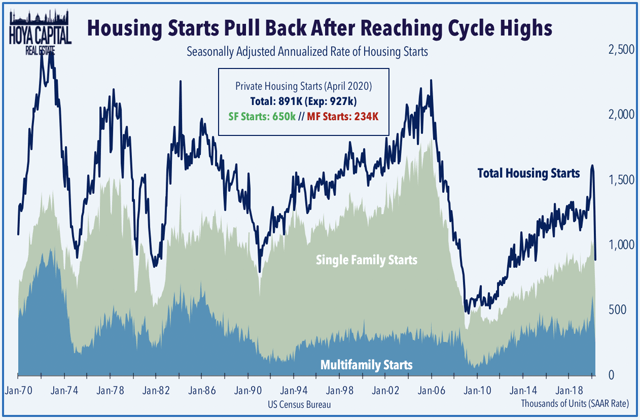 Today, we published Apartment REITs: No Rent Strike, But Fears Of Urban Exodus. Apartment REITs reported limit issues with rent collection in April and early-May amid the depths of the pandemic-related shutdowns as more than 95% of rents were collected. Ultra-dense metros like NYC, Chicago, and San Francisco, however, may see lasting pain as residents flee to lower-cost and "safer" semi-urban and suburban markets, including faster-growing Sunbelt metros. Several REITs are more exposed than others from this trend. As one of the more defensively-oriented and countercyclical REIT sectors, we remain bullish on long-term rental fundamentals and expect the housing industry to be a leader of the economic rebound.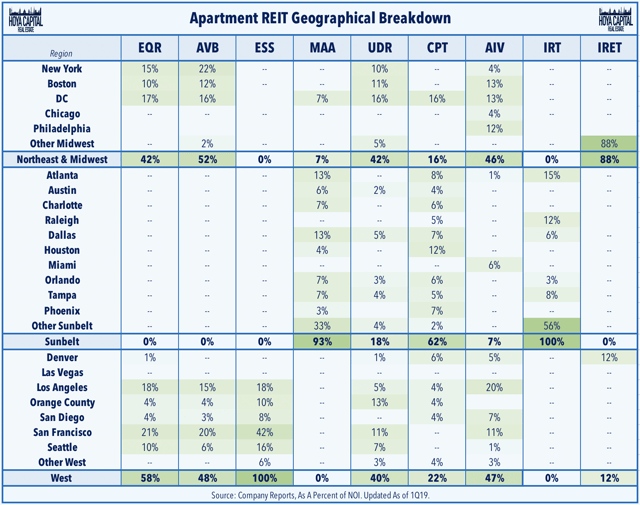 Mortgage REITs
Following gains of 7% yesterday, mortgage REITs were mixed on the day with residential mREITs gaining 0.4% while commercial mREITs fell by 0.5%. Hunt Companies (HCFT), Conley Credit (CLNC), and AG Mortgage (MITT) each gained at least 6% on the day while Blackstone Mortgage (BXMT) was the laggard with declines of roughly 2%. Just four mREITs have yet to formally report Q1 earnings, but we'll hear from New York Mortgage Trust (NYMT) on Thursday. We'll have a full recap of mREIT earnings season in a forthcoming report later this week.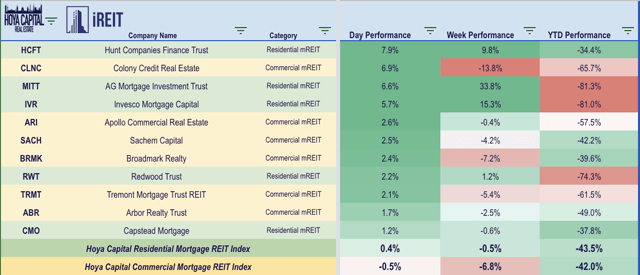 Helping the residential mREITs today was news that the FHFA has issued temporary guidance that should make it easier for homeowners that have taken advantage of COVID forbearance programs to refinance or buy a new home. Borrowers will be allowed to get a new mortgage three months after their forbearance period ends and they have made three consecutive payments under their repayment plan. Previously, borrowers would have to wait a year to get a new mortgage after exiting forbearance on their previous loan. More than 8% of mortgage loans representing roughly 4 million homeowners are now in forbearance, but a recent survey from LendingTree found that the majority of these borrowers chose to enter forbearance not out of necessity but simply because it was offered and available without any apparent penalty under the CARES Act.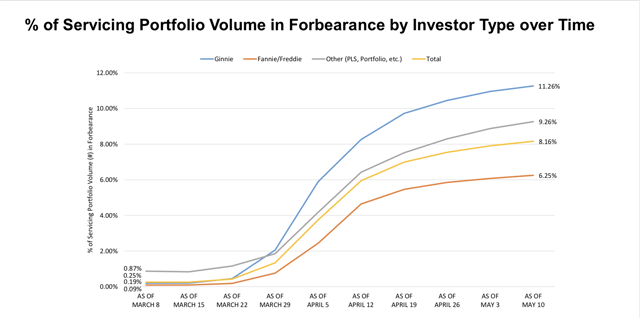 (Source: HousingWire, Mortgage Bankers Association)
REIT Preferreds & Bonds
We're excited to announce that we launched an all-new REIT Preferred Stock & Bond Tracker available to iREIT on Alpha subscribers that will also be used to expand our coverage of REIT preferred stocks on the "free" side of Seeking Alpha. REIT Preferred stocks rose by an average of 0.2% today, outperforming the 1.3% decline on the broader REIT index. Preferred stocks generally offer more downside protection, but in exchange, these securities offer relatively limited upside potential outside of the limited number of "participating" preferred offerings that can be converted into common shares. Among REITs that offer preferred shares, the performance of these securities has been an average of 20% higher in 2020 than their common shares.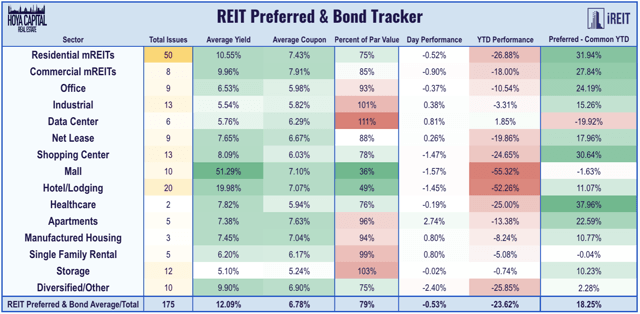 This Week's Economic Calendar
As discussed in our Real Estate Weekly Outlook, a busy two-week stretch of housing data began today with Homebuilder Sentiment, follows on Tuesday with Housing Starts and Building Permits, and concludes on Thursday with Existing Home Sales. While housing data - particularly home sales - is expected to be very soft during the "shutdown months" of mid-March through early May, the "high-frequency" data in recent weeks have pointed to a significant rebound in housing market activity since late April. Initial Jobless Claims data on Thursday will again be another "blockbuster" report with expectations that we will see another 3 million job losses, but we'll be watching closely to the continuing claims for indications that temporarily-unemployed Americans are returning to work.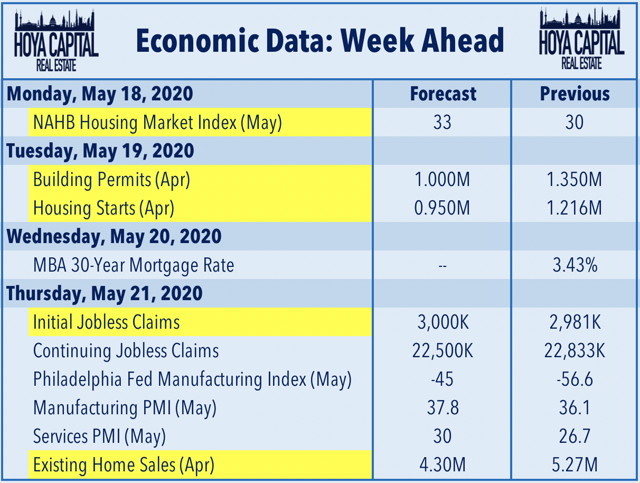 Join our Mailing List on our Website
Visit our website and join our email list for free access to our full real estate research library: HoyaCapital.com where we have quick links all of our real estate sector reports and daily recaps. You can also follow our real-time commentary on Twitter and LinkedIn.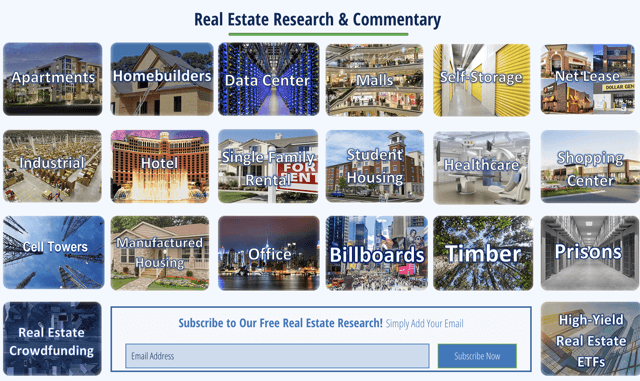 Disclosure: Hoya Capital Real Estate advises an Exchange Traded Fund listed on the NYSE. In addition to any long positions listed below, Hoya Capital is long all components in the Hoya Capital Housing 100 Index. A complete list of holdings and Real Estate and Housing Index definitions and holdings are available at HoyaCapital.com.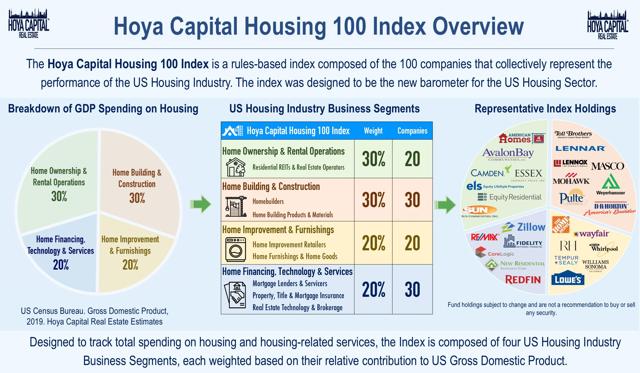 Additional Disclosure: It is not possible to invest directly in an index. Index performance cited in this commentary does not reflect the performance of any fund or other account managed or serviced by Hoya Capital Real Estate. Data quoted represents past performance, which is no guarantee of future results. Information presented is believed to be factual and up-to-date, but we do not guarantee its accuracy.
Hoya Capital Teams Up With iREIT
Hoya Capital is excited to announce that we've teamed up with iREIT to cultivate the premier institutional-quality real estate research service on Seeking Alpha! Sign up today and receive a free two-week trial!