Real Estate Daily Recap
Our Real Estate Daily Recap discusses the notable news and events in the real estate sector over the last trading day and highlights sector-by-sector performance. We publish this note every afternoon at HoyaCapital.com and, by reader demand, occasionally on Seeking Alpha to cover significant news. Subscribe to our free mailing list to make sure you never miss the latest developments in the commercial and residential real estate sectors. You can also follow our real-time commentary on Twitter and LinkedIn.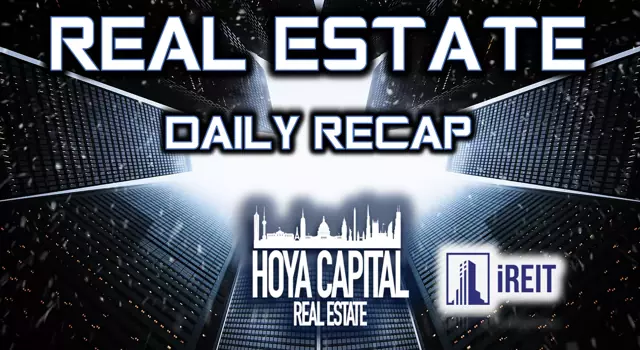 The reopening rally continued for U.S. equity markets on Wednesday on another round of strong housing data and early indications that the U.S. economy may already be rebounding. Adding to gains of 1.2% yesterday and 3.2% last week, the S&P 500 ETF (SPY) jumped another 1.2% on the day, closing above the 3,000-level for the first time since March 5th while the Dow Jones Industrial Average (DIA) surged over 500 points for the second straight day. Following yesterday's 4.3% surge and last week's 7.0% gain, the broad-based Equity REIT ETFs added another 1.8% today, with 16 of 18 REIT sectors in the green while Mortgage REIT ETFs gained another 2.4%.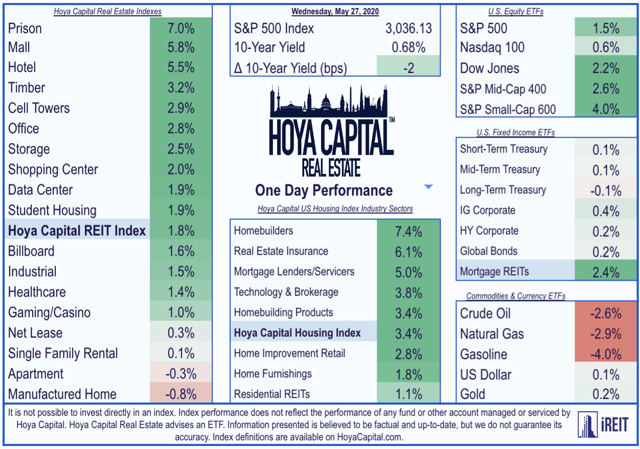 In addition to optimism over economic reopening, helping to power the gains over the last two weeks has been data showing a "stunning" rebound in housing market activity, perhaps the most critical sector of the U.S. economy. Consistent with the trends that we discussed last week in Signs of V-Shaped Housing Recovery, the Mortgage Bankers Association reported this morning that home purchase mortgage applications rose for the 6th straight week and are now 9% higher from the same week last year compared to the 35% decline in early April. This follows data last week from Redfin (RDFN) which showed that homebuying demand is now 16.5% above pre-coronavirus levels while Zillow (Z) reported a 50% surge in pending home sales over the last month and that activity on their site is back to pre-pandemic levels.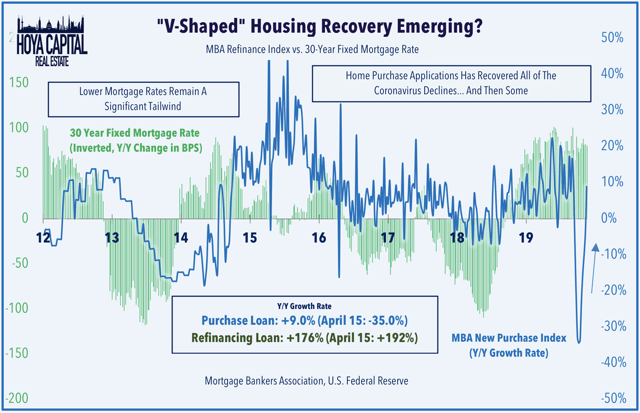 All 11 GICS equity sectors finished higher on the day, led by the Financials (XLF), Industrials (XLI), and Consumer Discretionary (XLY) sectors. Homebuilders and the broader Hoya Capital Housing Index were again among the leaders today with all eight housing sub-sectors finishing in the green as well. Continue to recover from the sharp selloff in March, Small-Cap (SLY) and Mid-Cap (MDY) ETFs delivered strong outperformance yet again relative to the large-cap indexes, gaining 4.0% and 2.6%, respectively. The strong day of outperformance for REITs narrowed their 2020 underperformance gap relative to the S&P 500 as the Equity REIT ETF (VNQ) is now lower by 16.1% compared to the 5.7% decline on the S&P 500.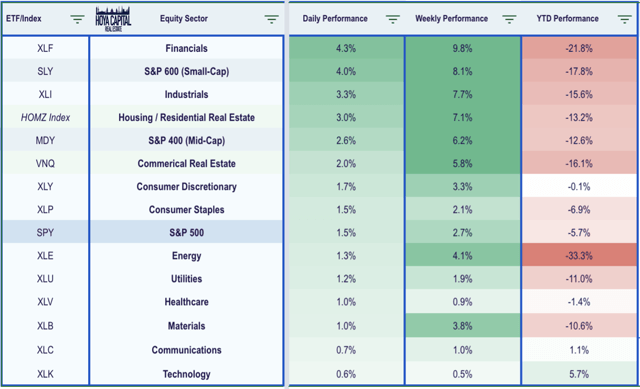 Commercial Equity REITs
It was another quiet day of newsflow in the commercial REIT sector following the conclusion of earnings season last week - with the exception of a few late-reporting stragglers. The rebound continued for the recently-beaten-down hotel sector on a report from data firm STR that occupancy for the week ended May 16 was 32%, up from a low of 21% for the week ended April 11 but still substantially lower than the 62% occupancy rate reported at the beginning of March before the pandemic. This was generally consistent with commentary on Q1 earnings calls from hotel REITs - discussed in a report on iREIT on Alpha.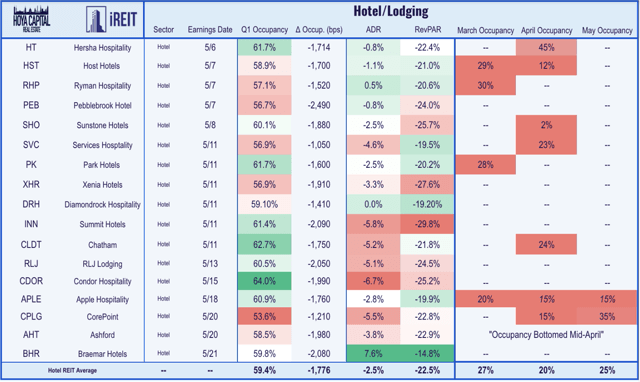 Top-performers in the REIT sector today included a bevy of hotel and retail REITs including Southerly Hotels (SOHO), Ashford (AHT), CorePoint (CPLG), Chatham (CLDT), and Apple Hospitality (APLE). Manufactured housing and apartment REITs, which have been among the top performers this year, were relative underperformers on the day.

Mall REIT CBL & Associates (CBL) finished higher by 4.2% today after reporting Q1 results yesterday afternoon, noting a 8.7% decline in same-store NOI from last year and a 200 basis-point dip in same-store occupancy to 87.8%. CBL noted that it received approximately 27% of rents in April and expects to collect between 25-30% of rents in May. Mall REITs wrapped-up Q1 earnings season with an average of 23% reported rent collection in April, by far the lowest rent collection figures in the REIT sector as rent collection has been largely a non-issue for residential, industrial, and office REITs, as each sector has collected over 90% of April rents.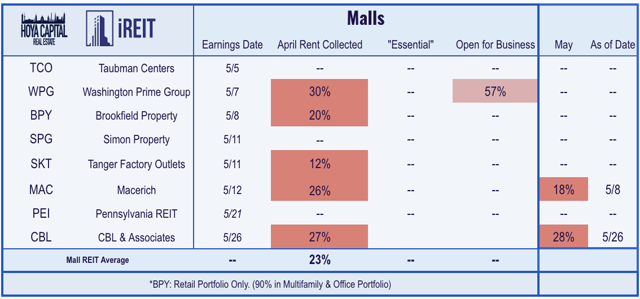 We've now tracked 50 equity REITs in our universe of 165 names to announce a cut or suspension of their dividends, the vast majority of which have come from the retail and hotel REIT sectors. Apart from their sector affiliations, the equity REITs that have cut or suspended their dividends have been almost exclusively companies in the smallest third of market capitalization within the REIT sector and in the highest third in terms of leverage metrics as the "outperforming factors" that we discussed earlier this year in The REIT Paradox: Cheap REITs Stay Cheap have been on full display in 2020.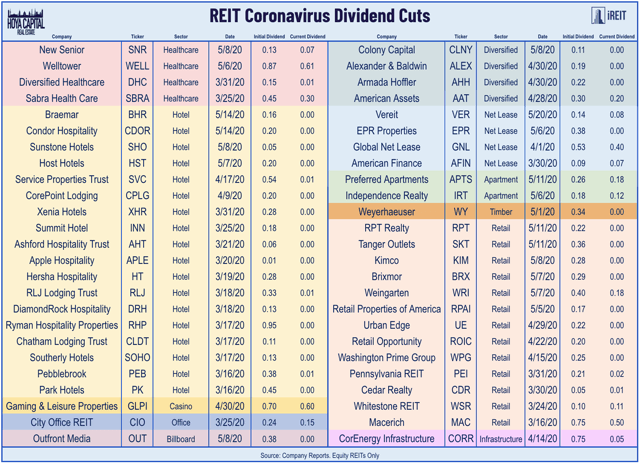 Mortgage REITs
It was another strong day for mortgage REITs, powered again by strong housing market data and signs of continued stabilization in the mortgage market. Residential mREITs added 2.0% today to yesterday's 2.9% gains while commercial mREITs gained another 2.9% after yesterday's 4.8% climb. We'll publish a full mREIT earnings recap to iREIT on Alpha later this week.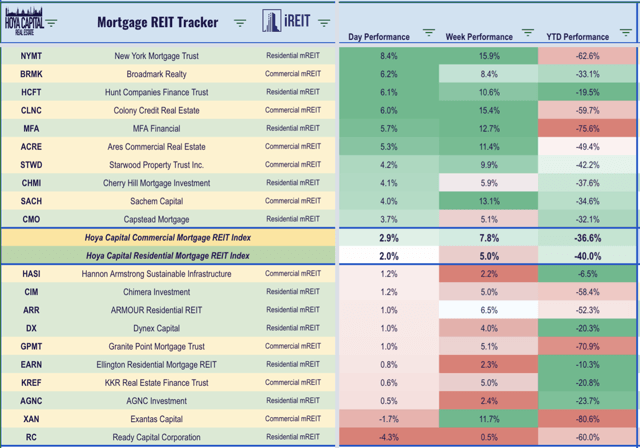 REIT Preferreds & Bonds
As tracked in our all-new REIT Preferred Stock & Bond Tracker available to iREIT on Alpha subscribers, REIT Preferred stocks climbed by an average of 3.0% today, led again by strong gains from the preferred issues from the hotel and lodging REITs including Ashford Hotels (AHT), Pebblebrook Hotels (PEB)  Braemar Hotels (BHR), and Southerly Hotels (SOHO). Preferred stocks generally offer more downside protection, but in exchange, these securities offer relatively limited upside potential outside of the limited number of "participating" preferred offerings that can be converted into common shares. Among REITs that offer preferred shares, the performance of these securities has been an average of 17% higher in 2020 than their common shares.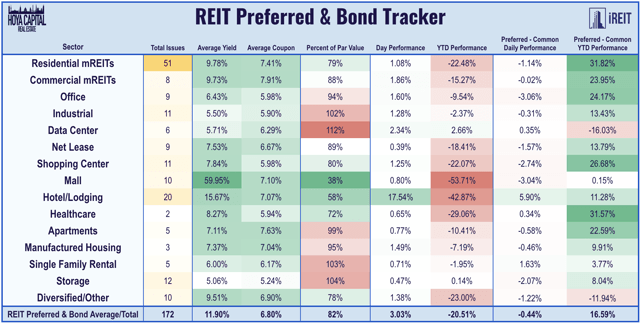 This Week's Economic Calendar
As discussed in our Real Estate Weekly Outlook, Pending Home Sales data for April is released on Thursday. Initial Jobless Claims data on Thursday will again be another "blockbuster" report with expectations that we will see another 2.5 million job losses, but we'll be watching closely to the continuing claims for indications that temporarily-unemployed Americans are returning to work.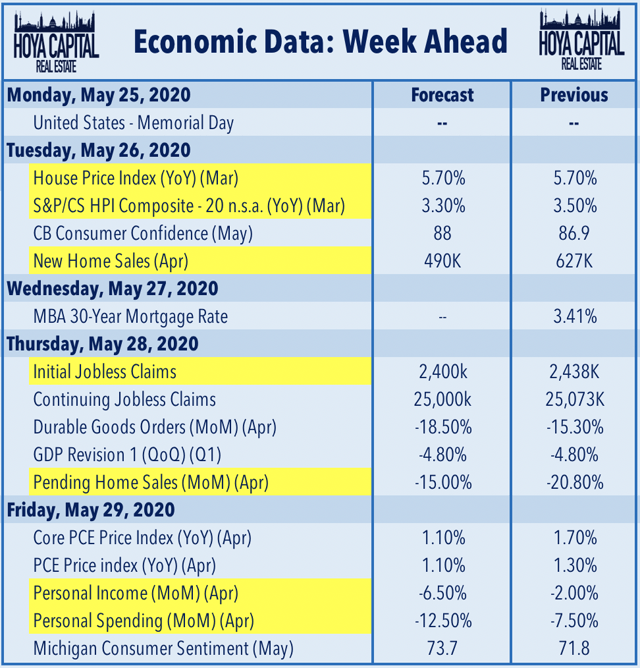 Join our Mailing List on our Website
Visit our website and join our email list for free access to our full real estate research library: HoyaCapital.com where we have quick links all of our real estate sector reports and daily recaps. You can also follow our real-time commentary on Twitter and LinkedIn.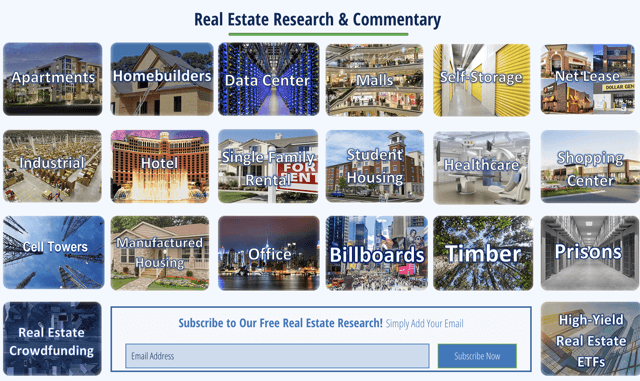 Disclosure: Hoya Capital Real Estate advises an Exchange Traded Fund listed on the NYSE. In addition to any long positions listed below, Hoya Capital is long all components in the Hoya Capital Housing 100 Index. A complete list of holdings and Real Estate and Housing Index definitions and holdings are available at HoyaCapital.com.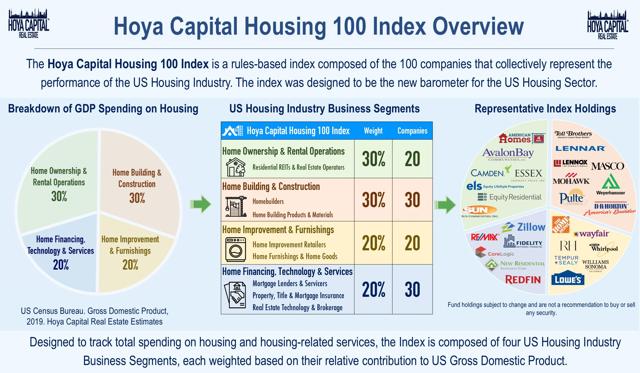 Additional Disclosure: It is not possible to invest directly in an index. Index performance cited in this commentary does not reflect the performance of any fund or other account managed or serviced by Hoya Capital Real Estate. Data quoted represents past performance, which is no guarantee of future results. Information presented is believed to be factual and up-to-date, but we do not guarantee its accuracy.
Hoya Capital Teams Up With iREIT
Hoya Capital is excited to announce that we've teamed up with iREIT to cultivate the premier institutional-quality real estate research service on Seeking Alpha! Sign up today and receive a free two-week trial!