Real Estate Daily Recap
Our Real Estate Daily Recap discusses the notable news and events in the real estate sector over the last trading day and highlights sector-by-sector performance. We publish this note every afternoon at iREIT on Alpha and occasionally for free on our Blog to cover significant news and events. Subscribe to our free mailing list to make sure you never miss the latest developments in the commercial and residential real estate sectors. You can also follow our real-time commentary on Twitter and LinkedIn.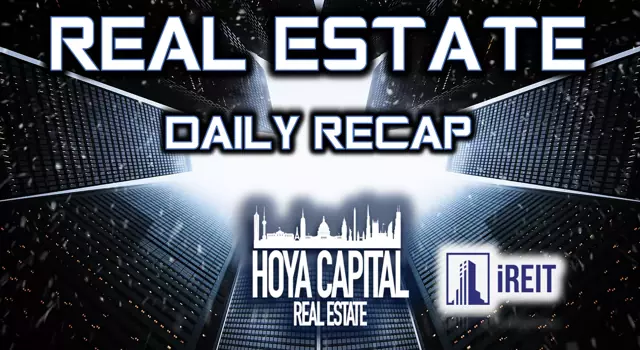 U.S. equity markets finished mostly higher on Friday, capping off a week of robust gains as states and countries continue to accelerate economic reopenings as new cases of coronavirus continue to decline. Finishing the week with gains of roughly 3.0%, the S&P 500 ETF (SPY) gained 0.5% on the day while the Dow Jones Industrial Average (DIA) finished roughly flat on the day but gained nearly 4% this week. After gaining 7% last week, the broad-based Equity REIT ETFs gained another 5% this week despite today's 1.4% decline, led by a rebound in the most beaten-down property sectors amid encouraging signs of renewed demand in the early stages of economic reopenings while Mortgage REITs gave back 2.9% but ended the week flat.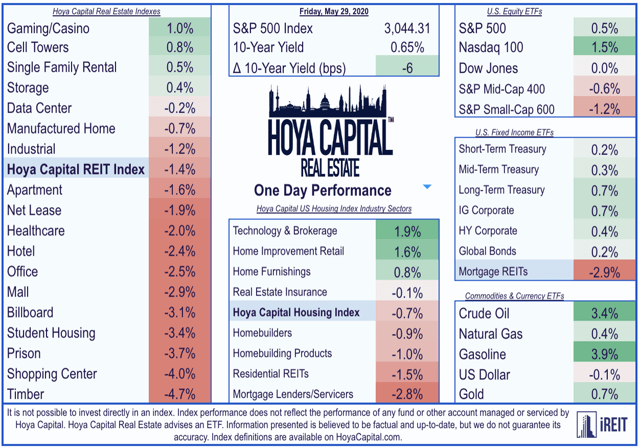 The major U.S. equity markets ended May with gains of roughly 4% following the robust rally in April, which was the best month for stock indexes since 1987. Driving the gains over the last month has been early signs of an economic rebound, particularly in the all-important U.S. housing market as homebuilders and the broader Hoya Capital Housing Index delivered strong outperformance again this week. Small-Cap (SLY) and Mid-Cap (MDY) indexes underperformed their large-cap peers today but still ended the week with gains of 3.6% and 4.0%, respectively. Today's underperformance for REITs expanded their 2020 underperformance gap relative to the S&P 500 as the Equity REIT ETF (VNQ) is now lower by 16.6% compared to the 5.4% decline on the S&P 500.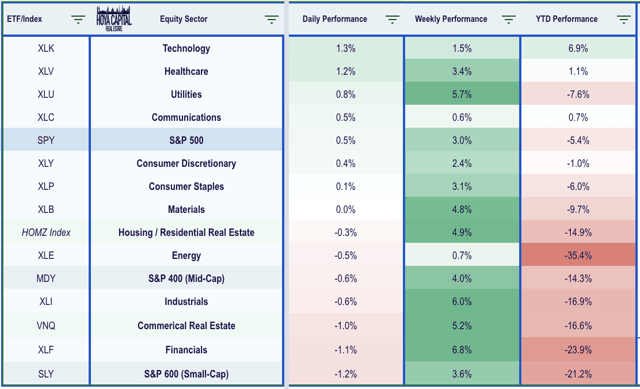 Commercial Equity REITs
It was a quiet day of newsflow in the commercial REIT sector ahead of next weeks' REITweek event, the largest annual industry conference which will be held remotely this year. We expect plenty of updates on May rent collection and important commentary on how conditions "on the ground" have changed in the last month since most REITs reported Q1 earnings results. We'll have full coverage on iREIT on Alpha through our new Rent Collection Tracker and Dividend Cut tools and will provide summaries in these Daily Recaps.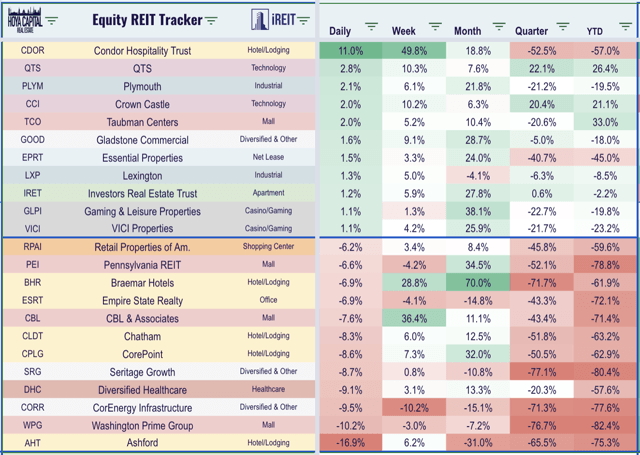 Yesterday, we published Dividend Cuts And Overdue Rent: REIT Earnings Recap. Rent collection and dividend cuts were the primary themes of the most newsworthy and consequential REIT earnings season since the Great Financial Crisis. Rent collection was largely a non-issue for residential REITs, who collected over 95% of April rents. Industrial, office, self-storage, and healthcare rent collection metrics were similarly strong and we believe that these "essential" sectors will continue to bifurcate from troubled sectors.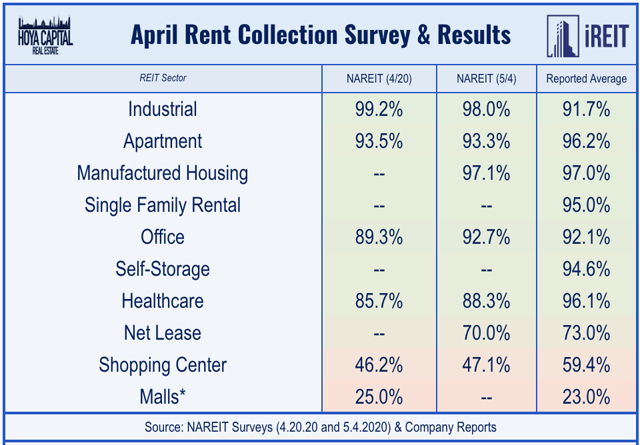 2020 was poised to be a solid year of growth for REITs prior to the pandemic. Even with a faster-than-expected reopening, fundamental metrics are likely to be the weakest since at least 2009. Economic shutdowns ravaged the economically-sensitive property sectors and punished highly-levered REITs. Yesterday afternoon, Lamar Advertising (LAMR) became the latest REIT to cut its dividend, announcing a reduction in its quarterly payout from $1.00 to $0.50 per share. 51 equity REITs - primarily retail and lodging REITs - have now announced a cut or suspension of their dividends.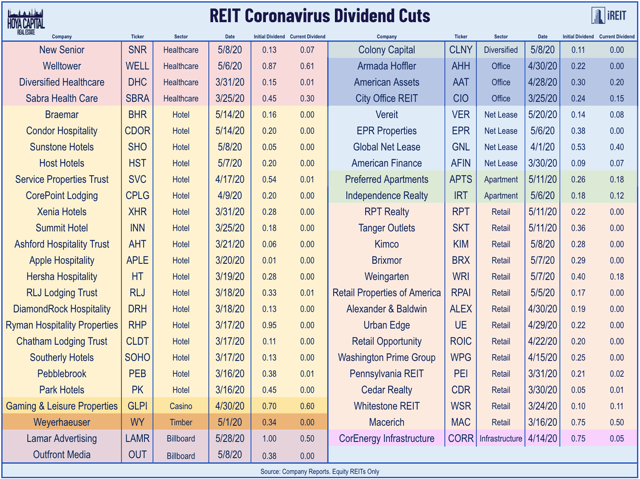 Mortgage REITs
As tracked in our Mortgage REIT Tracker available to iREIT on Alpha subscribers, residential mREITs declined by 3.0% today and ended the week with modest declines of 1.1%. Commercial mREITs declined by 3.1% today but hung onto gains of 3.0% on the week. In our Earnings Recap published today, we noted that Residential mREITs were the hardest-hit real estate sector during the depths of the pandemic, but have seen conditions stabilize considerably in recent weeks amid signs of stabilization in the mortgage markets. Commercial mREITs weren't facing the same "existential crisis" as their residential mREIT peers, but the sector's heavy exposure to the hotel, office, and retail sectors has dragged on performance during the pandemic. 
REIT Preferreds & Bonds
As tracked in our all-new REIT Preferred Stock & Bond Tracker available to iREIT on Alpha subscribers, REIT Preferred stocks finished exactly flat on the day, on average, and remain lower by 19.9% this year. Among REITs that offer preferred shares, the performance of these securities has been an average of 18.8% higher in 2020 than their common shares. Preferred stocks generally offer more downside protection, but in exchange, these securities offer relatively limited upside potential outside of the limited number of "participating" preferred offerings that can be converted into common shares.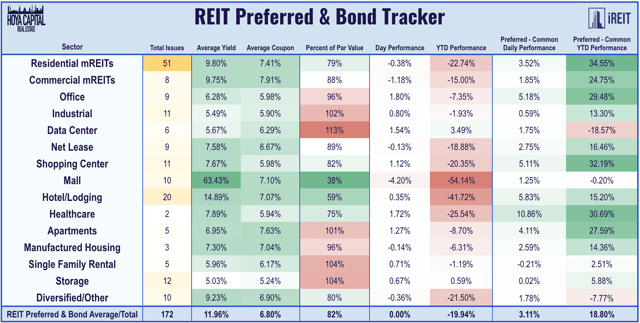 This Week's Economic Calendar
We'll analyze the full slate of this week's economic data in our Real Estate Weekly Outlook published on Saturday morning.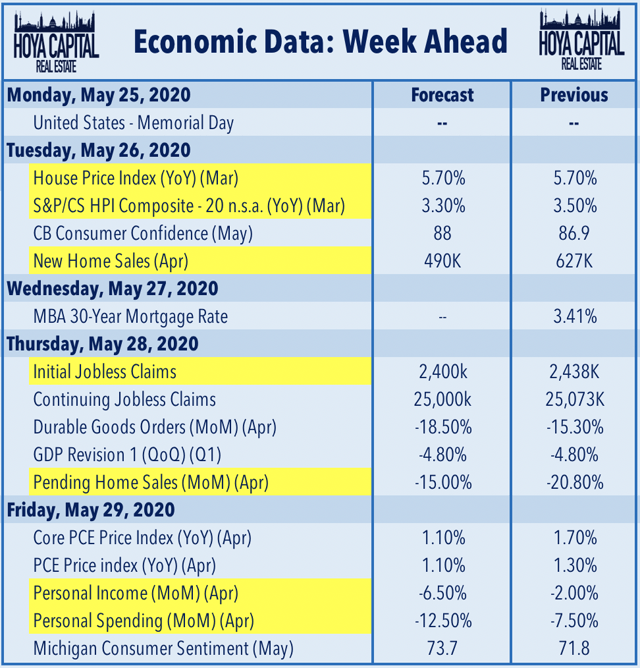 Join our Mailing List on our Website
Visit our website and join our email list for quick access to our full real estate research library: HoyaCapital.com where we have links all of our real estate sector reports and daily recaps. You can also follow our real-time commentary on Twitter, LinkedIn, and Facebook.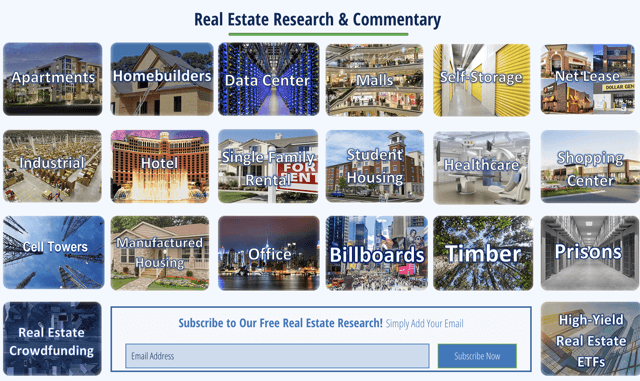 Disclosure: Hoya Capital Real Estate advises an Exchange Traded Fund listed on the NYSE. In addition to any long positions listed below, Hoya Capital is long all components in the Hoya Capital Housing 100 Index. A complete list of holdings and Real Estate and Housing Index definitions and holdings are available at HoyaCapital.com.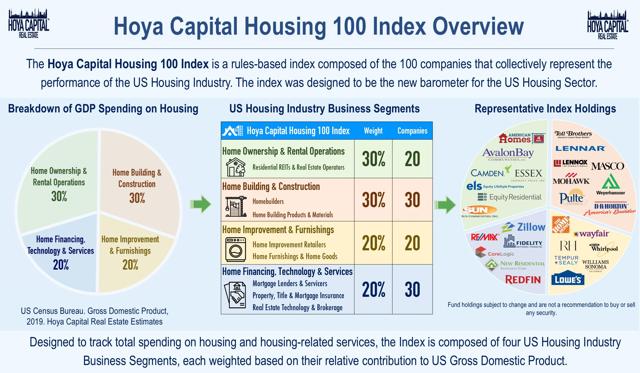 Additional Disclosure: It is not possible to invest directly in an index. Index performance cited in this commentary does not reflect the performance of any fund or other account managed or serviced by Hoya Capital Real Estate. Data quoted represents past performance, which is no guarantee of future results. Information presented is believed to be factual and up-to-date, but we do not guarantee its accuracy.
Hoya Capital Teams Up With iREIT
Hoya Capital is excited to announce that we've teamed up with iREIT to cultivate the premier institutional-quality real estate research service on Seeking Alpha! Sign up today and receive a free two-week trial!