Real Estate Daily Recap
Our Real Estate Daily Recap discusses the notable news and events in the real estate sector over the last trading day and highlights sector-by-sector performance. We publish this note every afternoon at iREIT on Alpha and occasionally for free on our Blog to cover significant news and events. Subscribe to our free mailing list to make sure you never miss the latest developments in the commercial and residential real estate sectors. You can also follow our real-time commentary on Twitter and LinkedIn.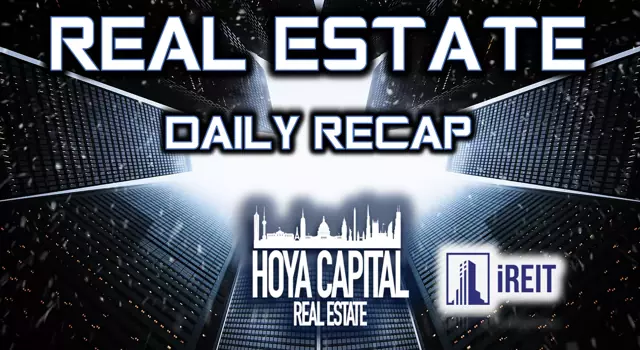 U.S. equity markets surged on Friday, continuing a substantial "reopening rally" after the critical BLS jobs report showed a stunning gain in employment in May, indicating the post-pandemic economic recovery has already taken hold. Finishing with gains of nearly 5% on the week, the S&P 500 ETF (SPY) added another 2.6% today while the Dow Jones Industrial Average (DIA) added 839 points to cap off a five-day winning streak. The Nasdaq (QQQ), meanwhile, climbed to a new record high, an achievement that would have been unfathomable amid the market chaos in late March. Surging nearly 10% on the week, the broad-based Equity REIT ETFs jumped another 4.3% today with all 18 property sectors in positive territory while Mortgage REITs jumped 4.9% to end the week with gains of more than 17%.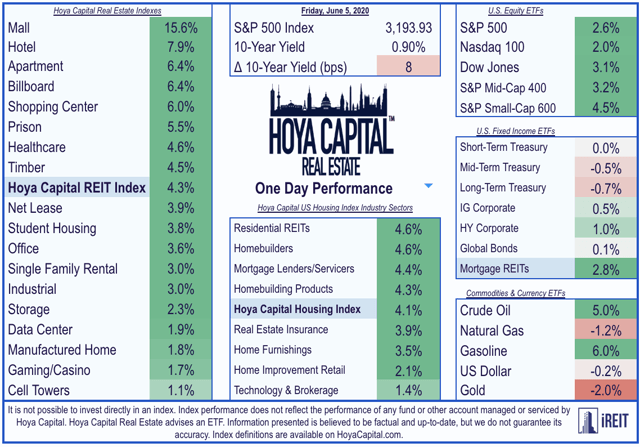 All 11 GICS equity sectors ended the week in the green, led by double-digit percentage gains from today's winners: Energy (XLE), Financials (XLF), Industrials (XLI). As we've discussed for several weeks, signs of a V-shaped recovery in the U.S. housing sector, along with near-100% residential rent collection, have been foretelling a sooner-than-expected economic rebound. The Hoya Capital Housing Index finished higher by another 4% today, also ending the week with double-digit percentage gains. Small-Cap (SLY) and Mid-Cap (MDY) stocks delivered another day of outperformance as well, ending the week with gains of 12.2% and 8.4%, respectively.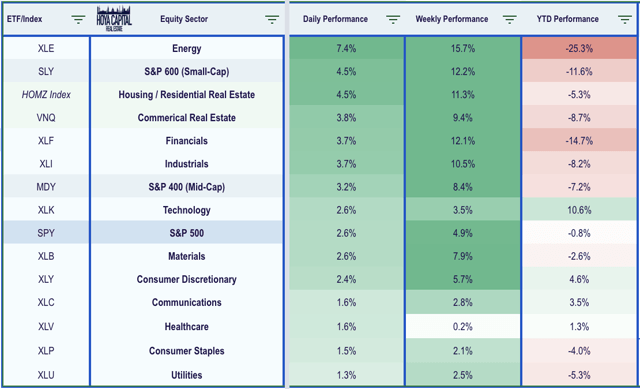 This week's gains were bolstered by a generally encouraging slate of employment data, capped off by the stunning jobs report on Friday. The U.S. economy unexpectedly added 2.5 million jobs in May, the single-largest month of job growth ever, following two months of devastating job losses amid the coronavirus shutdowns. While we've been highlighting for several weeks that higher-frequency data - specifically continuing jobless claims, commentary from corporations, and mobility data - has indicated that millions of Americans have returned to work over the last several weeks, we had not expected job growth to turn positive until the June BLS report considering the survey period for the BLS report ended by mid-May before many states had even begun the economic reopening process.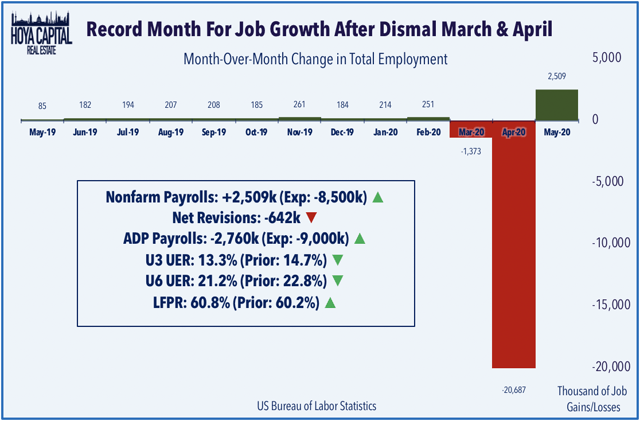 We normally hold-off on displaying the Weekly Performance chart until we publish our forthcoming Real Estate Weekly Outlook report, but price-action this week warrants an early release. 11 of the 18 REIT property sectors gained at least 10% on the week, led by a dramatic rebound in the recently-beaten-down retail, lodging, and student housing REIT sectors. Stay tuned for our full weekly analysis published on Saturday morning. 

Commercial Equity REITs
Mall REITs surged another 15.6% today, ending the week with gains of more than 50% on what appears to be the single-largest weekly percentage gain for any major REIT property sector on record. The gains this week came amid very encouraging commentary from many retailers, restaurants, and hoteliers that have indicated a sharper-than-expected recovery in demand over the past several weeks. Five equity REITs jumped more than 25% today including Pennsylvania REIT (PEI), Hersha Hospitality (HT), Washington Prime (WPG), CBL & Associates (CBL), and Seritage Growth (SRG).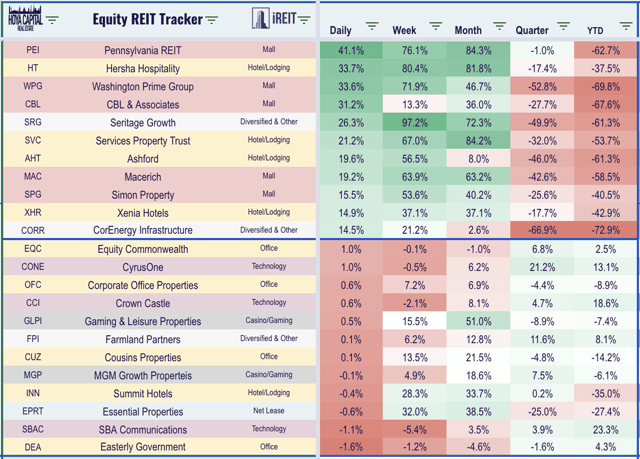 With REITweek wrapping up, we heard interim updates on rent collection from several dozen REITs over the last several days and expect more reports to trickle out in the weeks ahead. These updates have so far been quite positive with most REITs reporting stronger collection rates in May than in April while bigger-picture commentary has generally been quite optimistic. We'll continue to have full coverage of these updates on iREIT on Alpha through our new Rent Collection Tracker and Dividend Cut tools and will provide summaries in these Real Estate Daily Recaps.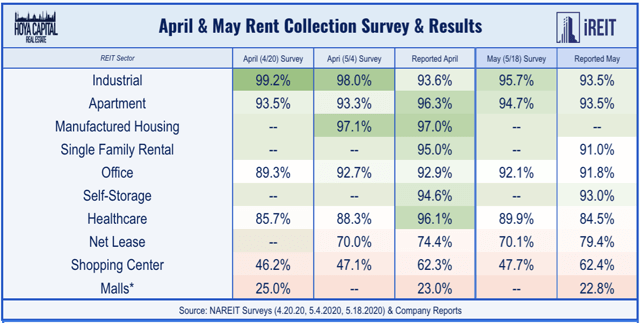 Mortgage REITs
As tracked in our Mortgage REIT Tracker available to iREIT on Alpha subscribers, residential mREITs gained 2.7% today while commercial mREITs gained 3.6% and each sub-sector remains higher by more than 18% this week amid continued signs of stabilizing in the residential and commercial mortgage markets. Residential mREITs were the hardest-hit real estate sector during the depths of the pandemic, but have seen conditions stabilize considerably in recent weeks amid signs of stabilization in the mortgage markets. Commercial mREITs weren't facing the same "existential crisis" as their residential mREIT peers, but the sector's heavy exposure to the hotel, office, and retail sectors has dragged on performance during the pandemic.
REIT Preferreds & Bonds
As tracked in our all-new REIT Preferred Stock & Bond Tracker available to iREIT on Alpha subscribers, REIT Preferred stocks finished higher by 4.2% today, on average, led by a sharp rebound in the preferred issues from mall REITs CBL & Associates (CBL), Washington Prime (WPG), and Pennsylvania REIT (PEI). Among REITs that offer preferred shares, the performance of these securities has been an average of 13.3% higher in 2020 than their common shares. Preferred stocks generally offer more downside protection, but in exchange, these securities offer relatively limited upside potential outside of the limited number of "participating" preferred offerings that can be converted into common shares.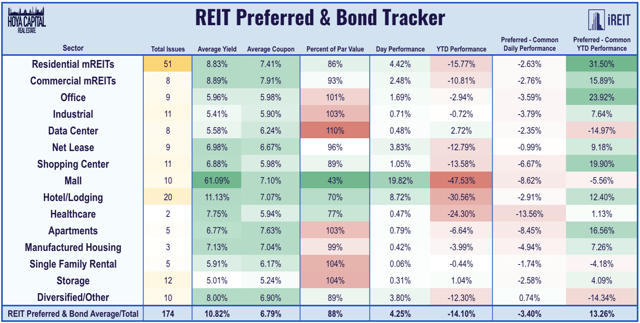 This Week's Economic Calendar
We'll have a full analysis of this week's economic data in our Real Estate Weekly Outlook report published on Saturday morning.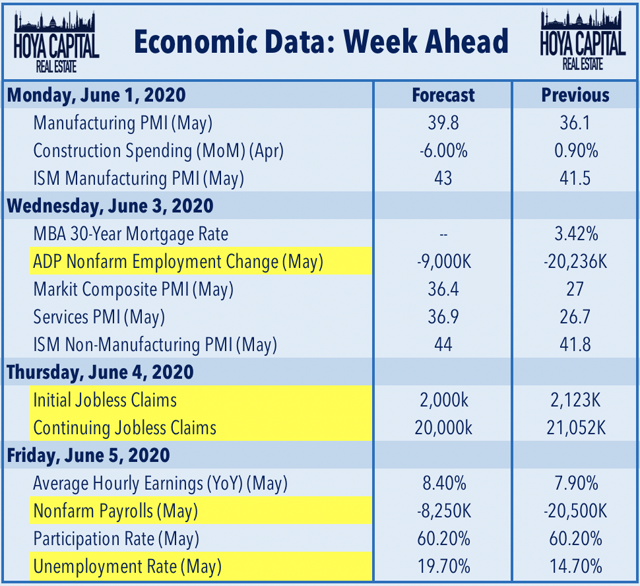 Join our Mailing List on our Website
Visit our website and join our email list for quick access to our full real estate research library: HoyaCapital.com where we have links all of our real estate sector reports and daily recaps. You can also follow our real-time commentary on Twitter, LinkedIn, and Facebook.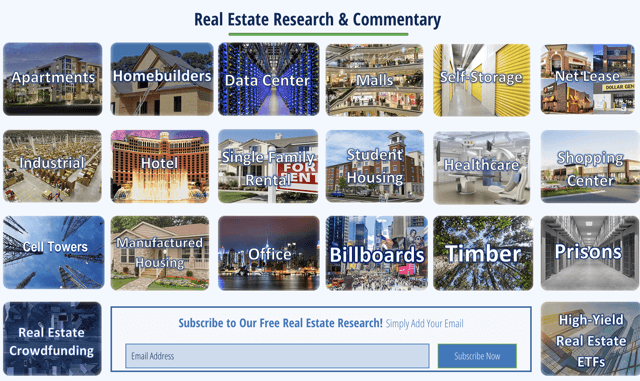 Disclosure: A complete list of holdings and Real Estate and Housing Index definitions and holdings are available at HoyaCapital.com. Hoya Capital Real Estate advises an Exchange Traded Fund listed on the NYSE. Hoya Capital is long all components in the Hoya Capital Housing 100 Index.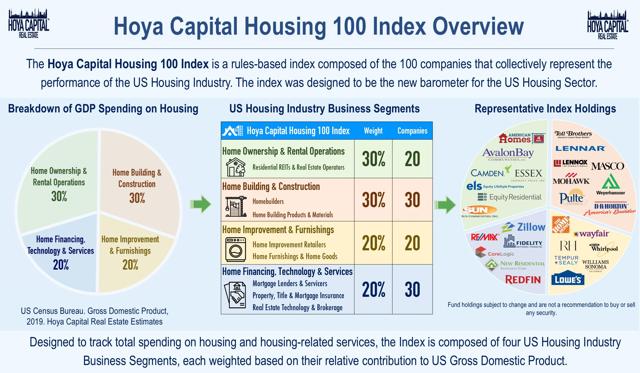 Additional Disclosure: It is not possible to invest directly in an index. Index performance cited in this commentary does not reflect the performance of any fund or other account managed or serviced by Hoya Capital Real Estate. Data quoted represents past performance, which is no guarantee of future results. Information presented is believed to be factual and up-to-date, but we do not guarantee its accuracy.
Hoya Capital Teams Up With iREIT
Hoya Capital is excited to announce that we've teamed up with iREIT to cultivate the premier institutional-quality real estate research service on Seeking Alpha! Sign up today and receive a free two-week trial!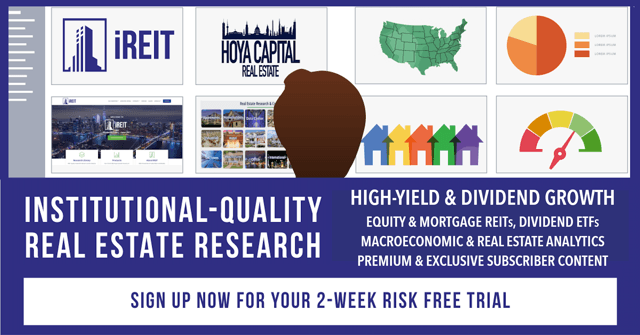 Disclosure: I am/we are long all holdings listed at www.hoyacapital.com