Real Estate Daily Recap
Our Real Estate Daily Recap discusses the notable news and events in the real estate sector over the last trading day and highlights sector-by-sector performance. We publish this note every afternoon at iREIT on Alpha and occasionally for free on our Blog to cover significant news and events. Subscribe to our free mailing list to make sure you never miss the latest developments in the commercial and residential real estate sectors. You can also follow our real-time commentary on Twitter and LinkedIn.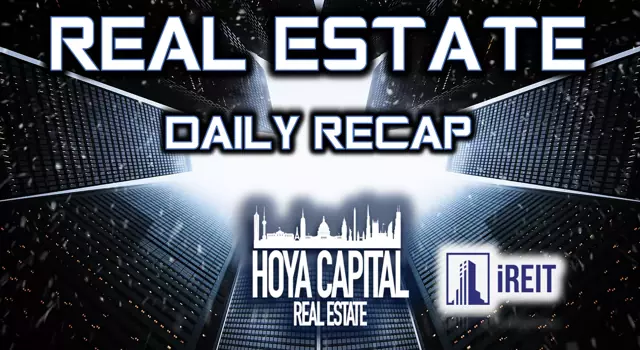 U.S. equity markets continued their "reopening rally" on Monday as high-frequency data continues to indicate a far-more-rapid post-pandemic economic rebound than most investors initially expected. Erasing its YTD losses for 2020 and adding its nearly 5% gains last week, the S&P 500 ETF (SPY) added another 1.2% today while the Dow Jones Industrial Average (DIA) jumped 462 points to push its winning streak to six days. The Nasdaq (QQQ), meanwhile, climbed to fresh all-time high with gains of 1.1% today. Adding to last week's gains of more than 10%, the broad-based Equity REIT ETFs gained another 2.8% today with all 18 property sectors in positive territory while Mortgage REITs jumped 8.7% after surging nearly 20% last week.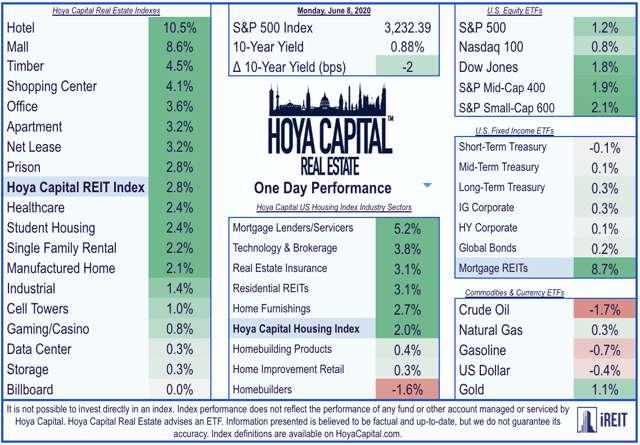 Monday's gains were supported by coronavirus data showing that Sunday saw the lowest number of new deaths and the second-lowest number of new cases since late March as the pandemic continues to wane in the northern hemisphere despite - or perhaps because of - the easing of economic lockdowns. All 11 GICS equity sectors ended the day in the green led by the Energy (XLE), Utilities (XLU), and Commercial Real Estate (XLRE) sectors. Following roughly double-digit percentage gains last week, Small-Cap (SLY) and Mid-Cap (MDY) stocks delivered another day of outperformance as well, ending the day with gains of 2.1% and 1.9%, respectively. With today's gains, REITs are now lower by just 6.5% in 2020 compared to the 0.4% gain on the S&P 500.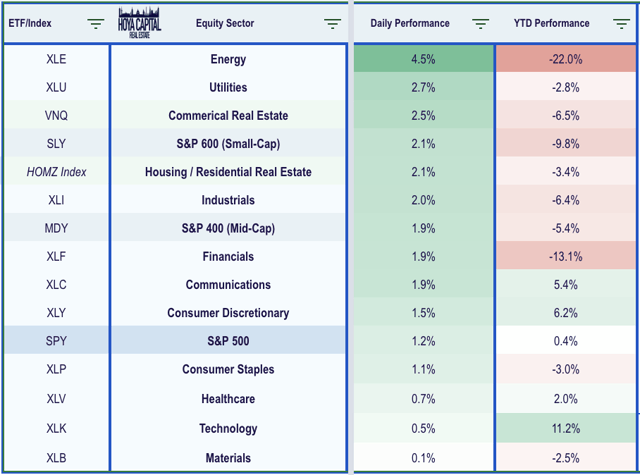 It was yet another strong day of gains for housing-related companies within the Hoya Capital Housing Index led by residential REITs and real estate technology and brokerage firms. Fresh data from Redfin (RDFN) released this weekend showed that home buying demand is now up a stunning 22% from pre-pandemic levels after seven straight weeks of gains. The firm notes "mortgage rates near 3% and inventory shortages drove prices up 7% and have increased competition for homes... rising prices and the freedom to work from home are causing buyers to reconsider their options. Pageviews on Redfin.com for cities under 50,000 people and rural areas are growing 5x faster than pageviews for cities with more than one million people."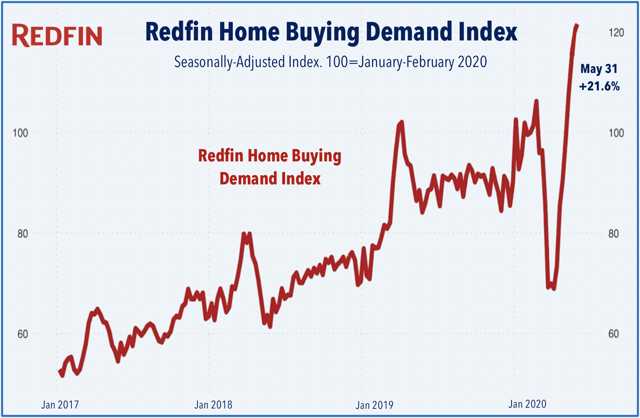 Commercial Equity REITs
The most beaten-down segments of the commercial real estate sector continue to lead the recent reopening rebound and the economically-sensitive property sectors including retail and lodging were again among the leaders today. Following gains of 50% last week - the single-largest weekly percentage gain for any major REIT property sector on record - mall REITs jumped another 8.6% today led by 15%+ gains from Washington Prime (WPG), Macerich (MAC), Pennsylvania REIT (PEI) and CBL & Associates (CBL). Despite their staggering rebound in recent weeks, however, malls remain the single-worst performing REIT sector this year with losses of 30%.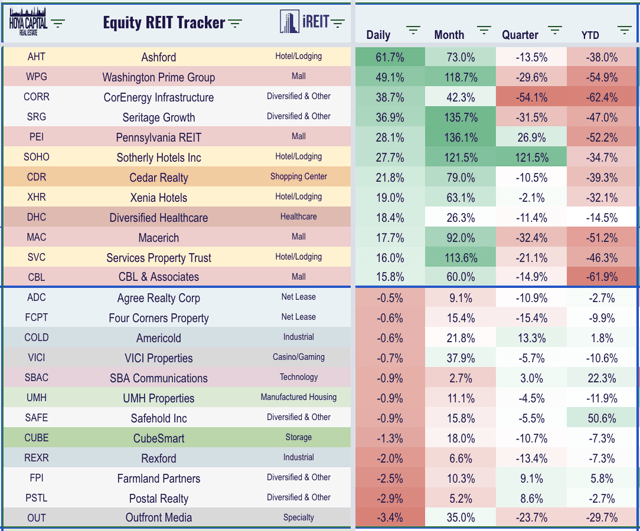 The double-digit percentage gain from the equity REIT sector last week came during the industry's annual REITweek conference, held "virtually" this year, where we heard interim updates on May rent collection metrics and commentary regarding "on-the-ground" fundamental trends from several dozen REITs and expect more reports to trickle out in the weeks ahead. These updates have so far been quite positive with most REITs reporting similar or stronger collection rates in May as in April while bigger-picture commentary has generally been quite optimistic. "Essential" property sectors including housing, industrial, and technology REITs, along with self-storage and office REITs, all reported collection of more than 90% of rents in April and May.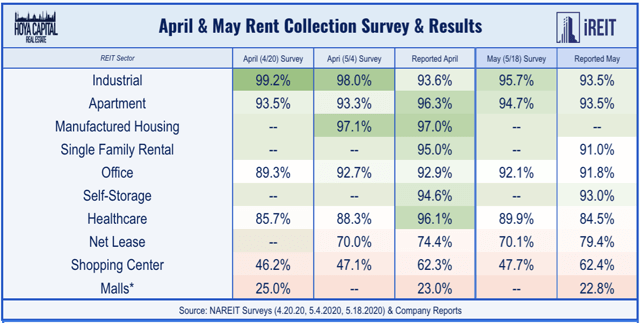 This afternoon, small-cap shopping center REIT Urstadt Biddle (UBA) was the first REIT to report Q2 results. UBA noted that it collected 60.3% of May rent and 68.7% of April's rent, continuing a trend of retail REITs reporting generally similar rent collection metrics in May as in April. UBA also announced that it is cutting its common dividend from $0.70 per quarter to $0.28 per quarter. We have now tracked 54 equity REITs - primarily retail and lodging REITs - out of our universe of 165 equity REITs that have now announced a cut or suspension of their common dividends. Last week, we published Dividend Cuts And Overdue Rent: REIT Earnings Recap where we discussed fundamental trends observed in first-quarter earnings reports.
Mortgage REITs
As tracked in our Mortgage REIT Tracker available to iREIT on Alpha subscribers, residential mREITs gained 11.3% today while commercial mREITs gained 7.5% after each sub-sector remains higher by more than 18% last week amid continued signs of stabilizing in the residential and commercial mortgage markets. The most beaten-down mREIT names generally led the rally today with AG Mortgage (MITT), Invesco Mortgage (IVR), and Exantas Capital (XAN) all surging at least 50% on the day. Residential mREITs were the hardest-hit real estate sector during the depths of the pandemic, but have seen conditions stabilize considerably in recent weeks amid signs of stabilization in the mortgage markets. Commercial mREITs weren't facing the same "existential crisis" as their residential mREIT peers, but the sector's heavy exposure to the hotel, office, and retail sectors has dragged on performance during the pandemic until recent weeks.

Helping to drive the rebound, the number of Americans seeking forbearance on their mortgages dropped for the first time since the start of the pandemic last week according to data from Black Knight on Friday, which showed that 4.73 million loans are currently in forbearance, down from 4.76 million last week, representing an 8.9% share of all mortgages. The total number of homeowners seeking forbearance appears to have topped-out well below 5 million, which represents 9% of all active mortgages, which would be well below the expectations of some pundits who expected up to 25% of mortgages to enter forbearance.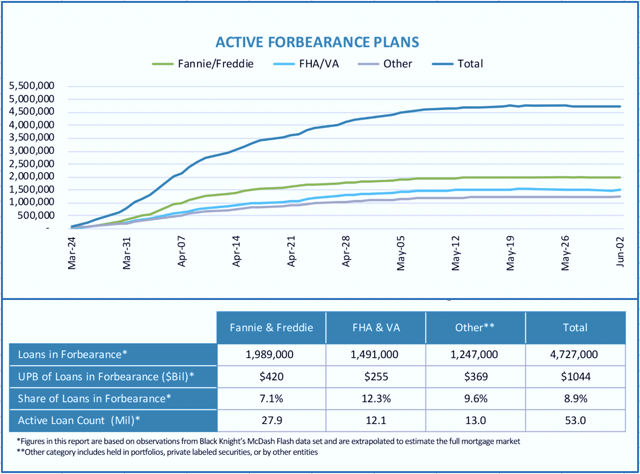 REIT Preferreds & Bonds
As tracked in our all-new REIT Preferred Stock & Bond Tracker available to iREIT on Alpha subscribers, REIT Preferred stocks finished higher by 3.8% today, on average, led by a continuation in the sharp rebound in the preferred issues from mall REITs CBL & Associates (CBL), Washington Prime (WPG), and Pennsylvania REIT (PEI) as well as several hotel REITs. Among REITs that offer preferred shares, the performance of these securities has been an average of 9.8% higher in 2020 than their common shares. Preferred stocks generally offer more downside protection, but in exchange, these securities offer relatively limited upside potential outside of the limited number of "participating" preferred offerings that can be converted into common shares.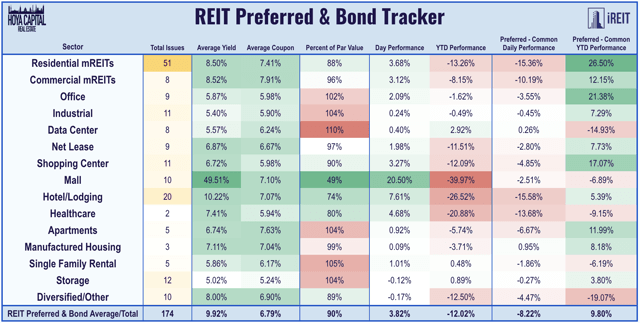 This Week's Economic Calendar
As discussed in our Real Estate Weekly Outlook, it'll be a relatively busy week of economic data, highlighted by CPI inflation data on Wednesday and PPI inflation data on Thursday. We'll hear from the Federal Reserve on Wednesday, where we'll be listening for any change in tone or rhetoric from Fed Chair Powell regarding the unprecedented levels of monetary support and emergency actions over the past several months. Continuing jobless claims will also continue to be our focus for indications that temporarily-unemployed Americans are returning to work.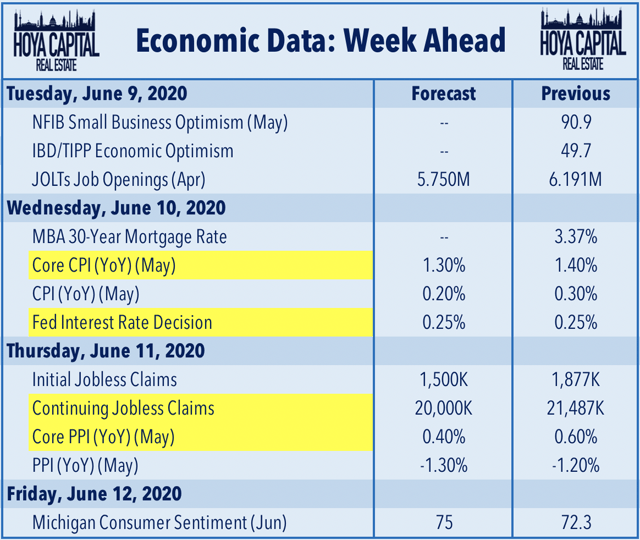 Join our Mailing List on our Website
Visit our website and join our email list for quick access to our full real estate research library: HoyaCapital.com where we have links all of our real estate sector reports and daily recaps. You can also follow our real-time commentary on Twitter, LinkedIn, and Facebook.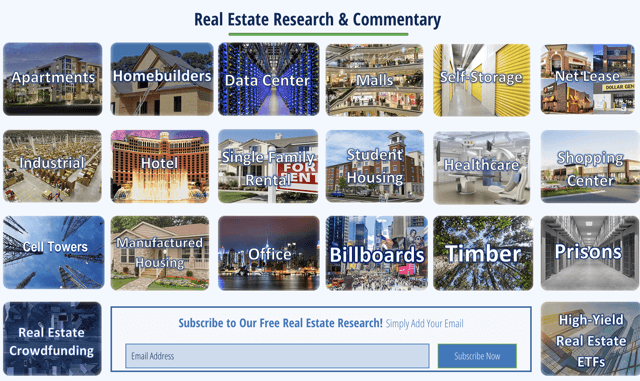 Disclosure: A complete list of holdings and Real Estate and Housing Index definitions and holdings are available at HoyaCapital.com. Hoya Capital Real Estate advises an Exchange Traded Fund listed on the NYSE. Hoya Capital is long all components in the Hoya Capital Housing 100 Index.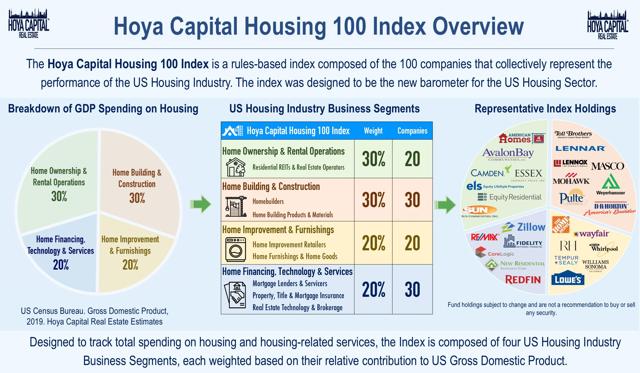 Additional Disclosure: It is not possible to invest directly in an index. Index performance cited in this commentary does not reflect the performance of any fund or other account managed or serviced by Hoya Capital Real Estate. Data quoted represents past performance, which is no guarantee of future results. Information presented is believed to be factual and up-to-date, but we do not guarantee its accuracy.
Hoya Capital Teams Up With iREIT
Hoya Capital is excited to announce that we've teamed up with iREIT to cultivate the premier institutional-quality real estate research service on Seeking Alpha! Sign up today and receive a free two-week trial!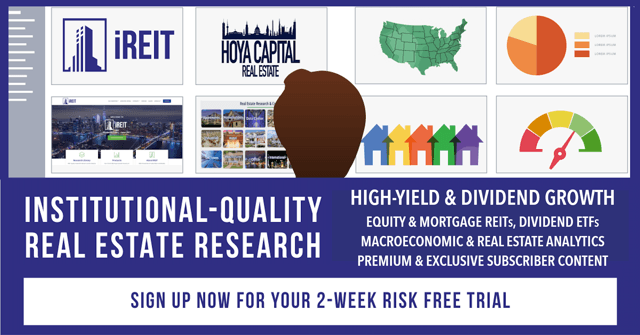 Disclosure: I am/we are long all holdings listed at www.hoyacapital.com.