Real Estate Daily Recap
Our Real Estate Daily Recap discusses the notable news and events in the real estate sector over the last trading day and highlights sector-by-sector performance. We publish this note every afternoon at iREIT on Alpha and occasionally for free on our Blog to cover significant news and events. Subscribe to our free mailing list to make sure you never miss the latest developments in the commercial and residential real estate sectors. You can also follow our real-time commentary on Twitter and LinkedIn.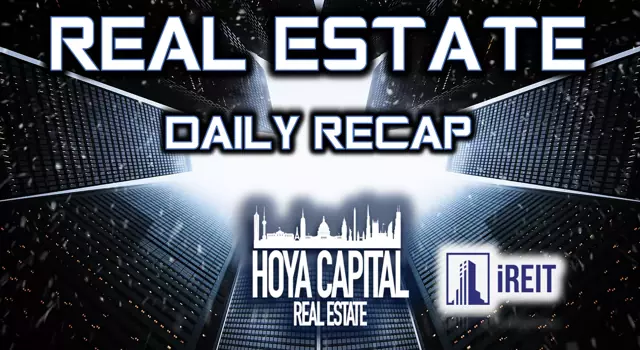 U.S. equity markets finished mostly lower in a volatile session on Wednesday as investors parsed comments from Federal Reserve Chair Powell, who committed to provide continued support to financial markets. Despite these comments, investors appear to be cautious following a substantial equity market rally amid a fairly quiet week of newsflow, while also closely monitoring coronavirus data for signs that the mass gatherings spurred a "second wave" of the outbreak. Following a decline of 0.8% on Tuesday, the S&P 500 ETF (SPY) declined by 0.5% today while the Dow Jones Industrial Average (DIA) declined by 282 points following yesterday's 300 point-decline.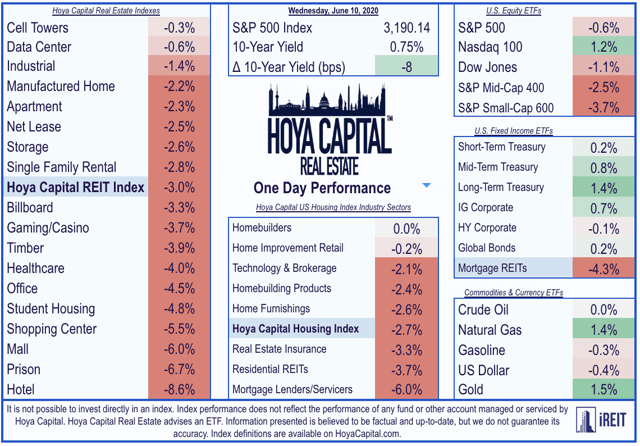 Adding to yesterday's declines of 2.0%, the broad-based Equity REIT ETFs declined by another 3.0% with all 18 property sectors in negative territory while the Mortgage REIT ETF (REM) dipped another 4.3% after yesterday's 5.2% decline. The last two days have seen a revision to the "stay-at-home" themes as stocks that led the "reopening rally" have underperformed this week. For the second-straight day, the Technology (XLC) sector was the lone GICS equity sector in positive territory today while the Energy (XLE) and Financials (XLF) sectors were the laggards. The 10-Year Treasury Yield (IEF) pulled back another 8 basis points to close at 0.75% after Fed Chair Powell projected that the Fed wouldn't raise interest rates until after 2022, and that it would maintain its unprecedented balance sheet expansion through the purchase of Treasury and mortgage securities.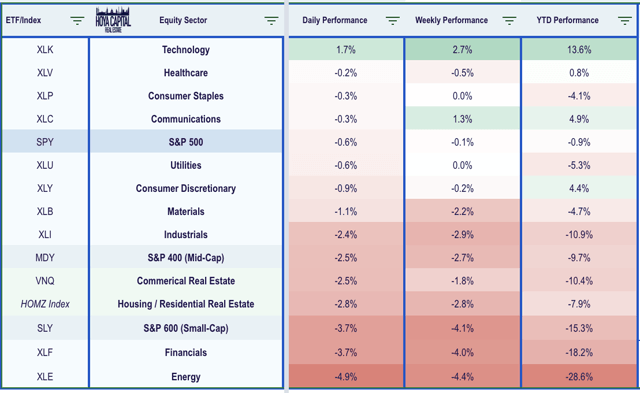 In addition to optimism over economic reopening, helping to power the gains over the last several weeks has been data showing a dramatic rebound in housing market activity, perhaps the most critical sector of the U.S. economy. The Mortgage Bankers Association reported this morning that mortgage applications to purchase a home rose for the 8th straight week and are now 13% higher from the same week last year compared to the 35% decline in early April. This follows data last week from Hoya Capital Housing Index component Redfin (RDFN) which showed that home buying demand is now up a stunning 22% from pre-pandemic levels after seven straight weeks of gains. Despite this strong data, homebuilders finished roughly flat on the day while a pullback in residential REITs dragged on the housing sector benchmark.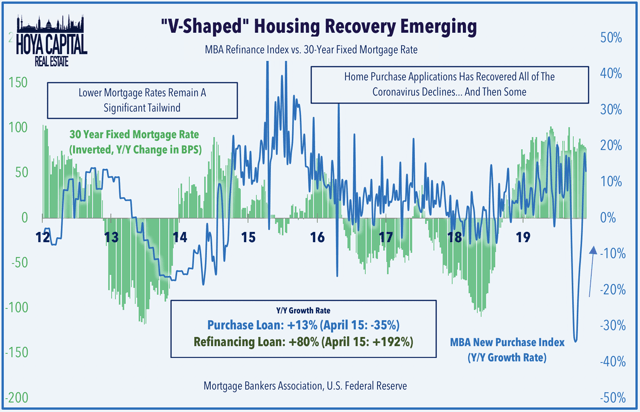 Commercial Equity REITs
It was shaping up to be a pretty quiet week of newsflow for Equity REITs following last week's REITweek and between Q1 and Q2 earnings season. Simon Property (SPG) broke that silence with some blockbuster news this morning that it plans to pull the plug on their planned acquisition of fellow Class A mall operator Taubman Centers (TCO), an ill-timed deal that was announced just weeks before the coronavirus pandemic began to wreak havoc on the retail real estate industry. Our iREIT on Alpha partners broke down the details of the proposed merger and the issues facing both Simon and Taubman in a report today: Divorcing Before The Honeymoon. Simon ended lower by 4.0% on the day while Taubman dipped by roughly 20%.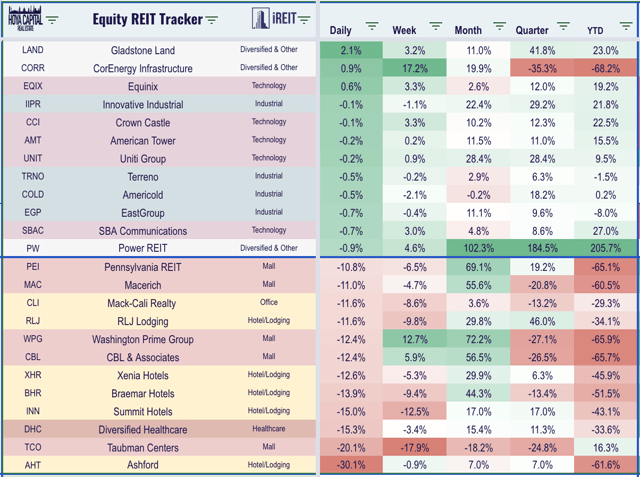 Yesterday, we published Mall REITs: Surviving The Apocalypse, For Now. Mall REITs are longing for the days when the 'retail apocalypse' was their biggest concern. Despite a 100% rally from their lows, malls remain the worst-performing property sector in 2020. Malls reported collection of less than 25% of rents in April and May as retail landlords struggled to collect rent from "non-essential" tenants. Most mall REITs have eliminated their dividends. By contrast, "essential" property sectors including housing, industrial, and technology REITs, along with self-storage and office REITs, all reported collection of more than 90% of rents in April and May. Glimmers of hope have emerged, however, amid the economic reopening as several key mall-based tenants have reported a faster-than-expected demand recovery, prompting a substantial share price rebound.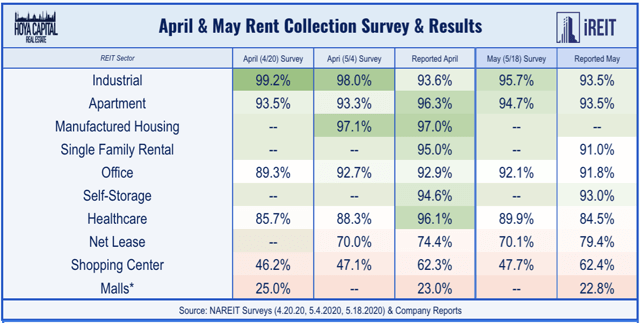 Also of note, Realty Income (O) announced a dividend increase this morning, a notable show of confidence from the free-standing retail-focused REIT that collected roughly 80% of rents in April and May. We have tracked 54 equity REITs - primarily retail and lodging REITs - out of our universe of 165 equity REITs that have now announced a cut or suspension of their common dividends, but we think that we'll begin to see many of these REITs announce dividend resumptions during 2Q earnings season beginning in a few weeks. Last week, we published Dividend Cuts And Overdue Rent: REIT Earnings Recap where we discussed fundamental trends observed in first-quarter earnings reports.

Mortgage REITs
As tracked in our Mortgage REIT Tracker available to iREIT on Alpha subscribers, residential mREITs declined by 4.6% today while commercial mREITs fell by 4.6%. For the week, residential mREITs remain higher by 0.7% however, as the sector has seen conditions stabilize considerably in recent weeks amid signs of stabilization in the mortgage markets and signs of strength emerge in the broader U.S. housing market. Commercial mREITs are now lower by 3.4% this week after several weeks of strong gains. 

REIT Preferreds & Bonds
As tracked in our all-new REIT Preferred Stock & Bond Tracker available to iREIT on Alpha subscribers, REIT Preferred stocks finished lower by 1.1% today, on average, but outperformed their respective common stock issues by an average of 4.7% amid relatively sharp sell-offs in the retail and lodging REIT sectors. Among REITs that offer preferred shares, the performance of these securities has been an average of 14.8% higher in 2020 than their respective common shares. Preferred stocks generally offer more downside protection, but in exchange, these securities offer relatively limited upside potential outside of the limited number of "participating" preferred offerings that can be converted into common shares.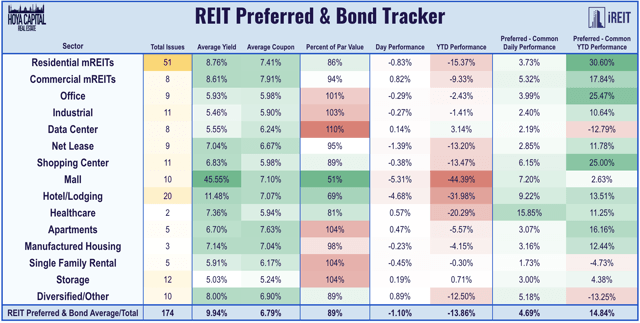 This Week's Economic Calendar
As discussed in our Real Estate Weekly Outlook, the moderately busy week of economic data rolls on with PPI inflation data tomorrow as well as Initial and Continuing Jobless Claims. Continuing jobless claims will also continue to be our focus for indications that temporarily-unemployed Americans are returning to work.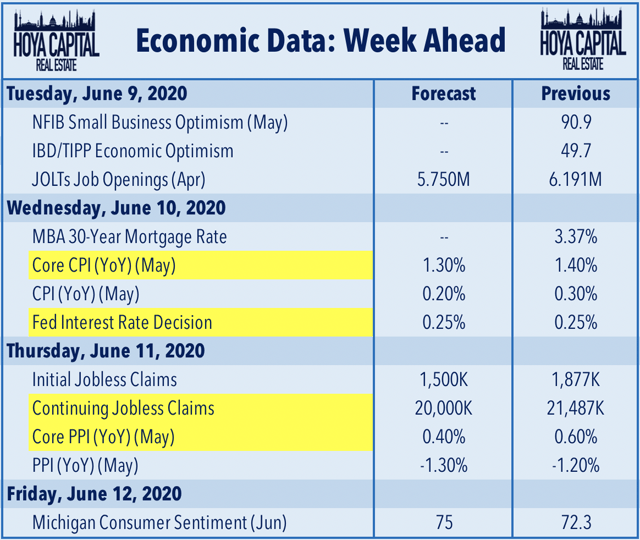 Join our Mailing List on our Website
Visit our website and join our email list for quick access to our full real estate research library: HoyaCapital.com where we have links all of our real estate sector reports and daily recaps. You can also follow our real-time commentary on Twitter, LinkedIn, and Facebook.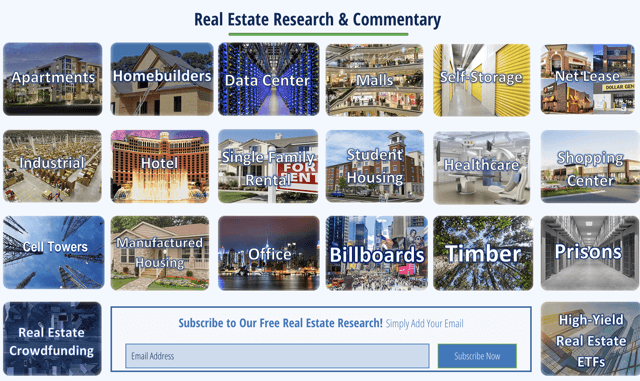 Disclosure: A complete list of holdings and Real Estate and Housing Index definitions and holdings are available at HoyaCapital.com. Hoya Capital Real Estate advises an Exchange Traded Fund listed on the NYSE. Hoya Capital is long all components in the Hoya Capital Housing 100 Index.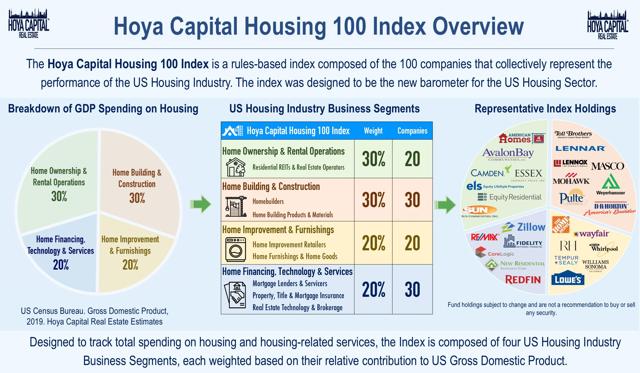 Additional Disclosure: It is not possible to invest directly in an index. Index performance cited in this commentary does not reflect the performance of any fund or other account managed or serviced by Hoya Capital Real Estate. Data quoted represents past performance, which is no guarantee of future results. Information presented is believed to be factual and up-to-date, but we do not guarantee its accuracy.
Hoya Capital Teams Up With iREIT
Hoya Capital is excited to announce that we've teamed up with iREIT to cultivate the premier institutional-quality real estate research service on Seeking Alpha! Sign up today and receive a free two-week trial!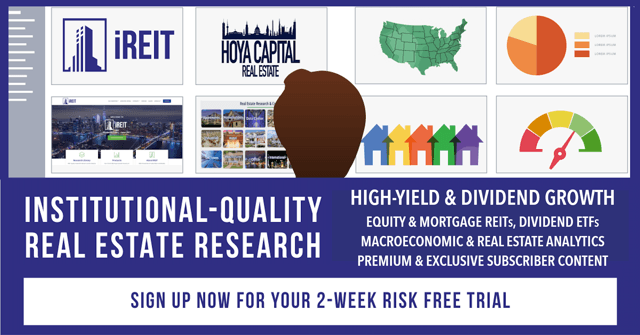 Disclosure: I am/we are long all holdings listed at www.hoyacapital.com.