Real Estate Daily Recap
Our Real Estate Daily Recap discusses the notable news and events in the real estate sector over the last trading day and highlights sector-by-sector performance. We publish this note every afternoon at iREIT on Alpha and occasionally for free on our Blog to cover significant news and events. Subscribe to our free mailing list to make sure you never miss the latest developments in the commercial and residential real estate sectors. You can also follow our real-time commentary on Twitter and LinkedIn.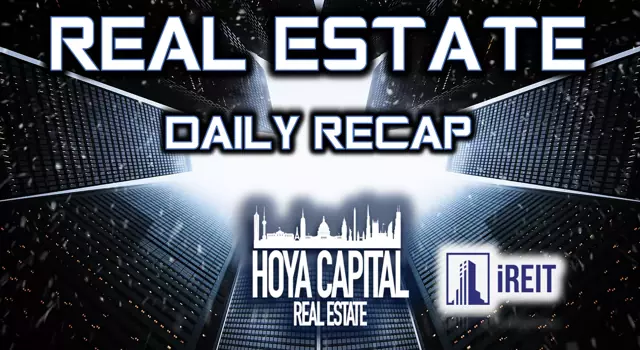 U.S. equity markets finished sharply lower on Thursday, retreating following a furious "reopening rally," as investors expressed concern about a potential second wave of the pandemic sparked by weeks of protests, which has so far not been born out by the hard data. Falling for the third straight day, the S&P 500 ETF (SPY) plunged by 5.9% today while the Dow Jones Industrial Average (DIA) declined by 1861 point, the fourth largest single-day point decline. Now off by more than 8% this week, the broad-based Equity REIT ETFs declined by 6.5% today with all 18 property sectors in negative territory while the Mortgage REIT ETF (REM) dipped another 7.5% today.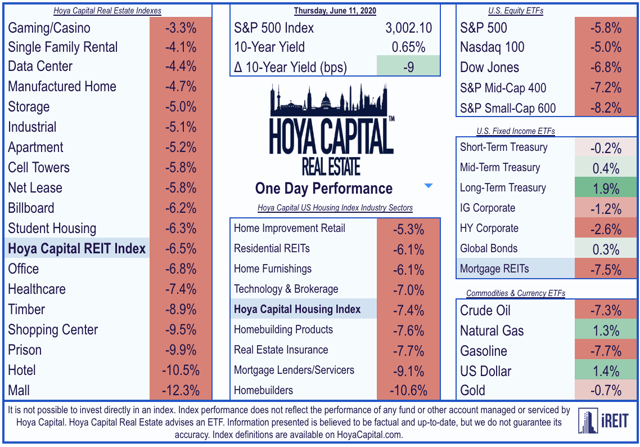 Evidence is scant regarding the dreaded "second wave" of the coronavirus pandemic, however, as daily new cases and deaths reached the lowest levels since March this week, but that didn't stop countless news outlets and politicians from cherry-picking volatile state-level data and revisiting scientifically debunked models that motivated the devastating economic lockdowns. All 11 GICS equity sectors were lower on the day, led to the downside by the Energy (XLE), Financials (XLF), and Materials (XLB) sectors. The 10-Year Treasury Yield (IEF) pulled back another 9 basis points to close at 0.65% following comments yesterday from Fed Chair Powell, who projected that the Fed wouldn't raise interest rates until after 2022.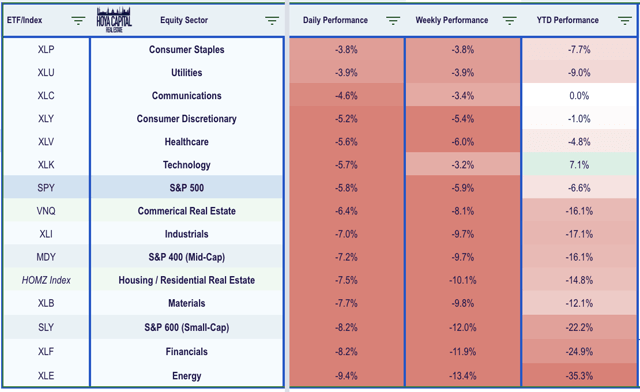 Today's declines come after somewhat disappointing employment data this morning following far-stronger-than-expected jobs numbers last week from the BLS and ADP. Another 1.54 million Americans filed for Initial Jobless Claims last week, down from 1.89 million in the prior week, but Continuing Claims data appears to have peaked in early May at around 25 million and has decreased by roughly 4 million over the last four weeks, a positive sign that many of the recent layoffs are indeed proving to be temporary. The magnitude of the decline in continuing claims this week, however, was short of analysts estimates following last week's stunning nonfarm payrolls report which showed a record single-month employment gain of 2.5 million.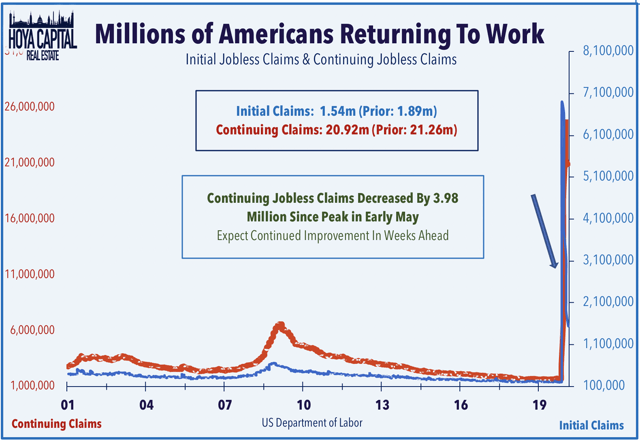 Commercial Equity REITs
The "reopening rally" that carried REITs to within shouting distance of pre-pandemic levels has faded quickly this week as the sectors that led the gains on the upside in recent weeks have traded sharply lower over the past three days. Just two equity REITs, Postal Realty (PSTL) and Taubman Centers (TCO) were higher on the day while a dozen REITs were lower by more than 15% including 20%+ declines from Washington Prime (WPG), Diversified Healthcare (DHC), and Pennsylvania REIT (PEI).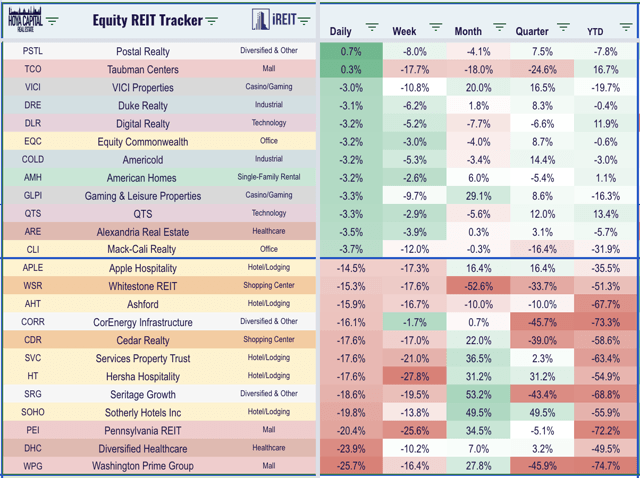 Taubman's rally comes a day after Simon Property (SPG) announced plans to pull the plug on their planned acquisition of the fellow Class A mall operator. Our iREIT on Alpha partners broke down the details of the proposed merger and the issues facing both Simon and Taubman in a report yesterday: Divorcing Before The Honeymoon. Earlier this week, we published Mall REITs: Surviving The Apocalypse, For Now. Mall REITs are longing for the days when the 'retail apocalypse' was their biggest concern. Despite a 100% rally from their lows, malls remain the worst-performing property sector in 2020 as malls reported collection of less than 25% of rents in April and May.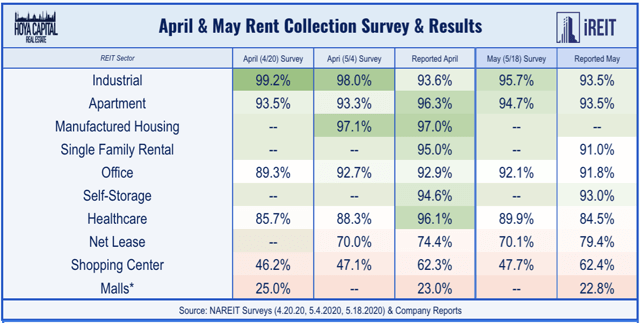 The "essential" property sectors - residential, technology, and industrial - were outperformers today. Today we published Data Center REITs: The New Digital Office? Data center REITs have jumped nearly 20% so far in 2020 even as most property sectors were ravaged - at least temporarily - by the coronavirus pandemic. Leasing activity - the most closely-watched earnings metric - surged in the first quarter to the highest level since mid-2018 as the sector continues to ride substantial secular tailwinds. We believe that the pandemic may accelerate enterprise investment in cloud computing technologies, as spending on the "virtual office" may replace spending on physical office space.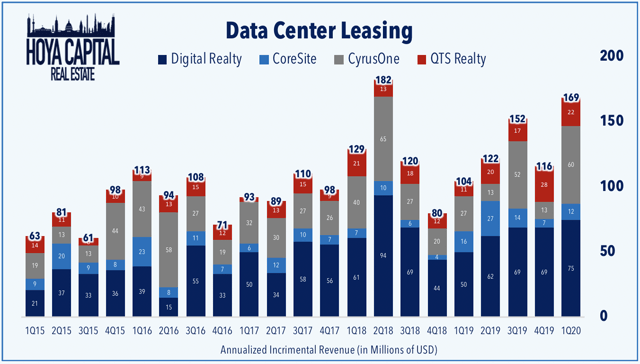 We have tracked 54 equity REITs - primarily retail and lodging REITs - out of our universe of 165 equity REITs that have now announced a cut or suspension of their common dividends, but we think that we'll begin to see many of these REITs announce dividend resumptions during 2Q earnings season beginning in a few weeks. Last week, we published Dividend Cuts And Overdue Rent: REIT Earnings Recap where we discussed fundamental trends observed in first-quarter earnings reports.

Mortgage REITs
As tracked in our Mortgage REIT Tracker available to iREIT on Alpha subscribers, residential mREITs declined by 6.7% today, pushing their declines this week to 6.4% while commercial mREITs fell by 8.6%, pushing their declines to a more significant 11.8%. Residential mREITs were the hardest-hit real estate sector during the depths of the pandemic, but have seen conditions stabilize considerably in recent weeks amid signs of stabilization in the mortgage markets. Commercial mREITs weren't facing the same "existential crisis" as their residential mREIT peers, but the sector's heavy exposure to the hotel, office, and retail sectors has dragged on performance.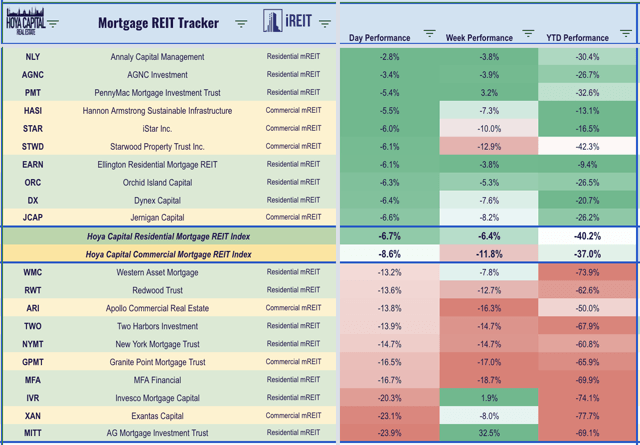 Speaking of strong housing market data, we discussed yesterday that the Mortgage Bankers Association reported that mortgage applications to purchase a home rose for the 8th straight week and are now 13% higher from the same week last year compared to the 35% decline in early April. This follows data last week from Hoya Capital Housing Index component Redfin (RDFN) which showed that home buying demand is now up a stunning 22% from pre-pandemic levels after seven straight weeks of gains.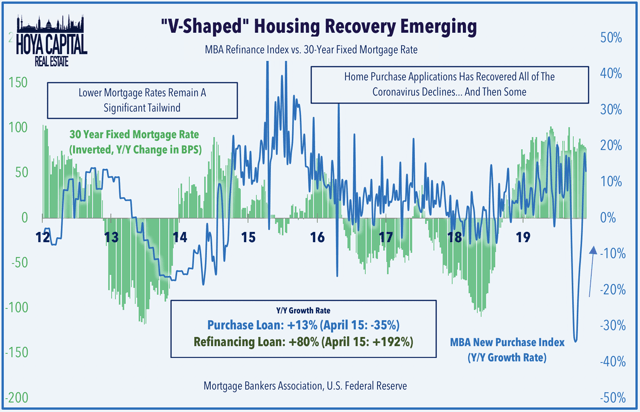 REIT Preferreds & Bonds
As tracked in our all-new REIT Preferred Stock & Bond Tracker available to iREIT on Alpha subscribers, REIT Preferred stocks finished lower by 4.5% today, on average, but outperformed their respective common stock issues by an average of 5.2% amid another sharp sell-off in the retail and lodging REIT sectors. Among REITs that offer preferred shares, the performance of these securities has been an average of 17.4% higher in 2020 than their respective common shares. Preferred stocks generally offer more downside protection, but in exchange, these securities offer relatively limited upside potential outside of the limited number of "participating" preferred offerings that can be converted into common shares.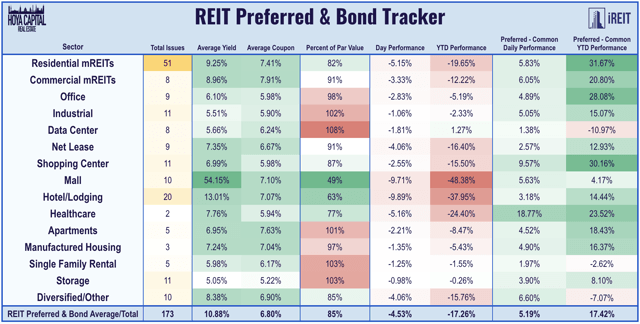 This Week's Economic Calendar
We'll have a full analysis of this week's economic data in our Real Estate Weekly Outlook report published on Saturday morning.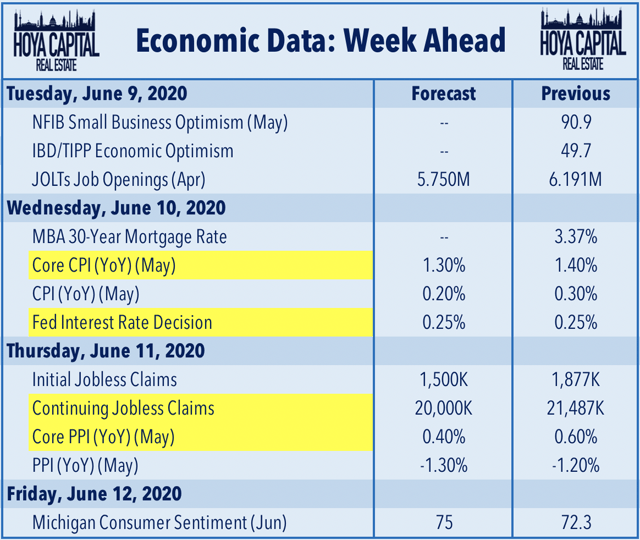 Join our Mailing List on our Website
Visit our website and join our email list for quick access to our full real estate research library: HoyaCapital.com where we have links all of our real estate sector reports and daily recaps. You can also follow our real-time commentary on Twitter, LinkedIn, and Facebook.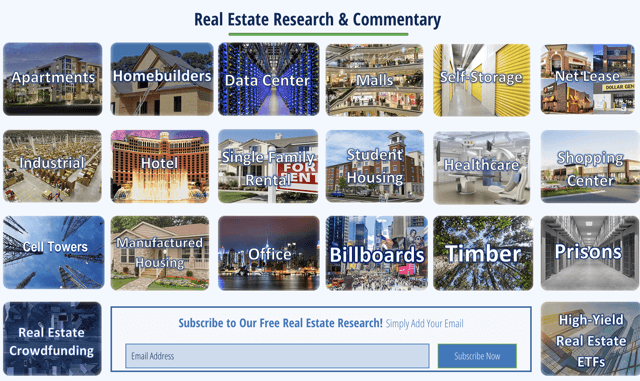 Disclosure: A complete list of holdings and Real Estate and Housing Index definitions and holdings are available at HoyaCapital.com. Hoya Capital Real Estate advises an Exchange Traded Fund listed on the NYSE. Hoya Capital is long all components in the Hoya Capital Housing 100 Index.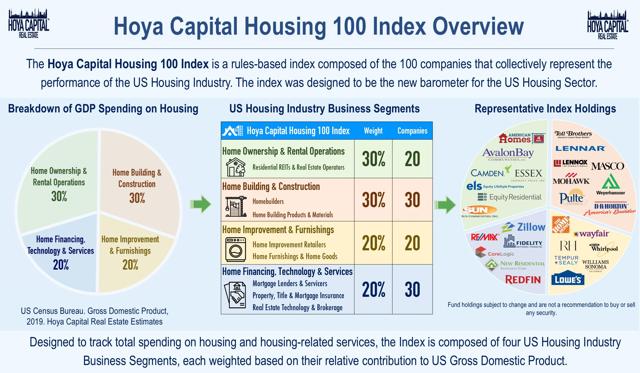 Additional Disclosure: It is not possible to invest directly in an index. Index performance cited in this commentary does not reflect the performance of any fund or other account managed or serviced by Hoya Capital Real Estate. Data quoted represents past performance, which is no guarantee of future results. Information presented is believed to be factual and up-to-date, but we do not guarantee its accuracy.
Hoya Capital Teams Up With iREIT
Hoya Capital is excited to announce that we've teamed up with iREIT to cultivate the premier institutional-quality real estate research service on Seeking Alpha! Sign up today and receive a free two-week trial!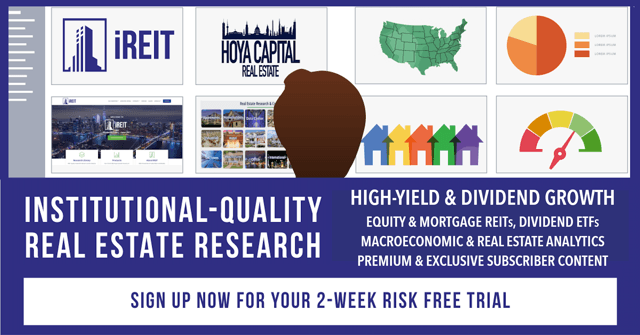 Disclosure: I am/we are long all holdings listed at www.hoyacapital.com.