Real Estate Daily Recap
Our Real Estate Daily Recap discusses the notable news and events in the real estate sector over the last trading day and highlights sector-by-sector performance. We publish this note every afternoon at iREIT on Alpha and occasionally for free on our Blog to cover significant news and events. Subscribe to our free mailing list to make sure you never miss the latest developments in the commercial and residential real estate sectors. You can also follow our real-time commentary on Twitter and LinkedIn.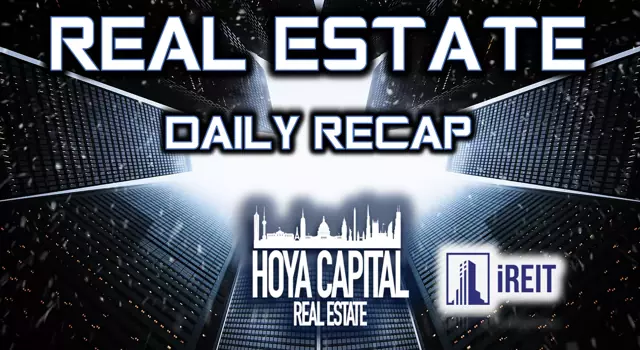 U.S. equity markets snapped a three-day winning streak on Wednesday on continued concerns of a "second wave" of the coronavirus pandemic, concerns that were partially offset by further evidence of an emerging economic rebound. Following a gain of 1.9% yesterday, the S&P 500 ETF (SPY) declined by 0.4% on the day while the Dow Jones Industrial Average (DIA) dipped 170 points following yesterday's 527 point rally. After gaining 2.0% yesterday, the broad-based Equity REIT ETFs declined by 1.5% today with 15 of 18 property sectors in negative territory while Mortgage REITs (REM) declined by 1.5% following yesterday's 1.3% gain.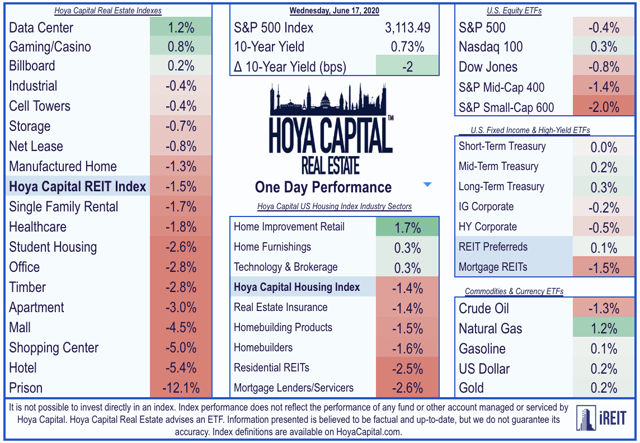 Despite emerging signs of economic strength - including record-high readings on the Citi Economic Surprise Index - markets have seen heightened volatility over the last two weeks as investor attention - and the media spotlight - returned to the coronavirus pandemic amid concerns that recent protests could have sparked a "second wave" of the outbreak. 10 of the 11 GICS equity sectors were lower on the day, dragged to the downside by the Energy (XLE), Financials (XLF), and Commerical Real Estate (VNQ) sector. Homebuilders and the broader Hoya Capital Housing Index also finished lower following two days of strong gains. Small-Cap (SLY) and Mid-Cap (MDY) stocks finished lower by 2.0% and 1.4%, respectively, following two days of outperformance.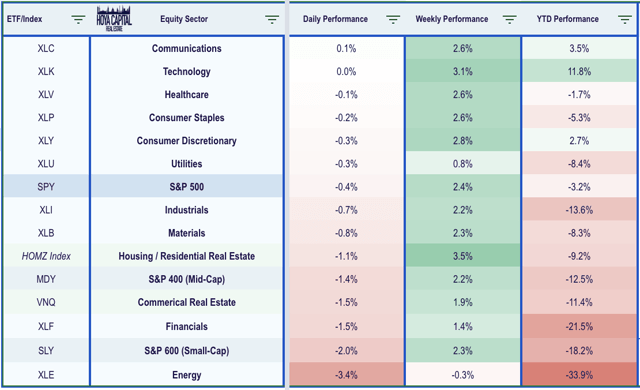 Residential Real Estate
Helping to power the "reopening rally" over the last several weeks has been data showing a dramatic rebound in housing market activity, perhaps the most critical sector of the U.S. economy. The Mortgage Bankers Association reported this morning that mortgage applications to purchase a home rose for the 9th straight week to 11-year highs and are now 21% higher from the same week last year compared to the 35% decline in early April. This followed homebuilder sentiment data yesterday which showed a record jump in June and strong earnings results on Monday afternoon from homebuilder Lennar (LEN), which expects housing to be a "significant driver the economic rebound." Redfin (RDFN), meanwhile, reported that homebuying during the first week of June was 25% higher than it was before the pandemic.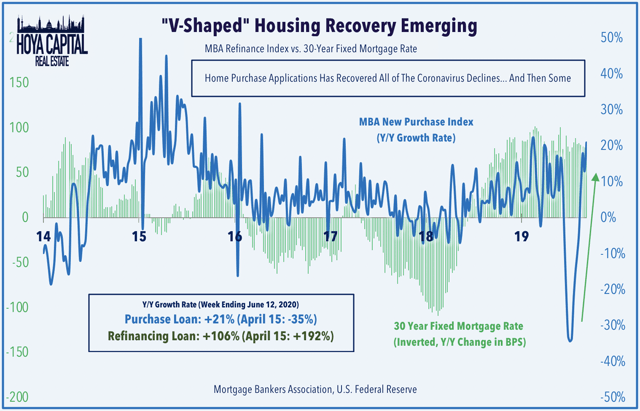 We also saw Housing Starts and Building Permits data today, which showed that construction activity increased less than expected in May as many regions remained under partial lockdowns, but permitting activity showed a strong rebound. Housing starts rose 4.3% in May from the prior month to a seasonally adjusted annual rate of 974,000 while building permits jumped 14.4% to a rate of 1.220 million units in May. The U.S. housing industry was red-hot before the onset of the coronavirus crisis with Housing Starts, Building Permits, and New Home Sales all eclipsing post-cycle highs in early 2020 and evidence is mounting that the housing industry could indeed be a source of strength to lead the post-pandemic economic rebound. 
Commercial Equity REITs
As we previewed earlier this week, it's dividend declaration season in the commercial REIT sector, and we may see another wave of dividend cuts or suspensions - or perhaps some dividend resumptions - over the next few weeks from REITs that had initially held-off on making a determination as of their Q1 reports. Today we saw just that as prison REIT CoreCivic (CXW) announced that it has decided to suspend the company's quarterly dividend while it "evaluates corporate structure and capital allocation" and determines "how best to use its substantial free cash flow." CXW's surprising move sent shares plunging by 16.8% on the day. We have now tracked 55 equity REITs - primarily retail and lodging REITs - out of our universe of 165 equity REITs that have now announced a cut or suspension of their common dividends.

Data Center REITs - which we analyzed in a report last week - were among the leaders today, led by Digital Realty (DLR), QTS Realty (QTS), and CyrusOne (CONE). Also among the leaders was casino REIT VICI Properties (VICI) which priced a relatively large 26 million share secondary offering at $22.15 per share, raising gross proceeds of $575.9 million. Retail and hotel REITs were among the laggards today, led to the downside by Ashford (AHT), Cedar Realty (CDR), and Braemar Hotels (BHR).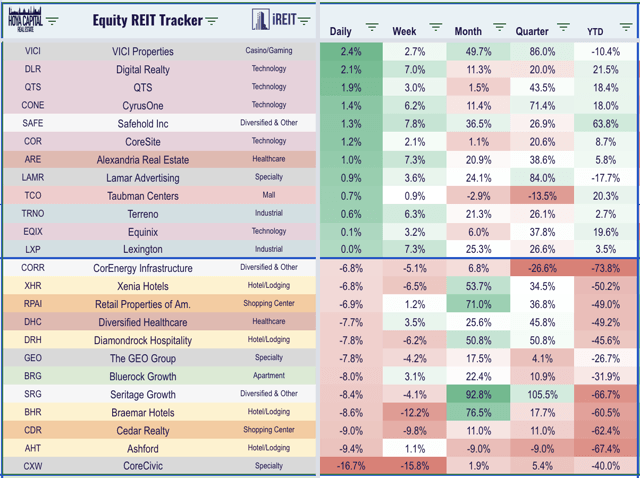 Yesterday, we published Net Lease REITs: Social Distancing Hits Key Tenants. Net Lease REITs had previously defied the 'retail apocalypse' headwinds over the past half-decade by investing in experienced-based retail categories but these "un-Amazonable" categories including restaurants, fitness centers, and movie theaters have become liabilities amid the "social distancing' era. Rent collection has improved modestly from a low of 75% in April towards 80-90% in June as regions continue to lift "stay-at-home" orders, but a dreaded "second wave" remains a looming threat.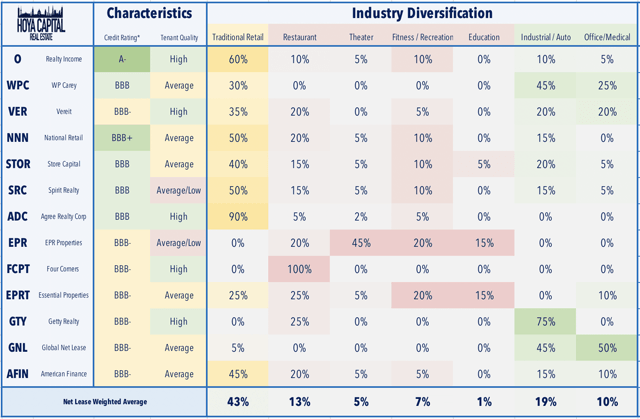 Mortgage REITs
As tracked in our Mortgage REIT Tracker available to iREIT on Alpha subscribers, residential mREITs finished lower by 1.5% today but remain higher by 0.5% on the week while commercial mREITs finished lower by 0.6% but remain higher by 1.4% on the week. Residential mREITs were the hardest-hit real estate sector during the depths of the pandemic, but have seen conditions stabilize considerably in recent weeks amid signs of stabilization in the mortgage markets. Commercial mREITs weren't facing the same "existential crisis" as their residential mREIT peers, but the sector's heavy exposure to the hotel, office, and retail sectors has dragged on performance.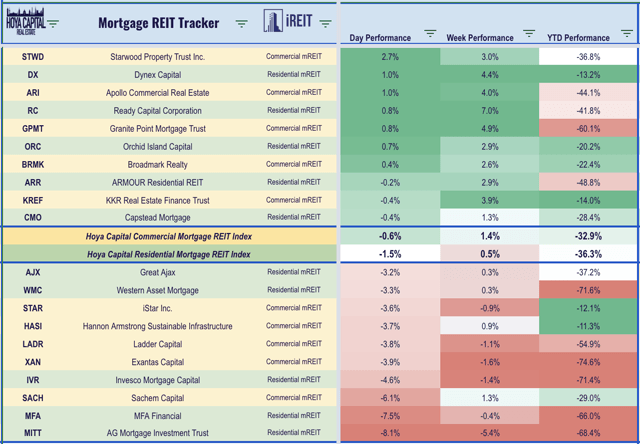 REIT Preferreds & Bonds
As tracked in our all-new REIT Preferred Stock & Bond Tracker available to iREIT on Alpha subscribers, REIT Preferred stocks finished flat today, on average, but outperformed their respective common stock issues by an average of 2.9%. Among REITs that offer preferred shares, the performance of these securities has been an average of 14.8% higher in 2020 than their respective common shares. Preferred stocks generally offer more downside protection, but in exchange, these securities offer relatively limited upside potential outside of the limited number of "participating" preferred offerings that can be converted into common shares.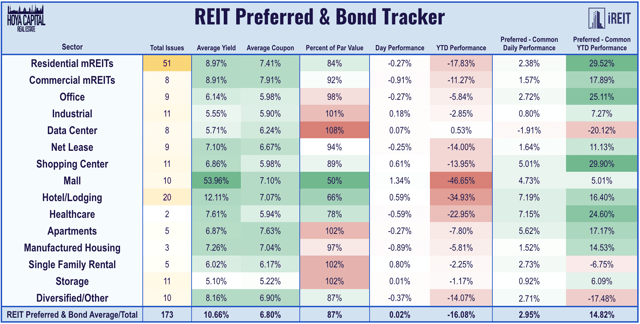 This Week's Economic Calendar
As discussed in our Real Estate Weekly Outlook, the busy week of economic data continues with jobless claims data released tomorrow, where we'll be looking for indications that temporarily-unemployed Americans are returning to work and for initial claims to decline for the 11th consecutive week.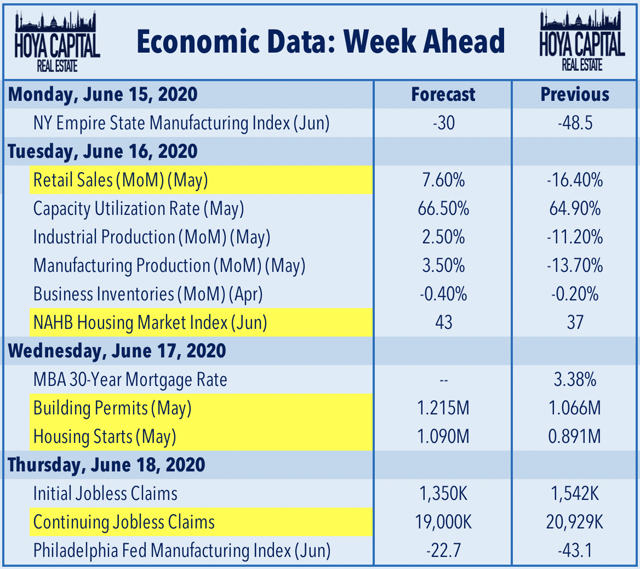 Join our Mailing List on our Website
Visit our website and join our email list for quick access to our full real estate research library: HoyaCapital.com where we have links all of our real estate sector reports and daily recaps. You can also follow our real-time commentary on Twitter, LinkedIn, and Facebook.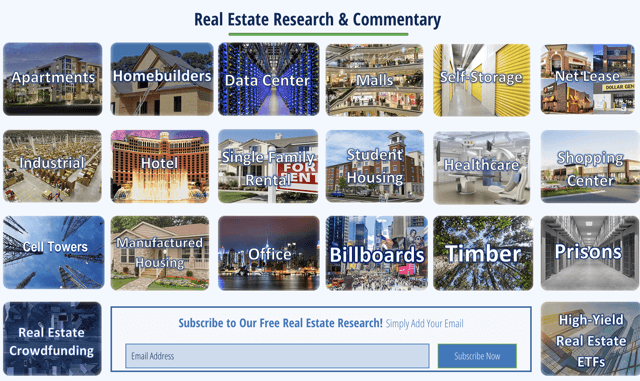 Disclosure: A complete list of holdings and Real Estate and Housing Index definitions and holdings are available at HoyaCapital.com. Hoya Capital Real Estate advises an Exchange Traded Fund listed on the NYSE. Hoya Capital is long all components in the Hoya Capital Housing 100 Index.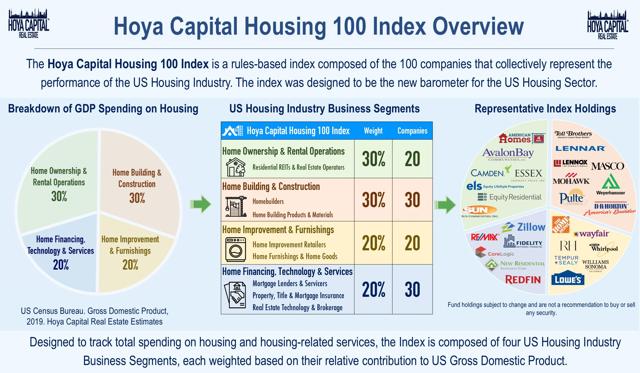 Additional Disclosure: It is not possible to invest directly in an index. Index performance cited in this commentary does not reflect the performance of any fund or other account managed or serviced by Hoya Capital Real Estate. Data quoted represents past performance, which is no guarantee of future results. Information presented is believed to be factual and up-to-date, but we do not guarantee its accuracy.
Hoya Capital Teams Up With iREIT
Hoya Capital is excited to announce that we've teamed up with iREIT to cultivate the premier institutional-quality real estate research service on Seeking Alpha! Sign up today and receive a free two-week trial!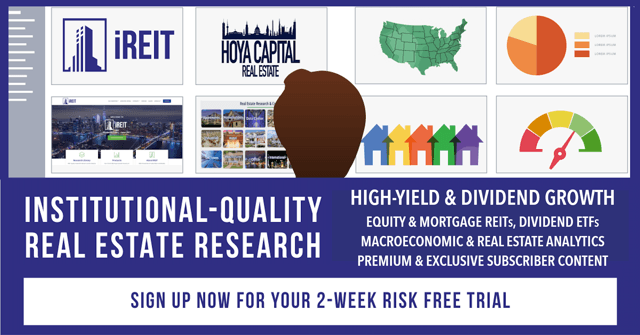 Disclosure: I am/we are long all holdings listed at www.hoyacapital.com