Real Estate Daily Recap
Our Real Estate Daily Recap discusses the notable news and events in the real estate sector over the last trading day and highlights sector-by-sector performance. We publish this note every afternoon at iREIT on Alpha and occasionally for free on our Blog to cover significant news and events. Subscribe to our free mailing list to make sure you never miss the latest developments in the commercial and residential real estate sectors. You can also follow our real-time commentary on Twitter and LinkedIn.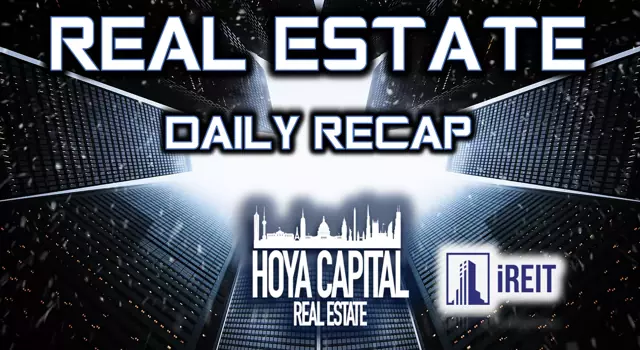 U.S. equity markets finished higher on Monday, adding to last week's gains as investors balanced data showing that coronavirus deaths declined to the lowest daily level since March against concerns over a possible "second wave" of the pandemic. Following gains of 1.5% last week, the S&P 500 ETF (SPY) gained by 0.6% on the day while the Dow Jones Industrial Average (DIA) gained 154 points and the Nasdaq (QQQ) added 1.1%. After declining by 2.1% last week, the broad-based Equity REIT ETFs finished lower by 0.1% today with 10 of 18 property sectors in negative territory while Mortgage REITs (REM) declined by 0.7% after dipping by 4.5% last week.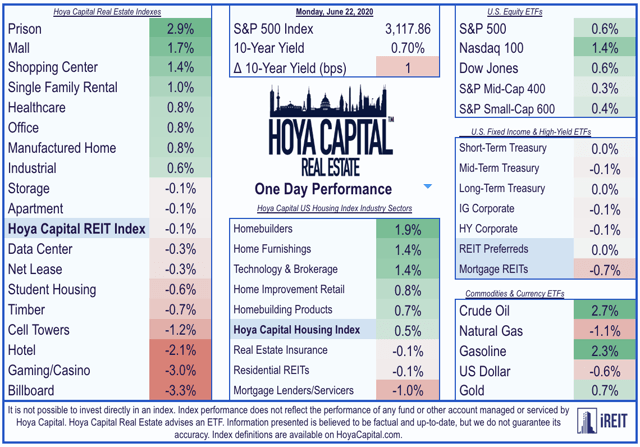 As discussed in our Real Estate Weekly Outlook, stronger-than-expected economic data over the last several weeks - particularly in the critical U.S. housing sector - has underlaid the gains as economists and investors continue to be caught off-guard by the pace of the rebound, reflected in record-high readings on the Citi Economic Surprise Index. The Technology (XLK) and Consumer Discretionary (XLY) sectors led the way today as 7 of 11 GICS equity sectors were higher on the day. Despite downbeat Existing Home Sales data this morning, homebuilders led the Hoya Capital Housing Index higher today ahead of a busy slate of housing data throughout the week. The 10-Year Treasury Yield (IEF) ended the day higher by 1 basis point to 0.70%.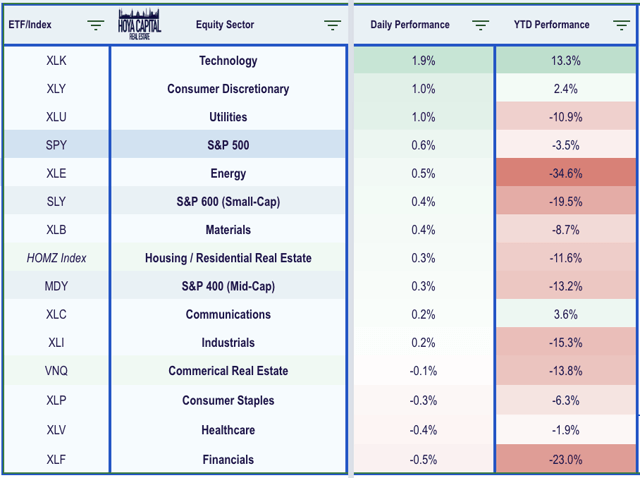 Residential Real Estate
Existing Home Sales - a lagging indicator that reflects market conditions when sales contracts were signed 30-60 days prior - dipped in May, reflecting the lack of housing activity during the worst of the coronavirus-related economic shutdowns from mid-March through late April. Sales of existing homes fell 9.7% compared with April to a seasonally adjusted annualized rate of 3.91 million units, according to the National Association of Realtors. Weighed down by a sharp decline in the Northeast region, this sales rate was the slowest pace since October 2010, but housing inventory was down 19% from the same period last year while sales prices were higher by 2.3% from last May.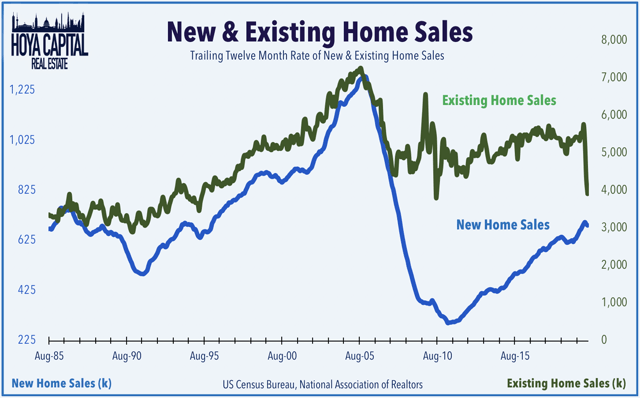 As we discussed in Homebuilders: Clear Signs Of V-Shaped Recovery, high-frequency housing data has indicated that market conditions have improved dramatically since late April as the Mortgage Bankers Association reported last week that mortgage applications to purchase a home rose for the 9th straight week to 11-year highs and are now 21% higher from the same week last year compared to the 35% decline in early April which followed strong earnings results on Monday from homebuilder Lennar (LEN), which expects housing to be a "significant driver of the economic rebound."  Meanwhile, Redfin (RDFN) reported that homebuying during the first week of June was 25% higher than it was before the pandemic.
Commercial Equity REITs
We're still in the heart of dividend declaration season in the commercial REIT sector and we may see a continuation of the "second wave" of cuts that we saw last week when three REITs - Ventas (VTR), Kite Realty (KRG), and CoreCivic (CXW), added their names to the list of equity REITs that have cut their dividend since the start of the pandemic. We have now tracked 57 equity REITs - primarily retail and lodging REITs - out of our universe of 165 that have now announced a cut or suspension of their common dividend. 

We also heard a rent collection update from several companies including net lease REIT Agree Realty (ADC), which announced that it has received June rent from 88% of tenants after collecting 91% and 88% of April and May rents, respectively. It has received April rent from 91% of its portfolio and May rent from 88% of its portfolio. Hospital operator Medical Properties Trust (MPW) announced that it received June rent and loan payments consistent with April and May at 96% of amounts due. "Essential" property sectors including housing, industrial, and technology REITs, along with self-storage and office REITs, all reported collection of more than 90% of rents in April and May and collection rates have generally improved in June.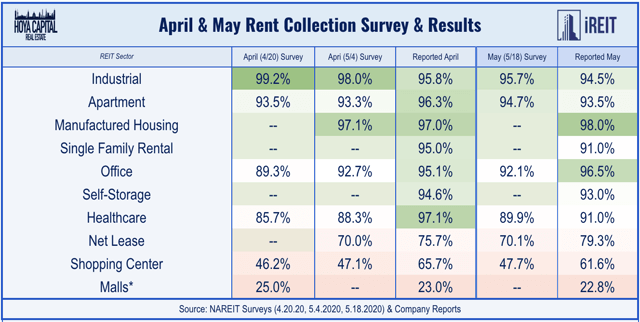 Last week, we published Net Lease REITs: Social Distancing Hits Key Tenants. Net Lease REITs had previously defied the 'retail apocalypse' headwinds over the past half-decade by investing in experienced-based retail categories but these "un-Amazonable" categories including restaurants, fitness centers, and movie theaters have become liabilities amid the "social distancing' era. Rent collection has improved modestly from a low of 75% in April towards 80-90% in June as regions continue to lift "stay-at-home" orders, but a dreaded "second wave" remains a looming threat.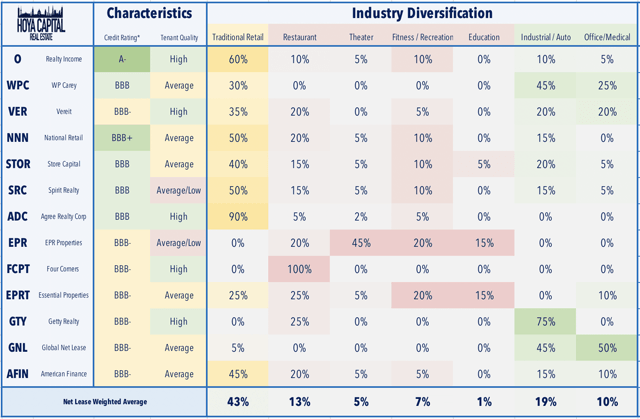 Mortgage REITs
As tracked in our Mortgage REIT Tracker available to iREIT on Alpha subscribers, residential mREITs finished lower by 0.2% today while commercial mREITs finished lower by 0.7%. While many equity REITs are still in dividend-cutting mode, we saw a blend of both dividend cuts and dividend increases in the mortgage REIT sector over the last few weeks. ARMOUR Residential REIT (ARR) declared a $0.10/share monthly dividend, an 11.1% increase from prior dividend of $0.09. After the close last Friday, PennyMac Mortgage (PMT) declared $0.40/share quarterly dividend, 60% increase from prior dividend of $0.25.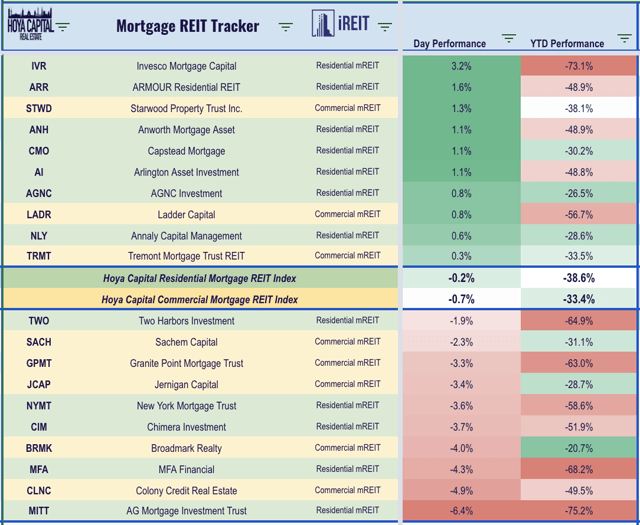 REIT Preferreds & Bonds
As tracked in our all-new REIT Preferred Stock & Bond Tracker available to iREIT on Alpha subscribers, REIT Preferred stocks finished lower by 0.2% today, on average, and underperformed their respective common stock issues by an average of 0.1%. Among REITs that offer preferred shares, the performance of these securities has been an average of 16.4% higher in 2020 than their respective common shares. Preferred stocks generally offer more downside protection, but in exchange, these securities offer relatively limited upside potential outside of the limited number of "participating" preferred offerings that can be converted into common shares.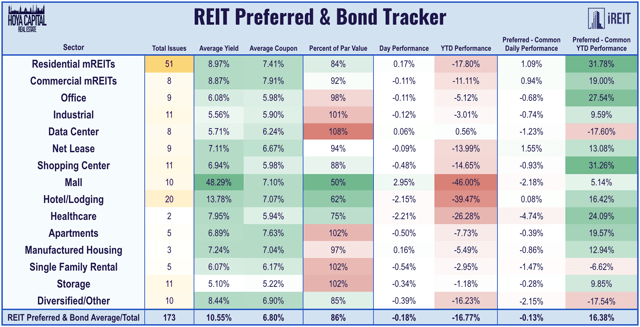 This Week's Economic Calendar
As discussed in our Real Estate Weekly Outlook, it'll be another busy week of economic data in the week ahead, highlighted by Existing Home Sales on Monday, New Home Sales on Tuesday, and Personal Income and Spending data on Friday. We'll also get the second revision of Q1 GDP data on Wednesday, which is expected to confirm a 5.0% decline in national output in the first quarter. Second-quarter GDP, when it's released next month, is expected to show a roughly 30% annualized decline - amounting to roughly $1.5 trillion in lost output. Economists are expecting a similarly-sized rebound in the third quarter, however, assuming that the country doesn't undertake a second round of devastating economic lockdowns. Continuing jobless claims data, released on Thursday, will also continue to be a focus for signs that Americans are returning to work.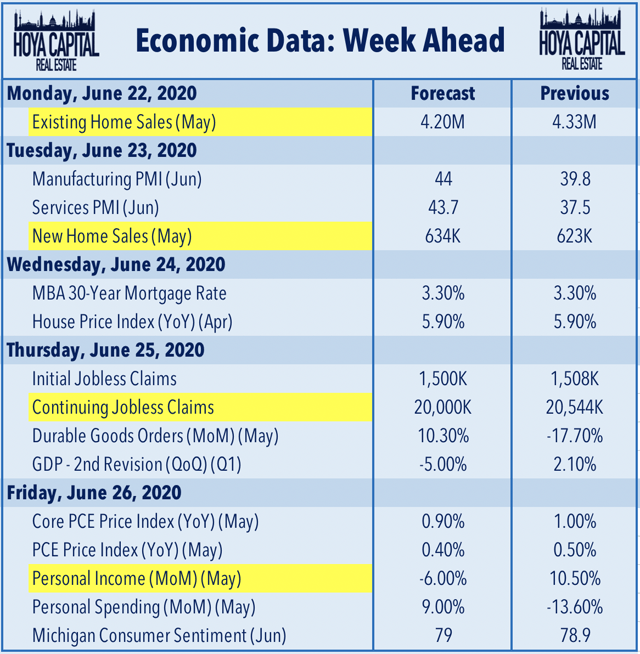 Join our Mailing List on our Website
Visit our website and join our email list for quick access to our full real estate research library: HoyaCapital.com where we have links all of our real estate sector reports and daily recaps. You can also follow our real-time commentary on Twitter, LinkedIn, and Facebook.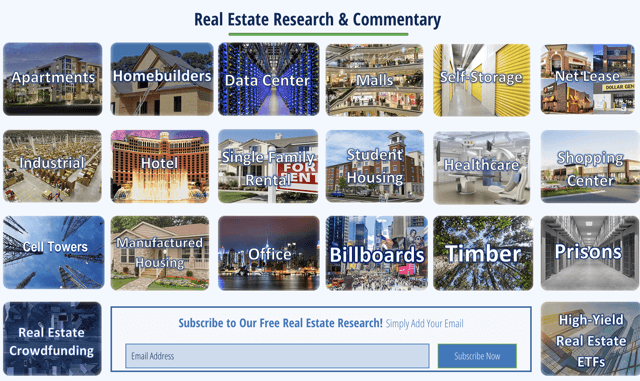 Disclosure: A complete list of holdings and Real Estate and Housing Index definitions and holdings are available at HoyaCapital.com. Hoya Capital Real Estate advises an Exchange Traded Fund listed on the NYSE. Hoya Capital is long all components in the Hoya Capital Housing 100 Index.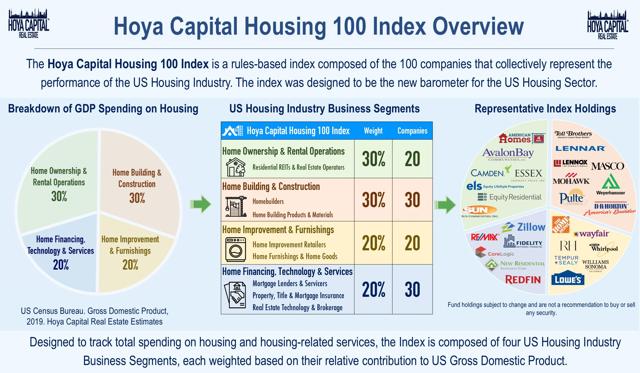 Additional Disclosure: It is not possible to invest directly in an index. Index performance cited in this commentary does not reflect the performance of any fund or other account managed or serviced by Hoya Capital Real Estate. Data quoted represents past performance, which is no guarantee of future results. Information presented is believed to be factual and up-to-date, but we do not guarantee its accuracy.
Hoya Capital Teams Up With iREIT
Hoya Capital is excited to announce that we've teamed up with iREIT to cultivate the premier institutional-quality real estate research service on Seeking Alpha! Sign up today and receive a free two-week trial!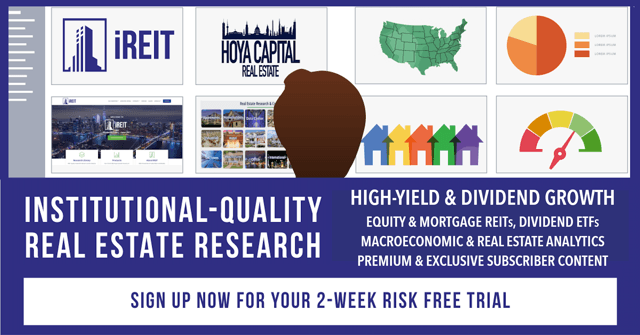 Disclosure: I am/we are long all holdings listed at www.hoyacapital.com