Real Estate Daily Recap
Our Real Estate Daily Recap discusses the notable news and events in the real estate sector over the last trading day and highlights sector-by-sector performance. We publish this note every afternoon at iREIT on Alpha and occasionally for free on our Blog to cover significant news and events. Subscribe to our free mailing list to make sure you never miss the latest developments in the commercial and residential real estate sectors. You can also follow our real-time commentary on Twitter and LinkedIn.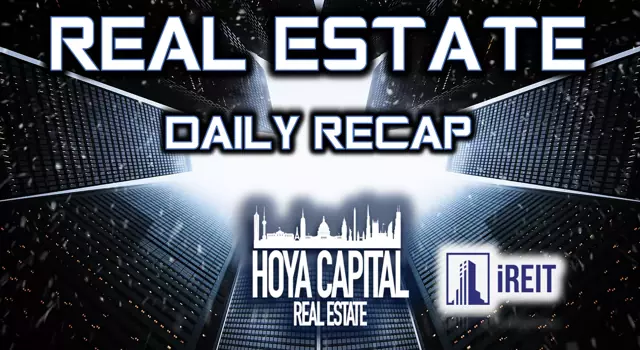 U.S. equity markets rebounded on Thursday on another volatile session following lukewarm employment data this morning and mounting fears of delayed post-pandemic economic reopenings. After dipping 2.6% yesterday, the S&P 500 ETF (SPY) gained 1.1% while the Dow Jones Industrial Average (DIA) gained 300 points and the Nasdaq (QQQ) added 1.1%, finishing just shy of fresh record-highs. Snapping a three-day losing streak, the broad-based Equity REIT ETFs finished higher by 1.3% today with 14 of 18 property sectors in positive territory while the Mortgage REIT ETF (REM) gained 3.3% following yesterday's 4.0% decline.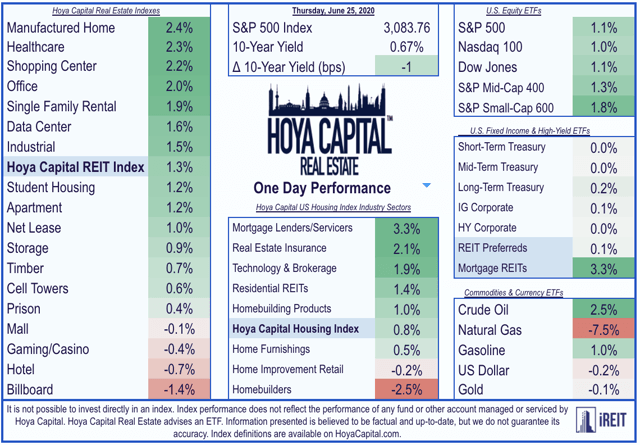 Today's gains came despite somewhat disappointing employment data this morning following far-stronger-than-expected jobs numbers earlier this month from the BLS and ADP. Another 1.48 million Americans filed for Initial Jobless Claims last week, down just modestly from 1.51 million in the prior week. Continuing Claims, however, recorded a decently-sized decrease of 767k to 19.52 million, down from a peak in early May at around 25 million. 10 of the 11 GICS equity sectors were higher on the day, led by the economically-sensitive sectors including Financials (XLF) and Energy (XLE) while Small-Cap (SLY) and Mid-Cap (MDY) stocks also outperformed on the day. Real estate financials also powered gains today for the Hoya Capital Housing Index despite a decline from the single-family homebuilding sector following lukewarm earnings results from KB Home (KBH), an outlier following a nearly month-long stretch of stellar housing data and earnings reports.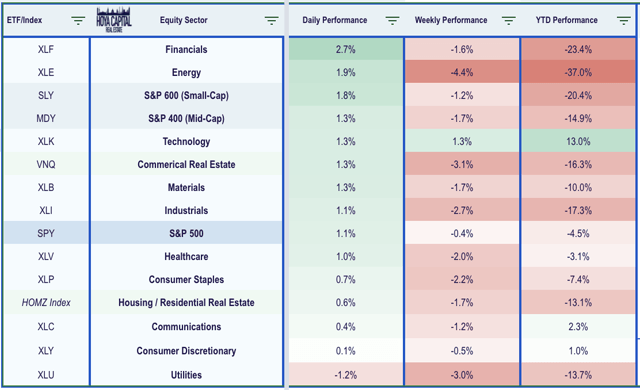 Commercial Equity REITs
Manufactured Housing, Healthcare, and Shopping Center REITs led the gains today in the REIT sector while Billboard and Hotel REITs were among the laggards. Among the winners today were Retail Properties of America (RPAI), Brandywine (BDN) which gained after S&P announced that both will be added to the S&P SmallCap 600 prior to the open of trading on Tuesday, June 30th. Among the losers today were the highly-levered hotel and retail REITs including Southerly Hotels (SOHO), Washington Prime (WPG), and Cedar Realty (CDR). Shopping Center REIT Kimco Realty (KIM) was also among the laggards today after CNBC reported that Albertsons (ACI) lowered the expected price of its IPO to $16 from a prior range of $18 to $20.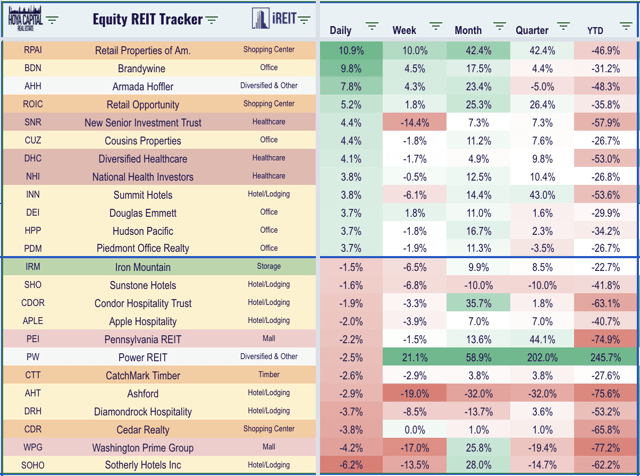 It's been a quiet week of newsflow in the equity REIT sector, highlighted by the ongoing merger saga of Taubman Centers (TCO) by Simon Property (SPG). Today, Taubman shareholders approve the merger with Simon with 99.7% of Taubman shares voted in favor of the merger. An ill-timed deal announced just before the coronavirus outbreak, Simon recently retracted their agreement to acquire Taubman, claiming that TCO wasn't taking the necessary measures to mitigate the effects of the pandemic on their business. We're still in the heart of dividend declaration season in the commercial REIT sector, but we haven't yet seen any additional equity REITs add their name to the list of coronavirus dividend cuts this week. We have now tracked 57 equity REITs - primarily retail and lodging REITs - out of our universe of 165 that have now announced a cut or suspension of their common dividend.

Today, we published Industrial REITs: Virus Is Ultimate E-Commerce Accelerant.  One of the top-performing property sectors in 2020, Industrial REITs have proven to be relatively immune from the coronavirus-induced pain that has encumbered much of the commercial real estate sector. Fueled by the "Stay-at-Home" economy, the coronavirus pandemic has significantly accelerated the adoption and penetration rate of e-commerce. Online sales nearly doubled while many brick-and-mortar locations were shuttered. Performance has been driven by the "need for speed" in consumer goods delivery as retailers continue to invest heavily in supply chain densification, driving relentless demand for industrial space.  While the pandemic poses a continued threat to this economically-sensitive sector, early signs of a consumer-led economic rebound have quelled our near-term concerns about a damaging slowdown in consumer spending.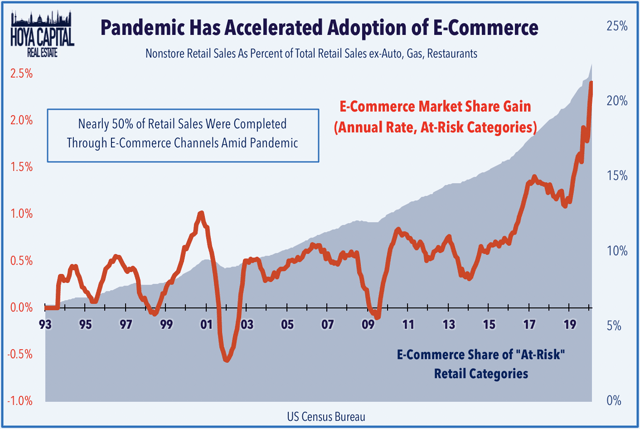 Mortgage REITs
As tracked in our Mortgage REIT Tracker available to iREIT on Alpha subscribers, residential mREITs finished higher by 3.0% today and are now higher by 1.2% on the week while commercial mREITs gained 3.4% but remain lower by 0.4% on the week. Two Harbors (TWO) finished higher by 2.7% today after it named William Greenberg as president and CEO and Matthew Koeppen chief investment officer, effective today as former CEO Thomas Siering stepped aside, but he'll remain as a non-independent director until the next annual meeting.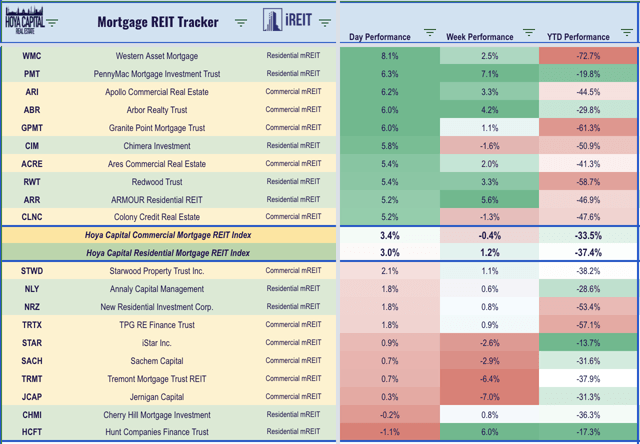 REIT Preferreds & Bonds
As tracked in our all-new REIT Preferred Stock & Bond Tracker available to iREIT on Alpha subscribers, REIT Preferred stocks finished flat today, on average, but underperformed their respective common stock issues by an average of 1.6%. Among REITs that offer preferred shares, the performance of these securities has been an average of 16.6% higher in 2020 than their respective common shares. Preferred stocks generally offer more downside protection, but in exchange, these securities offer relatively limited upside potential outside of the limited number of "participating" preferred offerings that can be converted into common shares.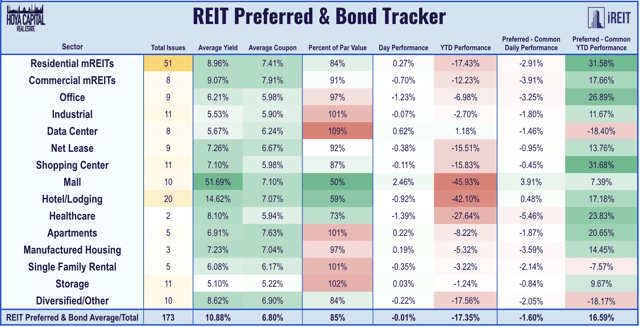 This Week's Economic Calendar
As discussed in our Real Estate Weekly Outlook, the busy week of economic data wraps up tomorrow with Personal Income and Spending data.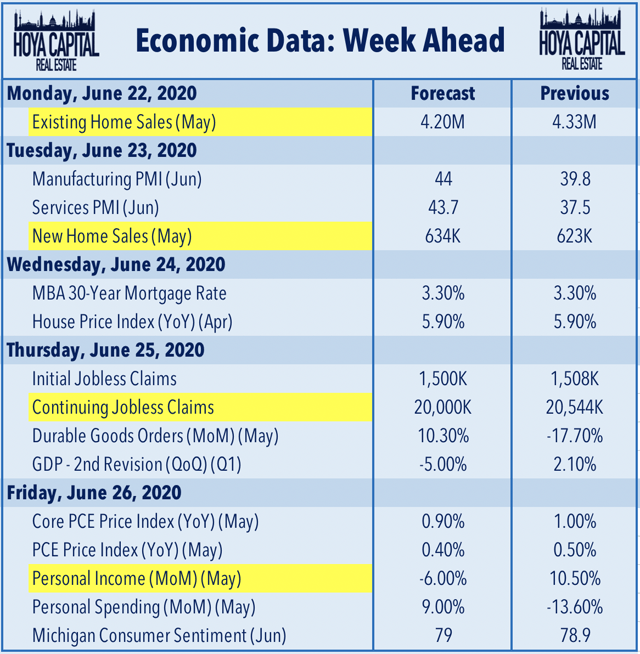 Join our Mailing List on our Website
Visit our website and join our email list for quick access to our full real estate research library: HoyaCapital.com where we have links all of our real estate sector reports and daily recaps. You can also follow our real-time commentary on Twitter, LinkedIn, and Facebook.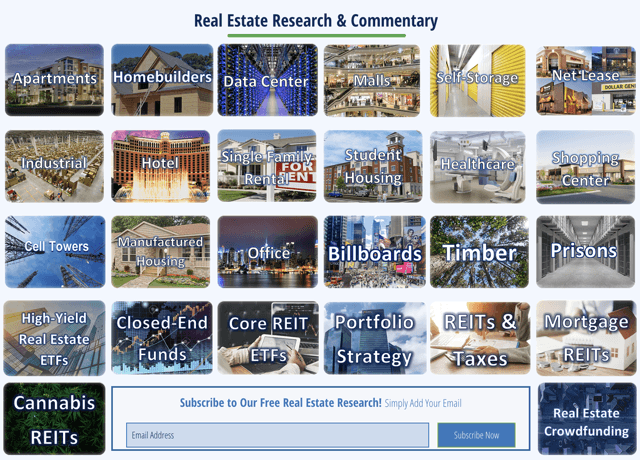 Disclosure: A complete list of holdings and Real Estate and Housing Index definitions and holdings are available at HoyaCapital.com. Hoya Capital Real Estate advises an Exchange Traded Fund listed on the NYSE. Hoya Capital is long all components in the Hoya Capital Housing 100 Index.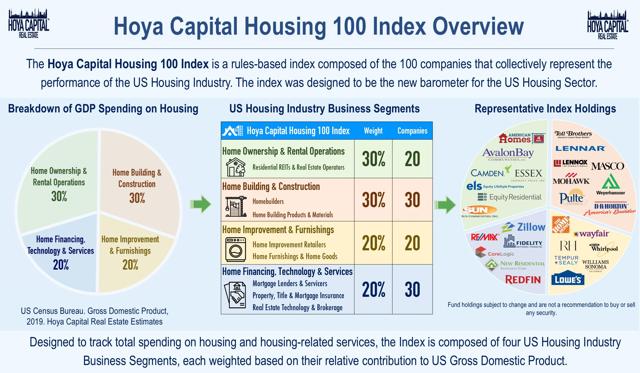 Additional Disclosure: It is not possible to invest directly in an index. Index performance cited in this commentary does not reflect the performance of any fund or other account managed or serviced by Hoya Capital Real Estate. Data quoted represents past performance, which is no guarantee of future results. Information presented is believed to be factual and up-to-date, but we do not guarantee its accuracy.
Hoya Capital Teams Up With iREIT
Hoya Capital is excited to announce that we've teamed up with iREIT to cultivate the premier institutional-quality real estate research service on Seeking Alpha! Sign up today and receive a free two-week trial!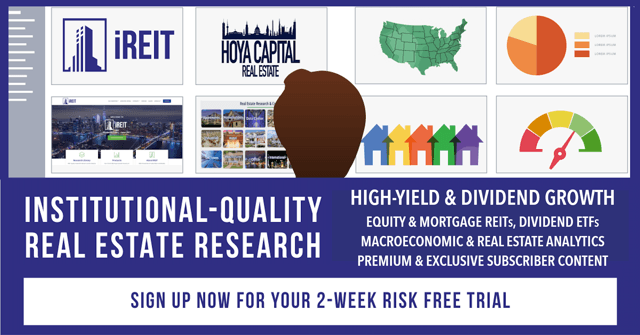 Disclosure: I am/we are long all holdings listed at www.hoyacapital.com