Real Estate Daily Recap
Our Real Estate Daily Recap discusses the notable news and events in the real estate sector over the last trading day and highlights sector-by-sector performance. We publish this note every afternoon at HoyaCapital.com and occasionally for free on our Blog to cover significant news and events. Subscribe to our free mailing list to make sure you never miss the latest developments in the commercial and residential real estate sectors. You can also follow our real-time commentary on Twitter and LinkedIn.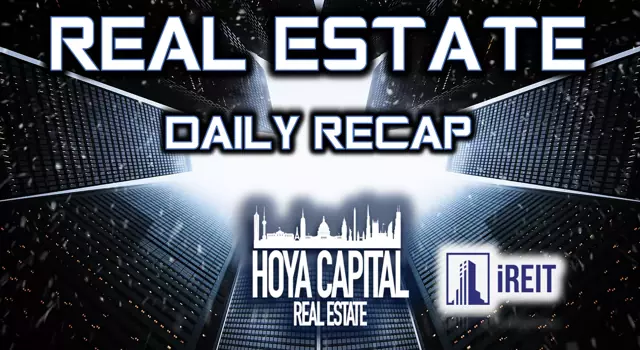 U.S. equity markets finished mostly higher on Wednesday ahead of the critical BLS payrolls report tomorrow as investors continue to weigh both positive and negative data points on the coronavirus pandemic. Adding to gains of 1.5% yesterday, the S&P 500 ETF (SPY) finished higher by 0.5% today but the Dow Jones Industrial Average (DIA) pulled back 78 points following yesterday's 217 point rally. The tech-heavy Nasdaq (QQQ), meanwhile, gained 1.0% to close at fresh record-highs. One of the top-performing sectors this week, the broad-based Equity REIT ETFs gained 2.3% on the day with 16 of 18 property sectors in positive territory while the Mortgage REIT ETF (REM) declined by 1.2% following yesterday's gain of 0.1%.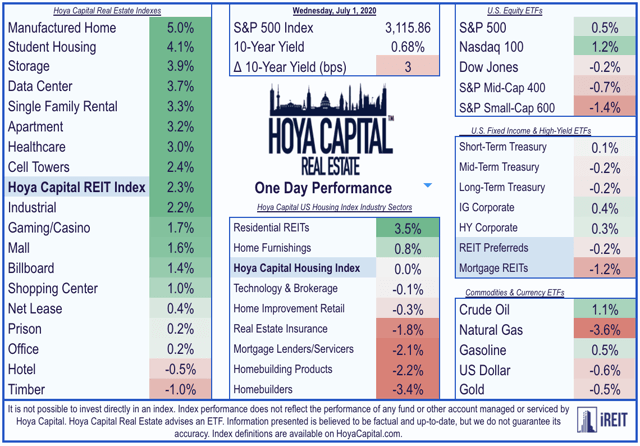 Progress on vaccine development by Pfizer (PFE) and BioNtech (BNTX) and solid employment and housing market data today and partially offset by reports that some states and companies including Apple (AAPL) continue to delay or reverse reopening progress. The Communications (XLC), Utilities (XLU), and Commerical Real Estate (VNQ) sectors led the way today while the Energy (XLE) and Financials (XLF) sector lagged. The S&P 500 ended the second quarter with gains of roughly 20%, the quarter since 1998, while the Dow Jones ended Q2 with gains of 18%, the best quarter since 1987.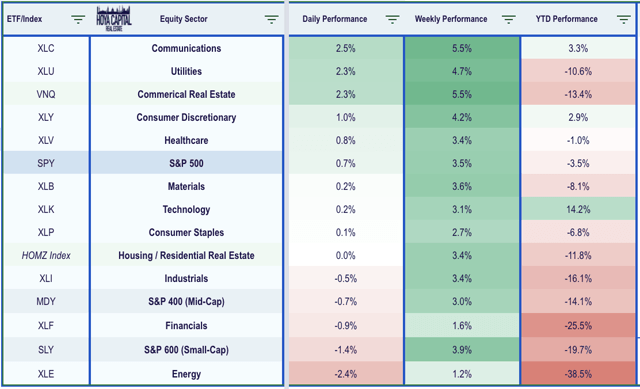 On the employment front, ADP data today showed that 2.3 million jobs were added in June - slightly below expectations of 3 million - but made a significant upward revision of 5.8 million jobs to their May figures. The large revision didn't do much to narrow estimates for tomorrow's BLS employment data. Economists are looking for employment gains of roughly 3 million in June following May's record-shattering employment gain of 2.5 million. We'll also see Initial and Continuing Jobless claims data tomorrow as well.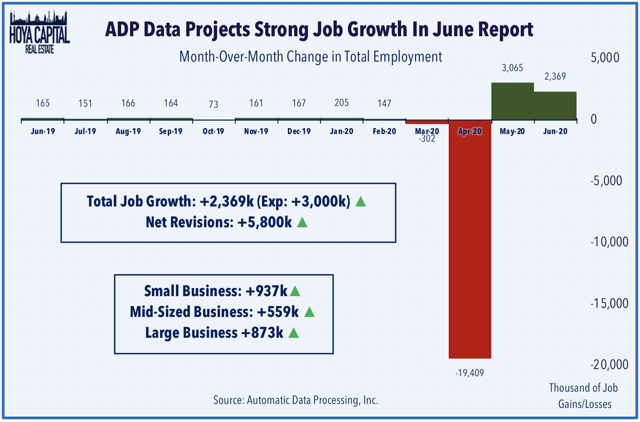 The housing market continues to lead the early stages of the economic rebound, according to data released this morning by the Mortgage Bankers Association. Mortgage applications to purchase a home remained higher by 15% from the same time last year on the week ending June 26th, holding on to the "V-shaped" recovery pattern exhibited over the last three months. The Hoya Capital Housing Index finished flat on the day, however, as strong gains from residential REITs were offset by a pull-back from the homebuilders after a strong start to the week. The rebound in housing market activity has been aided by longer-term macroeconomic trends of favorable millennial-led demographics, historically low housing supply, and record low mortgage rates.

Commercial Equity REITs
Manufactured Housing REITs including led the gains today, which we discussed in our sector report published yesterday. Equity Lifestyle (ELS) and Sun Communities (SUI) have proven to be immune from coronavirus-related headwinds, collecting nearly 100% of rents. Powered by the macroeconomic tailwinds associated with the affordable housing shortage and favorable demographics, Manufactured Housing REITs have been the best-performing real estate sector of the past decade. The positive momentum should be enough to keep the sector rolling in 2020. Beyond the sector-leading internal growth, external growth through acquisitions and site expansions have provided an added boost. Near-term headwinds related to delayed openings at RV resorts, impaired rent-paying capacity among lower-income residents, and a slowdown in RV and MH unit sales remain risks to monitor.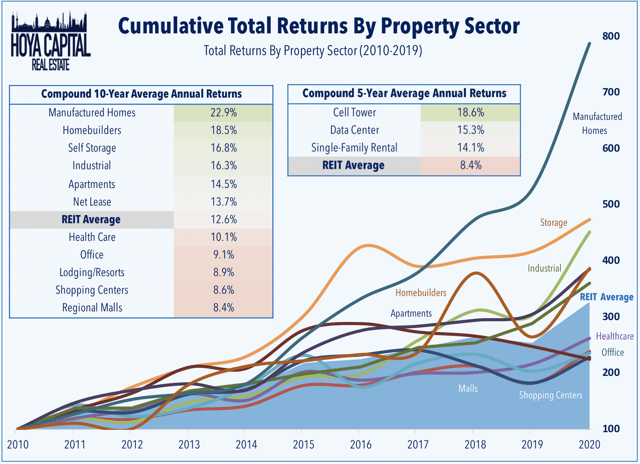 Taubman Centers (TCO) finished higher by 1.8% after it announced that 100% of its operating properties in the U.S. and Asia have reopened and that 85% of stores within malls are now open. Most of its U.S. centers were temporarily closed on March 19 in response to the COVID-19 pandemic and have reopened gradually using enhanced safety protocols. Pebblebrook Hotels (PEB) finished lower by 0.7% after providing an operational update, noting that performance has improved gradually each week as travel demand slowly recovers from the bottom reached in mid-April. Occupancy has improved weekly in all of its markets, both resort and urban, since June 1 and the firm now sees positive hotel EBITDA from its resorts for the month of June.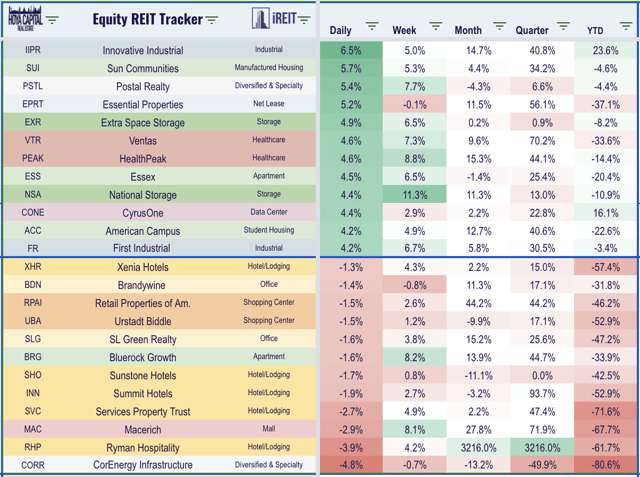 We're still in the heart of dividend declaration season in the commercial REIT sector, but we've only seen one additional equity REIT - Simon Properties (SPG) add their name to the list of coronavirus dividend cuts this week as the majority of REITs have declared quarterly dividends at previous levels. We have now tracked 58 equity REITs - primarily retail and lodging REITs - out of our universe of 165 that have now announced a cut or suspension of their common dividend.

Mortgage REITs
As tracked in our Mortgage REIT Tracker available to iREIT on Alpha subscribers, residential mREITs finished lower by 1.5% today but remain higher by 0.1% on the week while commercial mREITs finished lower by 2.0% today and are now lower by 1.1% this week. Residential mREITs were the hardest-hit real estate sector during the depths of the pandemic, but have seen conditions stabilize considerably over the last quarter amid continued signs of stabilization in the mortgage markets. Commercial mREITs weren't facing the same "existential crisis" as their residential mREIT peers, but the sector's heavy exposure to the hotel, office, and retail sectors has dragged on performance during the pandemic.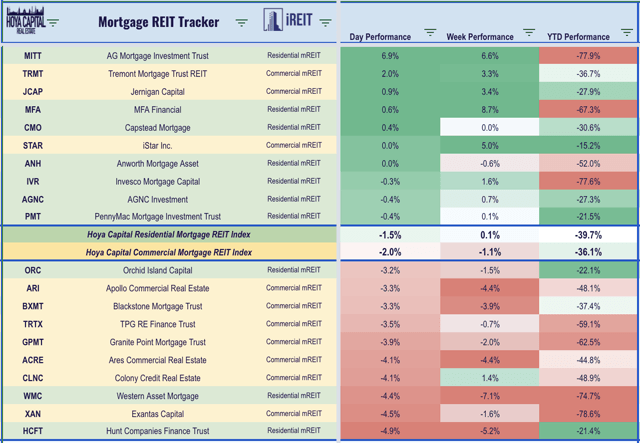 REIT Preferreds & Bonds
As tracked in our all-new REIT Preferred Stock & Bond Tracker available to iREIT on Alpha subscribers, REIT Preferred stocks finished higher by 1.1% today, on average, and outperformed their respective common stock issues by an average of 0.4%. Among REITs that offer preferred shares, the performance of these securities has been an average of 15.4% higher in 2020 than their respective common shares. Preferred stocks generally offer more downside protection, but in exchange, these securities offer relatively limited upside potential outside of the limited number of "participating" preferred offerings that can be converted into common shares.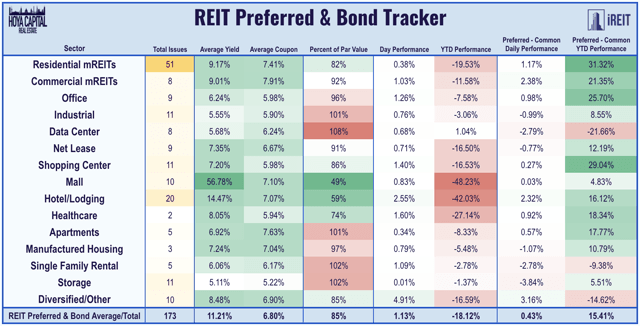 This Week's Economic Calendar
Employment data continues tomorrow with jobless claims and the BLS nonfarm payrolls report. As mentioned above, economists are looking for employment gains of roughly 3 million in June following May's record-shattering employment gain of 2.5 million. This employment recovery, however, still only puts a small dent into the 20.5 million job losses in April.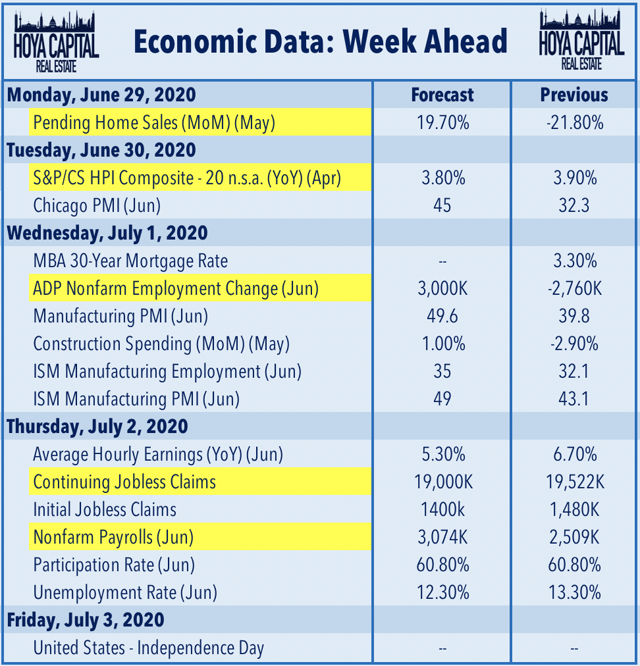 Join our Mailing List on our Website
Visit our website and join our email list for quick access to our full real estate research library: HoyaCapital.com where we have links all of our real estate sector reports and daily recaps. You can also follow our real-time commentary on Twitter, LinkedIn, and Facebook.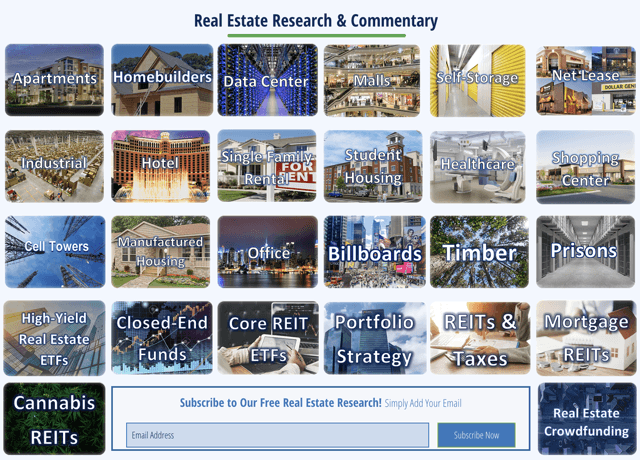 Disclosure: A complete list of holdings and Real Estate and Housing Index definitions and holdings are available at HoyaCapital.com. Hoya Capital Real Estate advises an Exchange Traded Fund listed on the NYSE. Hoya Capital is long all components in the Hoya Capital Housing 100 Index.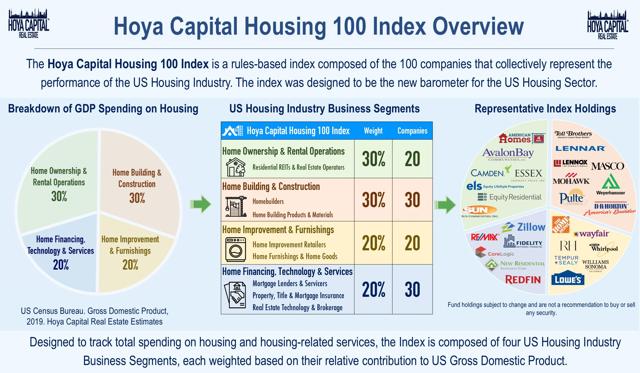 Additional Disclosure: It is not possible to invest directly in an index. Index performance cited in this commentary does not reflect the performance of any fund or other account managed or serviced by Hoya Capital Real Estate. Data quoted represents past performance, which is no guarantee of future results. Information presented is believed to be factual and up-to-date, but we do not guarantee its accuracy.
Hoya Capital Teams Up With iREIT
Hoya Capital is excited to announce that we've teamed up with iREIT to cultivate the premier institutional-quality real estate research service on Seeking Alpha! Sign up today and receive a free two-week trial!

Disclosure: I am/we are long all holdings listed at www.hoyacapital.com