Real Estate Daily Recap
Our Real Estate Daily Recap discusses the notable news and events in the real estate sector over the last trading day and highlights sector-by-sector performance. We publish this note every afternoon at HoyaCapital.com and occasionally for free on our Blog to cover significant news and events. Subscribe to our free mailing list to make sure you never miss the latest developments in the commercial and residential real estate sectors. You can also follow our real-time commentary on Twitter and LinkedIn.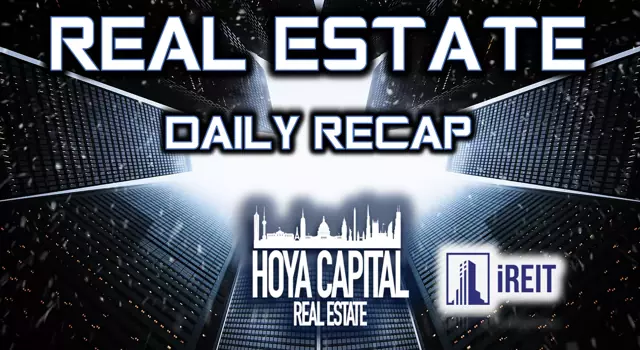 U.S. equity markets snapped a five-day winning streak on Tuesday, pulling back amid concern that the acceleration in coronavirus case counts - and delayed or reversed reopenings - could stall the economic rebound. After climbing by 1.6% on Monday, the S&P 500 ETF (SPY) finished lower by 1.0% today while the Dow Jones Industrial Average (DIA) dipped 397 points, reversing most of yesterday's 460 point-rally. Following a decline of 0.1% yesterday, the broad-based Equity REIT ETFs finished lower by 2.0% with 17 of 18 property sectors in negative territory while the Mortgage REIT ETF (REM) dipped 3.0% after yesterday's 1.5% gain.
While the Citi Economic Surprise Index remains near record-highs, several high-frequency data points including mobility data and restaurant reservation data - which had correctly foretold the emerging economic rebound seen over the last two months - have shown signs of rolling over as several states including California, Texas, and Florida have scaled delayed or reversed reopening progress. 10 of the 11 GICS sectors finished lower on the day, led to the downside by the economically-sensitive Energy (XLE), Financials (XLF), and Industrials (XLI) sectors while Consumer Staples (XLP) was the lone sector in positive territory. The 10-Year Treasury Yield (IEF) slipped 3 basis points to close at 0.65% today.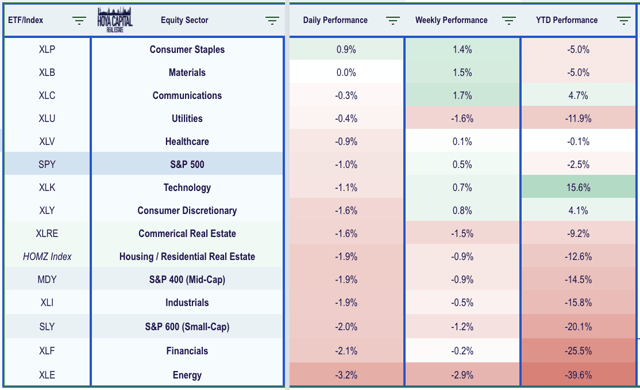 Commercial Equity REITs
Prison REITs were the lone REIT sector in positive territory today after GEO Group (GEO) maintained its quarterly dividend at current levels, somewhat of a surprise after fellow prison REIT CoreCivic (CXW) suspended its payout and announced that it was exploring alternative organizational structures outside of REIT-status. The reopening-sensitive sectors including retail and hotel were the laggards on the day, particularly the small-cap and highly levered names including Braemar Hotels (BHR), Summit Hotels (INN), Chatham Hotels (CLDT), and Services Property Trust (SVC).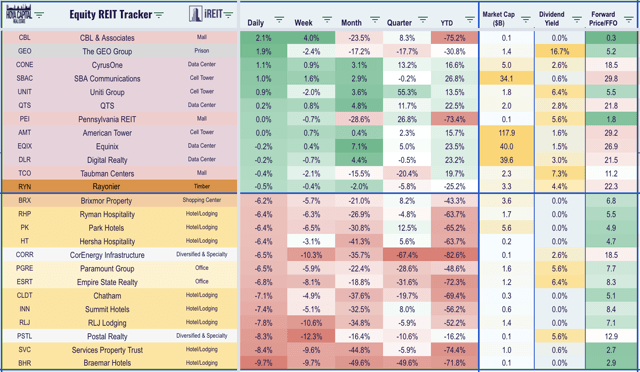 Self-storage REITs were also among the outperformers today, which we discussed in Storage REITs: Keep The Change. Self-storage REITs - once the darlings of the real estate sector following a half-decade-stretch of relentless growth - stumbled into the 2020s with challenged fundamentals and a strained outlook. Storage demand is driven by "change", and there's been no shortage of that amid the pandemic. Self-storage REITs have delivered notable outperformance relative to other real estate sectors this year. With rent collection above 95%, self-storage demand has proven to be quite "sticky," consistent with trends of the prior Financial Crisis. We also heard a rent collection update today from shopping center REIT Retail Properties of America (RPAI), which reported rent collection of 67.4% in April, 63.7% in May, and 64.7% in June.
We're still in the heart of dividend declaration season in the commercial REIT sector and may see several more REITs reduce or suspend their dividends over the next several weeks, but may also see some dividend resumption announcements once Q2 earnings season kicks off in a few weeks. We have now tracked 58 equity REITs - primarily retail and lodging REITs - out of our universe of 165 that have now announced a cut or suspension of their common dividend.

Mortgage REITs
As tracked in our Mortgage REIT Tracker available to iREIT on Alpha subscribers, residential mREITs finished lower by 2.3% and are now lower by 0.1% on the week while commercial mREITs dipped by 4.1% today and are now off by 3.7% on the week. Residential mREITs were the hardest-hit real estate sector during the depths of the pandemic, but have seen conditions stabilize considerably over the last quarter amid continued signs of stabilization in the mortgage markets. Commercial mREITs weren't facing the same "existential crisis" as their residential mREIT peers, but the sector's heavy exposure to the hotel, office, and retail sectors has dragged on performance during the pandemic.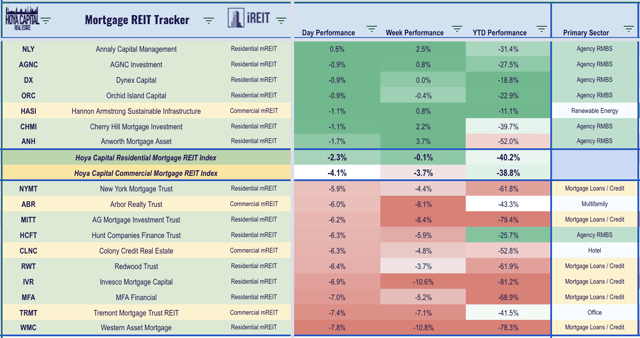 REIT Preferreds & Bonds
As tracked in our all-new REIT Preferred Stock & Bond Tracker available to iREIT on Alpha subscribers, REIT Preferred stocks finished lower by 0.7% today, on average, but outperformed their respective common stock issues by an average of 2.8%. Among REITs that offer preferred shares, the performance of these securities has been an average of 17.7% higher in 2020 than their respective common shares. Preferred stocks generally offer more downside protection, but in exchange, these securities offer relatively limited upside potential outside of the limited number of "participating" preferred offerings that can be converted into common shares.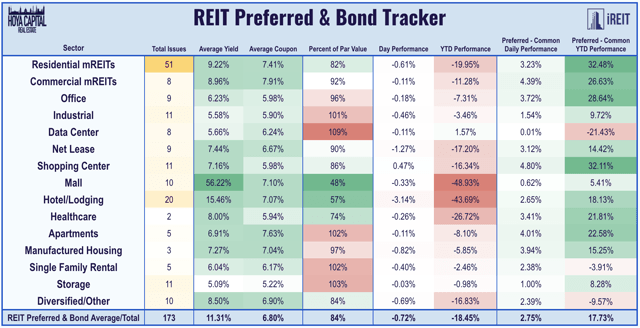 This Week's Economic Calendar
As discussed in our Real Estate Weekly Outlook, after a frenetic week of economic data, the week ahead will be more subdued, highlighted by PPI inflation data on Friday. Initial and Continuing Jobless Claims data, released on Thursday, will also continue to be a focus for investors. As discussed, we are expecting Continuing Claims to soon reflect the labor market recovery evident in other employment data series.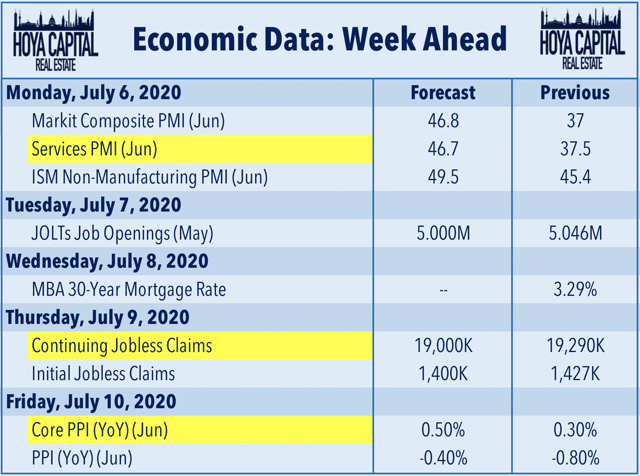 Join our Mailing List on our Website
Visit our website and join our email list for quick access to our full real estate research library: HoyaCapital.com where we have links all of our real estate sector reports and daily recaps. You can also follow our real-time commentary on Twitter, LinkedIn, and Facebook.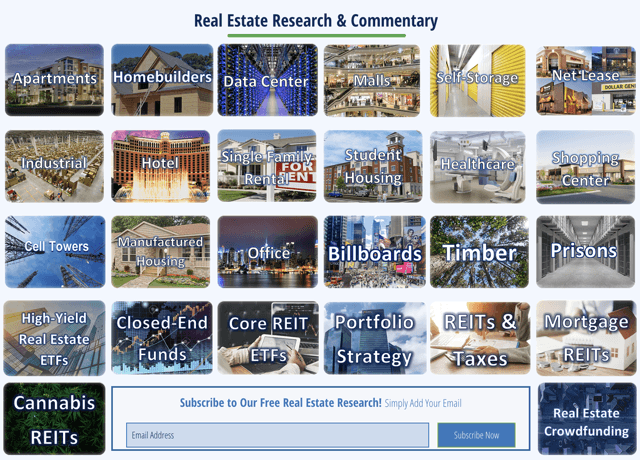 Disclosure: A complete list of holdings and Real Estate and Housing Index definitions and holdings are available at HoyaCapital.com. Hoya Capital Real Estate advises an Exchange Traded Fund listed on the NYSE. Hoya Capital is long all components in the Hoya Capital Housing 100 Index.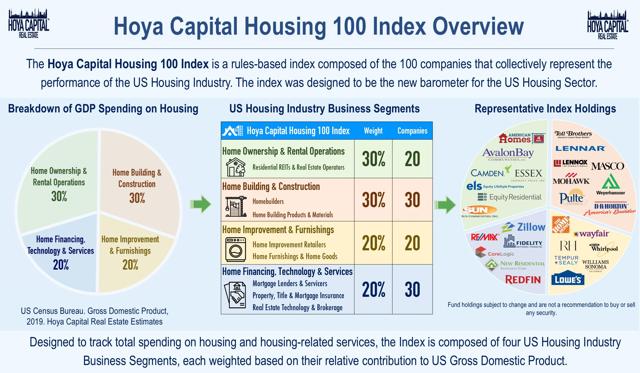 Additional Disclosure: It is not possible to invest directly in an index. Index performance cited in this commentary does not reflect the performance of any fund or other account managed or serviced by Hoya Capital Real Estate. Data quoted represents past performance, which is no guarantee of future results. Information presented is believed to be factual and up-to-date, but we do not guarantee its accuracy.
Hoya Capital Teams Up With iREIT
Hoya Capital is excited to announce that we've teamed up with iREIT to cultivate the premier institutional-quality real estate research service on Seeking Alpha! Sign up today and receive a free two-week trial!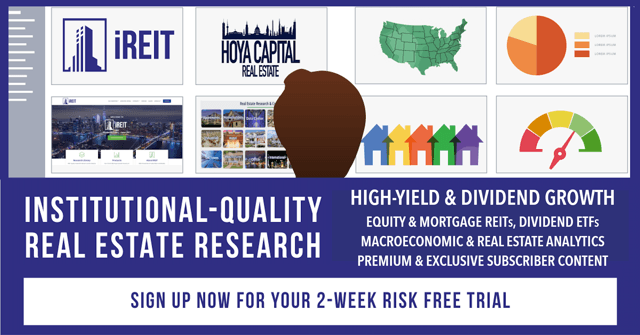 Disclosure: I am/we are long all holdings listed at www.hoyacapital.com