Real Estate Daily Recap
Our Real Estate Daily Recap discusses the notable news and events in the real estate sector over the last trading day and highlights sector-by-sector performance. We publish this note every afternoon at HoyaCapital.com and occasionally for free on our Blog to cover significant news and events. Subscribe to our free mailing list to make sure you never miss the latest developments in the commercial and residential real estate sectors. You can also follow our real-time commentary on Twitter and LinkedIn.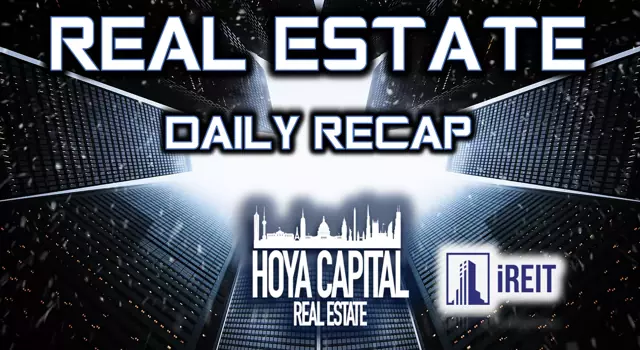 U.S. equity markets finished mostly lower on Thursday despite encouraging employment data this morning as investors remain focused on increasing levels of confirmed coronavirus cases in several regions of the United States. Still higher by 0.7% on the week, the S&P 500 ETF (SPY) finished lower by 0.6% today while the Dow Jones Industrial Average (DIA) dipped 361 points after yesterday's  177 point rally. Now lower by roughly 2% on the week, the broad-based Equity REIT ETFs finished lower by 0.6% today with 14 of 18 property sectors in negative territory while the Mortgage REIT ETF (REM) dipped 3.1% and are now lower by 3.3% on the week.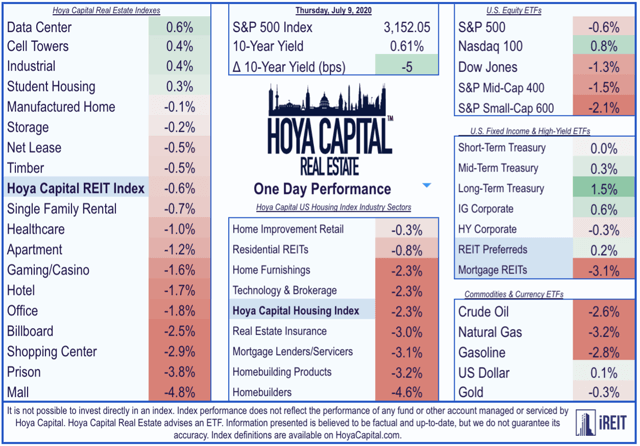 Large-cap tech stocks continue to outperform as Technology (XLK) and Communications (XLC) were the lone GICS equity sectors in positive territory for the day while the economically-sensitive Energy (XLE), Industrials (XLI), and Financials (XLF) sectors were the laggards. The 10-Year Treasury Yield (IEF) finished lower by another 5 basis points today to close at 0.61% today ahead, barely higher than the record-closing-low of 0.54%. Homebuilders and the broader Hoya Capital Housing Index pulled back today despite new record low levels on the 30-Year fixed mortgage rate, which has been one of several driving forces behind the emerging V-shaped recovery in the critical U.S. housing sector.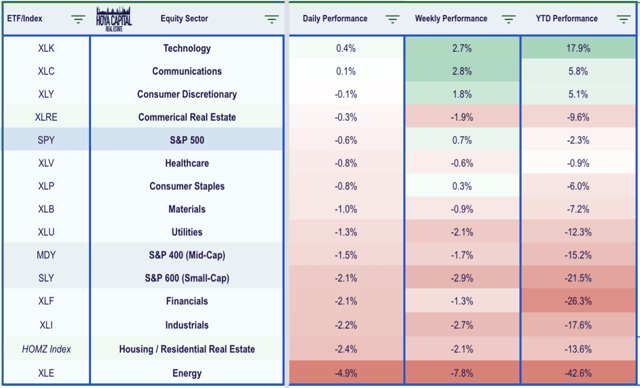 Today's declines came despite encouraging employment data this morning, confirming the strength of last week's record-setting job gains recorded by the BLS and ADP. Initial Jobless Claims declined to 1.31 million last week - lower than expectations - while Continuing Jobless Claims retreated to 18.06 million, also coming in lower than expected, down from a peak in early May at around 25 million. Last week, the BLS reported that the U.S. economy added 4.8 million jobs in June - the single-largest month of job growth ever, topping last month's previous record-setting number - following two months of devastating job losses resulting from government-mandated economic shutdowns.

 As readers know, we've remained quite a bit more optimistic than consensus on the employment and economic outlook, urging investors not to underestimate the "unstoppable force" of WWII-levels of fiscal stimulus that could amount to a sum nearly twice as large as the estimated aggregate lost economic output and the unprecedented levels of monetary support. We've also reiterated the need for humility in applying "normal" economic models on an unprecedented economic situation, particularly when it comes to employment data. On that point, it shouldn't be a surprise that we'd see record months of job gains during the "reopening" process driven by the return of furloughed workers. At the peak in April, more than 90% of the 20 million job losses were "temporary layoffs" and nearly 80% of recent job losers currently report to be on temporary layoffs.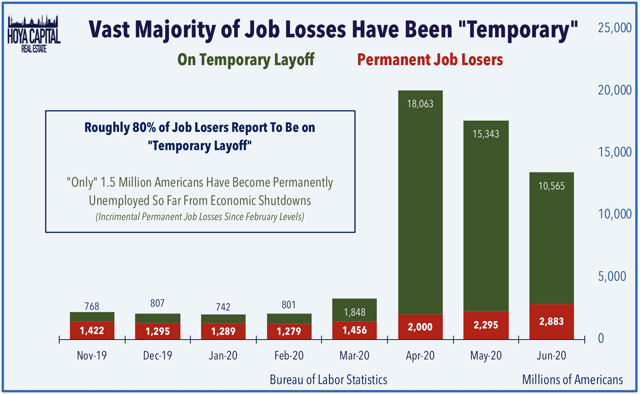 Commercial Equity REITs
The data center, cell tower, and industrial REIT sectors led the way today among equity REITs and remain the lone sectors in positive territory for the year.  It was a fairly quiet day of newsflow in the real estate sector ahead of the start of earnings season in two weeks. This afternoon, externally-managed small-cap healthcare REIT Global Medical REIT (GMRE) announced that it closed its management internalization. Hotel REIT CorePoint (CPLG) was the leader today, followed by Omega Healthcare (OHI), and American Assets (AAT) while Seritage Growth (SRG) was the worst-performer.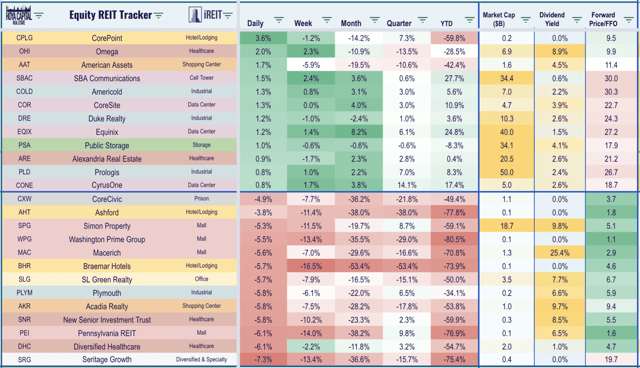 Today, we published Hotel REITs: Dividend Cut Bloodbath. Hotel REITs have been hit harder than any real estate sector during the ongoing coronavirus pandemic and resulting economic lockdowns, plunging more than 50% in 2020. "No vacancy" becomes "no occupancy." Following a record year of occupancy and revenues for the hotel industry in 2019, hotels are expecting a mind-blowing 50% plunge in revenues this year. Every hotel REIT slashed its dividend over the last quarter, but even that might not be enough to stay afloat as the industry faces an existential crisis. We have now tracked 58 equity REITs - primarily retail and lodging REITs - out of our universe of 165 that have now announced a cut or suspension of their common dividend.

A rebound in economic activity since April has thrown a lifeline to several highly levered REITs teetering on the edge, but a "second wave" of the pandemic could be the death knell. Hotel ownership is a tough, capital-intensive business even in the best of times. Outside of several well-capitalized hotel REITs, value-seeking investors should be wary of catching the falling knife. According to data from STR, hotel occupancy bottomed out at just 24.5% in April but has recovered to 46.2% in the week ending June 27th. Room rates, meanwhile, remain lower by 29% from last year, amounting to a total revenue per available room RevPAR decline of a whopping 56.5%.

Mortgage REITs
As tracked in our Mortgage REIT Tracker available to iREIT on Alpha subscribers, residential mREITs finished lower by 3.0% today and are now lower by 1.3% on the week while commercial mREITs dipped 3.4% today and remain lower by 6.4% this week. Residential mREITs were the hardest-hit real estate sector during the depths of the pandemic, but have seen conditions stabilize considerably over the last quarter amid continued signs of stabilization in the mortgage markets. Commercial mREITs weren't facing the same "existential crisis" as their residential mREIT peers, but the sector's heavy exposure to the hotel, office, and retail sectors has dragged on performance during the pandemic.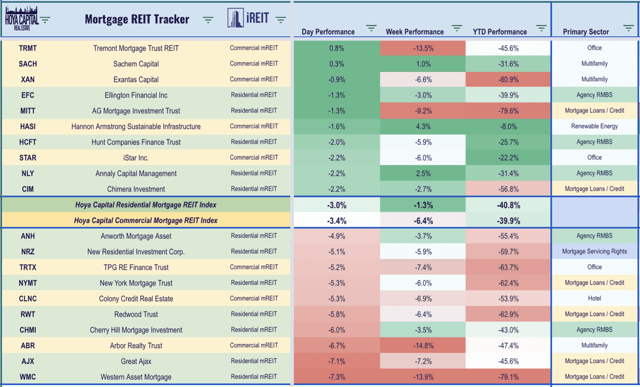 REIT Preferreds & Bonds
As tracked in our all-new REIT Preferred Stock & Bond Tracker available to iREIT on Alpha subscribers, REIT Preferred stocks finished lower by 1.2% today, on average, but outperformed their respective common stock issues by an average of 1.4%. Among REITs that offer preferred shares, the performance of these securities has been an average of 18.1% higher in 2020 than their respective common shares. Preferred stocks generally offer more downside protection, but in exchange, these securities offer relatively limited upside potential outside of the limited number of "participating" preferred offerings that can be converted into common shares.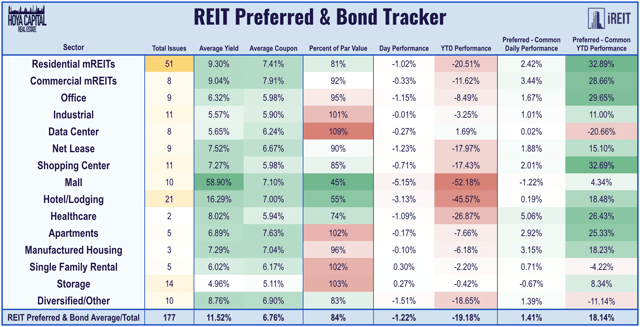 This Week's Economic Calendar
We'll have a full analysis of this week's economic data in our Real Estate Weekly Outlook published on Saturday morning.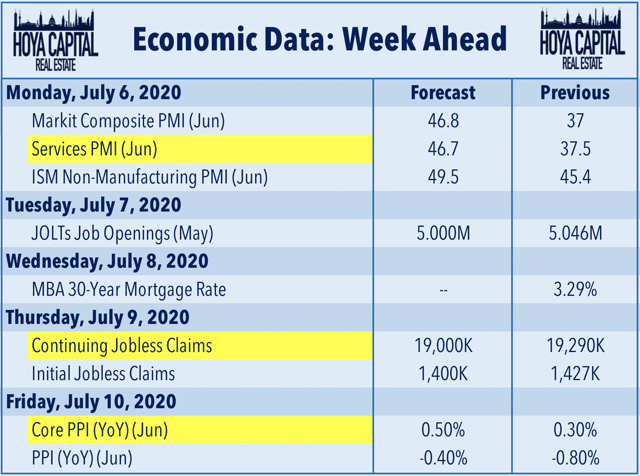 Join our Mailing List on our Website
Visit our website and join our email list for quick access to our full real estate research library: HoyaCapital.com where we have links all of our real estate sector reports and daily recaps. You can also follow our real-time commentary on Twitter, LinkedIn, and Facebook.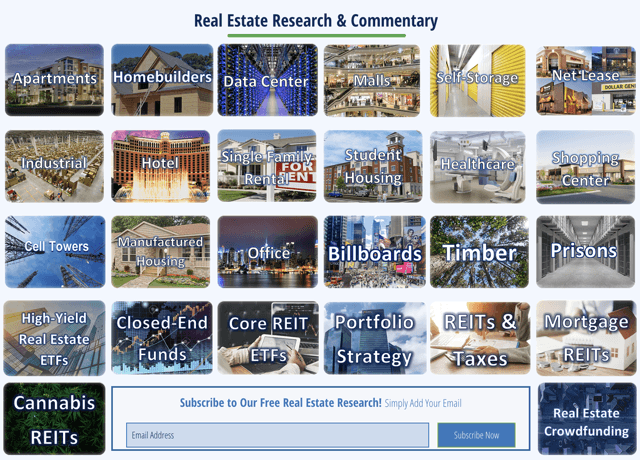 Disclosure: A complete list of holdings and Real Estate and Housing Index definitions and holdings are available at HoyaCapital.com. Hoya Capital Real Estate advises an Exchange Traded Fund listed on the NYSE. Hoya Capital is long all components in the Hoya Capital Housing 100 Index.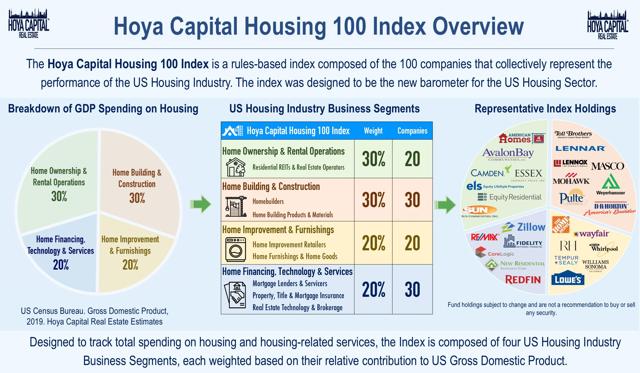 Additional Disclosure: It is not possible to invest directly in an index. Index performance cited in this commentary does not reflect the performance of any fund or other account managed or serviced by Hoya Capital Real Estate. Data quoted represents past performance, which is no guarantee of future results. Information presented is believed to be factual and up-to-date, but we do not guarantee its accuracy.
Hoya Capital Teams Up With iREIT
Hoya Capital is excited to announce that we've teamed up with iREIT to cultivate the premier institutional-quality real estate research service on Seeking Alpha! Sign up today and receive a free two-week trial!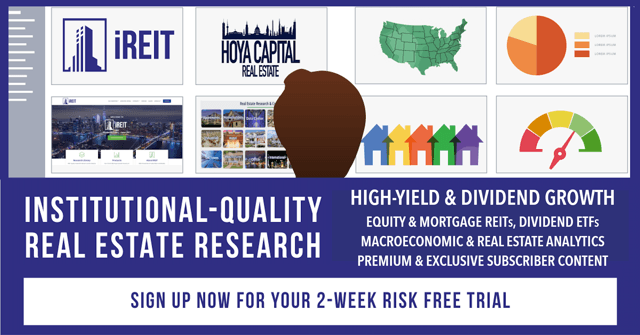 Disclosure: I am/we are long all holdings listed at www.hoyacapital.com