Real Estate Daily Recap
Our Real Estate Daily Recap discusses the notable news and events in the real estate sector over the last trading day and highlights sector-by-sector performance. We publish this note every afternoon at HoyaCapital.com and occasionally for free on our Blog to cover significant news and events. Subscribe to our free mailing list to make sure you never miss the latest developments in the commercial and residential real estate sectors. You can also follow our real-time commentary on Twitter and LinkedIn.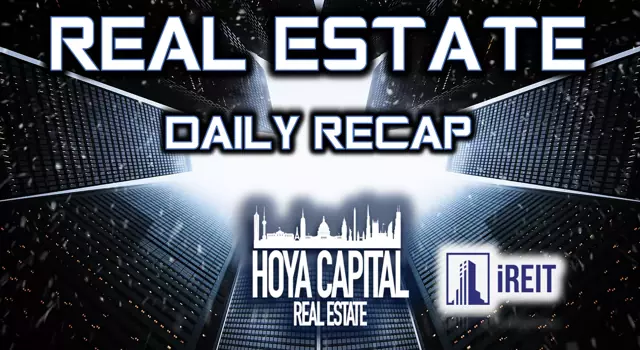 U.S. equity markets rebounded strongly on Tuesday following a mid-day reversal on Monday as positive vaccine news, stimulus hopes, and solid bank earnings offset concern of reopening reversals. Following a decline of 0.9% yesterday, the S&P 500 ETF (SPY) finished higher by 1.3% today while the Dow Jones Industrial Average (DIA) surged by 557 points after gaining 11 points yesterday. Bouncing back from losses of 1.2% yesterday - and more than 2% last week - the broad-based Equity REIT ETFs finished higher by 0.8% with 14 of 18 property sectors in positive territory while the Mortgage REIT ETF jumped 1.7% following yesterday's 0.3% decline.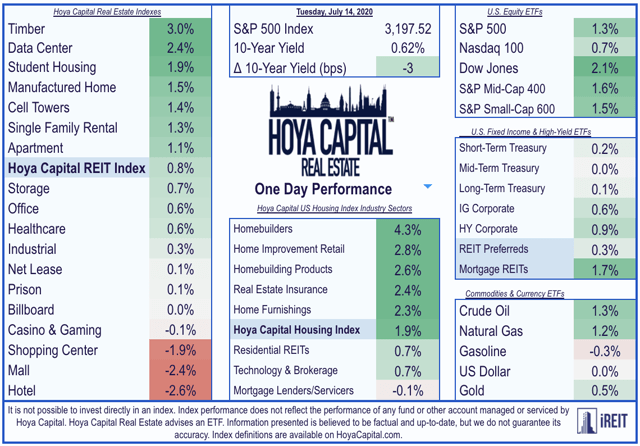 Earnings season "officially" kicked off this morning with better-than-expected reports by JP Morgan (JPM) and Citigroup (C), a solid start to a Q2 earnings season in which analysts expect a 45% decline in earnings from the second quarter last year. Positive vaccine news also added fuel to the rally as Moderna (MRNA) announced that it will begin its final-stage clinical trial of its Covid-19 vaccine in less than two weeks, a trial that will enroll 30,000 participants with hopes that results could be known by Fall with mass production beginning within weeks from today. All 11 GICS equity sectors were higher on the day, led by the economically-sensitive Energy (XLE), Materials (XLB), and Industrials (XLI) sectors. Homebuilders and the broader Hoya Capital Housing Index were also among the leaders today after the MBA reported that mortgage applications for new home purchases surged 54.1% in June compared from a year ago and 20% from last month.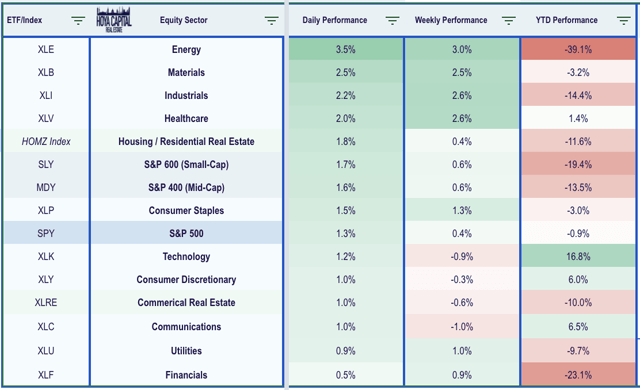 A supply-constrained housing market has continued to put unrelenting upward pressure on prices, exhibited both through rental rates and home values. Rising rents are now the only thing standing in the way of outright deflation as the Bureau of Labor Statistics reported today reported that the Core Consumer Price Index rose just 1.22% in June, the lowest rise in core inflation since 2010. Excluding shelter, however, Core CPI ex-Shelter rose a paltry 0.35% in June, slightly higher from last month which marked the lowest year-over-year increase since the BLS began tracking that series in 1967. Shelter, which accounts for a third of the CPI basket, remains quite "sticky" given the supply/demand backdrop. Primary rents remain higher by 3.2% from last year while Owner Equivalent Rents (OERs) are higher by 2.8%.

Commercial Equity REITs
Timber REITs led the gains today - and were the strongest performing REIT sector last week as well - powered by strong gains from Weyerhaeuser (WY), Rayonier (RYN), and PotlatchDeltic (PCH) - on the continued rebound in lumber prices, which have surged in recent months amid the sharp rebound in home construction activity that we've detailed extensively in our various reports including Homebuilders: Clear Signs of V-Shaped Recovery. Lumber futures jumped nearly 60% in the second quarter following a decline of roughly 30% in the first quarter and rose another 25% since the start of last week. On the flip side, the reopening-sensitive hotel and retail REITs were the laggards today with several small-cap hotel REITs down more than 5%.

Today, we published Healthcare REITs: Don't Pull The Plug, Yet. Healthcare REITs have been ground-zero of the coronavirus pandemic, but we believe that the long-term outlook may be better than feared. Despite the headwinds, healthcare REITs reported near-perfect rent collection and dividends have remained relatively untouched. Data indicates that older cohorts – particularly nursing home patients in several states - have accounted for a disproportionate share of fatalities, and lessons have been learned the hard way. The New York Times found that more than 40% of COVID-19 deaths are linked to nursing homes and other long-term care facilities, and now-reversed orders in New York, Connecticut, New Jersey, and Pennsylvania that compelled senior housing facilities to accept COVID-19-positive patients appear to have been especially devastating. These four states alone have accounted for 43% of the total COVID-19 deaths through July 13.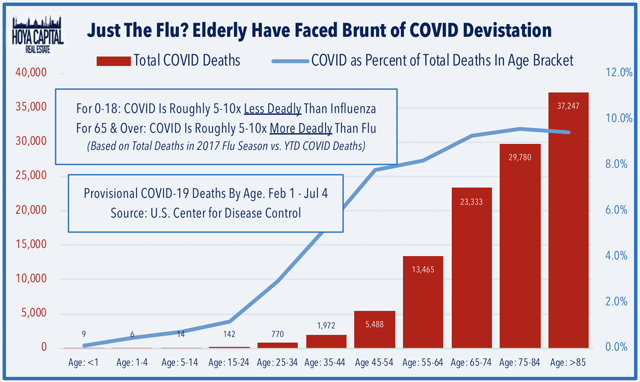 It's expected to be a fairly quiet week of REIT newsflow ahead of second-quarter earnings season, which kicks of a week from today. As with Q1 earnings season, rent collection and dividend cuts/resumptions are expected to be the primary focus of investors in Q2. We're still in the heart of dividend declaration season in the commercial REIT sector and may see several more REITs reduce or suspend their dividends over the next several weeks, but may also see some dividend resumption announcements once Q2 earnings season kicks off. We have now tracked 58 equity REITs - primarily retail and lodging REITs - out of our universe of 165 that have now announced a cut or suspension of their common dividend.

Mortgage REITs
As tracked in our Mortgage REIT Tracker available to iREIT on Alpha subscribers, residential mREITs finished higher by 2.0% today and are now up by 0.6% on the week while commercial mREITs gained 2.2% today and are now higher by 2.4% on the week. Four mREITs gained more than 4% today including Colony Credit (CLNC), Hannon Armstrong (HASI), PennyMac Mortgage (PMT), and New York Mortgage (NYMT). Residential mREITs were the hardest-hit real estate sector during the depths of the pandemic, but have seen conditions stabilize considerably over the last quarter amid continued signs of stabilization in the mortgage markets. Commercial mREITs weren't facing the same "existential crisis" as their residential mREIT peers, but the sector's heavy exposure to the hotel, office, and retail sectors has dragged on performance during the pandemic.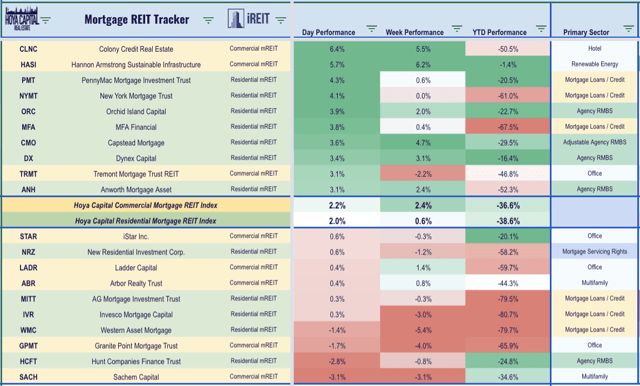 REIT Preferreds & Bonds
As tracked in our all-new REIT Preferred Stock & Bond Tracker available to iREIT on Alpha subscribers, REIT Preferred stocks finished lower by 0.6% today, on average, and underperformed their respective common stock issues by an average of 1.0%. Among REITs that offer preferred shares, the performance of these securities has been an average of 16.5% higher in 2020 than their respective common shares. Preferred stocks generally offer more downside protection, but in exchange, these securities offer relatively limited upside potential outside of the limited number of "participating" preferred offerings that can be converted into common shares.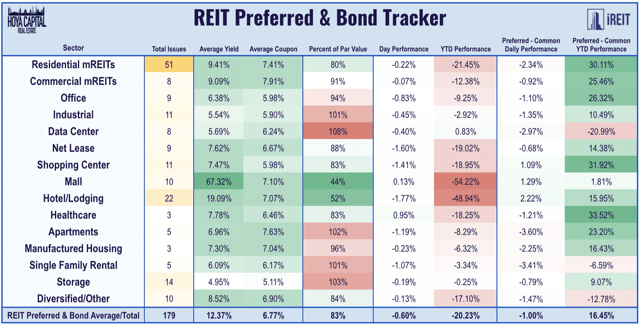 This Week's Economic Calendar
As discussed in our Real Estate Weekly Outlook, following a fairly slow week of economic data, we have a busy slate of economic and housing data in the week ahead. On Wednesday, we'll see Industrial and Manufacturing Production data as well as the weekly mortgage data from the Mortgage Bankers Association. Retail Sales and Homebuilder Sentiment data is released on Thursday, and on Friday, we'll see Housing Starts and Building Permits data. Initial and Continuing Jobless Claims data, released on Thursday, will also continue to be our focus for indications that more temporarily-unemployed Americans are returning to work.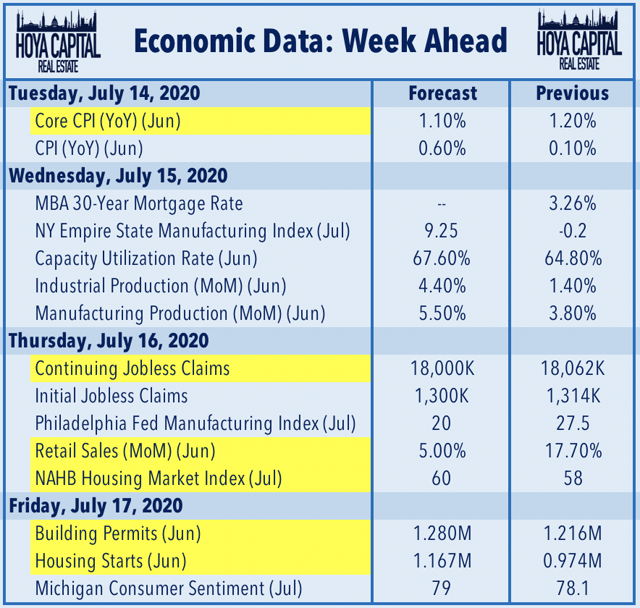 Join our Mailing List on our Website
Visit our website and join our email list for quick access to our full real estate research library: HoyaCapital.com where we have links all of our real estate sector reports and daily recaps. You can also follow our real-time commentary on Twitter, LinkedIn, and Facebook.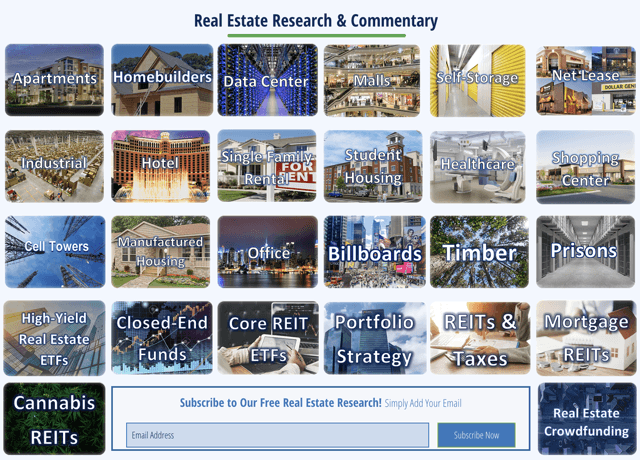 Disclosure: A complete list of holdings and Real Estate and Housing Index definitions and holdings are available at HoyaCapital.com. Hoya Capital Real Estate advises an Exchange Traded Fund listed on the NYSE. Hoya Capital is long all components in the Hoya Capital Housing 100 Index.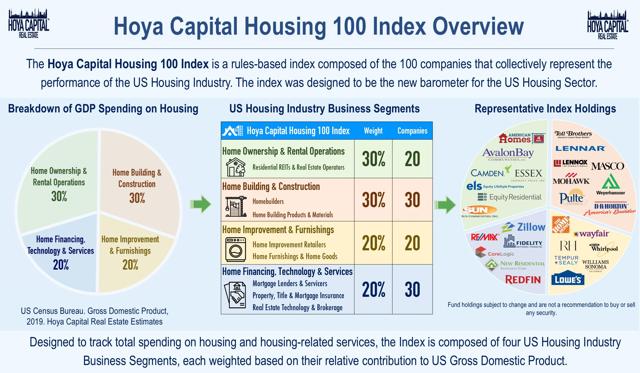 Additional Disclosure: It is not possible to invest directly in an index. Index performance cited in this commentary does not reflect the performance of any fund or other account managed or serviced by Hoya Capital Real Estate. Data quoted represents past performance, which is no guarantee of future results. Information presented is believed to be factual and up-to-date, but we do not guarantee its accuracy.
Hoya Capital Teams Up With iREIT
Hoya Capital is excited to announce that we've teamed up with iREIT to cultivate the premier institutional-quality real estate research service on Seeking Alpha! Sign up today and receive a free two-week trial!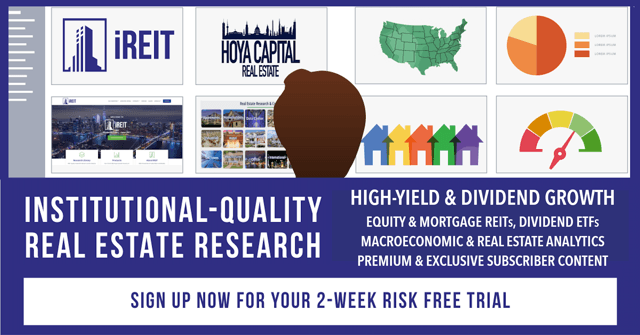 Disclosure: I am/we are long all holdings listed at www.hoyacapital.com