Real Estate Daily Recap
Our Real Estate Daily Recap discusses the notable news and events in the real estate sector over the last trading day and highlights sector-by-sector performance. We publish this note every afternoon on iREIT on Alpha and occasionally on Seeking Alpha to cover significant news and events. Subscribe to our free email list to make sure you never miss the latest developments in the commercial and residential real estate sectors. You can also follow our real-time commentary on Twitter and LinkedIn.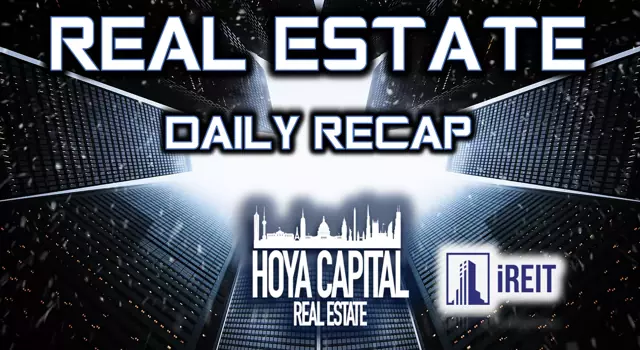 U.S. equity markets ended lower Friday amid a volatile 48-hour stretch in the financial markets as a sharp sell-off in the high-flying technology names continued despite a relatively strong employment report. After dipping 3.4% yesterday and snapping a six-week winning streak, the S&P 500 ETF (SPY) finished lower by another 0.8% today to end the week off by 2.3%. Real estate equities were again among the relative safe-havens today amid the broader sell-off as the Equity REIT ETFs (VNQ) finished lower by 0.4% today with 9 of 18 property sectors finishing in positive territory. The Mortgage REIT ETF (REM), meanwhile, higher by 0.1% after yesterday's 1.4% dip.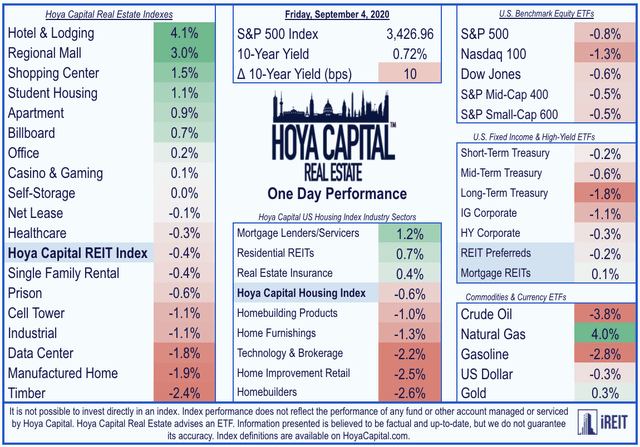 The "unofficial end" of summer saw one final "splash" in its final days as the Nasdaq 100 (QQQ) dipped nearly 7% over the last two trading days. Under the surface, however, the trading action was relatively less choppy as the Small-Cap (SLY) and Mid-Cap (MDY) stocks outperformed the large-cap indexes for the second-straight day, while the 10-Year Treasury Yield (IEF) bounced higher following the better-than-expected jobs data throughout the week. 8 of the 11 GICS equity sectors finished lower today, but the Financials (XLF) and Commerical Real Estate (XLRE) delivered solid outperformance amid the end-of-week volatility. The recently high-flying homebuilders dragged on the broader Hoya Capital Housing Index despite another solid slate of housing and economic data, which we'll discuss in full detail in our Real Estate Weekly Outlook report published on Saturday morning.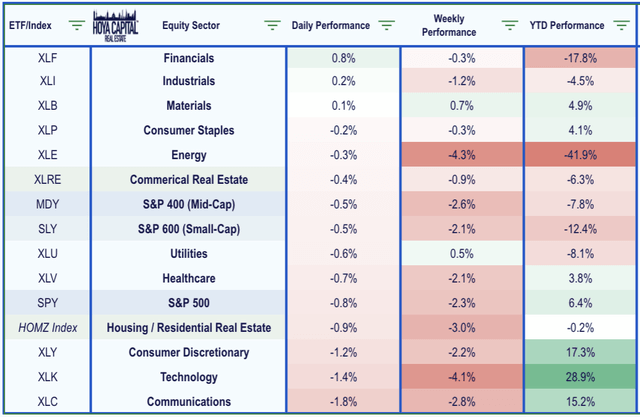 This week's declines came despite an encouraging slate of employment data. The BLS reported this morning that the U.S. economy added 1.37 million jobs in August - slightly better than economists' estimates for gains of 1.35 million. Most notably, however, the "headline" unemployment rate ticked down to 8.4% from 10.2% in the prior month. Even with the rebound over the last three months, however, total nonfarm payrolls are still roughly 11.5 million below pre-pandemic levels. This follows ADP data earlier in the week which showed that 428k jobs were added in August - below expectations of 950k - but prior months were again revised higher.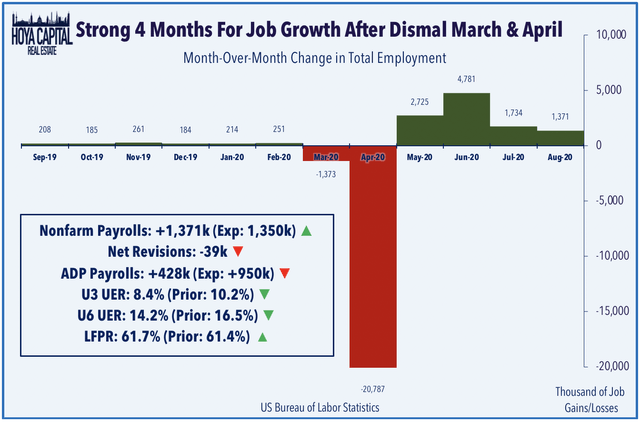 We've remained quite a bit more optimistic than consensus on the employment and economic outlook, urging investors not to underestimate the "unstoppable force" of WWII-levels of fiscal stimulus and the unprecedented levels of monetary support, both of which we expect to continue despite the stalemate in fiscal talks over the last week. There may be quite a bit more "low-hanging-fruit" left in the employment rebound as roughly 60% of recent job losers continue to classify themselves as on "temporary layoff" totaling over 6 million, which is down from a peak of 18 million back in April.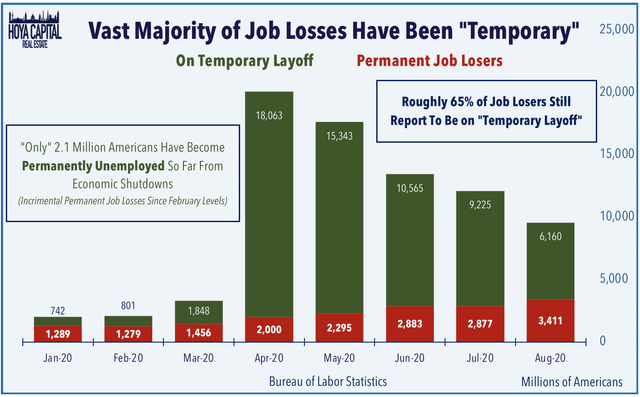 Commercial Equity REITs
Yesterday, we published Single Family Rentals: The Burbs Are Back. Amid the coronavirus pandemic, residential REITs - particularly the traditionally countercyclical single-family rentals - have proven to be a source of relative shelter for investors as single-family rental REITs are one of six real estate property sectors in positive territory in 2020. Despite the pandemic-related headwinds, SFR REITs reported near-perfect rent collection and strong rental growth. Fueled by the maturing millennial generation, the 2020s were already poised to be a decade of 'suburban revival,' and behavioral changes in the post-coronavirus world have provided an added spark.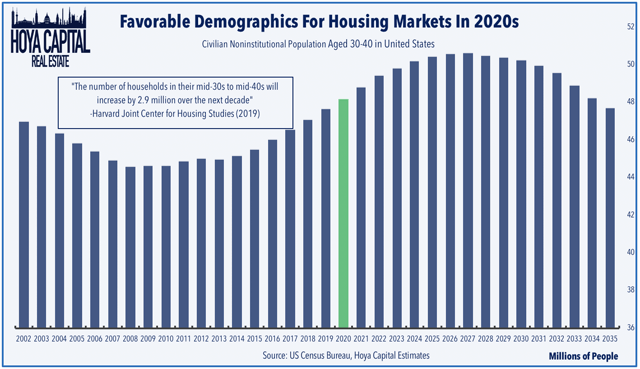 Earlier this week, we published Office REITs: Work-From-Home Reckoning. Despite reporting near-perfect rent collection throughout the pandemic, office REITs continue to be under pressure as the "Work From Home" paradigm threatens the long-term outlook. Survey data and commentary from corporations indicate that the WFH paradigm is here to stay long after the pandemic subsides. Technology has accelerated the pre-existing trends of increased workplace efficiency. As "WFH" days become the industry standard, the office sector's loss is the housing market's gain. Nuance is required, however, as suburban and Sunbelt office assets are likely to see robust demand over the next decade, mimicking similar trends as those seen after the 9/11 terrorist attacks amid a broader "suburban revival.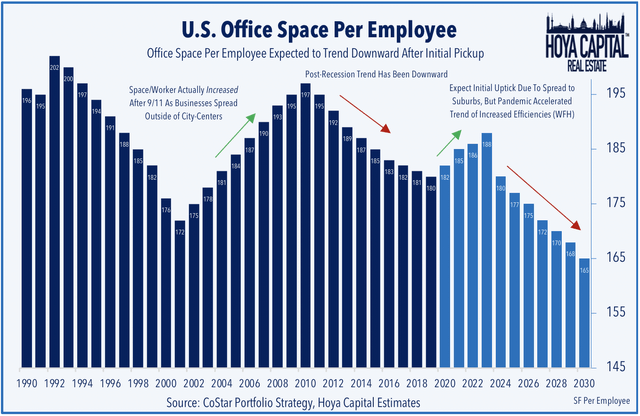 Mortgage REITs
As tracked in our Mortgage REIT Tracker available to iREIT on Alpha subscribers, residential mREITs finished lower by 0.1% today to finish the week lower by 3.3%. Commercial mREITs finished flat today but ended the week off by 2.5%. Non-agency residential mREITs were among the leaders today including Great Ajax (AJX), MFA Financial (MFA), and Invesco Mortgage (IVR) after encouraging mortgage market data this morning by Black Knight (BK) that we'll discuss in our Weekly Outlook report. Earlier this month, we published our Mortgage REIT Earnings Recap where we discussed some of the broader trends in the mREIT industry.

REIT Preferreds & Bonds
As tracked in our all-new REIT Preferred Stock & Bond Tracker available to iREIT on Alpha subscribers, REIT Preferred stocks finished lower by 0.5% today, on average, and underperformed their respective common stock issues by an average of 0.6%. Among REITs that offer preferred shares, the performance of these securities has been an average of 18.9% higher in 2020 than their respective common shares. Preferred stocks generally offer more downside protection, but in exchange, these securities offer relatively limited upside potential outside of the limited number of "participating" preferred offerings that can be converted into common shares.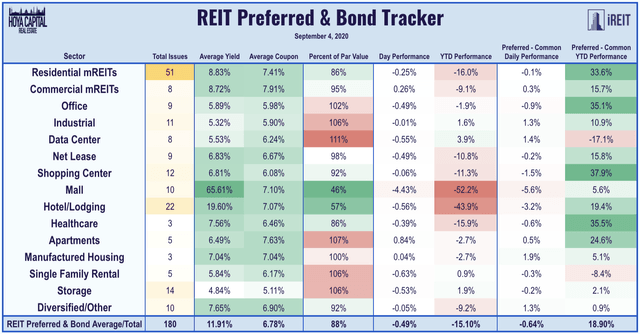 This Week's Economic Data
We'll have a full analysis of this week's economic data in our Real Estate Weekly Outlook report published on Saturday morning.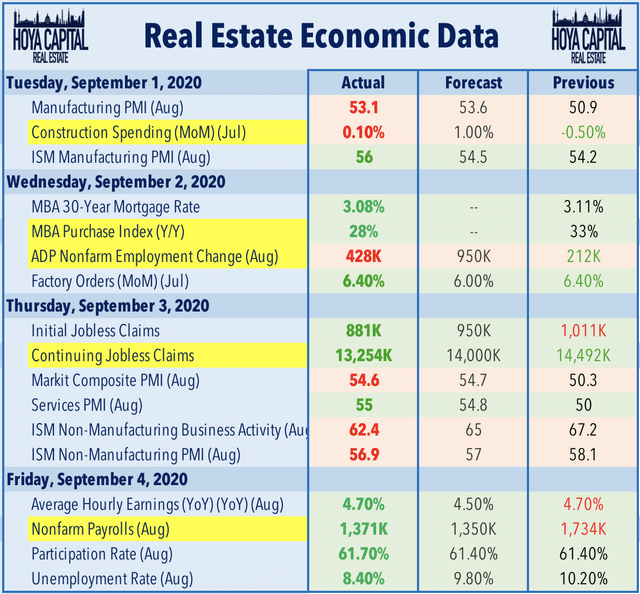 Join our Mailing List on our Website
iREIT on Alpha is the exclusive home to Hoya Capital premium research. Visit our website and join our email list for quick access to our real estate research library: HoyaCapital.com where we have links all of our real estate sector reports and daily recaps. You can also follow our real-time commentary on Twitter, LinkedIn, and Facebook.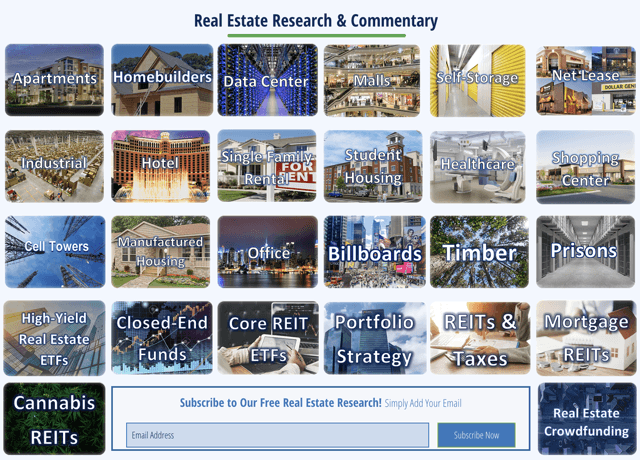 Disclosure: A complete list of holdings and Real Estate and Housing Index definitions and holdings are available at HoyaCapital.com. Hoya Capital Real Estate advises an Exchange Traded Fund listed on the NYSE. Hoya Capital is long all components in the Hoya Capital Housing 100 Index.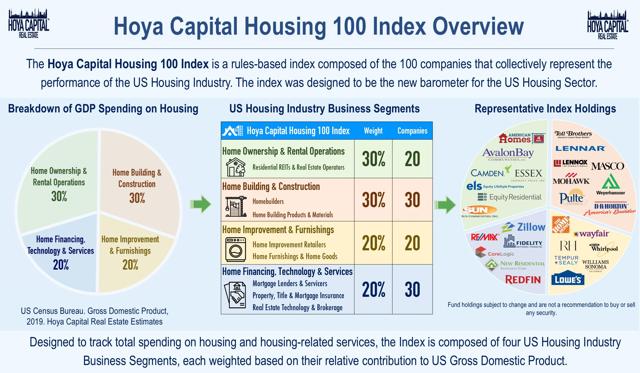 Additional Disclosure: It is not possible to invest directly in an index. Index performance cited in this commentary does not reflect the performance of any fund or other account managed or serviced by Hoya Capital Real Estate. Data quoted represents past performance, which is no guarantee of future results. Information presented is believed to be factual and up-to-date, but we do not guarantee its accuracy.
Hoya Capital Teams Up With iREIT
Hoya Capital is excited to announce that we've teamed up with iREIT to cultivate the premier institutional-quality real estate research service on Seeking Alpha! Sign up today and receive a free two-week trial! iREIT on Alpha is your one-stop source for unmatched Equity and Mortgage REIT coverage, Dividend ETF Analysis, High-Yield REIT Preferred Stocks & Bonds, real estate macroeconomic research, REIT and property-level analytics, and real-time market commentary.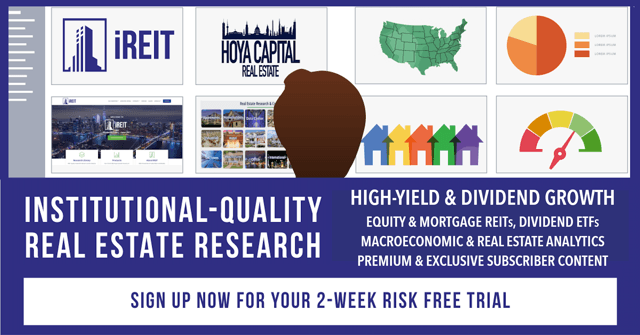 Disclosure: I am/we are long all holdings listed at www.hoyacapital.com