Real Estate Daily Recap
Our Real Estate Daily Recap discusses the notable news and events in the real estate sector over the last trading day and highlights sector-by-sector performance. We publish this note every afternoon on iREIT on Alpha and occasionally here on Seeking Alpha to cover significant news and events. Subscribe to our free email list to make sure you never miss the latest developments in the commercial and residential real estate sectors. You can also follow our real-time commentary on Twitter and LinkedIn.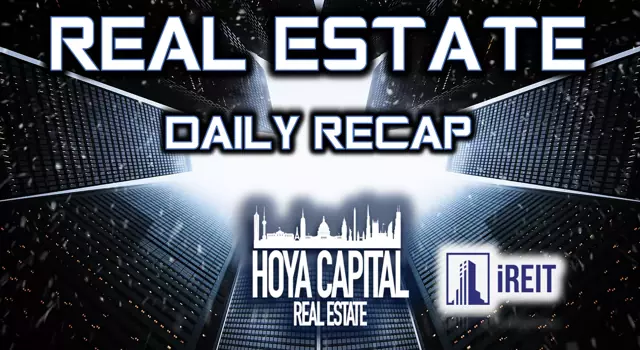 U.S. equity markets finished higher Tuesday led by a rebound in technology stocks following strong economic data out of China as investors await a busy slate of U.S. economic data over the next 48 hours. After gaining 1.3% yesterday, the S&P 500 ETF (SPY) finished higher by 0.5% while the tech-heavy Nasdaq 100 (QQQ) jumped 1.4% following yesterday's 1.7% gains. After jumping 2.5% yesterday, real estate equities again led the gains today as the broad-based Equity REIT ETF (VNQ) finished higher by 1.2% today with 13 of 18 property sectors in positive territory. The Mortgage REIT ETF (REM), meanwhile, declined by 0.9% after gaining 3.4% yesterday.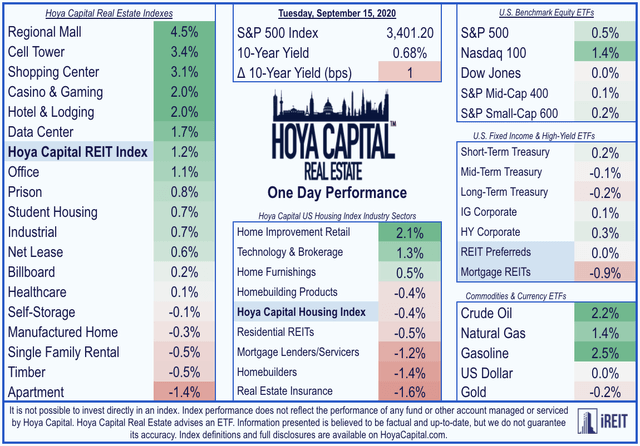 The rebound in technology shares today follows two weeks of selling pressure that pushed the Nasdaq 100 into "correction territory" with declines of more than 10%. 8 of the 11 GICS equity sectors finished in positive territory today, led by the Communications (XLC), Real Estate (XLRE), and Technology (XLK) sectors while the Energy (XLE) and Financials (XLF) sectors lagged. Investors will parse a busy slate of economic and housing data over the next two days including Retail Sales and Homebuilder Sentiment tomorrow and Housing Starts and Building Permits on Thursday, as well as weekly Jobless Claims.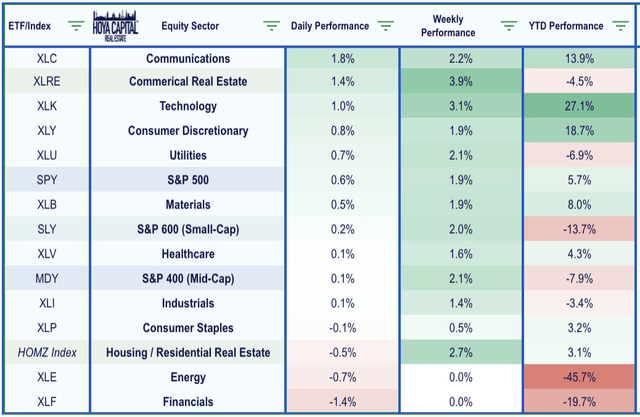 Homebuilders and the broader Hoya Capital Housing Index finished mostly lower today despite a strong slate of earnings results over the last 24 hours. Lennar (LEN) finished lower despite reporting that net orders jumped 16% from last year to 15,564 homes, but fourth-quarter guidance was a bit light as surging lumber prices may constrain potential upside. Fellow homebuilder MDC Holdings (MDC) jumped more than 4%, however, after reporting stellar results with net orders for the first two months of Q3 increasing 75% year-over-year. As we discussed early last quarter in Homebuilders: Signs Of V-Shaped Recovery, the sharp rebound in housing market activity has been aided by longer-term macroeconomic trends of favorable millennial-led demographics, historically low housing supply, near-record low mortgage rates, and a potential post-pandemic "suburban revival."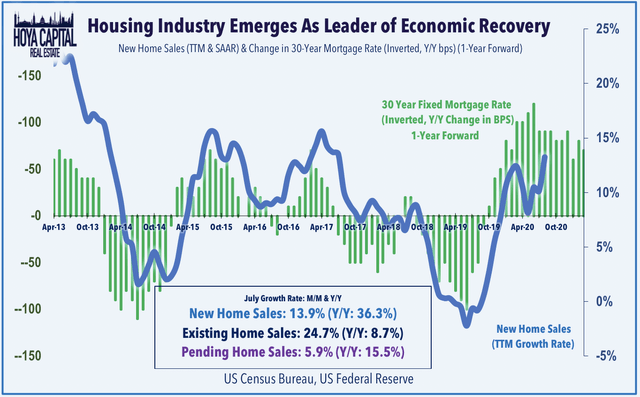 Commercial Equity REITs
It was a frenetic day of REIT newsflow with a flurry of rent collection updates and dividend announcements. Since July, we've seen more dividend increases than dividend cuts in the REIT sector, including two more dividend boosts today. Cannabis-focused net lease REIT Innovative Industrial (IIPR) declared a $1.17/share quarterly dividend, a 10.4% increase from prior dividend of $1.06 and the second dividend increase this year. Net lease REIT STORE Capital (STOR) declared a $0.36/share quarterly dividend, a 2.9% increase from prior dividend of $0.35. We've now tracked 28 equity REITs that have raised dividends in 2020 - primarily in the "essential" property sectors - technology, housing, and industrials - compared to the 64 equity REITs that have reduced or suspended their dividend.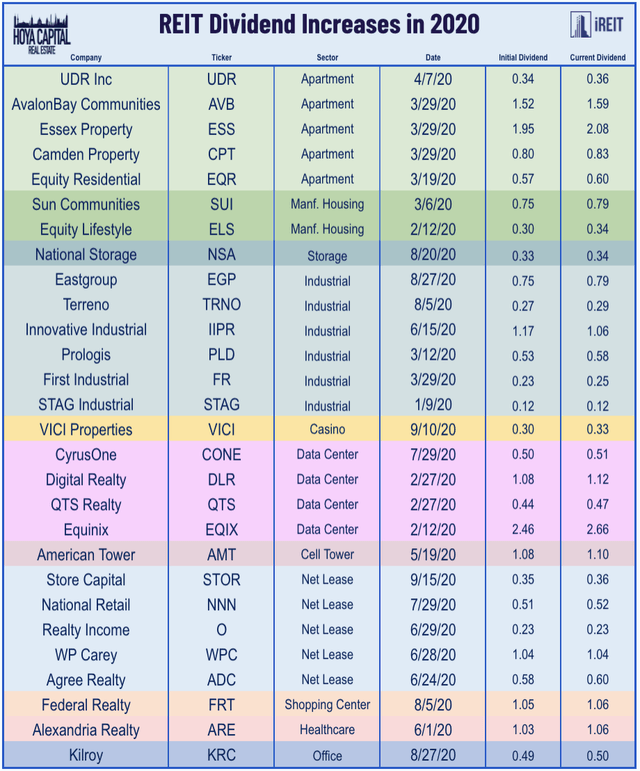 We also heard a flurry of rent collection and business updates this morning and this afternoon. Shopping center REIT Weingarten Realty (WRI) reported that it collected 91% of rents in August and 94% in July, and increased its Q2 collection to 94% as well, up roughly 20 percentage points from their initial report. Tanger Outlets (SKT) surged more than 10% today after it reported that it collected 81% of July rents, up from the 77% previously reported. Q2 collections improved to 40% from 33% previously reported while foot traffic over the last six weeks has averaged 89% of prior-year levels. Office REIT Cousins Properties (CUZ) reported that it collected 98% of August rent. Rexford Industrial (REXR) noted that it collected 96.2% of August rents and 96.4% of July rents, roughly in-line with pre-pandemic levels.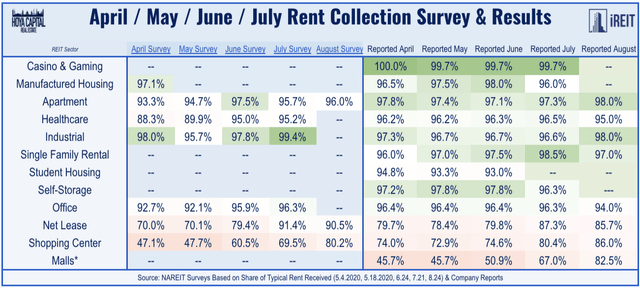 Apple Hospitality (APLE) gained nearly 5% today after it announced that all 225 of its hotels are currently open and the company was "cash flow positive" in July with occupancy rising above 50% in the first week of September. Yesterday, Park Hotels & Resorts (PK) announced that it has reopened 14 hotels since June, increasing the total number of hotels open to 46 of 60 hotels (77%), or 59% of total room count. Occupancy improved to 32.3% for Park's 33 open hotels during July and 38.8% during August. STR data has shown a steady improvement in national occupancy to roughly 50% in August and these improved levels have held in recent weeks despite seasonal headwinds.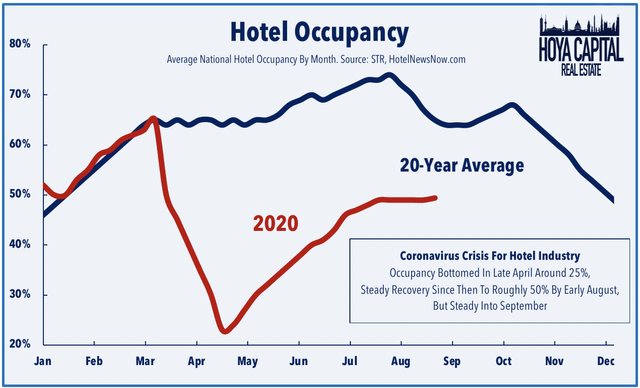 We heard some M&A news as well. Preferred Apartment Communities  (APTS) is reportedly in advanced talks with TPG in which the private equity firm would buy an eight-property student housing portfolio from the REIT for about $480M, a portfolio that includes properties at Florida State, Baylor, and Arizona State. Yesterday we noted that American Campus (ACC) announced that its portfolio is 90.3% leased for the 2020-2021 academic year, a rate far above the potentially catastrophic figures some investors feared given the lingering school shutdowns. As noted in Student Housing REITs: School's Out Forever, students at these flagship universities in these "college towns" have shown a desire to live on-or-near campus regardless of whether classes are held physically in-session or completed remotely.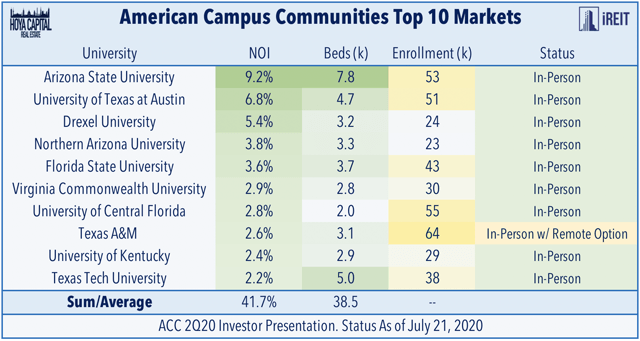 Last but not least, American Tower (AMT) gained nearly 5% after it signed a new milestone multi-year agreement covering site access with T-Mobile (TMUS), which recently combined with Sprint to form a viable 3rd competitor in the U.S. cellular carrier industry. The companies expect that the new 15-year deal will enhance T-Mobile's access to American Tower's sites, while providing long-term revenue growth visibility to American Tower and also allowing T-Mobile to increase momentum on its rapid 5G deployment. We discussed trends in the sector in Cell Tower REITs: Fireworks Abound.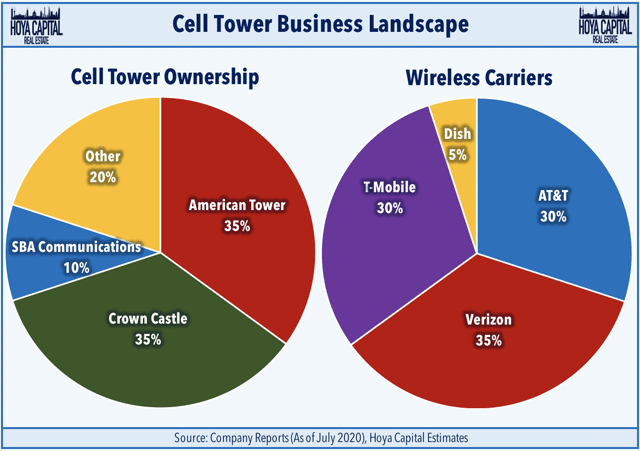 Mortgage REITs
As tracked in our Mortgage REIT Tracker available to iREIT on Alpha subscribers, residential mREITs declined by 0.1% but remain higher by 3.9% on the week. Commercial mREITs finished higher by 0.1% today to push its weekly gains to 2.1%. As with the equity REIT sector, we also saw a flurry of dividend announcements in the mREIT sector today. Ready Capital (RC) declared a $0.30/share quarterly dividend, a 20% increase from prior dividend of $0.25, but still below its pre-pandemic level of $0.40. New York Mortgage Trust (NYMT)declared a $0.075/share quarterly dividend, 50% increase from prior dividend of $0.050, but still below its pre-pandemic level of $0.20. Meanwhile, Chimera Investments (CIM) and Dynex Capital (DX) each maintained dividends at prior levels. Arbor Realty (ABR) remains the only mREIT that increased its dividend in 2020 to levels above 2019 payouts. Earlier this month, we published our Mortgage REIT Earnings Recap where we discussed some of the broader trends in the mREIT industry.
REIT Preferreds & Bonds
As tracked in our all-new REIT Preferred Stock & Bond Tracker available to iREIT on Alpha subscribers, REIT Preferred stocks finished higher by 0.3% today, on average, but underperformed their respective common stock issues by an average of 0.7%. Digital Realty (DLR) announced today that it is redeeming all of its Series G (DLR.PG) preferred stock on October 15. The issue had an initial call date in April 2018 and was trading at a slight premium to par value before the announcement. Last week, the firm announced the redeemed it's Series I preferred stock (DLR.PI). Among REITs that offer preferred shares, the performance of these securities has been an average of 19.4% higher in 2020 than their respective common shares. Preferred stocks generally offer more downside protection, but in exchange, these securities offer relatively limited upside potential outside of the limited number of "participating" preferred offerings that can be converted into common shares.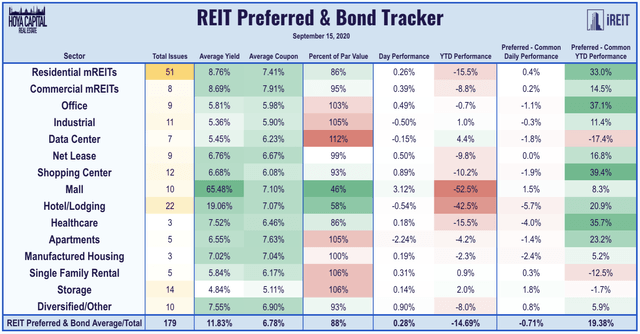 This Week's Economic Calendar
We have a busy slate of economic and housing data in the week ahead. On Wednesday, we'll see Homebuilder Sentiment for September, which unexpectedly surged last month to record-high levels. Also on Wednesday, we'll see Retail Sales data for August, which had completed the V-shaped recovery last month as retail spending exceeded pre-pandemic levels. On Thursday, we'll see Housing Starts and Building Permits for August. Housing Starts jumped 22.6% last month to a seasonally adjusted annual rate of 1.50 million units while Building Permits rose 18.8% to a rate of 1.50 million units. As usual, we'll also be watching the weekly Mortgage data on Wednesday and Jobless Claims data on Thursday.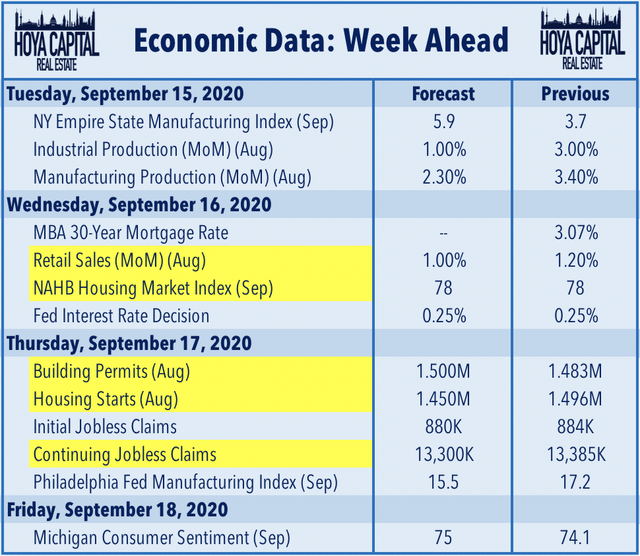 Join our Mailing List on our Website
iREIT on Alpha is the exclusive home to Hoya Capital premium research. Visit our website and join our email list for quick access to our real estate research library: HoyaCapital.com where we have links all of our real estate sector reports and daily recaps. You can also follow our real-time commentary on Twitter, LinkedIn, and Facebook.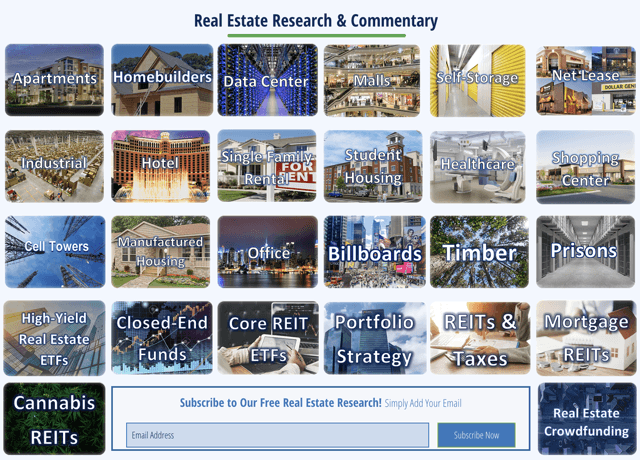 Disclosure: A complete list of holdings and Real Estate and Housing Index definitions and holdings are available at HoyaCapital.com. Hoya Capital Real Estate advises an Exchange Traded Fund listed on the NYSE. Hoya Capital is long all components in the Hoya Capital Housing 100 Index.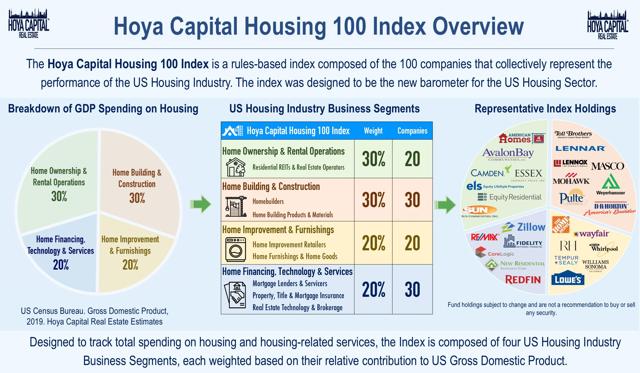 Additional Disclosure: It is not possible to invest directly in an index. Index performance cited in this commentary does not reflect the performance of any fund or other account managed or serviced by Hoya Capital Real Estate. Data quoted represents past performance, which is no guarantee of future results. Information presented is believed to be factual and up-to-date, but we do not guarantee its accuracy.
Hoya Capital Teams Up With iREIT
Hoya Capital is excited to announce that we've teamed up with iREIT to cultivate the premier institutional-quality real estate research service on Seeking Alpha! This idea was discussed in more depth with iREIT on Alpha members. Exclusive articles typically contain 2-3x more research content including access to iREIT on Alpha's REIT Ratings and live trackers. Sign-up for the 2-week free trial today! iREIT on Alpha is your one-stop source for unmatched Equity and Mortgage REIT coverage, Dividend ETF Analysis, High-Yield REIT Preferred Stocks & Bonds, real estate macroeconomic research, REIT and property-level analytics, and real-time market commentary.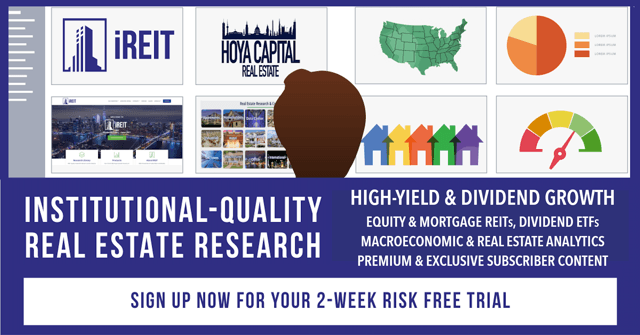 Disclosure: I am/we are long all holdings listed at www.hoyacapital.com