Real Estate Daily Recap
Our Real Estate Daily Recap discusses the notable news and events in the real estate sector over the last trading day and highlights sector-by-sector performance. We publish this note every afternoon on iREIT on Alpha and occasionally here on Seeking Alpha to cover significant news and events. Subscribe to our free email list to make sure you never miss the latest developments in the commercial and residential real estate sectors. You can also follow our real-time commentary on Twitter and LinkedIn.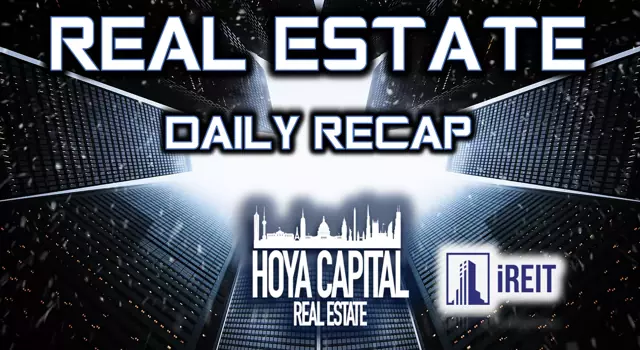 U.S. equity markets pulled back Tuesday ahead of the first U.S. Presidential debate that may bring some clarity to a contentious U.S. election season ahead of a busy slate of employment data later this week. Following a rally of 1.6% yesterday, the S&P 500 ETF (SPY) finished lower by 0.5% today while the tech-heavy Nasdaq 100 (QQQ) also pulled back 0.5% and the Dow Jones Industrial Average (DIA) declined 131 points. After gaining 2.0% yesterday, real estate equities were generally lower with the broad-based Equity REIT ETF (VNQ) finishing off by 0.7% today with 17 of 18 property sectors in negative territory. Mortgage REITs (REM) declined 1.9% following yesterday's 3.3% advance.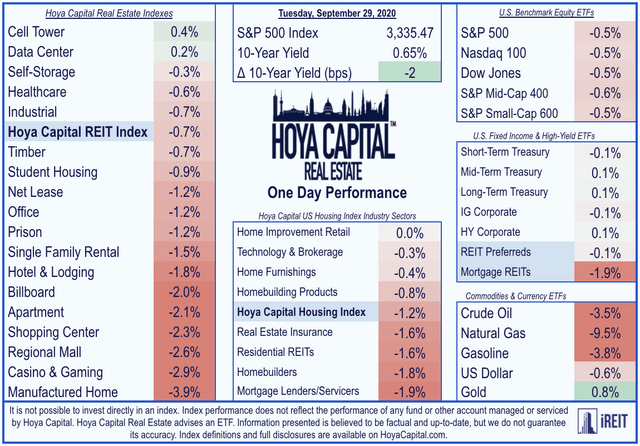 A delay in Inovio's (INO) coronavirus vaccine candidate and the lack of a clear path to advance in the latest stimulus proposal weighed on equity markets today despite a strong rebound in Consumer Sentiment in September. Reversing yesterday's performance trends, 10 of the 11 GICS equity sectors finished in negative territory on the day with the economically-sensitive Energy (XLE) and Financials (XLF) sectors dragging on the downside while the Communications (XLC) sector finished in the green. Following strong gains yesterday, homebuilders and the broader Hoya Capital Housing Index lagged today despite data showing a reacceleration in home prices.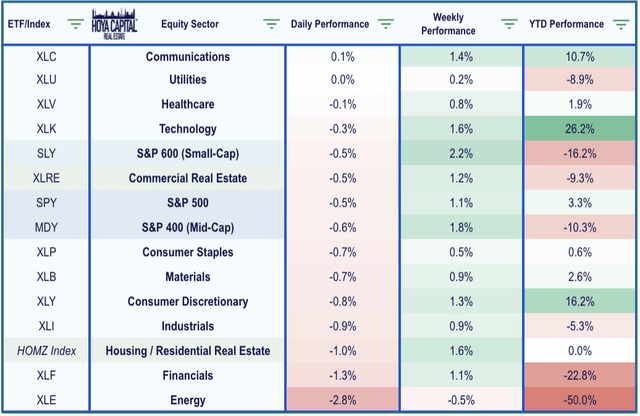 Record-low inventory levels combined with robust levels of homebuying activity have put substantial upward pressure on home values since the start of the pandemic. The Case Shiller National Home Price Index recorded a 4.8% year-over-year rise in national home prices, the largest annual gain since late 2018. All of the major home price indexes are now showing a reacceleration in price appreciation over the last five months, underscored by the 11.4% jump in Existing Home prices recorded by the NAR in August. Meanwhile, the FHFA Index showed home prices rising 6.5% on a year-over-year basis in July. Absent a significant "second wave" of economic lockdowns, we expect continued upward pressure on home values for at least the next two years.

Last week, we published Homebuilders: A V-Shaped Vendetta. An antihero of the prior financial crisis, Homebuilders have seemingly been on a vendetta over the last six months, asserting themselves as the unexpected leader of the early post-pandemic recovery. Homebuilders were slammed at the outset of the pandemic on fears that a coronavirus-induced recession could inflame a repeat of the Great Financial Crisis for the critical U.S. housing. Instead, the U.S. housing industry has roared back to life in recent months. New Home Sales, Existing Home Sales, and Home Prices have all seen a substantial reacceleration this year. The sharp rebound in housing market activity has been aided by longer-term macroeconomic trends of favorable millennial-led demographics, historically low housing supply, and record low mortgage rates.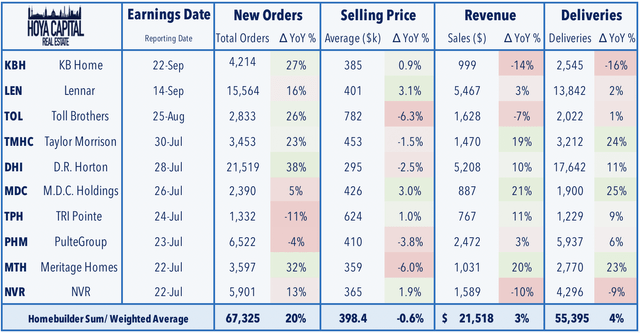 Commercial Equity REITs
Today we published Hotel REITs: Winter Is Coming on the iREIT on Alpha Marketplace, which will publish on Seeking Alpha later this week. Hotel ownership is a tough, capital-intensive business even in the best of times, and hotel REITs tend to be "overweight" in the most affected segment of the lodging industry: corporate travel, group bookings, and international tourism. Demand from these segments is closely correlated with domestic air travel, which has exhibited a slow recovery from its lows in April according to TSA Checkpoint data. Airline travel bottomed in early April at just 4% of its prior-year levels but has rebounded to roughly 35% of "normal" by late September.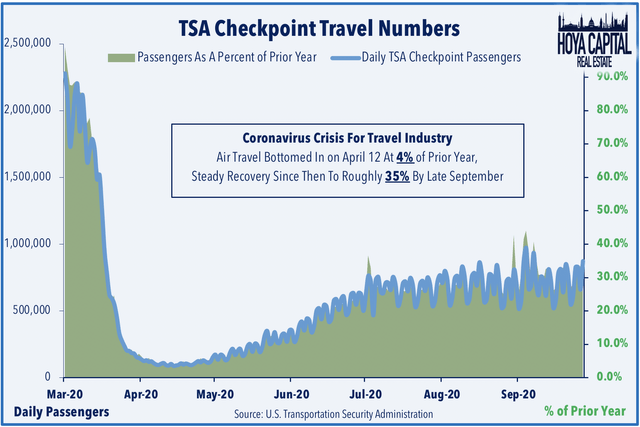 Following a record year for the industry in 2019, hotels REITs reported occupancy rates below 20% in Q2, but occupancy has recovered to roughly 45% by early September according to recent reports. After reporting occupancy below 5% in Q2, Pebblebrook (PEB) reported today that it has reopened 71% of its hotels, and these open properties are running at approximately 39% occupancy. Every hotel REIT has slashed its dividend since the start of the pandemic in an effort to stay afloat, as 40-50% occupancy is needed to "keep the lights on." Perhaps a more "pure play" on the success of a vaccine than even the pharmaceuticals themselves, the balance of risks for the better-capitalized hotel REITs may be skewed to the upside, however, with dozens of vaccines and therapeutics in the pipeline led by Moderna (MRNA), Pfizer (PFE) and BioNTech (BNTX), and AstraZeneca (AZN).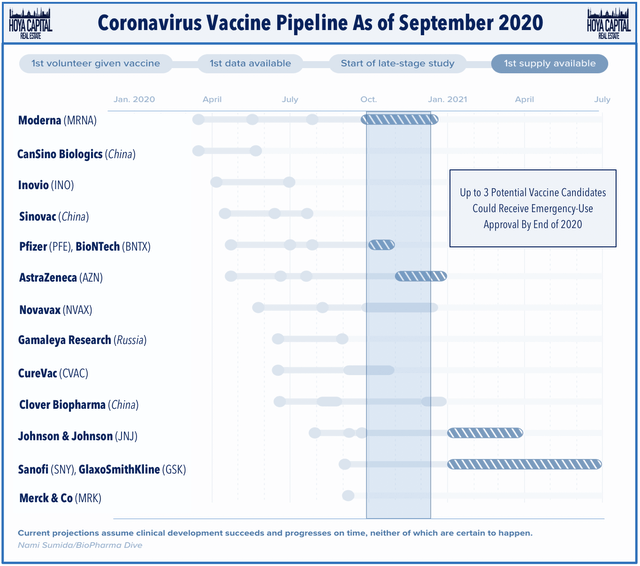 It's expected to be a fairly quiet few weeks of REIT newsflow, but we did hear some interesting M&A news today. Manufactured Housing REIT Sun Communities (SUI) dipped 4.3% today after it announced a deal today to acquire Safe Harbor Marinas in a relatively large deal valued at roughly $2.1B. Safe Harbor is the largest marina owner and operator in the United States. The acquisition, which is expected to be accretive to 2021 Core FFO per share, will comprise approximately 15% of Sun Communities' pro forma total annual rental revenue. We discussed the sector in a recent report: Manufactured Housing REITs: Housing Shortage Intensifies. Strong internal and external growth for manufactured housing REITs has resulted in the strongest core FFO growth across the REIT sector since the start of 2015.

Net lease REIT VEREIT (VER) declined by 1.8% today after it reported yesterday afternoon that it received 95% of rents in September and 94% of rents in August, up from 87% collection in the second quarter. Last week, NAREIT released its monthly Rent Collection Survey yesterday which showed continued improvement across the surveyed sectors. Rent collection among net lease REITs has improved from around 70% in April to 95% in September. Collection rates among shopping center REITs have improved from below 50% in April to 82% by September. Apartment REITs continue to report rent collection around 96%.

Mortgage REITs
As tracked in our Mortgage REIT Tracker available to iREIT on Alpha subscribers, residential mREITs finished lower by 2.6% today and are now lower by 1.1% on the week. Commercial mREITs declined by 2.4% today but remain higher by 2.3% on the week. Granite Point (GPMT) led the gains for the second-straight day after it resumed its suspended dividend by declaring a $0.20/share quarterly dividend, below its pre-pandemic rate of $0.42. The beaten-down commercial mREIT rallied yesterday after it announced the closing of strategic financing of up to $300 million.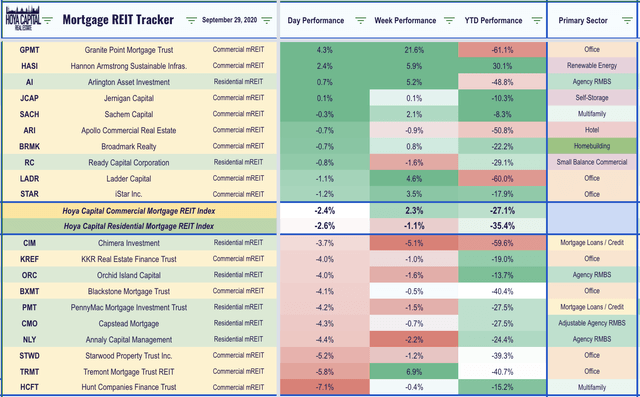 Out of the 41 mREITs in our coverage, 31 reduced or suspended dividends, 8 have maintained, and 2 have raised. Last month, we published our Mortgage REIT Earnings Recap where we discussed some of the broader trends in the mREIT industry.

REIT Preferreds & Bonds
As tracked in our all-new REIT Preferred Stock & Bond Tracker available to iREIT on Alpha subscribers, REIT Preferred stocks finished lower by 0.2% today, on average, but outperformed their respective common stock issues by an average of 1.71%. Among REITs that offer preferred shares, the performance of these securities has been an average of 21.37% higher in 2020 than their respective common shares. Preferred stocks generally offer more downside protection, but in exchange, these securities offer relatively limited upside potential outside of the limited number of "participating" preferred offerings that can be converted into common shares.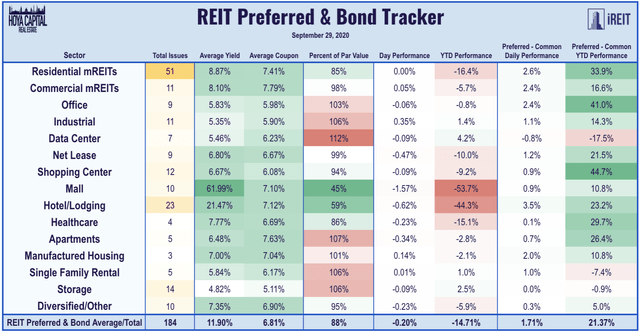 This Week's Economic Calendar
Employment data highlights this week's jam-packed economic calendar, headlined by ADP Employment data on Wednesday, Jobless Claims on Thursday, and the BLS Nonfarm Payrolls report on Friday. Economists are looking for employment gains of roughly 850k in August following July's better-than-expected gain of 1.3 million and for the unemployment rate to tick down to 8.2%. We'll see more housing data as well with Pending Home Sales on Wednesday along with the weekly MBA Mortgage Application data. We'll also see Construction Spending data and Personal Income and Spending data on Thursday and a flurry of PMI data throughout the week.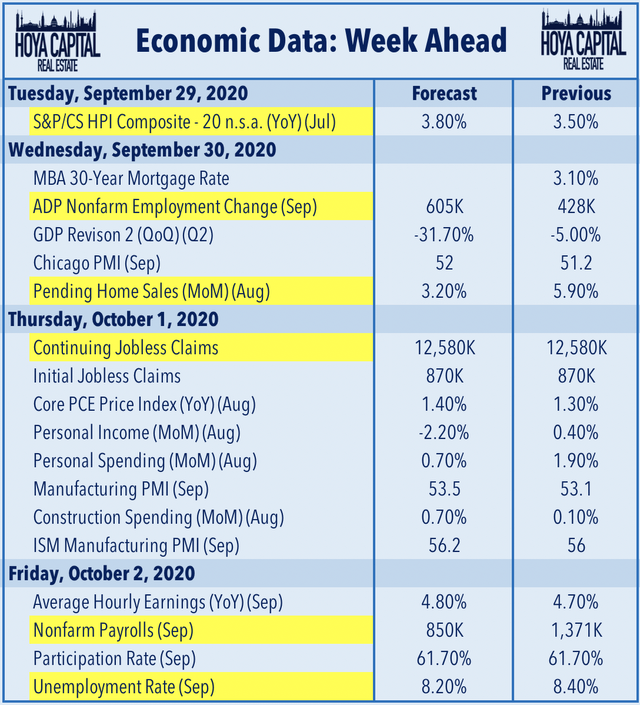 Join our Mailing List on our Website
iREIT on Alpha is the exclusive home to Hoya Capital premium research. Visit our website and join our email list for quick access to our real estate research library: HoyaCapital.com where we have links all of our real estate sector reports and daily recaps. You can also follow our real-time commentary on Twitter, LinkedIn, and Facebook.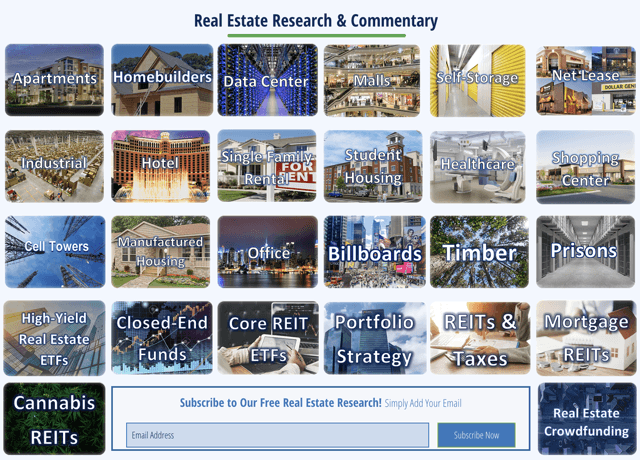 Disclosure: A complete list of holdings and Real Estate and Housing Index definitions and holdings are available at HoyaCapital.com. Hoya Capital Real Estate advises an Exchange Traded Fund listed on the NYSE. Hoya Capital is long all components in the Hoya Capital Housing 100 Index.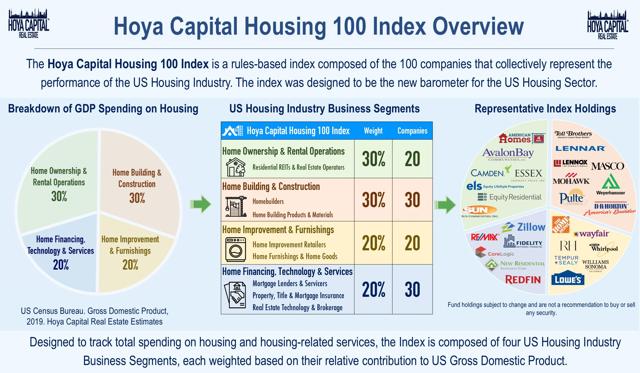 Additional Disclosure: It is not possible to invest directly in an index. Index performance cited in this commentary does not reflect the performance of any fund or other account managed or serviced by Hoya Capital Real Estate. Data quoted represents past performance, which is no guarantee of future results. Information presented is believed to be factual and up-to-date, but we do not guarantee its accuracy.
Hoya Capital Teams Up With iREIT
Hoya Capital is excited to announce that we've teamed up with iREIT to cultivate the premier institutional-quality real estate research service on Seeking Alpha! This idea was discussed in more depth with iREIT on Alpha members. Exclusive articles typically contain 2-3x more research content including access to iREIT on Alpha's REIT Ratings and live trackers. Sign-up for the 2-week free trial today! iREIT on Alpha is your one-stop source for unmatched Equity and Mortgage REIT coverage, Dividend ETF Analysis, High-Yield REIT Preferred Stocks & Bonds, real estate macroeconomic research, REIT and property-level analytics, and real-time market commentary.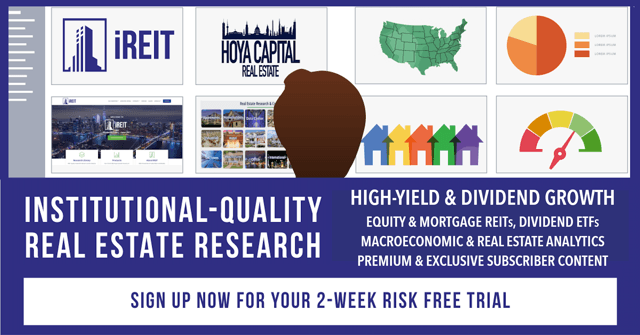 Disclosure: I am/we are long all holdings listed at www.hoyacapital.com