Real Estate Daily Recap
Our Real Estate Daily Recap discusses the notable news and events in the real estate sector over the last trading day and highlights sector-by-sector performance. We publish this note in its entirety every afternoon at HoyaCapital.com and occasionally post a condensed version here on Seeking Alpha to cover significant news and events. Subscribe to our free email list to keep up with the latest developments in the commercial and residential real estate sectors. Follow our real-time commentary on Twitter and LinkedIn.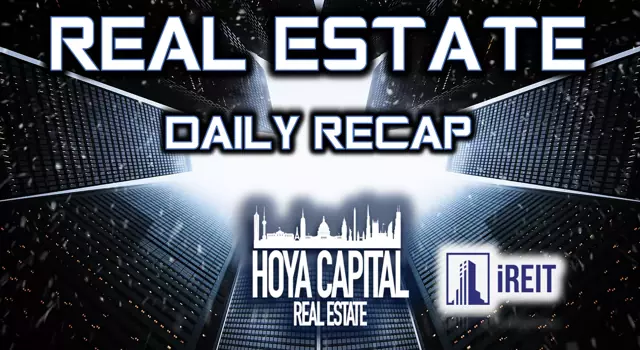 U.S. equity markets were mixed Tuesday as investors continued to rotate out of the "stay-at-home" winners and reallocate towards COVID-sensitive sectors following yesterday's positive vaccine news from Pfizer (PFE). Following gains of 1.3% yesterday, the S&P 500 ETF (SPY) finished lower by 0.1% today but the Dow Jones Industrial Average (DIA) gained another 262 points following yesterday's 834 point-surge. Technology stocks remained under pressure today as the Nasdaq 100 (QQQ) dipped another 1.7% today. Real estate equities were again among the leaders today as the broad-based Equity REIT ETF (VNQ) gained 1.5% with 13 of 18 property sectors in positive territory while the Mortgage REIT ETF (REM) jumped nearly 5%.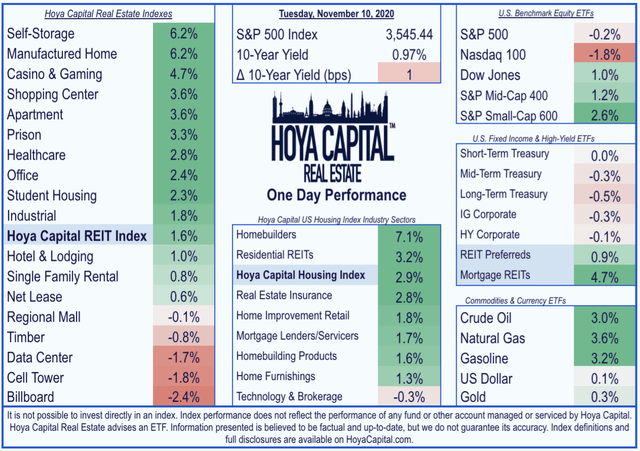 "Sector rotation" has been the theme over the past two days following Pfizer's (PFE) announcement of positive trial results for its COVID-19 vaccine candidate on Monday. The clock is ticking, however, as reported coronavirus cases continue to rise in the United States and globally, and some investors are concerned that the recent European-style lockdowns may be coming to U.S. cities over the next month. 8 of the 11 GICS equity sectors finished in positive territory today, led by the Energy (XLE), and Consumer Staples (XLP), sectors. Single-family homebuilders bounced back after Monday's dip while residential REITs continued yesterday's vaccine-driven rebound, leading the Hoya Capital Housing Index to a strong day of gains.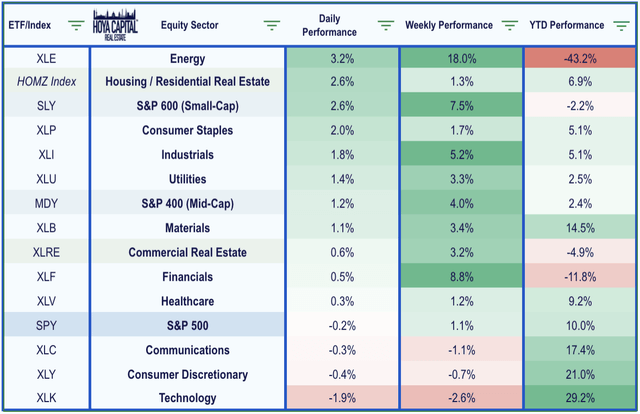 Homebuilders: D.R. Horton (DHI) surged more than 9% today after reporting stellar earnings results and raised its dividend as the U.S. housing industry continues to assert itself as the unexpected leader of the economic recovery. DHI, the largest single-family builder in the country, reported that net order growth surged a staggering 81% in Q4 from last year while the size of its backlog nearly doubled. The homebuilder also issued 2021 guidance that exceeded estimates, citing the extremely favorable fundamentals of record-low supply and demographic-driven demand for single-family housing. DHI joined MDC Holdings (MDC), Lennar (LEN), and KB Home (KBH) which each boosted their quarterly dividends earlier this month.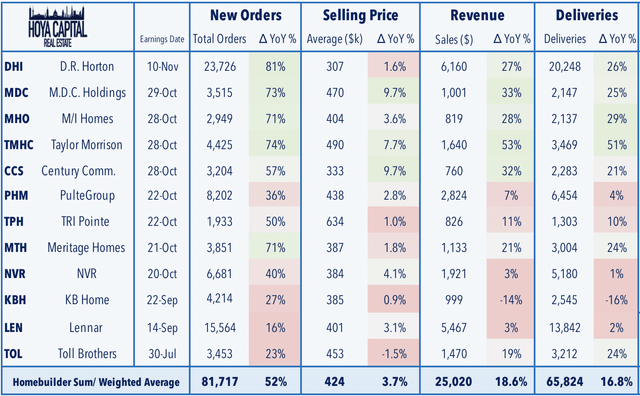 Commercial Equity REITs
Last week, we published Rents Paid, Dividends Raised: REIT Earnings Recap. Flying under-the-radar during election season, a frenzy of real estate earnings reports over the last three weeks have provided critical information on the state of the commercial real estate sector. In general, results were better-than-expected with guidance revisions being overwhelmingly on the upside. Roughly two-thirds of equity REITs beat consensus FFO estimates, which is slightly above the historical average of 60%. While most REITs withdrew full-year guidance earlier this year, the vast majority of REITs that have continued to provide guidance offered a positive boost in the third quarter. We recap the notable earnings reports over the last 24 hours below.

Malls: After surging nearly 30% today, Simon Property (SPG) is finished lower by roughly 1% today after reporting FFO per share below estimates. SPG reported that Q3 NOI dipped 24.4% year-over-year, worse than its 18.5% dip in Q2. SPG has collected 72% of its Q2 rents and 85% of its Q3 rents but reported that all of their properties are now open. Taubman Centers (TCO) gained about 2% after it reported that its same-store NOI dipped 18.3% in Q3, but has not provided a monthly breakdown of rent collection metrics. Troubled mall REITs Pennsylvania REIT (PEI) and CBL & Associates (CBL) each filed for Chapter 11 bankruptcy protection last week while Washington Prime (WPG) likely isn't far behind.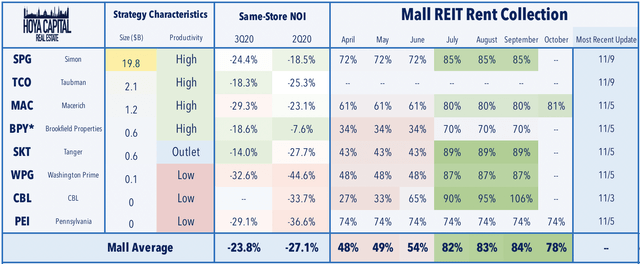 Apartments: Small-cap NYC-focused apartment REIT Clipper Realty (CLPR) dipped after reporting continued pressure on their NYC apartment portfolio. Thorugh nine months of 2020, Clipper has recorded an AFFO decline of 18.4%. Diversified REIT Preferred Apartment Communities (APTS) surged nearly 23% today after it beat on revenue and FFO estimates while reporting that it collected 99.0% of rents for its multifamily-housing portfolio, 96.5% for grocery-anchored retail, and 99.8% for its office portfolio. The "suburban revival" theme was on full display this quarter as apartment REIT properties in the "shutdown cities" - NYC, L.A., Chicago, and San Francisco – have seen residents flee to lower-cost and safer suburban markets and more business-friendly Sunbelt metros.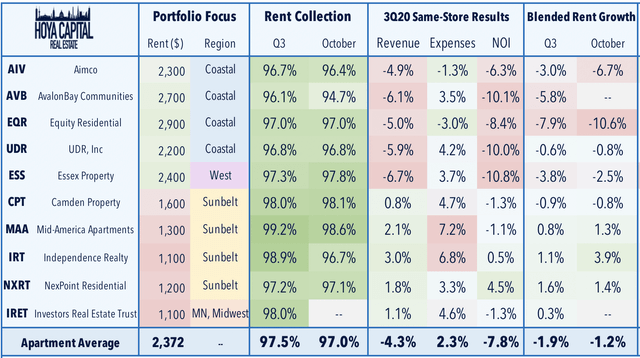 Healthcare: National Health Investors (NHI) gained 2.0% today after it announced that it collected 96.2% of contractual rents due for Q3 and 97.8% of contractual rents due for October 2020. After a brutal second quarter, senior housing-focused REITs including Healthpeak (PEAK) and Welltower (WELL) reported clear indications of stabilizing fundamentals, but the "second wave" of the pandemic may slow the positive momentum. Outside of senior housing, rent collection remains essentially perfect across the other sub-sectors including skilled nursing, hospitals, medical office, and research/lab space. Skilled nursing operators continue to be significant beneficiaries of fiscal stimulus programs while the research/lab space segment remains the strongest healthcare sub-sector amid the ongoing race for a COVID vaccine.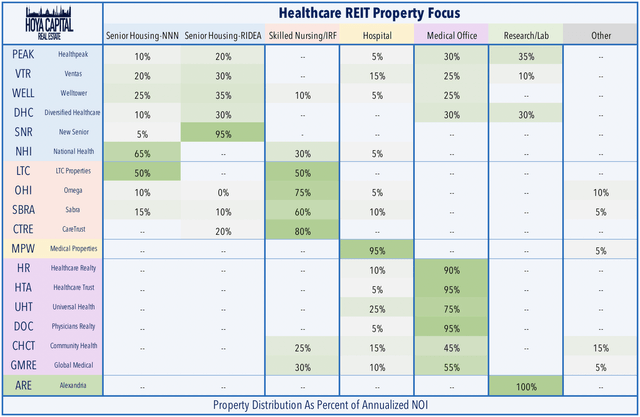 Yesterday afternoon, net lease REIT Four Corners (FCPT) announced that it will increase its quarterly dividend, becoming the 40th equity REIT to raise its dividend this year compared to 65 equity REITs that have reduced or suspended their dividend. Broken down by property sector, industrial REITs and net lease REITs are now tied with 8 increases each, followed by apartments with 6. Meanwhile, while fewer in the quantity, the majority of the data center (4/5), cell tower (2/3), and manufactured housing (2/3) REIT sectors have boosted their dividends this year.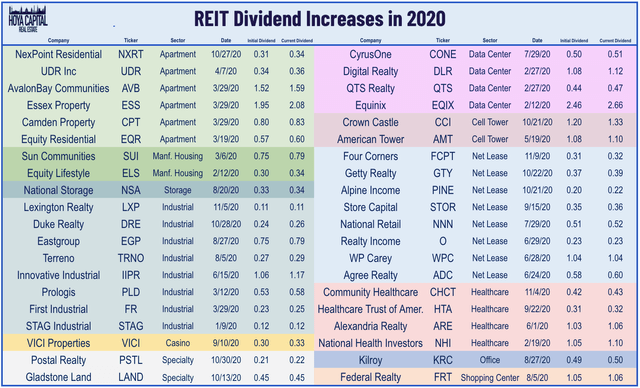 Hotels REITs:  Hersha Hospitality (HT) which soared more than 50% yesterday, dipped more than 7% today after reporting yesterday afternoon that its occupancy rate improved only marginally from last quarter, but that 37 of the company's 39 hotels are currently open. On average, hotel REITs reported average occupancy rates of 30% in the third quarter, up 14.6 percentage-points from last quarter's record-low rate of 15.6%.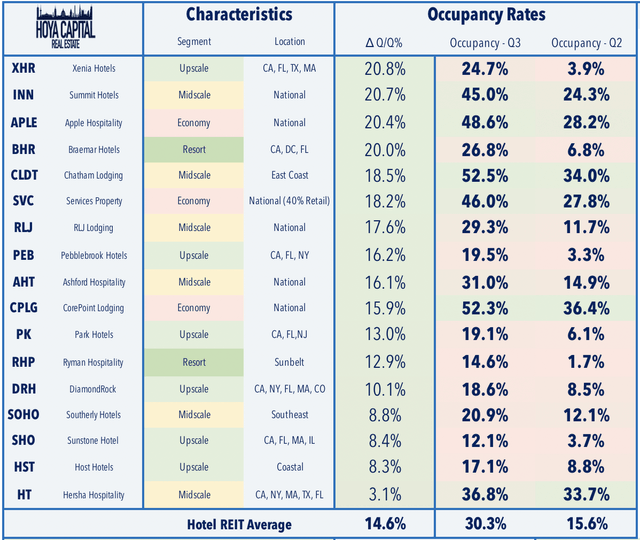 Mortgage REITs
As tracked in our Mortgage REIT Tracker, residential mREITs finished higher by 4.5% today and are now higher by 8.7% this week. Commercial mREITs gained also 4.5% today and are now higher by 13.6% this week. Cherry Hill (CHMI) plunged today after reporting that its Book Value Per Share declined by 14.1% in Q3, by far the worst in the mREIT sector. Granite Pointe (GPMT) jumped more than 6% after it reported better-than-expected results yesterday afternoon. Broadmark Realty (BRMK) also finished higher by more than 1.5% today after it reported decent results yesterday afternoon, "reflecting the resiliency of housing fundamentals in our high-growth target markets."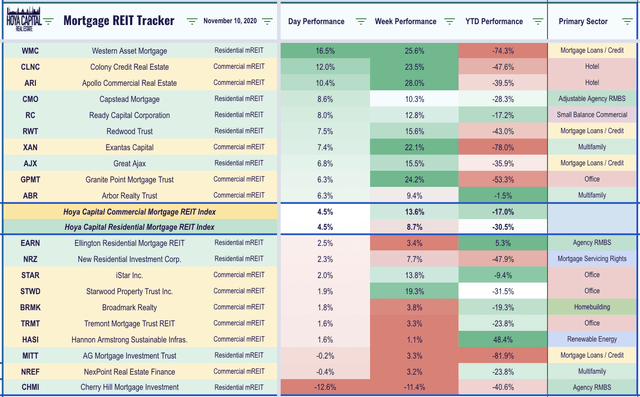 Third-quarter mREIT earnings season is now complete. Residential mREITs reported an average 7% gain in Book Values in the quarter following the 9% gain in Q2. Residential mREITs currently trade at an average 20% discount to their reported tangible book value. Commercial mREITs reported an average 2% rise in Book Values in Q3 following the fractional gain in Q2. Commercial mREITs currently trade at an average 20% discount to their reported BV. While commentary about the outlook for dividends was generally positive, we did hear any announced changes to distribution payouts during third quarter earnings season.

REIT Preferreds & Bonds
As tracked in our all-new REIT Preferred Stock & Bond Tracker, REIT Preferred stocks finished higher by 0.44% today, on average, but underperformed their respective common stock issues by an average of 1.68%. The leaders today were the preferred issues of Braemar Hotels (BHR.PD) and Summit Hotels (INN.PD). Among REITs that offer preferred shares, the performance of these securities has been an average of 17.92% higher in 2020 than their respective common shares.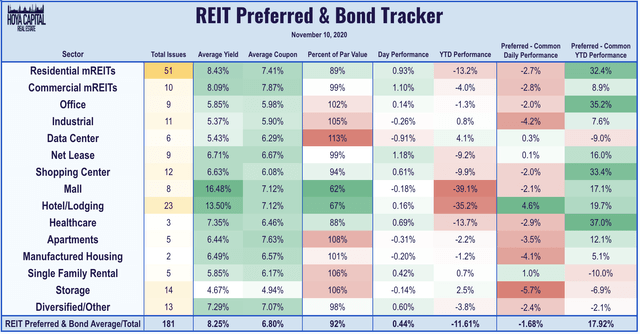 This Week's Economic Data
As discussed in our Real Estate Weekly Outlook, after a busy week of employment data, it will be a slower week of economic data in the week ahead headlined by the two major inflation reports. On Thursday, we'll see Consumer Price Index data for October and on Friday, we'll see Producer Price Index data. Inflation metrics perked up a bit during the summer after hitting multi-decade lows during the shutdown-months, but the upward pressure appeared to have stalled in recent months as the pandemic-related supply-chain issues get resolved. We'll again be watching Jobless Claims data on Thursday and JOLTS Job Openings data on Tuesday as well as Mortgage Applications data on Wednesday.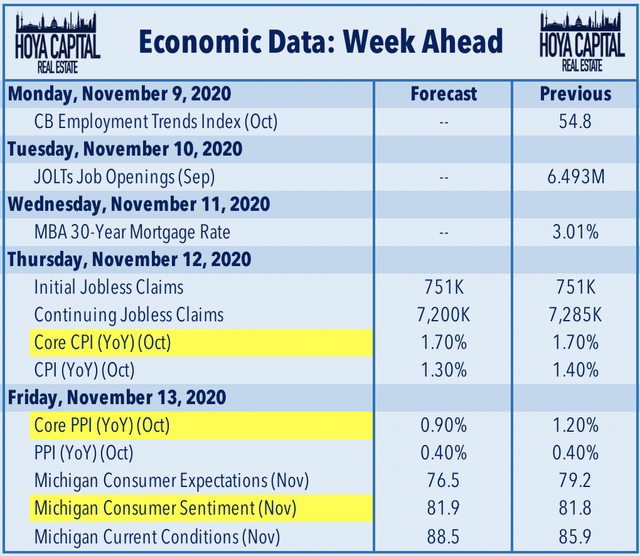 Join our Mailing List on our Website
iREIT on Alpha is the exclusive home to Hoya Capital premium research. Visit our website and join our email list for quick access to our real estate research library: HoyaCapital.com where we have links to all of our real estate sector reports and daily recaps. You can also follow our real-time commentary on Twitter, LinkedIn, and Facebook.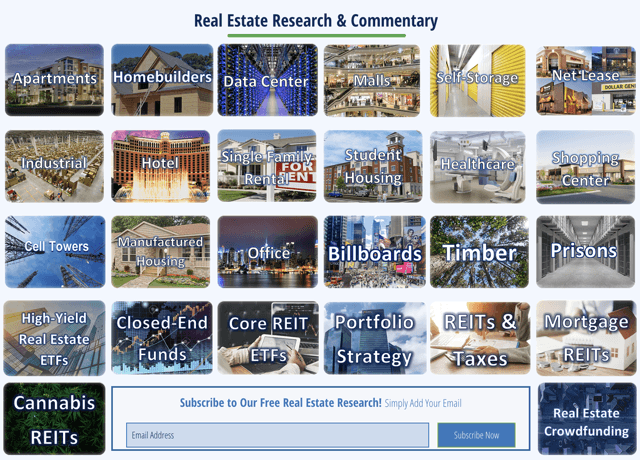 Disclosure: A complete list of holdings and Real Estate and Housing Index definitions and holdings are available at HoyaCapital.com. Hoya Capital Real Estate advises an Exchange Traded Fund listed on the NYSE. Hoya Capital is long all components in the Hoya Capital Housing 100 Index.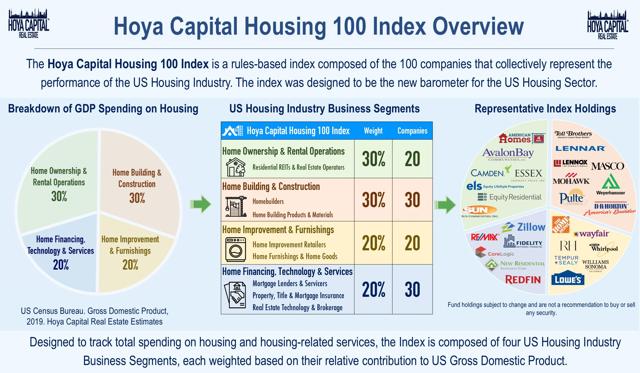 Hoya Capital Teams Up With iREIT
Hoya Capital is excited to announce that we've teamed up with iREIT to cultivate the premier institutional-quality real estate research service on Seeking Alpha! This idea was discussed in more depth with iREIT on Alpha members. Exclusive articles typically contain 2-3x more research content including access to iREIT on Alpha's REIT Ratings and live trackers. Sign-up for the 2-week free trial today! iREIT on Alpha is your one-stop source for unmatched Equity and Mortgage REIT coverage, Dividend ETF Analysis, High-Yield REIT Preferred Stocks & Bonds, real estate macroeconomic research, REIT and property-level analytics, and real-time market commentary.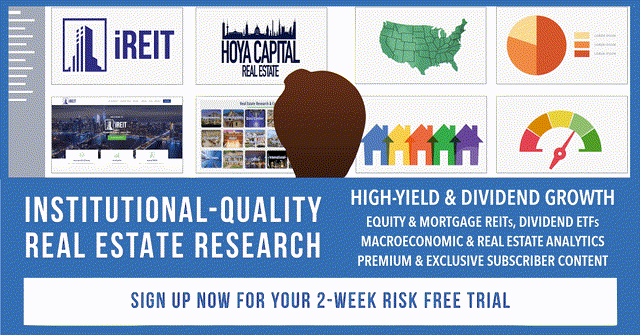 Additional Disclosure: It is not possible to invest directly in an index. Index performance cited in this commentary does not reflect the performance of any fund or other account managed or serviced by Hoya Capital Real Estate. Data quoted represents past performance, which is no guarantee of future results. Information presented is believed to be factual and up-to-date, but we do not guarantee its accuracy.
Disclosure: I am/we are long all holdings listed at www.hoyacapital.com