Real Estate Daily Recap
Our Real Estate Daily Recap discusses the notable news and events in the real estate sector over the last trading day and highlights sector-by-sector performance. We publish this note in its entirety every afternoon at HoyaCapital.com and occasionally post a condensed version here on Seeking Alpha to cover significant news and events. Subscribe to our free email list to keep up with the latest developments in the commercial and residential real estate sectors. Follow our real-time commentary on Twitter and LinkedIn.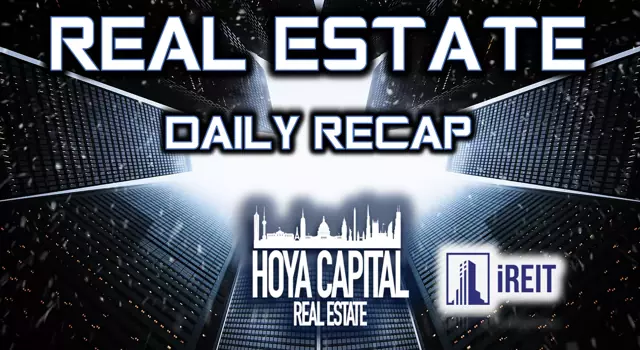 U.S. equity markets climbed to fresh record-highs on Monday following the release of positive trial results from Moderna's (MRNA) COVID-19 vaccine candidate, offsetting near-term concerns over economic shutdowns in several cities and states. Following combined gains of 10% over the past two weeks, the S&P 500 ETF (SPY) finished higher by 1.2% today while the Dow Jones Industrial Average (DIA) rallied 471 points closing within 50 points of 30,000. Adding to a historic rebound last week, the COVID-sensitive property sectors led the broad-based Equity REIT ETF (VNQ) to gains of 1.0% today as 14 of 18 property sectors finished in positive territory while the Mortgage REIT ETF (REM) jumped 3.4%, adding to last week's gains of nearly 9%.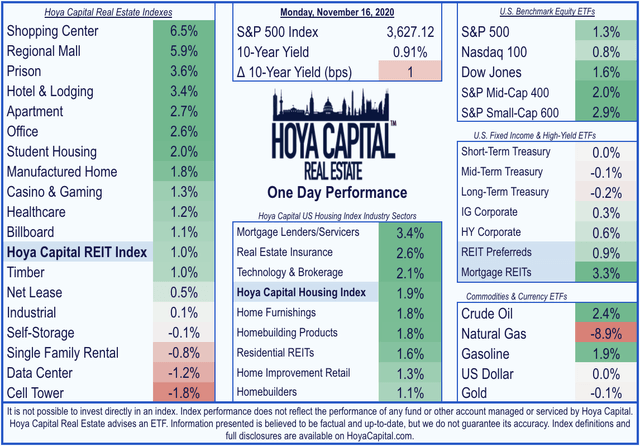 Déjà vu? After Pfizer's (PFE) announcement of positive vaccine trial results sent markets surging last Monday, Moderna announced this morning that its vaccine was 94.5% effective at protecting people from Covid-19 and expects to submit for an Emergency Use Authorization (EUA) "in the coming weeks." As discussed in our Real Estate Weekly Outlook, the clock is ticking for approval and distribution amid a "third wave" of targeted economic shutdowns in several hotspots around the country. 10 of the 11 GICS equity sectors finished higher today, led by the Energy (XLE) and Industrials (XLI) sectors. Residential REITs lifted the Hoya Capital Housing Index to solid gains as well ahead of a jam-packed week of housing data beginning on Tuesday as well as earnings reports from Home Depot (HD) and Lowe's (LOW).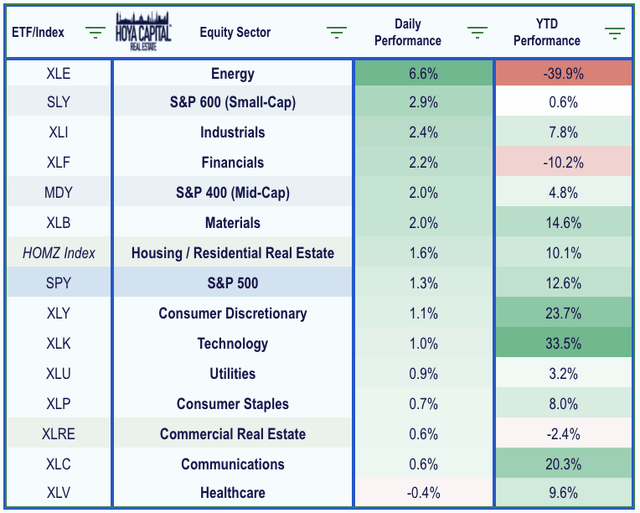 The busy week of economic data begins tomorrow morning with Retail Sales data for October, which are coming off a stronger-than-expected gain in September. Also on Tuesday, the NAHB will release Homebuilder Sentiment data for November, which climbed to the highest level on record in the last report. On Wednesday, we'll see Housing Starts and Building Permits for October which are each expected to continue their strong post-pandemic rebound. Finally, on Friday, we'll see Existing Home Sales for October. Existing Home Sales rose to the strongest sales pace in 14 years in September. As usual, we'll be watching the weekly Jobless Claims data on Thursday as well as Mortgage Applications data on Wednesday.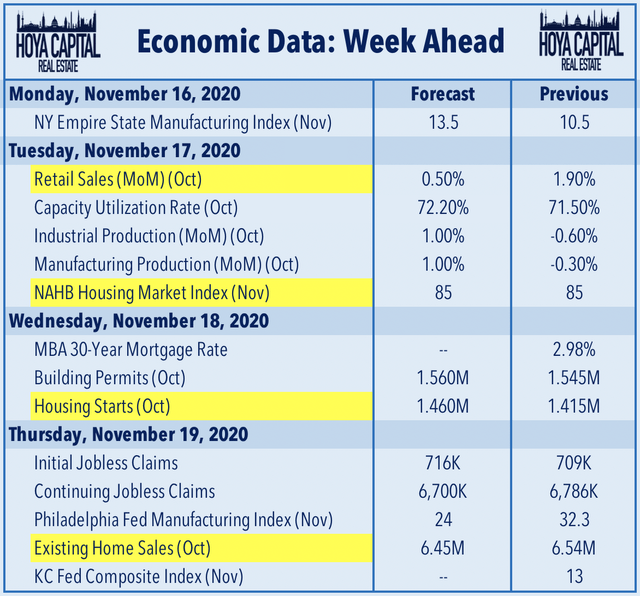 Commercial Equity REITs
Malls: The ongoing merger saga between Simon Property (SPG) and Taubman Centers (TCO) appears to be nearing a relatively peaceful conclusion after the two firms agreed to a revised agreement following months of legal sparring. Under the revised deal, Simon will now pay $43 per share for Taubman, down roughly 18% from an original (pre-pandemic) price of $52.50 As reported by CNBC, both Simon's and Taubman's boards of directors have approved the terms of the transaction, and the deal is expected to close either later this year or in early 2021. Boosted by the vaccine news this morning, Simon gained nearly 6% today while Taubman jumped more than 8%. Last week, we published Mall REITs: Too Little, Too Late where we analyzed third-quarter earnings results from the struggling sector.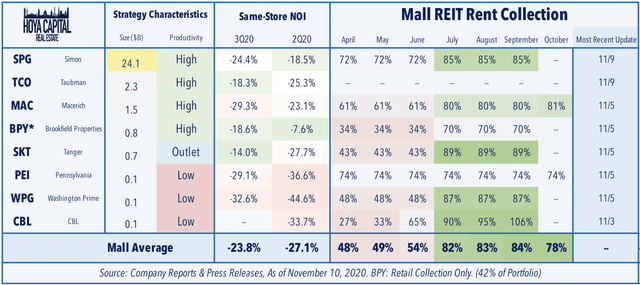 Apartments: The urban-focused multifamily REITs were again among the leaders today as Equity Residential (EQR), UDR Inc (UDR), and Aimco (AIV) each added to last week's rally in which each gained over 16%. Last Friday, we published Apartment REITs: Urban Exodus Until Vaccine where we analyzed how third-quarter earnings results revealed a striking bifurcation between the coastal and sunbelt-focused REITs. Sunbelt-focused REITs continue to see positive rent and occupancy growth in Q3, which further accelerated into October. While forthcoming vaccines may reverse recent dynamics, rental rates and occupancy levels have plunged in New York, L.A., Chicago, D.C., and San Francisco, and don't yet appear to have bottomed.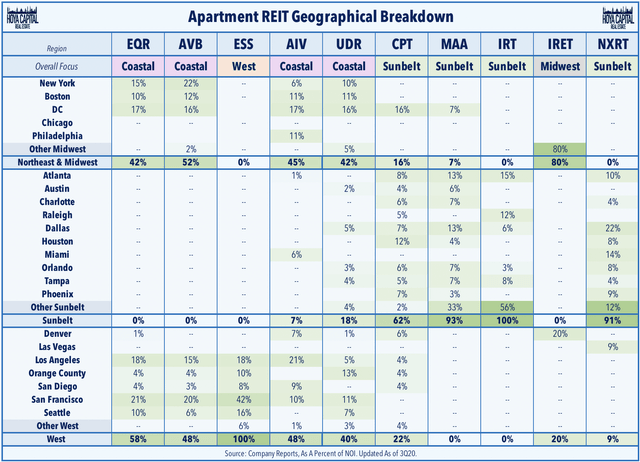 Shopping Centers: Vaccine-related optimism also powered strong gains from shopping center REITs Regency Centers (REG) Federal Realty (FRT), which each gained more than 7% today following a 30% gain last week. While we've seen far more dividend increases than dividend cuts in the REIT sector over the past three months, one retail REIT did add their name to the list of dividend cuts last Friday. Shopping center REIT Retail Value (RVI), which pays its distribution on an annual schedule, reduced its annual dividend from $2.05 to $1.16, becoming the 66th equity REIT to reduce or suspend its dividend this year. Since the start of Q3, however the number of dividend raises has outpaced the number of dividend cuts by a rate of 3-to-1 with 40 equity REITs raising their dividend in 2020.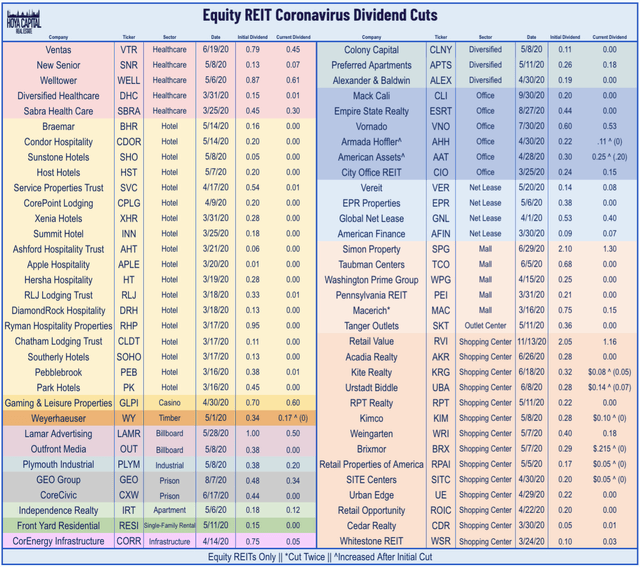 Mortgage REITs
As tracked in our Mortgage REIT Tracker, residential mREITs higher by 3.8% after ending last week with gains of 8.0%. Commercial mREITs rallied 4.2% after gaining nearly 12% last week. Third-quarter mREIT earnings season wrapped up last week. Residential mREITs reported an average 7% gain in Book Values in the quarter following the 9% gain in Q2. Residential mREITs currently trade at an average 20% discount to their reported tangible book value. Commercial mREITs reported an average 2% rise in Book Values in Q3 following the fractional gain in Q2. Commercial mREITs currently trade at an average 20% discount to their reported BV.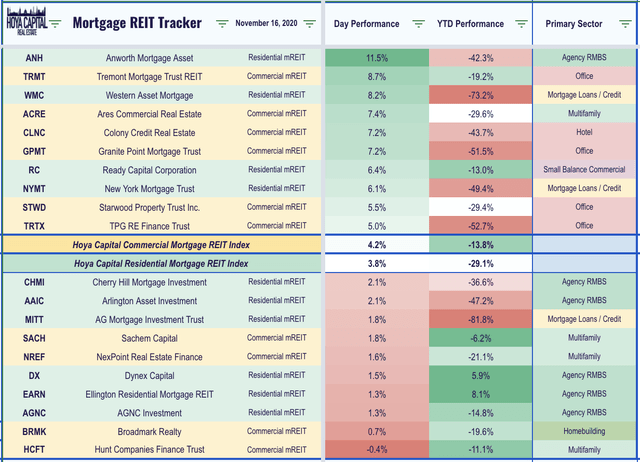 REIT Preferreds & Bonds
As tracked in our all-new REIT Preferred Stock & Bond Tracker, REIT Preferred stocks finished higher by 1.47% today, on average, but underperformed their respective common stock issues by an average of 2.23%. Leading the way today were the preferred issues of Southerly Hotels (SOHO) and Washington Prime (WPG). Among REITs that offer preferred shares, the performance of these securities has been an average of 16.60% higher in 2020 than their respective common shares. The average REIT Preferred issue trades at a 10% discount to Par Value.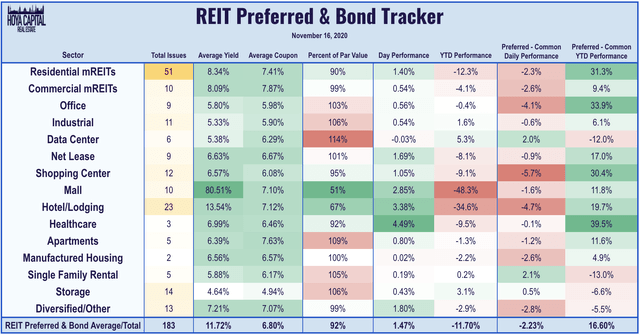 Join our Mailing List on our Website
Visit our website and join our email list for quick access to our real estate research library: HoyaCapital.com where we have links to all of our real estate sector reports and daily recaps. You can also follow our real-time commentary on Twitter, LinkedIn, and Facebook.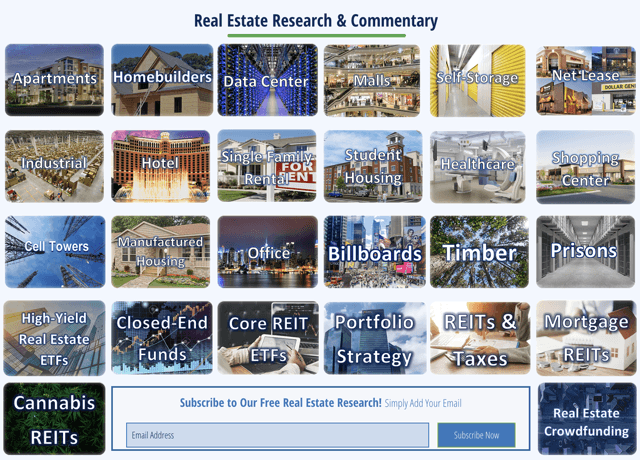 Disclosure: A complete list of holdings and Real Estate and Housing Index definitions and holdings are available at HoyaCapital.com. Hoya Capital Real Estate advises an Exchange Traded Fund listed on the NYSE. Hoya Capital is long all components in the Hoya Capital Housing 100 Index.

Disclosure: I am/we are long all holdings listed at www.hoyacapital.com