Real Estate Daily Recap
Our Real Estate Daily Recap discusses the notable news and events in the real estate sector over the last trading day and highlights sector-by-sector performance. We publish this note in its entirety on The REIT Forum and post this condensed version on our website and Seeking Alpha blog to cover significant news and events. Subscribe to our free email list to keep up with the latest developments in the commercial and residential real estate sectors. Follow our real-time commentary on Twitter and LinkedIn.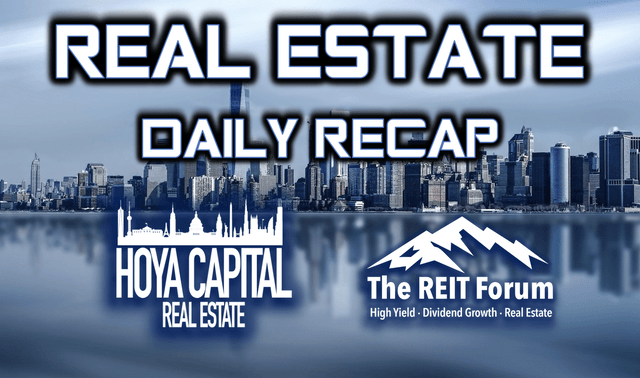 U.S. equity markets retreated from record-highs as investors await Congress to finalize the long-delayed fiscal stimulus renewal and assess the early progress on coronavirus vaccine distribution. Finishing the week higher by 0.8%, the S&P 500 ETF (SPY) finished lower by 0.4% today while the Dow Jones Industrial Average (DIA) declined 123 points. Real estate equities were the laggards on the day as the broad-based Equity REIT ETF (VNQ) finished lower 1.9% today with all 18 property sectors in negative territory. The Mortgage REIT ETF (REM) declined 0.5% on the day.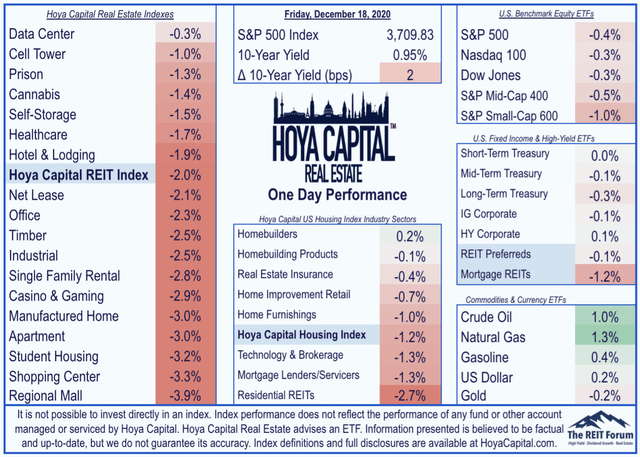 The first week of coronavirus vaccine distribution has seemingly progressed as-expected with roughly 3 million doses of Pfizer's (PFE) vaccine shipped and should ramp-up next week following the anticipated approval of the Moderna (MRNA) vaccine and as many as 40 million Americans - 15% of the U.S. population - could be vaccinated over the next two weeks. 6 of the 11 GICS equity sectors finished in negative territory today, dragged on the downside by the Energy (XLE), Commercial Real Estate (XLRE), and Financials (XLF) sectors. We'll have a full analysis of REIT Dividend Season and this week's price action in our Real Estate Weekly Recap published tomorrow morning.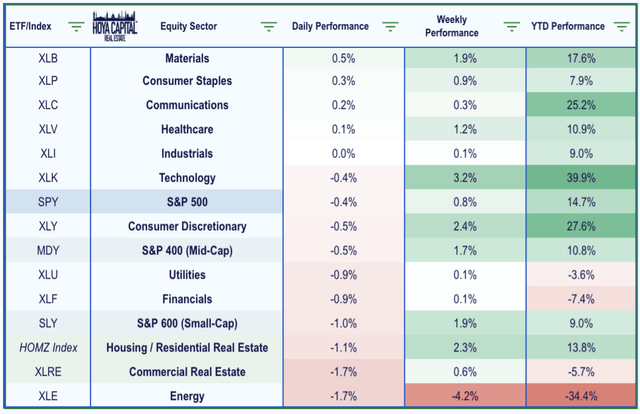 Commercial Equity REITs
"Dividend Declaration Season" did not disappoint. After five equity REITs boosted their dividends last week, and six in the prior week, we heard an additional three equity REITs boost their dividends this week: diversified REIT Alexander & Baldwin (ALEX), shopping center REIT Kite Realty (KRG), and cannabis REIT Innovative Industrial Properties (IIPR). To date, 67 of the 170 equity REITs in our coverage continue to pay dividends below their pre-pandemic rates. On the other side, 50 equity REITs are now paying dividends above their 2019 rates, a list dominated by the "essential" property sectors including housing, industrial, and technology REITs.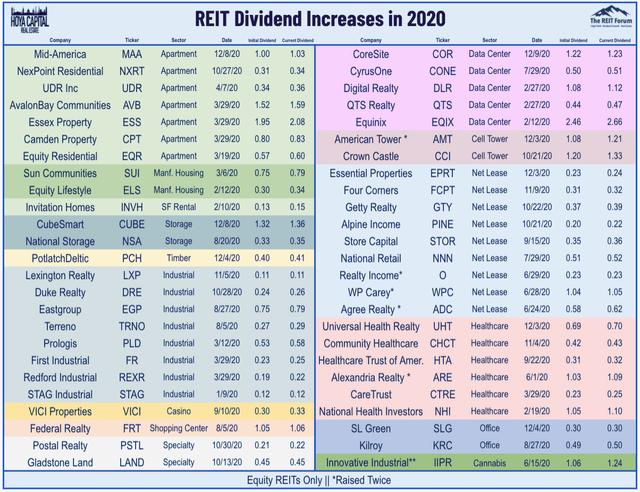 Mortgage REITs
As tracked in our Mortgage REIT Tracker available to The REIT Forum subscribers, residential mREITs finished lower by 1.1% today but ended the week with gains of 1.0%. Commercial mREITs finished lower by 1.6% today but gained 0.4% on the week. Two Harbors (TWO) finished lower by 2.5% despite declaring a $0.17/share quarterly dividend, a 21.4% increase from its prior dividend of $0.14, but below its pre-pandemic rate of $0.40 per share. Western Asset Mortgage (WMC) dipped 2.2% despite declaring a $0.06/share quarterly dividend, a 20% increase from its prior dividend of $0.05, but below its pre-pandemic rate of $0.31 per share.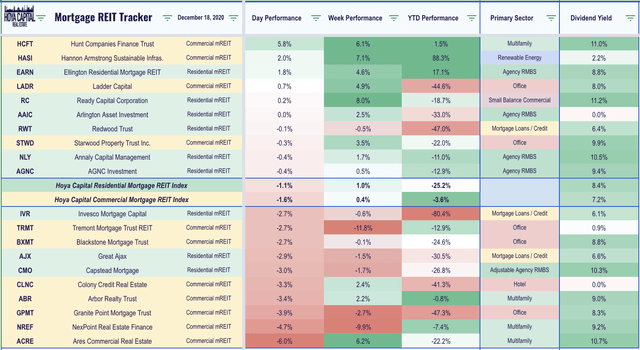 Hunt Companies (HCFT) gained 5.8% after it declared a $0.09/share quarterly dividend, a 5.9% increase from its prior dividend of $0.085. HCFT is one of just two mREITs that has raised its dividend in 2020 above pre-pandemic rates. As discussed last week, we're expecting some of the 32 mREITs that reduced their dividends during the pandemic to declare special distributions in order to meet minimum distribution requirements. As noted in 'Tis The Season For REIT Dividends, The IRS did relax the required cash component of the distribution rules, and the fact that the payout rules are based on net income rather than cash flows may effectively "exempt" many of these REITs from distribution requirements.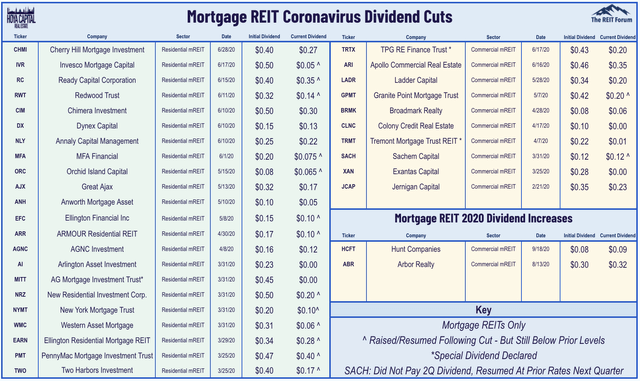 REIT Preferreds & Bonds
As tracked in our REIT Preferred Stock & Bond Tracker available to The REIT Forum subscribers, REIT Preferred stocks finished lower by 0.01%, on average, but outperformed their respective common stock issues by an average of 2.71%. Among REITs that offer preferred shares, the performance of these securities has been an average of 14.51% higher in 2020 than their respective common shares. The average REIT preferred trades at a 5% discount to Par Value and has an average current yield of 6.81%.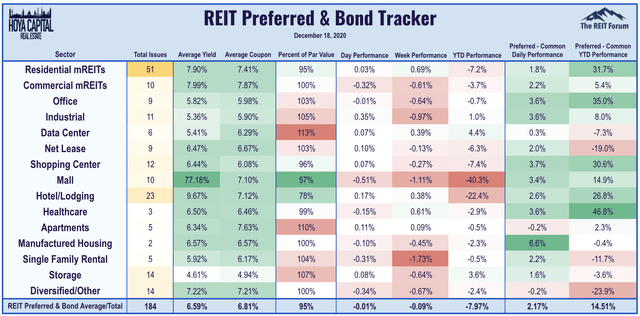 Economic Data This Week
We'll have a full analysis and recap of the busy week of economic data in our Real Estate Weekly Outlook report published on Saturday morning.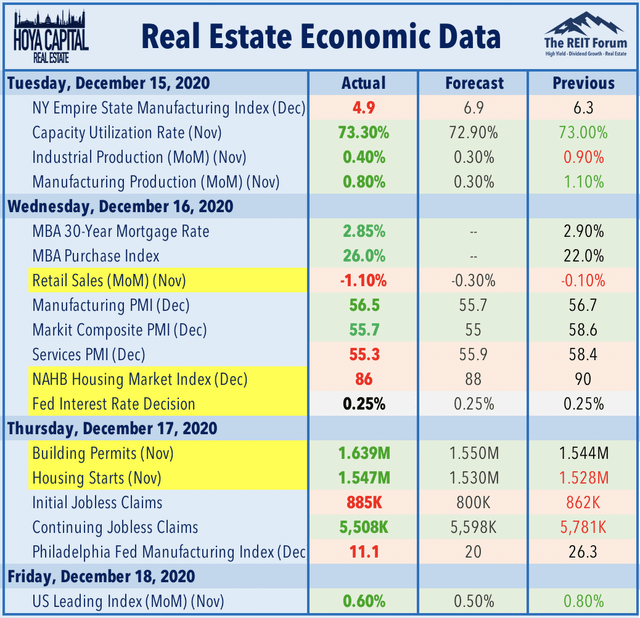 Announcement: Hoya Capital Joins The REIT Forum
Hoya Capital is excited to announce that we've teamed up with The REIT Forum to bring the premier research service on Seeking Alpha to the next level. Exclusive articles contain 2-3x more research content including access to The REIT Forum's exclusive ratings and live trackers and valuation tools. Sign up for the 2-week free trial today! The REIT Forum offers unmatched coverage and top-quality model portfolios for Equity and Mortgage REITs, Real Estate ETFs and CEFs, High-Yield BDCs, and REIT Preferred Stocks & Bonds.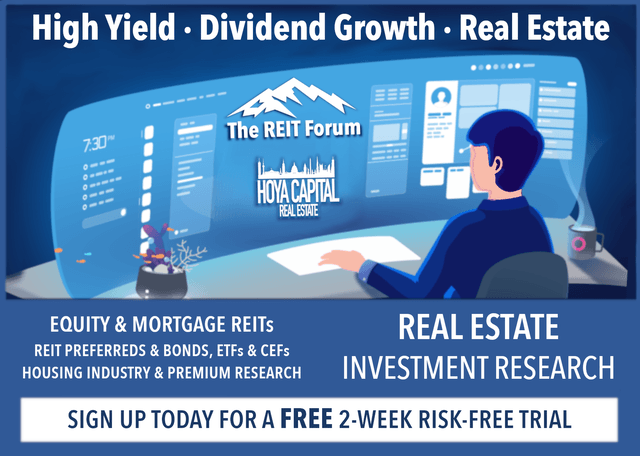 Join our Mailing List on our Website
The REIT Forum is the exclusive home to Hoya Capital premium research. Visit our website and join our email list for quick access to our real estate research library: HoyaCapital.com where we have links to all of our real estate sector reports and daily recaps. You can also follow our real-time commentary on Twitter, LinkedIn, and Facebook.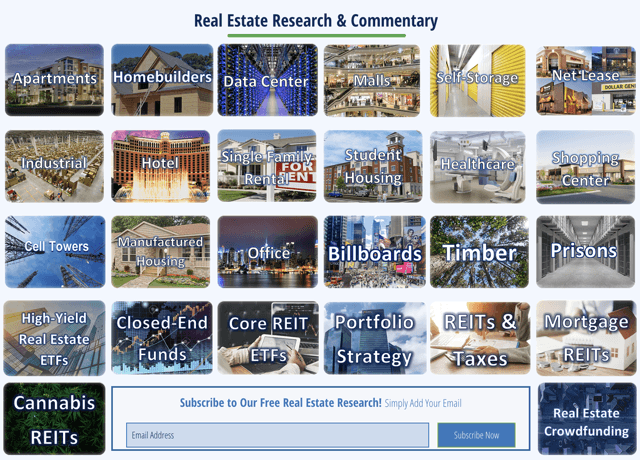 Disclosure: A complete list of holdings and Real Estate and Housing Index definitions and holdings are available at HoyaCapital.com. Hoya Capital Real Estate advises an Exchange Traded Fund listed on the NYSE. Hoya Capital is long all components in the Hoya Capital Housing 100 Index.

Additional Disclosure: It is not possible to invest directly in an index. Index performance cited in this commentary does not reflect the performance of any fund or other account managed or serviced by Hoya Capital Real Estate. Data quoted represents past performance, which is no guarantee of future results. Information presented is believed to be factual and up-to-date, but we do not guarantee its accuracy.
I am/we are long all holdings listed at www.HoyaCapital.com