Real Estate Daily Recap
Our Real Estate Daily Recap discusses the notable news and events in the real estate sector over the last trading day and highlights sector-by-sector performance. We publish this note every afternoon on The REIT Forum and occasionally on our website and this Seeking Alpha blog to cover significant news and events. Subscribe to our free email list to keep up with the latest developments in the commercial and residential real estate sectors. Follow our real-time commentary on Twitter and LinkedIn.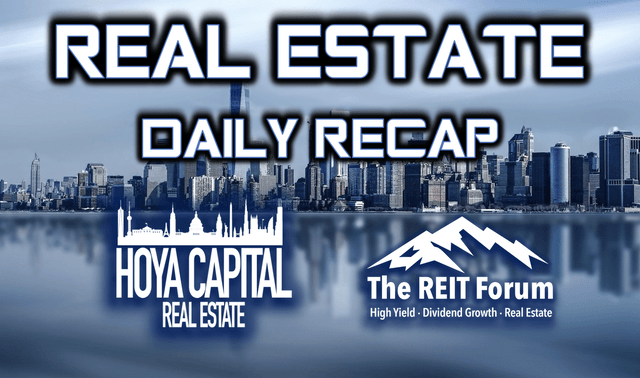 U.S. equity markets posted sharp declines Friday pushing the major averages to the worst-week since last October amid an ongoing "short squeeze frenzy" that overshadowed a generally strong week of earnings and economic data. Finishing the week with declines of nearly 3.5%, the S&P 500 ETF (SPY) finished lower by 1.9% today while the Dow Jones Industrial Average (DIA) slid 620 points. Real estate equities were a source of stability both today and on the week as the broad-based Equity REIT ETFs (VNQ) were lower by 1.2% today with 6 of 19 property sectors in positive territory while the Mortgage REIT ETFs (REM) declined by 2.3%.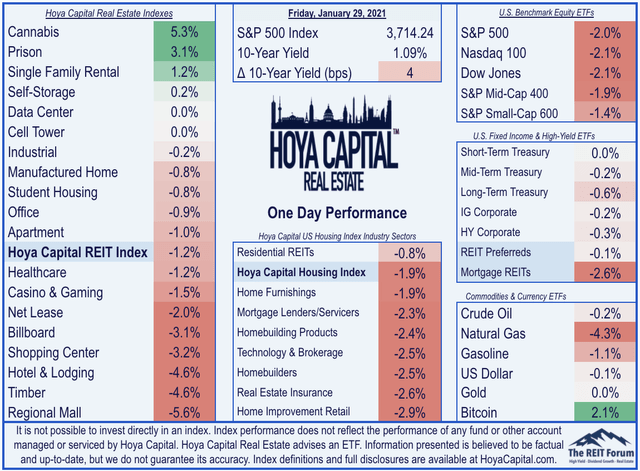 Uncertainty over the potential ramifications of the GameStop (GME) saga weighed on investor sentiment this week, but importantly, bond markets have so far been unphased by the sudden surge in equity market volatility with the major bond indexes ending the week essentially unchanged.  All eleven GICS equity sectors were lower on the day and for the week, dragged on the downside by the previously high-flying Energy (XLE) sector. We'll publish a full analysis and commentary of this week's developments in the real estate industry, as well as an analysis of the busy week of economic data in our Real Estate Weekly Outlook report published on Saturday morning.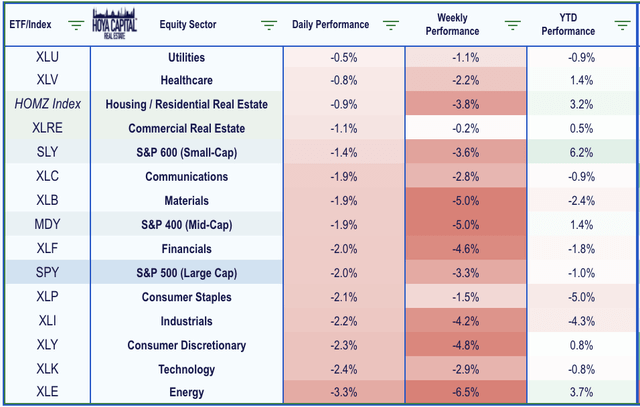 Real Estate Earnings Update
Today, we published REITs Getting Short Squeezed. The breathtaking surge in GameStop (GSE) - along with a swelling number of heavily-shorted stocks - has sent shockwaves through financial markets amid an ongoing battle between institutional and self-directed investors. Mall REITs, along with a handful of other heavily-shorted REITs, have been swept up in the short squeeze frenzy. Six REITs have surged more than 50% this month while three have doubled. Among these heavily-shorted names, Macerich (MAC) dipped over 15% each today on reports that its biggest shareholder, Ontario Teachers Pension Plan, sold its entire 16% stake in Macerich for roughly $500M.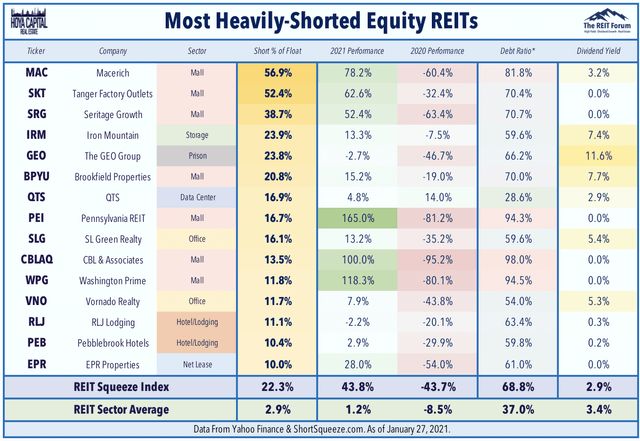 Overshadowed by the short squeeze phenomenon, we also heard a flurry of REIT dividend increases over the last 24 hours. Invitation Homes (INVH) declared a $0.17/share quarterly dividend, a 13.3% increase from its prior dividend of $0.15. Apartment Income (AIRC) declared a $0.43/share quarterly dividend, a 5% increase from its prior dividend of $0.41. And finally, Postal Realty (PSTL) declared a $0.2175/share quarterly dividend, a 1.2% increase from its prior dividend of $0.2150. Through the first month of 2021, eight equity REITs have increased their dividend to payouts above 2019-levels.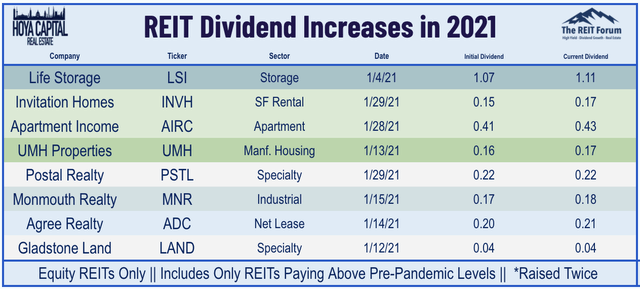 Earlier this week we published REIT Earnings Preview: Rents Paid, Dividends Raised? Real estate earnings season kicks off this week while more than 175 equity REITs, 40 equity REITs, and dozens of housing industry companies reporting earnings over the next five weeks. While missed rents and dividend cuts were the prevailing themes in the REIT sector in mid-2020, the vaccine-driven sector rotation has been the dominant theme over the past quarter. Normalizing rent collection and positive dividend commentary could be a positive catalyst to continue the recovery. We expect a historic year for dividend increases following the wave of pandemic-related cuts.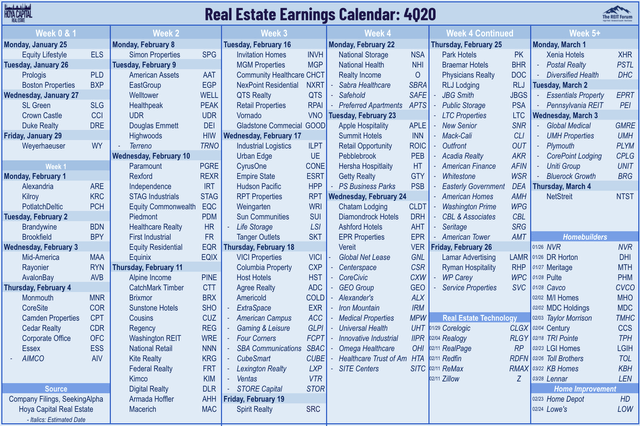 Timber: Weyerhaeuser (WY) finished lower today despite reporting results that beat on the top and bottom line as full-year EBITDA surged by 72%, powered by the red-hot housing market. Perhaps disappointing investors, the firm announced a new dividend framework in which the firm plans to return 75% to 80% of AFFO back to shareholders, both through the base dividend and then, ultimately, the supplemental dividend. The first supplemental dividend is planned for Q1 of next year. The firm also commented, "U.S. housing activity continued its torrid pace throughout the fourth quarter, with no seasonal slowdown in building activity. We expect numerous macroeconomic tailwinds will continue to drive favorable housing activity."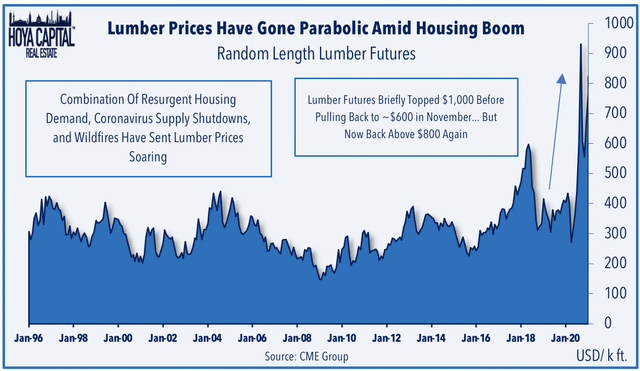 Mortgage REITs
As tracked in our Mortgage REIT Tracker available to The REIT Forum subscribers, residential mREITs finished lower by 2.4% today to end the week with declines of 3.3%. Commercial mREITs finished lower by 2.4% as well today to finish the week lower by 4.6%. Invesco Mortgage (IVR), the most heavily-shorted mortgage REIT, was among the standouts today and on the week, jumping another 2.4% today to push its weekly gains to 13.5%. Other heavily-shorted mREITs include iStar (STAR), Armour Residential (ARR), Western Mortgage (WMC), and Orchid Island Capital (ORC).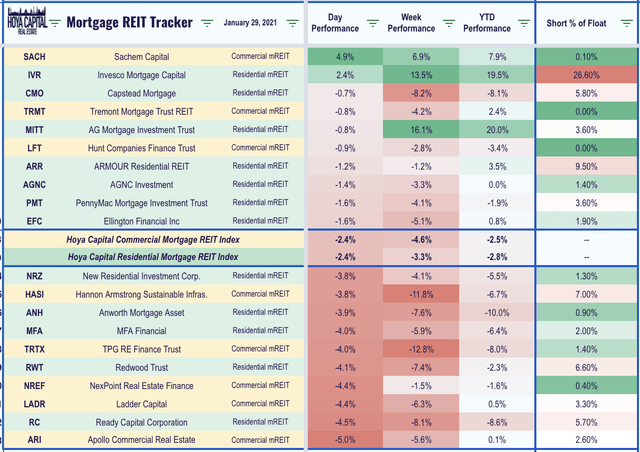 The iShares Mortgage REIT ETF (REM) ended 2020 with total returns of -20.8%, but the market-cap weighted index hides some of the permanent scars of 2020 on a handful of mREITs. Using a simple average, among the 23 residential mREITs, the average price return in 2020 was -33.3%. Among the 18 commercial mREITs, the average price return in 2020 was -18.5%. Of the 41 mREITs in the NAREIT universe, just two paid higher dividends in 2020 compared to 2019, seven paid the same rate, while 32 paid lower dividends.

REIT Preferreds & Bonds
Per the REIT Preferreds & Bond Tracker available to The REIT Forum subscribers, REIT Preferred stocks finished higher by 0.01% today, on average, and outperformed their respective common stock issues by an average of 2.04%. The REIT Preferred ETF (PFFR) ended 2020 with total returns of -0.2% and REIT preferreds are higher by 1.22% through the first four weeks of 2021. The average REIT preferred trades at a 4% discount to Par Value and has an average current yield of 6.55%.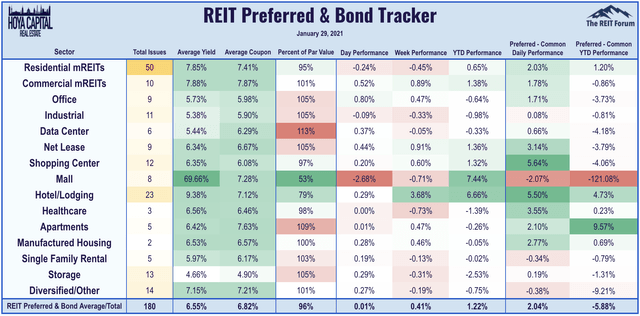 Economic Data In the Week Ahead
We'll publish a full analysis and commentary of this week's economic data in our Real Estate Weekly Outlook report published on Saturday morning.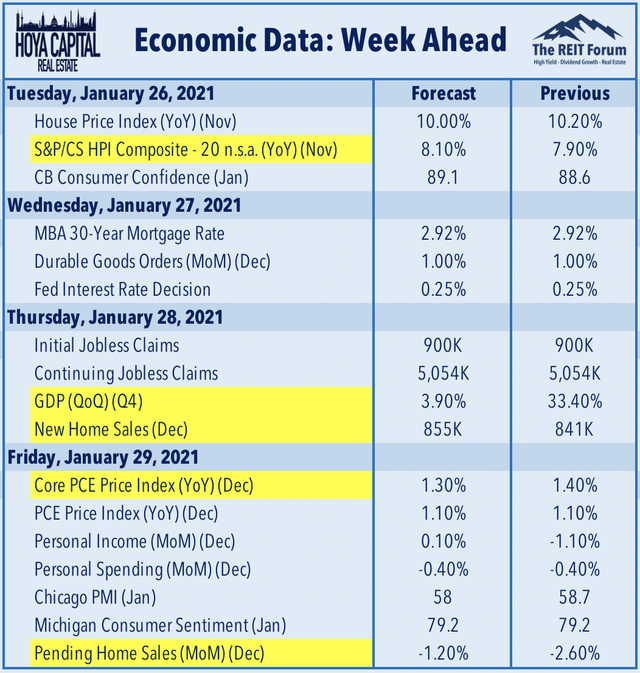 Announcement: Hoya Capital Joins The REIT Forum
Hoya Capital is excited to announce that we've teamed up with The REIT Forum to bring the premier research service on Seeking Alpha to the next level. Exclusive articles contain 2-3x more research content including access to The REIT Forum's exclusive ratings and live trackers and valuation tools. Sign up for the 2-week free trial today! The REIT Forum offers unmatched coverage and top-quality model portfolios for Equity and Mortgage REITs, Real Estate ETFs and CEFs, High-Yield BDCs, and REIT Preferred Stocks & Bonds.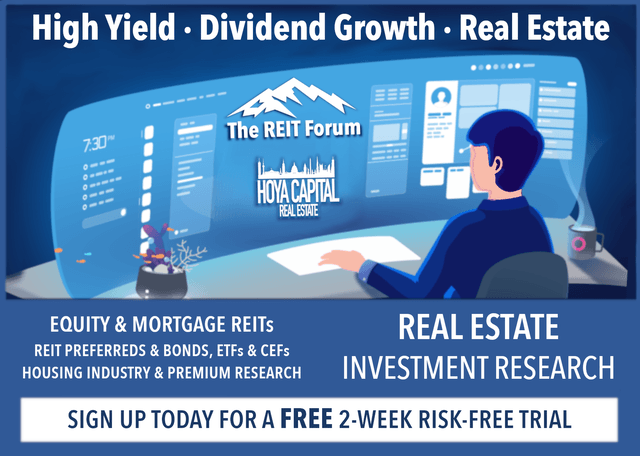 Join our Mailing List on our Website
The REIT Forum is the exclusive home to Hoya Capital premium research. Visit our website and join our email list for quick access to our real estate research library: HoyaCapital.com where we have links to all of our real estate sector reports and daily recaps. You can also follow our real-time commentary on Twitter, LinkedIn, and Facebook.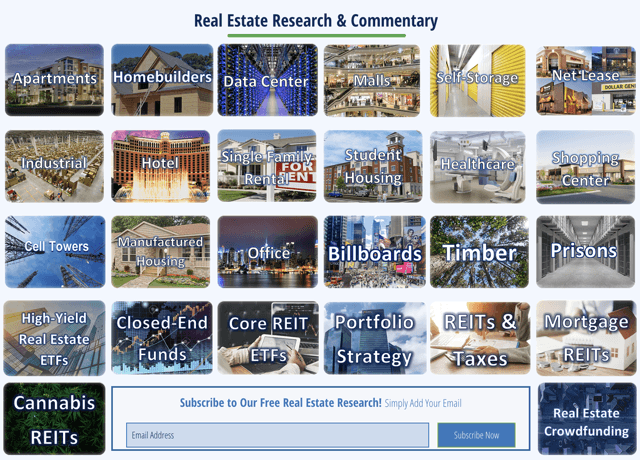 Disclosure: A complete list of holdings and Real Estate and Housing Index definitions and holdings are available at HoyaCapital.com. Hoya Capital Real Estate advises an Exchange Traded Fund listed on the NYSE. Hoya Capital is long all components in the Hoya Capital Housing 100 Index.

Additional Disclosure: It is not possible to invest directly in an index. Index performance cited in this commentary does not reflect the performance of any fund or other account managed or serviced by Hoya Capital Real Estate. Data quoted represents past performance, which is no guarantee of future results. Information presented is believed to be factual and up-to-date, but we do not guarantee its accuracy.
I am/we are long all holdings listed at www.HoyaCapital.com