Real Estate Daily Recap
Our Real Estate Daily Recap discusses the notable news and events in the real estate sector over the last trading day and highlights sector-by-sector performance. We publish this note every afternoon on The REIT Forum and occasionally on our website and this Seeking Alpha blog to cover significant news and events. Subscribe to our free email list to keep up with the latest developments in the commercial and residential real estate sectors. Follow our real-time commentary on Twitter and LinkedIn.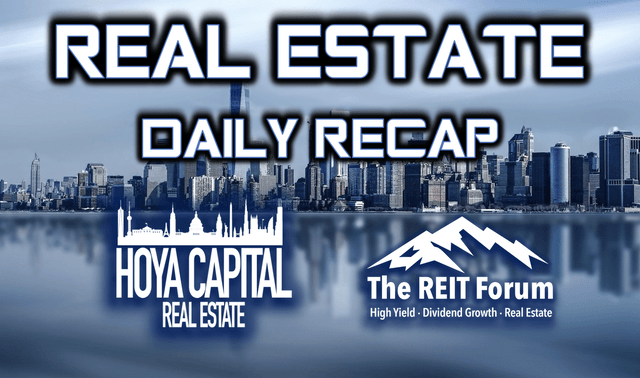 U.S. equity markets continued their rally Friday, ending the week with strong gains, following as corporate earnings reports and recent economic and coronavirus data suggested a sooner-than-feared return to normalcy. Ending the week with gains of 4.8%, the S&P 500 ETF (SPY) finished higher by another 0.4% today while the Dow Jones Industrial Average (DIA) added another 92 points. Real estate equities were higher again today and ended the week with robust gains. The broad-based Equity REIT ETFs gained 0.4% today to end the week higher by 3.7%. The broad-based Equity REIT ETFs (VNQ) gained 0.4% today to end the week with gains of 3.7% while Mortgage REITs (REM) gained 1.2% today and 6.3% this week.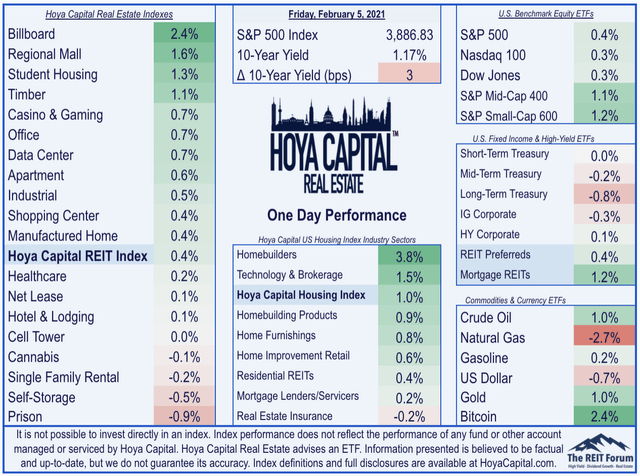 Ten of the eleven GICS equity sectors finished on the upside today - and all eleven were higher on the week - led today by the Materials (XLB) sector. Homebuilders and the broader Hoya Capital Housing Index were also upside standouts today while Small-Caps (MDY) and Mid-Caps (MDY) continued their outperformance to end the week with gains of 5.5% and 6.0%, respectively. We'll publish a full analysis of this week's developments in the real estate industry, as well as an analysis of the busy week of economic data in our Real Estate Weekly Outlook report published on Saturday morning.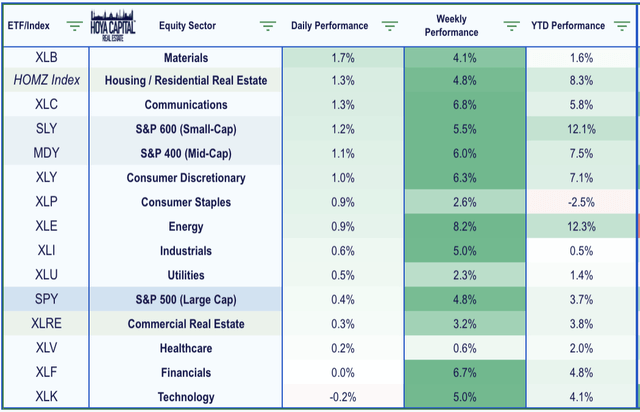 Today's gains came despite a mixed slate of employment data. The Bureau of Labor Statistics reported that the U.S. economy added 49k jobs in January - slightly below expectations of between 50-100k jobs added - and revisions to the prior two months subtracted 159k jobs. The "headline" unemployment rate, however, ticked lower to 6.3%. The lukewarm nonfarm payrolls report followed encouraging jobless claims data earlier in the week as Initial Claims ticked lower to 779k while ADP Payrolls came in ahead of estimates.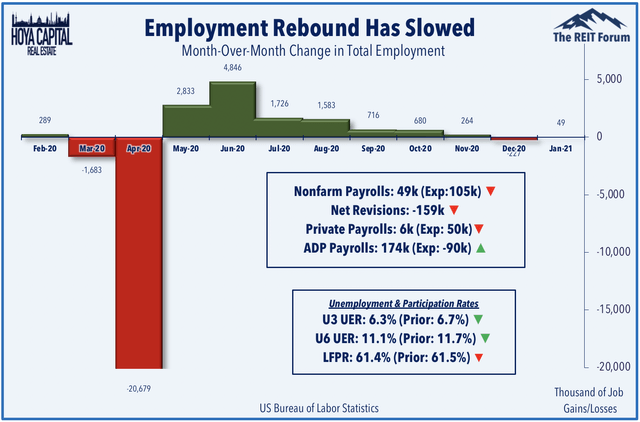 Real Estate Earnings Update
Today, we published Game Stopped For Shorted REITs. The short squeeze frenzy - which sent shockwaves through financial markets and the political establishment - has fizzled out over the last week following a dramatic surge from many troubled businesses. The five heavily-shorted mall REITs have plunged nearly 30% since the peak of the frenzy, not quite as sharp as their retail tenants GameStop (GME) and AMC Entertainment (AMC). As expected, the beginning of earnings season has been a "reality check" for several of the recent high-flyers. Following in the footsteps of AMC Entertainment, several of these troubled mall REITs are seeking to raise much-needed capital while the kettle is still hot, but investors should be wary of being burned.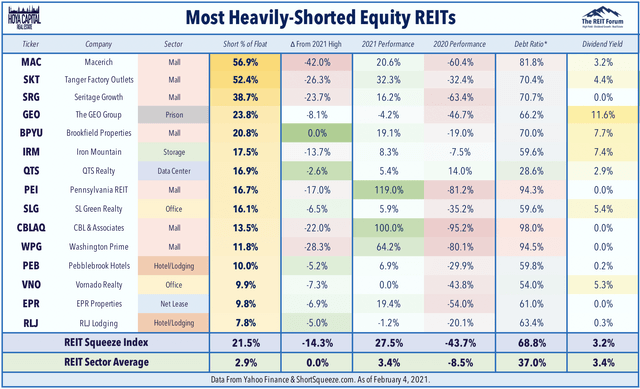 Last week we published REIT Earnings Preview: Who Paid The Rent? Real estate earnings season hit high-gear this week while more than 175 equity REITs, 40 equity REITs, and dozens of housing industry companies reporting earnings over the next five weeks. While missed rents and dividend cuts were the prevailing themes in the REIT sector in mid-2020, the vaccine-driven sector rotation has been the dominant theme over the past quarter. Normalizing rent collection and positive dividend commentary could be a positive catalyst to continue the recovery. We expect a historic year for dividend increases following the wave of pandemic-related cuts.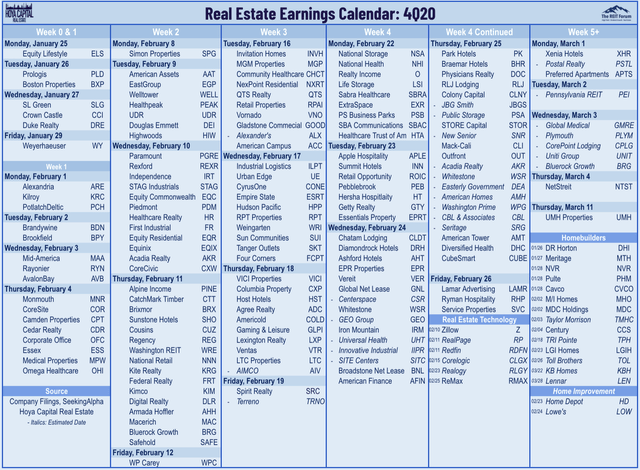 Apartments: Essex Properties (ESS) gained 2.4% after reporting results yesterday afternoon in which the West Coast-focused REIT saw signs of stabilization in Q4 as same-property revenue rose sequentially from Q3. The downward pressure on rents has continued, however, as the firm recognized a 6.8% decline in same-store NOI growth in 2020 and sees another 4.6% dip in 2021. Camden Properties (CPT) finished lower by 1.8% after reporting results yesterday afternoon as well. CPT's more Sunbelt-focused portfolio delivered comparatively strong performance as same-store NOI finished only slightly lower in 2020 and is expected to be essentially flat in 2021.  
Shopping Centers:Cedar Realty (CDR) finished lower by 0.8% today after reporting fourth quarter results yesterday afternoon. As expected, rent collection has essentially "normalized" for open-air shopping centers in Q4 as CDR reported collection of 94% of rents. Same-property net operating income (NOI) decreased -4.1% for the quarter, an improvement over its -9.1% decline in Q3 and -14.6% dip in Q2. For full-year 2020, FFO declined by -5.6%, a rather modest decline considering the dire outlook for all retailer landlords in mid-2020.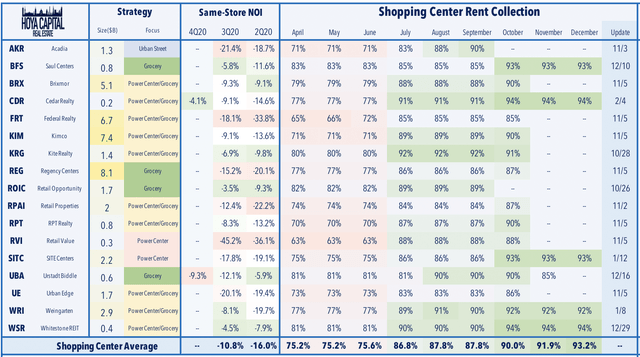 Healthcare: Skilled nursing REIT Omega Healthcare (OHI) gained 1.0% after reporting results yesterday afternoon. Consistent with our discussions over the last few months, government relief funds continue to pour into the healthcare sector, which has not only prevented catastrophe, but mid-pandemic fundamentals are also actually stronger for several healthcare REIT sub-sectors including skilled nursing facilities. OHI announced that collected 99% of rents while its AFFO rose 5.2% in 2020, a stunning turnaround for the skilled nursing sector which was previously on a steady downward spiral.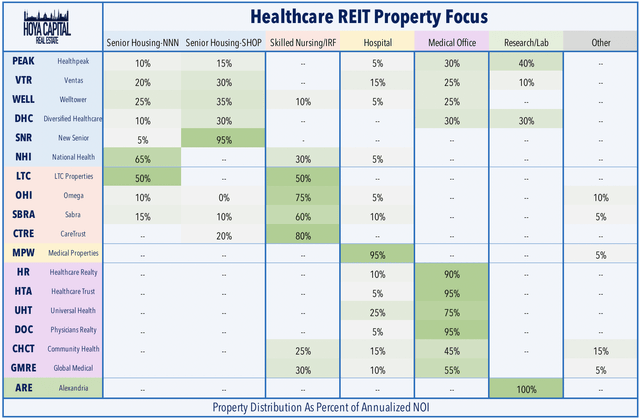 Mortgage REITs
As tracked in our Mortgage REIT Tracker available to The REIT Forum subscribers, residential mREITs finished higher by 1.3% today to push their weekly gains to 5.9%. Commercial mREITs finished higher by 1.2% to end the week higher by 5.8%. PennyMac Mortgage (PMT) finished lower by 0.7% today after reporting results yesterday afternoon. PMT reported that its book value per common share rose by 1.8% in Q4 to $20.30. With the gains in Q4, PennyMac's tangible BVPS is now only 5% below pre-COVID levels and its dividend has resumed at pre-COVID levels as well.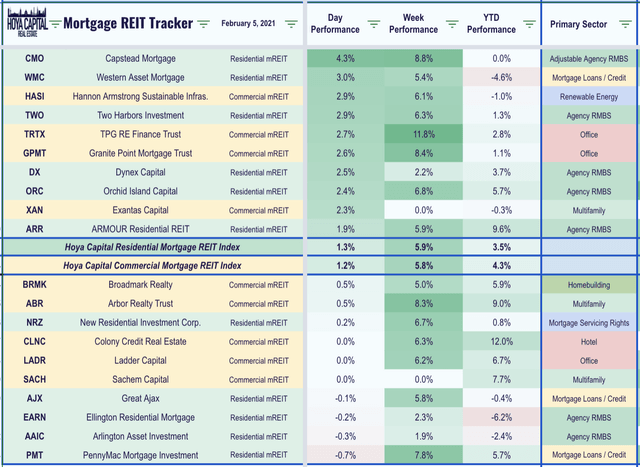 Earlier this week, we published our Mortgage REIT Earnings Preview. We discussed the three trends we're watching this earnings season: 1) Updated dividend commentary, 2) Updated book values, and 3) Commentary on the mortgage and housing markets. We discussed how the robust rebound and ongoing strength in the U.S. housing sector averted outright catastrophe for many mREITs. Mortgage REITs delivered a triple-digit-percentage-point rebound to end 2020 with total returns of -23.5%.
REIT Preferreds & Bonds
Per the REIT Preferreds & Bond Tracker available to The REIT Forum subscribers, REIT Preferred stocks finished higher by 0.39% today, on average, but underperformed their respective common stock issues by an average of 0.18%. Two Harbors (TWO) announced today that it will redeem all of its 7.75% Series D (TWO.PD) and 7.50% Series E (TWO.PD) Cumulative Redeemable Preferred Stock on March 15, 2021. Excluding the handful of retail and hotel REITs with suspended (cumulative) preferred dividends, the average REIT preferred trades at a 3% discount to Par Value and has an average current yield of 6.49%.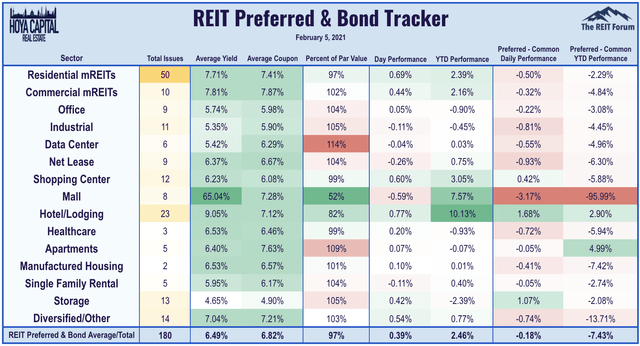 Economic Data This Week
We'll publish a full analysis and commentary of this week's developments in the real estate industry, as well as an analysis of the busy week of economic data in our Real Estate Weekly Outlook report published on Saturday morning.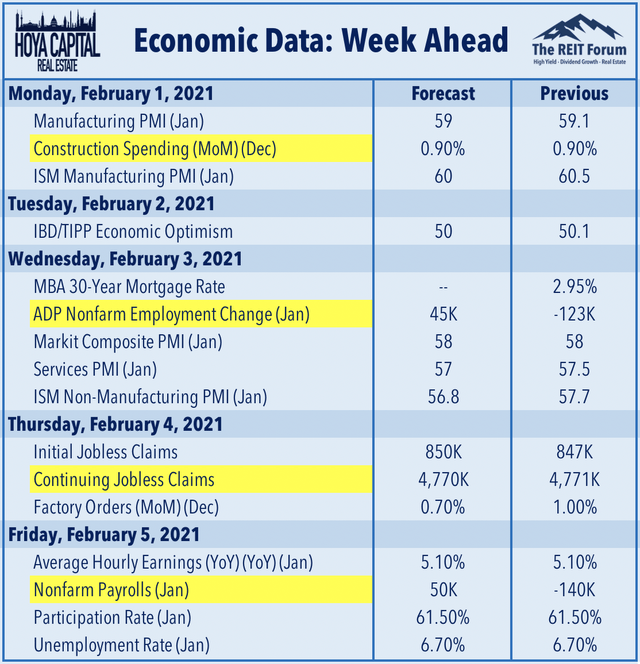 Announcement: Hoya Capital Joins The REIT Forum
Hoya Capital is excited to announce that we've teamed up with The REIT Forum to bring the premier research service on Seeking Alpha to the next level. Exclusive articles contain 2-3x more research content including access to The REIT Forum's exclusive ratings and live trackers and valuation tools. Sign up for the 2-week free trial today! The REIT Forum offers unmatched coverage and top-quality model portfolios for Equity and Mortgage REITs, Real Estate ETFs and CEFs, High-Yield BDCs, and REIT Preferred Stocks & Bonds.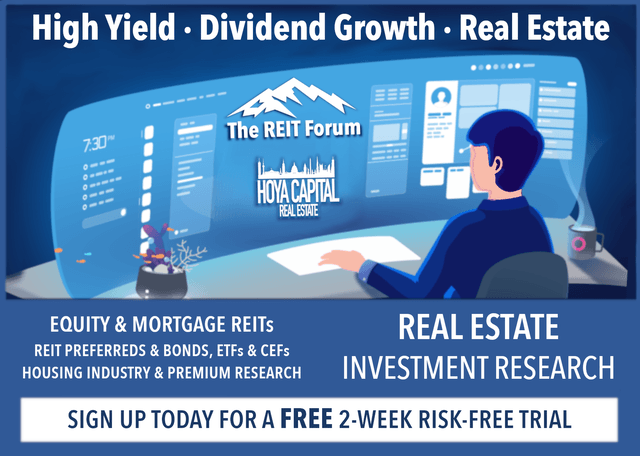 Join our Mailing List on our Website
The REIT Forum is the exclusive home to Hoya Capital premium research. Visit our website and join our email list for quick access to our real estate research library: HoyaCapital.com where we have links to all of our real estate sector reports and daily recaps. You can also follow our real-time commentary on Twitter, LinkedIn, and Facebook.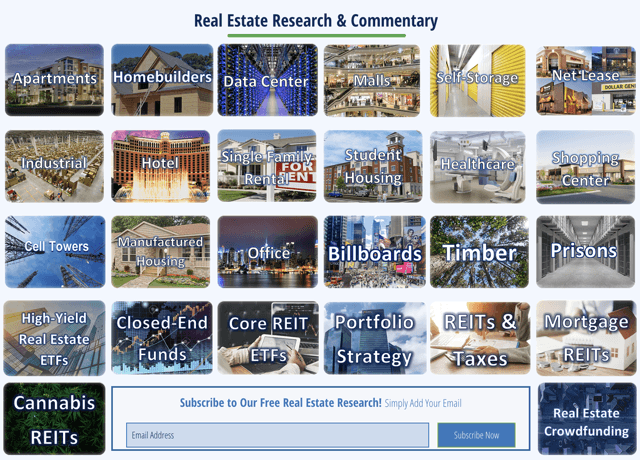 Disclosure: A complete list of holdings and Real Estate and Housing Index definitions and holdings are available at HoyaCapital.com. Hoya Capital Real Estate advises an Exchange Traded Fund listed on the NYSE. Hoya Capital is long all components in the Hoya Capital Housing 100 Index.

Additional Disclosure: It is not possible to invest directly in an index. Index performance cited in this commentary does not reflect the performance of any fund or other account managed or serviced by Hoya Capital Real Estate. Data quoted represents past performance, which is no guarantee of future results. Information presented is believed to be factual and up-to-date, but we do not guarantee its accuracy.
I am/we are long all holdings listed at www.HoyaCapital.com