Real Estate Daily Recap
Our Real Estate Daily Recap discusses the notable news and events in the real estate sector over the last trading day and highlights sector-by-sector performance. We publish this note every afternoon on The REIT Forum and occasionally on our website and this Seeking Alpha blog to cover significant news and events. Subscribe to our free email list to keep up with the latest developments in the commercial and residential real estate sectors. Follow our real-time commentary on Twitter and LinkedIn.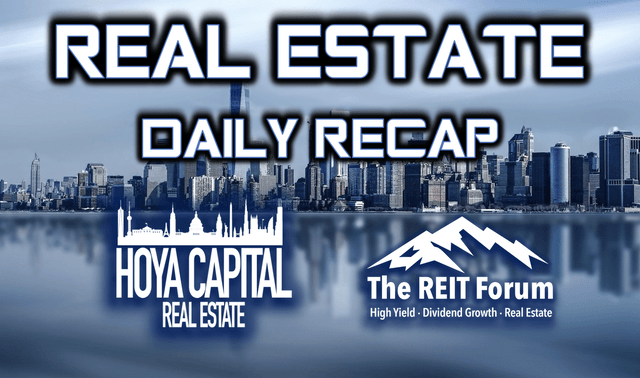 U.S. equity markets were mixed Wednesday as concerns over the inflationary impact of the Southern 'Deep Freeze' were offset by a strong slate of economic data as retail sales and homebuilder sentiment both topped estimates.  Following declines of 0.1% yesterday, the S&P 500 ETF (SPY) finished fractionally lower today while the Dow Jones Industrial Average (DIA) finished higher by 90 points. Real estate equities were mixed today amid a very busy 24-hours of earnings reports as the broad-based Equity REIT ETFs (VNQ) finished lower by 0.1% with 14-of-19 property sectors in negative territory while the Mortgage REIT ETFs (REM) dipped 2.0%.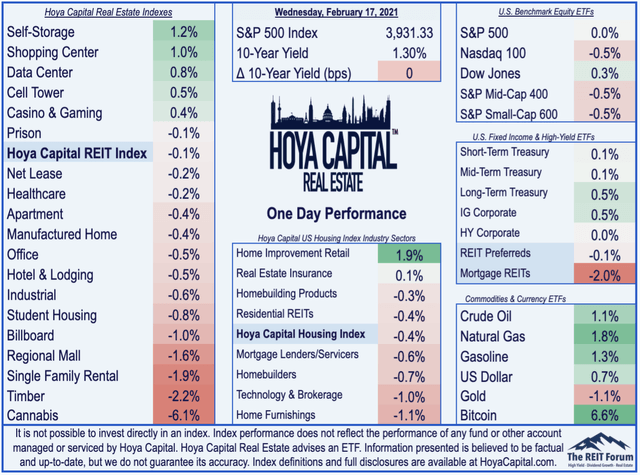 Eight of the eleven GICS equity sectors finished in positive territory today, led to upside by another strong day from the Energy (XLE) sector while Finanicials (XLF) have also delivered a strong week as the 10-Year Treasury Yield (IEF) remained at the highest levels since last March. Consistent with the pressure today on many of the top-performing stocks and sectors, homebuilders and the broader Hoya Capital Housing Indexwere mostly lower today despite a generally strong slate of housing data and earnings reports.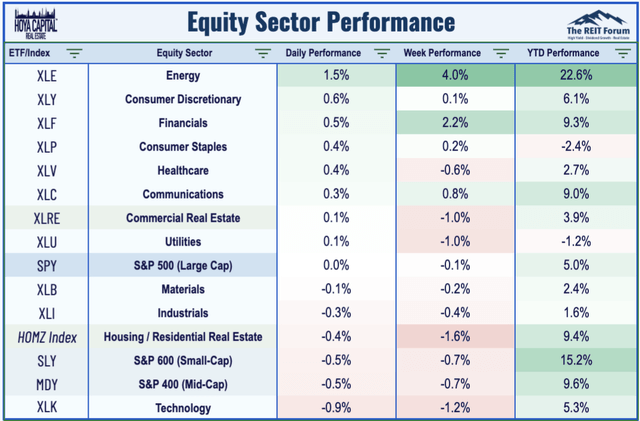 This morning, the NAHB reported that its Homebuilder Sentiment Index - a leading indicator of housing activity - ticked higher to 84 in February, the third-strongest month on record. Also this morning, the Mortgage Bankers Association reported that mortgage applications to purchase a home are now higher by 15% from last year as the housing industry remains a source of strength in the early economic recovery. However, applications for refinancing loans - which tend to be more interest-rate sensitive - have pulled back in recent weeks as mortgage rates have trended higher since hitting record lows in late January.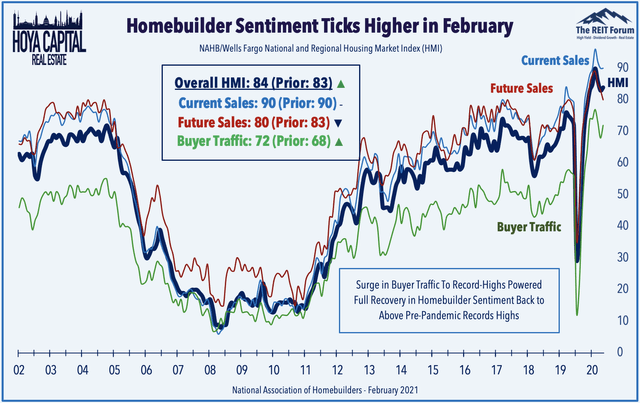 The Census Bureau reported that Retail Sales were far stronger than consensus estimates in January, surging by 5.3% from the prior month and were higher by 7.4% from last January before the pandemic began. Boosted by a second round of $600 stimulus checks, the strength was broad-based as all retail categories recorded a month-over-month increase. Consumers continued to spend on housing-related goods as Furniture sales surged 12% in the month while spending on Building Materials rose 4.6% to push its year-over-year gain to 19.0%. The department stores, clothing stores, and food services categories did show signs of life in January while e-commerce sales surged another 11.0% in January to push its annual increase to nearly 30%.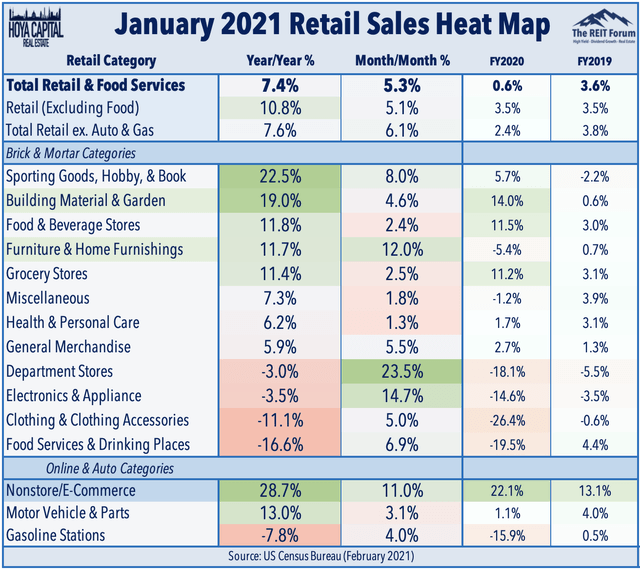 Real Estate Earnings Update
Last week we published REIT Earnings Halftime Report: Dividend Revival. We're now at past halfway point of another newsworthy REIT earnings season. Results thus far have generally been better than expected as dividend cuts have given way to dividend boosts. 18 equity REITs have now boosted their dividend this year, the majority of which were among the 52 REITs that increased their dividend last year. Rent collection - and interest collection for mREITs - has recovered to "normalized" levels across all major property sectors outside of retail. The back half of earnings season could bring more fireworks as many of the more-troubled REITs have yet to report results.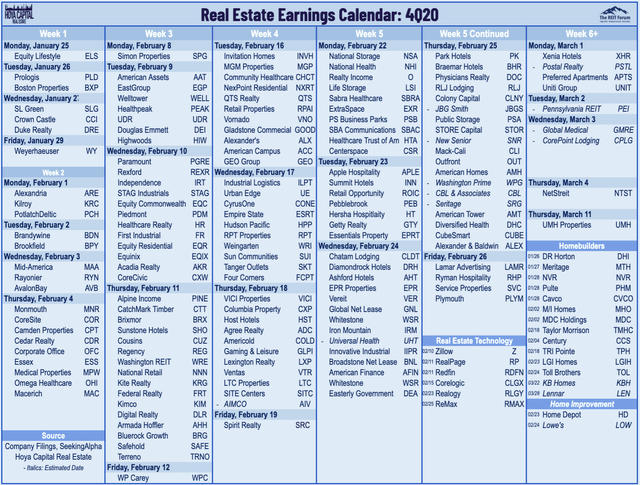 Data Center: QTS Realty (QTS) finished higher by 1.9% after reporting a strong fourth quarter yesterday afternoon. QTS reported that it signed $40.3 million in incremental leases in Q4 which was the highest quarterly performance in the company's history. QTS recorded full-year operating FFO of 8.0% in 2020 and provided guidance calling for another 4.9% growth in 2021. The top-performing REIT sector in 2020, data center REITs have taken a breather so far in 2021 as earnings results have been solid but not spectacular. CyrusOne (CONE) wraps-up data center earnings season this evening.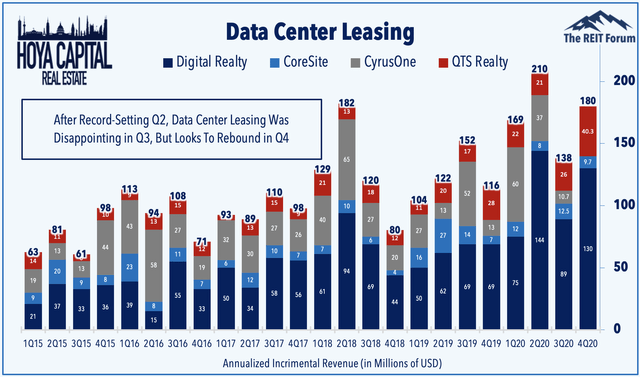 Single-Family Rentals: Invitation Homes (INVH) finished lower by 1.8% despite reporting strong fourth-quarter results. INVH recorded full-year same-store NOI growth of 3.7% in 2020 and sees a similarly strong year in 2021 with NOI growth of 3.5%. Importantly, leasing trends indicate that suburban and sunbelt markets continue to perform on-par or better than pre-pandemic levels. New leases were signed at rates 6.9% higher than the prior-year in Q4 while renewal rents were higher by 3.8% for a blended rate growth of 4.9%. Fueled by the maturing millennial generation, the 2020s were already poised to be a decade of "suburban revival" and behavioral changes in the post-coronavirus world have provided an added spark.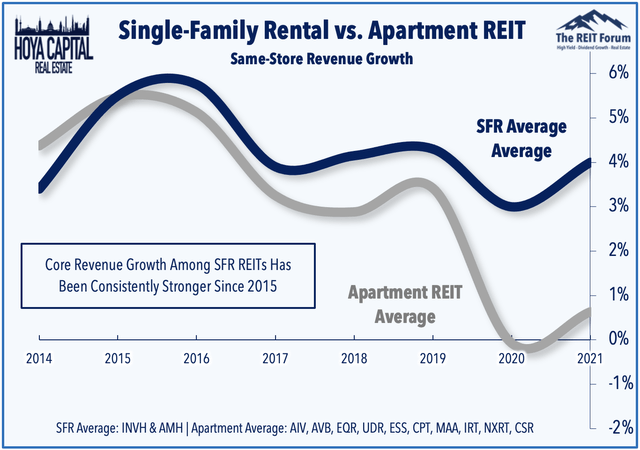 Shopping Centers: Retail Properties (RPAI) finished flat after reporting yesterday afternoon. RPAI noted that its same-store NOI decline improved sequentially in Q4 to -11.4% and noted that it saw positive leasing spreads in Q4 and for full-year 2020. RPAI recorded a full-year decline in its FFO/share of 22%, slightly worse than the sector average thus far of 19%, and it sees a 5% decline in 2021 at the midpoint of its guidance range. Urban Edge (UE) and Weingarten (WRI) report results this afternoon.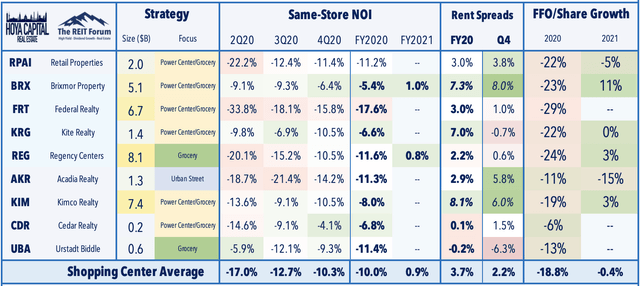 Yesterday, we published Timber REITs: Catching Fire. Reignited by the red-hot U.S. housing market, lumber prices have soared to record-highs as insatiable demand from homebuilders has clashed with reduced supply levels as timber producers scramble to catch-up. Initially caught flat-footed by the velocity of the rebound in lumber demand from homebuilding and remodeling activity, fourth-quarter earnings results showed that timber REITs are now firing on all cylinders. Long-term fundamentals look compelling amid historic levels of demographic-driven housing demand and record-low housing supply.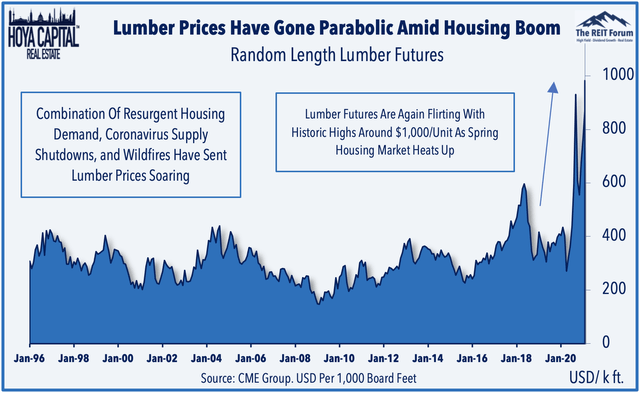 Mortgage REITs
Per our Mortgage REIT Tracker available to The REIT Forum subscribers, residential mREITs finished lower by 2.1% today and are now lower by 0.5% on the week. Commercial mREITs finished lower by 1/7% and are now flat on the week. Ellington Residential Mortgage (EARN) finished lower by 0.4% today after reporting yesterday afternoon that its Book Value per share (BVPS) rose by 2.4% in Q4 from last quarter, roughly in-line with the average BVPS increase of the residential mREITs to report results thus far. KKR Real Estate Finance (KREF) finished lower by 2.5% after reporting yesterday afternoon that its BVPS was essentially flat in Q4 from last quarter.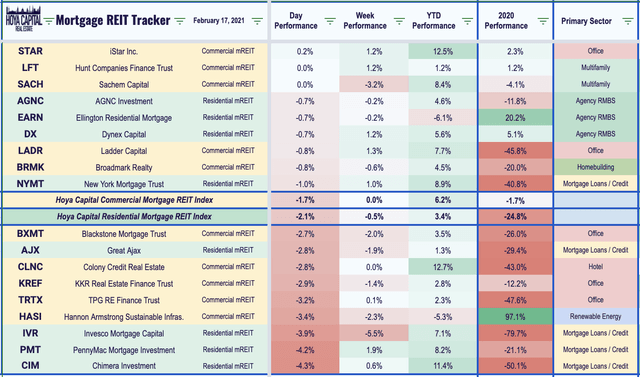 This afternoon, we'll hear results Armour Residential (ARR). Last week, we published our Mortgage REIT Earnings Preview. We discussed the three trends we're watching this earnings season: 1) Updated dividend commentary, 2) Updated book values, and 3) Commentary on the mortgage and housing markets. We discussed how the robust rebound and ongoing strength in the U.S. housing sector averted outright catastrophe for many mREITs. Mortgage REITs delivered a triple-digit-percentage-point rebound to end 2020 with total returns of -23.5%.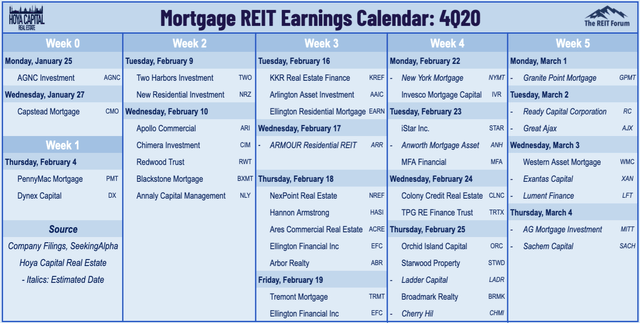 REIT Preferreds & Bonds
Per the REIT Preferreds & Bond Tracker available to The REIT Forum subscribers, REIT Preferred stocks finished lower by 0.16% today, on average, but outperformed their respective common stock issues by an average of 1.56%. So far in 2021, REIT Preferred stocks are higher by 2.02%. Excluding the handful of retail and hotel REITs with suspended (cumulative) preferred dividends, the average REIT preferred trades at a 3% discount to Par Value and has an average current yield of 6.49%.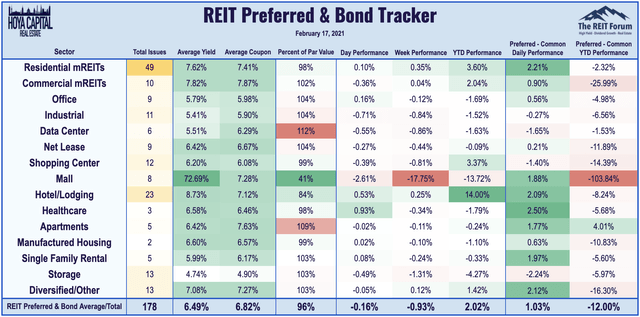 Economic Data This Week
In addition to the frenetic week of earnings, we have a jam-packed slate of economic data in the holiday-shortened week ahead. On Wednesday, we'll see NAHB Homebuilder Sentiment data, the BLS Retail Sales report, and Producer Price Index data. On Thursday, we'll see Housing Starts and Building Permits for January which are expected to moderate slightly after reaching 12-year highs in late 2020. Then on Friday, we'll see Existing Home Sales for January as well as Manufacturing and Services PMI data. As usual, we'll also be watching the weekly Mortgage Applications and Jobless Claims data as well on Wednesday and Thursday, respectively.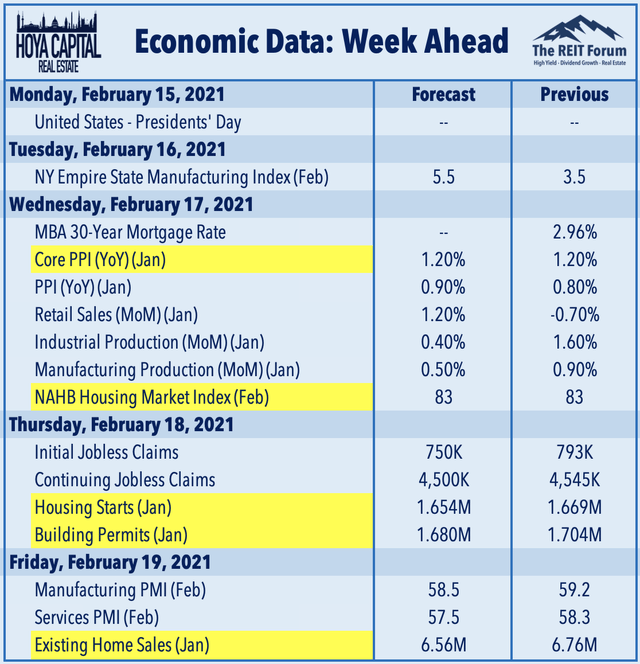 Announcement: Hoya Capital Joins The REIT Forum
Hoya Capital is excited to announce that we've teamed up with The REIT Forum to bring the premier research service on Seeking Alpha to the next level. Exclusive articles contain 2-3x more research content including access to The REIT Forum's exclusive ratings and live trackers and valuation tools. Sign up for the 2-week free trial today! The REIT Forum offers unmatched coverage and top-quality model portfolios for Equity and Mortgage REITs, Real Estate ETFs and CEFs, High-Yield BDCs, and REIT Preferred Stocks & Bonds.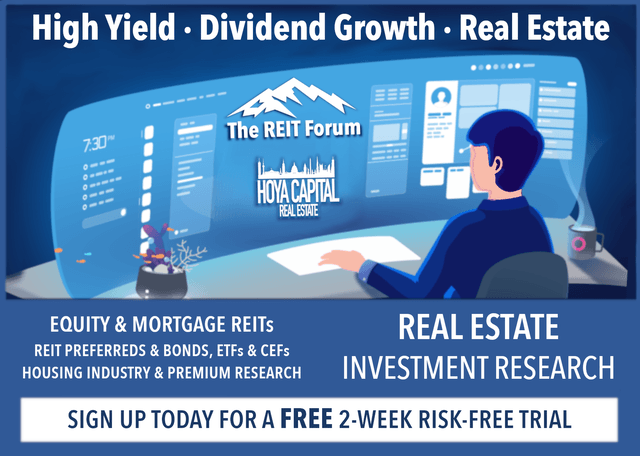 Join our Mailing List on our Website
The REIT Forum is the exclusive home to Hoya Capital premium research. Visit our website and join our email list for quick access to our real estate research library: HoyaCapital.com where we have links to all of our real estate sector reports and daily recaps. You can also follow our real-time commentary on Twitter, LinkedIn, and Facebook.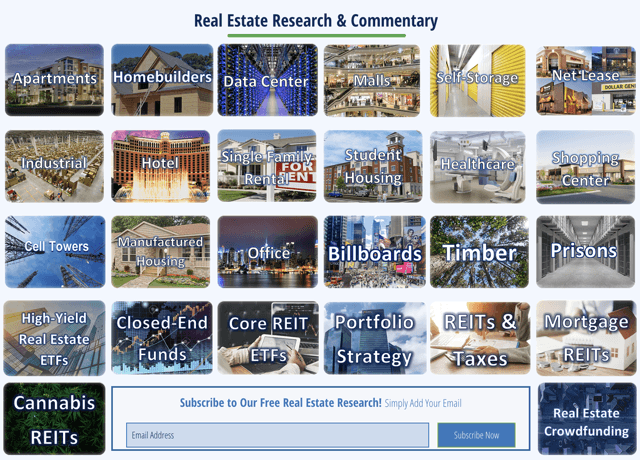 Disclosure: A complete list of holdings and Real Estate and Housing Index definitions and holdings are available at HoyaCapital.com. Hoya Capital Real Estate advises an Exchange Traded Fund listed on the NYSE. Hoya Capital is long all components in the Hoya Capital Housing 100 Index.

Additional Disclosure: It is not possible to invest directly in an index. Index performance cited in this commentary does not reflect the performance of any fund or other account managed or serviced by Hoya Capital Real Estate. Data quoted represents past performance, which is no guarantee of future results. Information presented is believed to be factual and up-to-date, but we do not guarantee its accuracy.
I am/we are long all holdings listed at www.HoyaCapital.com