Real Estate Daily Recap
Our Real Estate Daily Recap discusses the notable news and events in the real estate sector over the last trading day and highlights sector-by-sector performance. Sign-up for our email list to keep up with the latest developments in the commercial and residential real estate sectors. Follow our real-time commentary on Twitter and LinkedIn and subscribe to The REIT Forum for full access to our premium analysis, exclusive tools and trackers, and The REIT Forum's exclusive ratings and model portfolios.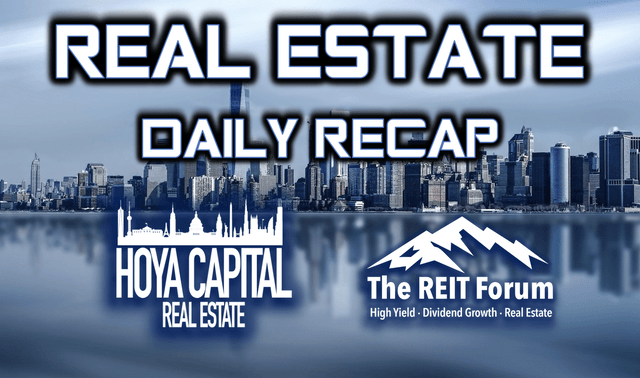 U.S. equity markets finished sharply lower Thursday, continuing a tech-led sell-off, as long-term interest rates resumed their march higher following comments from Fed Chair Powell and an OPEC output freeze. Declining for the third-straight day, the S&P 500 ETF (SPY) finished lower by 1.3% today while the Dow Jones Industrial Average (DIA) declined by 347 points. The tech-heavy Nasdaq 100 (QQQ) dipped another 2% and sits on the cusp of correction territory. Real estate equities were mostly lower - but outperformed most other equity sectors -  as the broad-based Equity REIT ETFs (VNQ) finished lower by 1.2% with 15-of-19 property sectors in negative territory while the Mortgage REIT ETFs (REM) pulled back by 1.7%.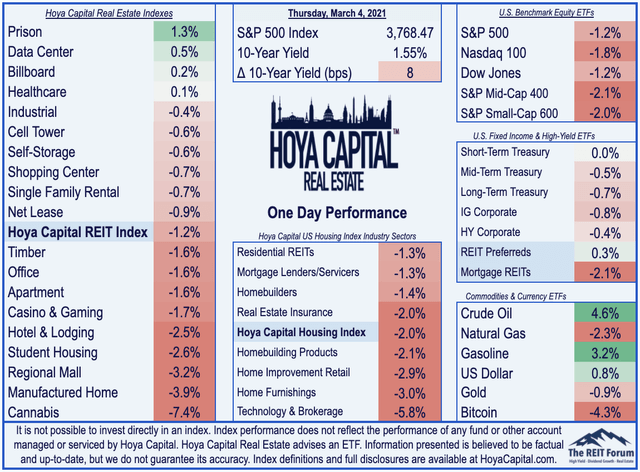 Jitters over rising interest rates rattled markets again today despite generally dovish comments from Fed Chair Powell as the 10-Year Treasury Yield (IEF) jumped 8 basis points today to the highest closing level since last February. Investors are concerned that the proposed $1.9 billion stimulus package - which has received criticism for being overly partisan and untargeted - threatens to overheat the economy and result in higher levels of inflation. Ten of the eleven GICS equity sectors finished lower today, dragged on the downside by the Consumer Discretionary (XLY) and Technology (XLK) sectors.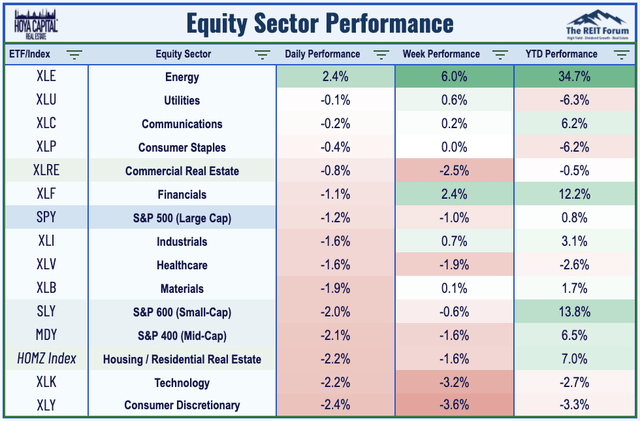 Equity REITs
Today, we published Single-Family Rentals: The 'Burbs Are Hot. Single-Family Rental ("SFR") fundamentals are among the strongest in the REIT sector as SFR REITs reported near-perfect rent collection, record-high occupancy rates, and rent growth eclipsing 5% in their recent reports. Fueled by the combination of COVID-related factors and the long-term secular tailwinds of limited supply and demographic-driven demand, the U.S. housing industry continues to be the unexpected leader of the early economic recovery, a stark contrast from its role as a "provocateur" during the Financial Crisis. Quieting the critics that questioned their ability to operate efficiently, SFR REITs have been leaders in using Property Technology (PropTech) to reduce costs, increase renter satisfaction, and fuel accretive growth.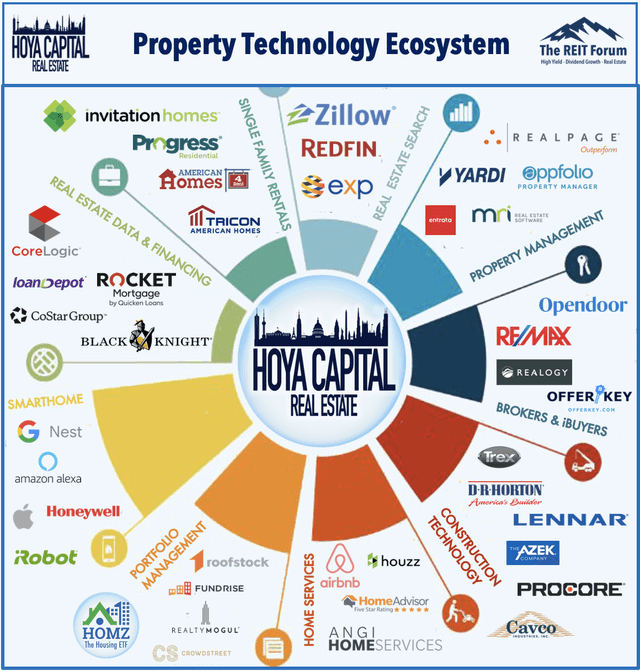 Malls: Washington Prime Group (WPG) plunged more than 60% on reports that the mall REIT is considering Chapter 11 proceedings as creditor talks faltered after the company skipped a $23M interest payment due last month. Last month, the REIT said it was using a 30-day grace period to continue talks with its lenders, but those talks have been faltering, Bloomberg reports. The plan to file for Chapter 11 could change if the talks make progress or if the grace period is extended, the people said. Despite mildly improving rent collection and foot traffic, Q4 was another epically-bad quarter for mall REITs following a historic plunge in Q3 in which FFO plunged by an average of 47% from last year.

Healthcare: Global Medical (GMRE) finished lower by 0.6% today after reporting results yesterday afternoon. The REIT - which has a portfolio spread across the medical office, skilled nursing, and acute care sectors - reported that its full-year FFO declined by 25% in 2020, but turned positive on a year-over-year basis in Q4. GMRE also boosted its dividend by a cent to $0.21 per share, the 34th equity REIT to increase its dividend so far in 2021.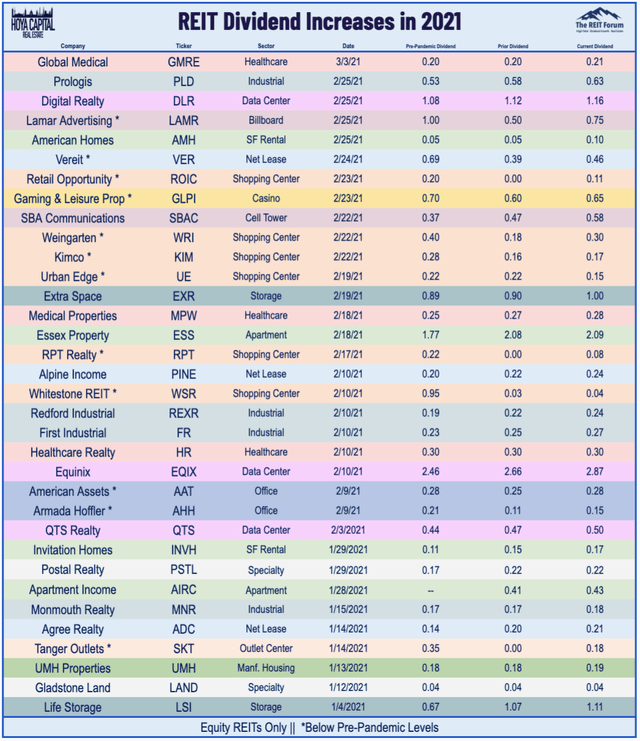 Hotels: Sotherly Hotels (SOHO) finished lower by more than 6% today after reporting results this morning. SOHO - a microcap REIT that owns a portfolio of midscale hotels - reported that its occupancy rate climbed modestly in Q4 to 31.9%, roughly consistent with other hotel REITs that have reported Q4 results that have noted a muted occupancy rebound thus far, but have provided optimistic commentary for the back-half of 2021. Despite the acceleration of the vaccination campaign, the TSA has reported that the number of travelers passing through airport security remain below 50% of normal levels and the recovery has stalled over the last two months following a relatively strong holiday season. CorePoint Lodging (CPLG) reports results after the close today.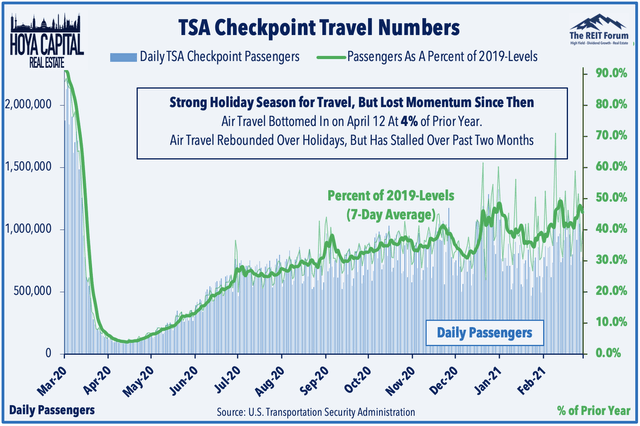 Mortgage REITs
Per our Mortgage REIT Tracker available to The REIT Forum subscribers, residential mREITs finished lower by 2.1% and are now flat on the week. Commercial mREITs dipped 2.8% but are still higher by 0.1% on the week. Western Asset Mortgage (WMC) finished lower by more than 5% today after reporting yesterday afternoon that its economic book value increased a relatively modest 1.9% in Q4 while its economic return on book value was negative 59.1% for the year. This afternoon, we'll hear results from Granite Point Mortgage (GPMT), Great Ajax (AJX), and ACRES Capital (ACR) on Thursday.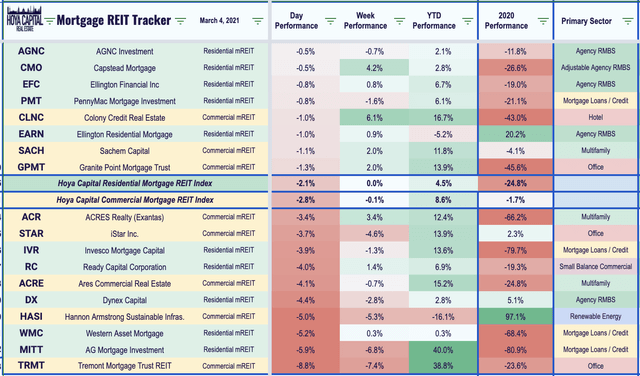 Economic Data This Week
Employment data highlights this week's busy economic calendar, headlined by ADP Employment data on Wednesday, Jobless Claims on Thursday, and the BLS Nonfarm Payrolls report on Friday. Economists are looking for job growth of 165k in February, accelerating from the modest 49k in job gains in January while the unemployment rate is expected to remain steady at 6.3%.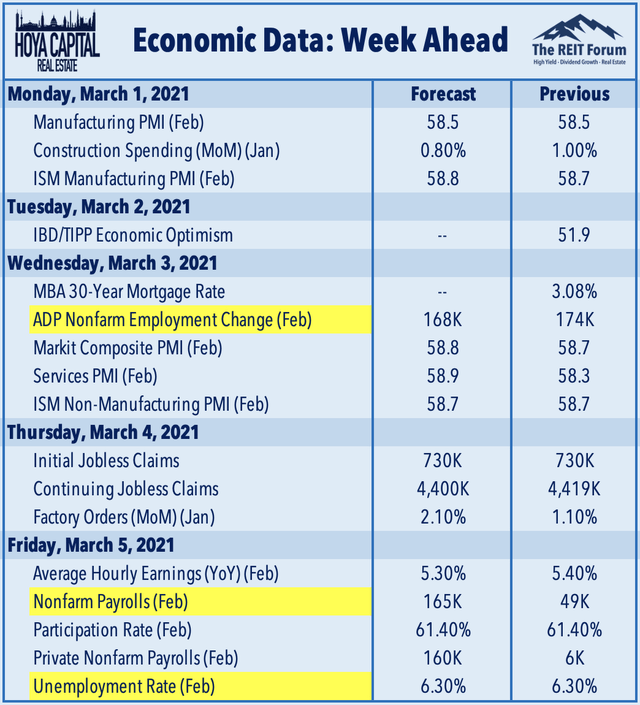 Announcement: Hoya Capital Joins The REIT Forum
Hoya Capital is excited to announce that we've teamed up with The REIT Forum to bring the premier research service on Seeking Alpha to the next level. Exclusive articles contain 2-3x more research content including access to The REIT Forum's exclusive ratings and live trackers and valuation tools. Sign up for the 2-week free trial today! The REIT Forum offers unmatched coverage and top-quality model portfolios for Equity and Mortgage REITs, Real Estate ETFs and CEFs, High-Yield BDCs, and REIT Preferred Stocks & Bonds.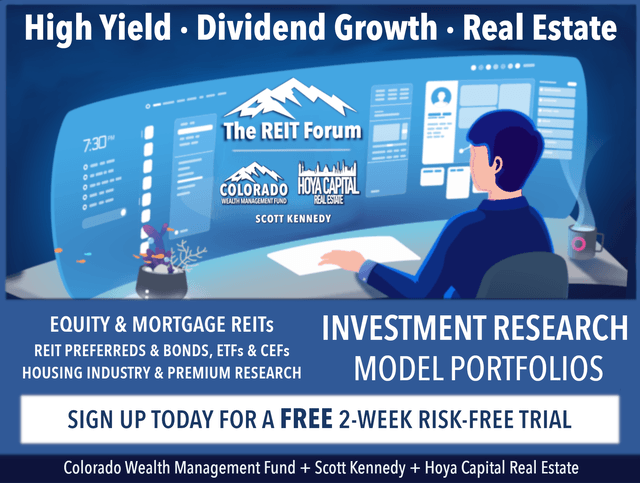 Join our Mailing List on our Website
The REIT Forum is the exclusive home to Hoya Capital premium research. Visit our website and join our email list for quick access to our real estate research library: HoyaCapital.com where we have links to all of our real estate sector reports and daily recaps. You can also follow our real-time commentary on Twitter, LinkedIn, and Facebook.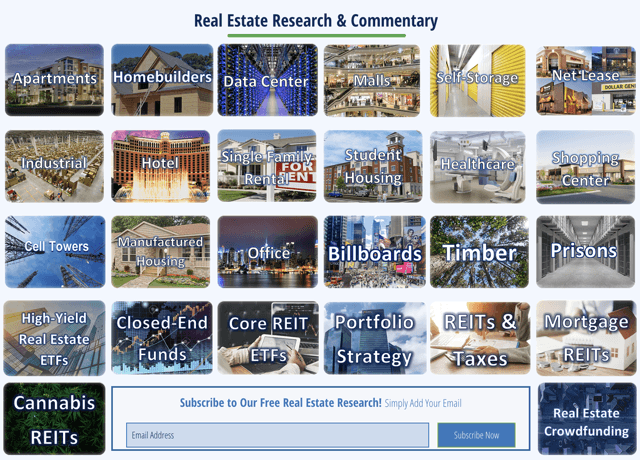 Disclosure: A complete list of holdings and Real Estate and Housing Index definitions and holdings are available at HoyaCapital.com. Hoya Capital Real Estate advises an Exchange Traded Fund listed on the NYSE. Hoya Capital is long all components in the Hoya Capital Housing 100 Index.

Additional Disclosure: It is not possible to invest directly in an index. Index performance cited in this commentary does not reflect the performance of any fund or other account managed or serviced by Hoya Capital Real Estate. Data quoted represents past performance, which is no guarantee of future results. Information presented is believed to be factual and up-to-date, but we do not guarantee its accuracy.
I am/we are long all holdings listed at www.HoyaCapital.com