Real Estate Daily Recap
Our Real Estate Daily Recap discusses the notable news and events in the real estate sector over the last trading day and highlights sector-by-sector performance. Sign-up for our email list to keep up with the latest developments in the commercial and residential real estate sectors. Follow our real-time commentary on Twitter and LinkedIn and subscribe to The REIT Forum for full access to our premium analysis, exclusive tools and trackers, and The REIT Forum's exclusive ratings and model portfolios.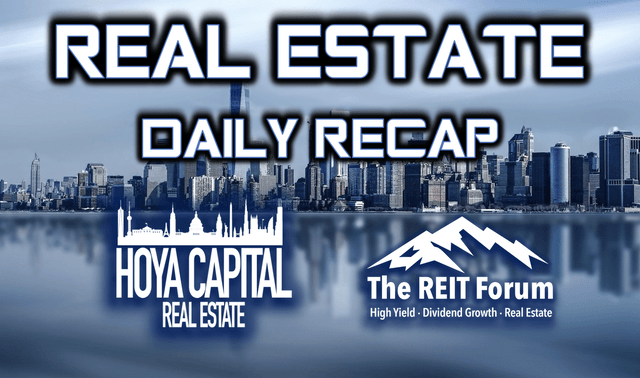 U.S. equity markets rebounded Thursday - led by a mid-day rally from Small-Cap and Mid-Cap stocks - as the recent stabilization in long-term interest rates and inflation expectations appears to have temporarily calmed market jitters. Climbing back in positive territory for the week, the S&P 500 ETF (SPY) gained 0.6% while the Dow Jones Industrial Average (DJI) gained 199 points. The tech-heavy Nasdaq 100 (QQQ) finished fractionally lower. Real estate equities delivered a strong day of gains as the broad-based Equity REIT ETFs (VNQ) rallied 1.0% with 17-of-19 property sectors in positive territory while the Mortgage REIT ETFs (REM) gained 2.1%.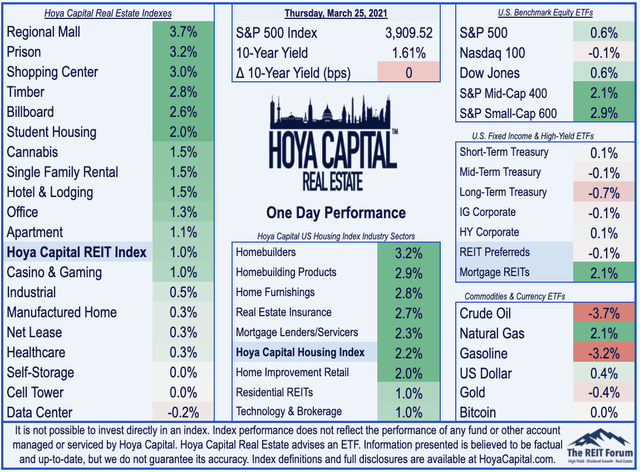 Equity markets gained strength throughout the day after DOL data this morning showed that that jobless claims declined to the lowest level since the start of the pandemic. Continued COVID concerns in Europe, however, have contained the 10-Year Treasury Yield, which appears poised to snap its seven-straight-week stretch of increases. Nine of the eleven GICS equity sectors were higher on the day, led to the upside by the Financials (XLF), Industrials (XLI), and Materials (XLB) sectors. Homebuilders and the broader Hoya Capital Housing Index delivered strong gains as well following solid earnings results from KB Home (KBH) and Restoration Hardware (RH) that showed continued strength behind the housing industry.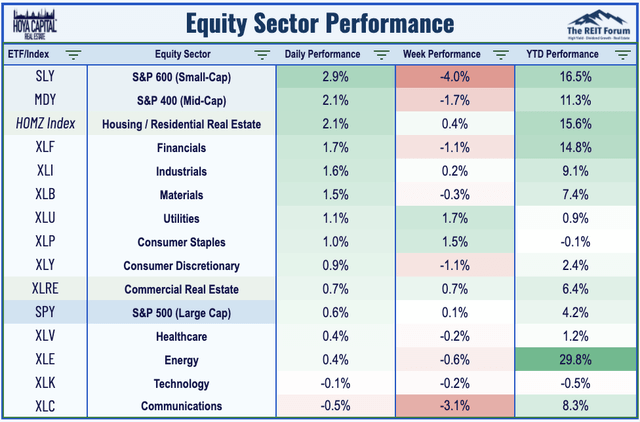 On that point, KB Home (KBH) gained 2.3% after reporting a solid quarter yesterday afternoon as the homebuilder reported that net orders were 23% higher year-over-year while the value of its backlog swelled 74%. As discussed in our Earnings Recap, homebuilders have struggled to keep up with robust levels of demand over the last quarter as homes are being sold almost as fast as they can be built. The firm commented: "the ongoing strength in our order activity reflects the favorable demographics underlying demand. Millennials, the largest adult population in the U.S., are now in their prime homebuying years and continue to represent our largest cohort of buyer."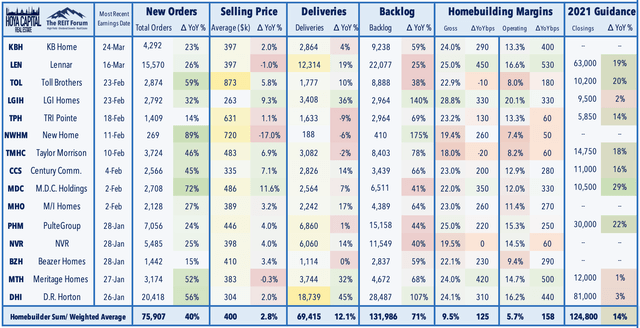 Commercial Equity REITs
Today we published Office REITs: The New Normal. A year into the pandemic, office utilization in major U.S. cities remains a fraction of pre-pandemic levels with coastal cities facing a particularly slow recovery. The "reopening rotation" has boosted many of the urban office REITs to double-digit percentage gains this year even after quarterly results showed punishing declines in FFO/share growth in 2020. Survey data indicates that workplace flexibility is popular among both employees and executives. While the office isn't going away, corporations expect to scale back their real estate footprint. We believe that dense coastal office markets with transit-heavy commutes will struggle in the new normal. We see value in Sunbelt and suburban-focused office REITs which are poised for a faster and more sustainable recovery.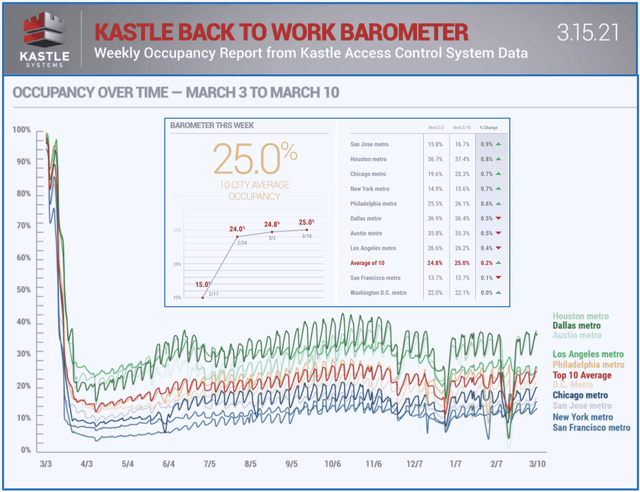 Earlier this week, we published Manufactured Housing: Great REITs Are Never Cheap. Riding the tailwinds of the affordable housing shortage across the United States, manufactured housing REITs outperformed the REIT index for a remarkable eighth-straight year in 2020. Pressured by the 'REIT Reopening Rotation,' however, MH REITs have uncharacteristically underperformed in early 2021 even as fundamentals remain stellar and all three REITs have already increased their dividends. MH REITs haven't appeared "cheap" based on traditional static FFO-based metrics at any point during this historic eight-year stretch of relentless outperformance, but valuations are as attractive as they've been in a half-decade relative to other REIT sectors.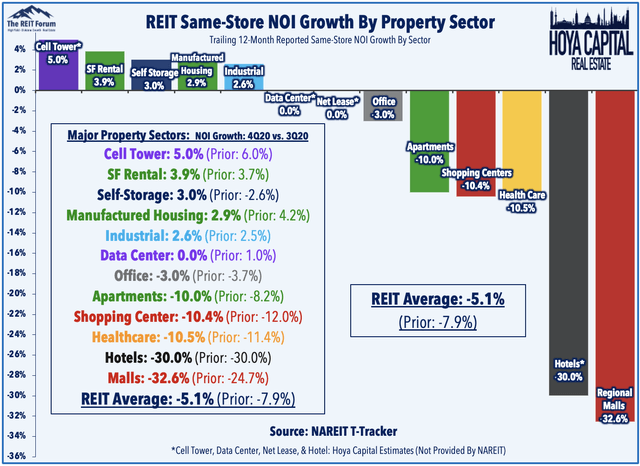 Mortgage REITs
Per our Mortgage REIT Tracker available to The REIT Forum subscribers, residential mREITs finished higher by 1.7% today but remain lower by 1.7% on the week. Commercial mREITs gained 1.1% but remain off by 2.1% this week. Ready Capital (RC) jumped 5.1% after effectively boosting its dividend rate to $0.40/share upon declaring a $0.10 prorated dividend following the close of the company's merger with Anworth Mortgage. This afternoon, Annaly Capital (NLY) - the largest residential mREIT - announced that it will sell its commercial real estate business to Slate Asset Management in a transaction valued at $2.33B.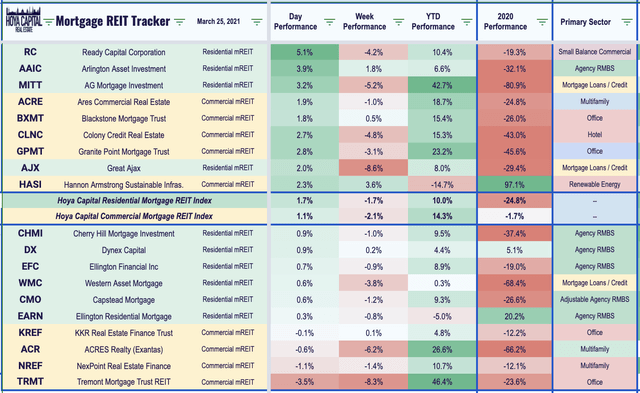 REIT Preferreds & Bonds
Per the REIT Preferreds & Bond Tracker available to The REIT Forum subscribers, REIT Preferred stocks finished lower by 0.14% today, on average, but underperformed their respective common stock issues by an average of 1.52%. So far in 2021, REIT Preferred stocks are higher by 5.02% on a price-return basis. The average REIT preferred currently pays a dividend yield of 6.37% and trades at a slight discount to par value.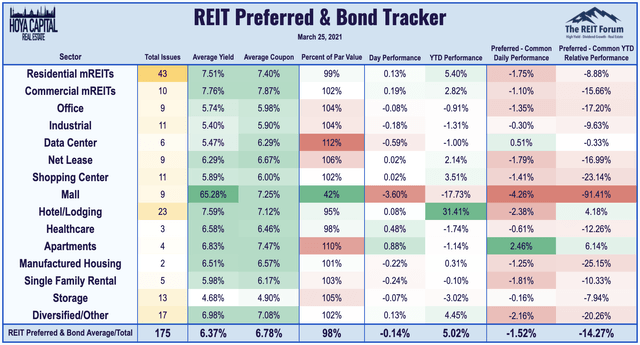 Economic Data This Week
The jam-packed week of economic data concludes on Friday with some inflation data. We'll see the Core PCE Index - the Fed's "preferred" inflation metric - and get a look at Personal Income and Spending data from February. We'll publish a full analysis and commentary of this week's developments in the real estate industry, as well as an analysis of the busy week of economic data in our Real Estate Weekly Outlook report on Saturday morning.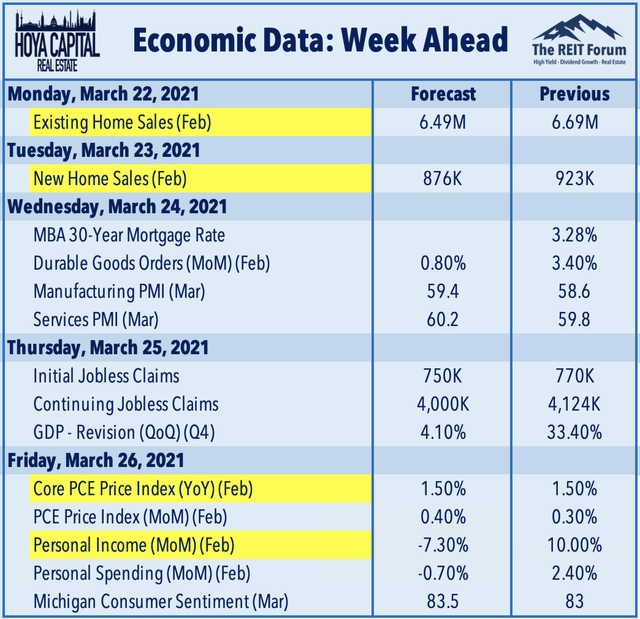 Announcement: Hoya Capital Joins The REIT Forum
Hoya Capital is excited to announce that we've teamed up with The REIT Forum to bring the premier research service on Seeking Alpha to the next level. Exclusive articles contain 2-3x more research content including access to The REIT Forum's exclusive ratings and live trackers and valuation tools. Sign up for the 2-week free trial today! The REIT Forum offers unmatched coverage and top-quality model portfolios for Equity and Mortgage REITs, Real Estate ETFs and CEFs, High-Yield BDCs, and REIT Preferred Stocks & Bonds.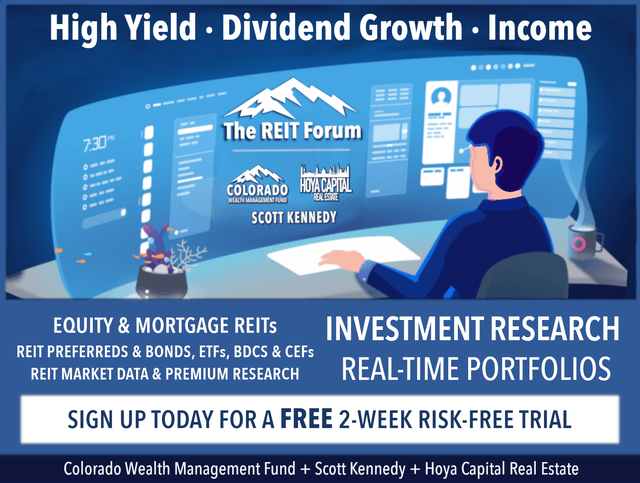 Join our Mailing List on our Website
The REIT Forum is the exclusive home to Hoya Capital premium research. Visit our website and join our email list for quick access to our real estate research library: HoyaCapital.com where we have links to all of our real estate sector reports and daily recaps. You can also follow our real-time commentary on Twitter, LinkedIn, and Facebook.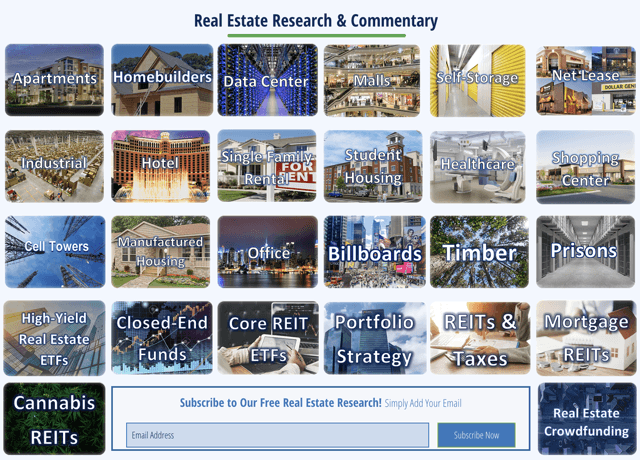 Disclosure: A complete list of holdings and Real Estate and Housing Index definitions and holdings are available at HoyaCapital.com. Hoya Capital Real Estate advises an Exchange Traded Fund listed on the NYSE. Hoya Capital is long all components in the Hoya Capital Housing 100 Index.

Additional Disclosure: It is not possible to invest directly in an index. Index performance cited in this commentary does not reflect the performance of any fund or other account managed or serviced by Hoya Capital Real Estate. Data quoted represents past performance, which is no guarantee of future results. Information presented is believed to be factual and up-to-date, but we do not guarantee its accuracy.
I am/we are long all holdings listed at www.HoyaCapital.com