Real Estate Daily Recap
Our Real Estate Daily Recap discusses the notable news and events in the real estate sector over the last trading day and highlights sector-by-sector performance. Sign-up for our email list to keep up with the latest developments in the commercial and residential real estate sectors. Follow our real-time commentary on Twitter and LinkedIn and subscribe to The REIT Forum for full access to our premium analysis, exclusive tools and trackers, and The REIT Forum's exclusive ratings and model portfolios.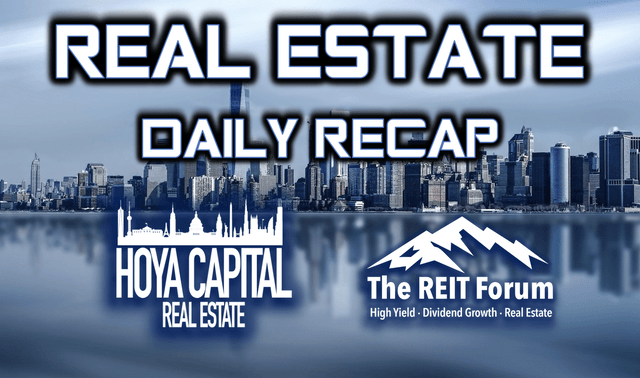 U.S. equity markets finished mostly lower Tuesday amid pressure on technology and other growth stocks as investors digest a frenetic slate of earnings reports and commentary on inflationary pressures. Following a gain of 0.2% yesterday, the S&P 500 ETF (SPY) finished lower by 0.6% today while the Mid-Cap 400 (MDY) declined by 0.4% and the Small-Cap 600 (SLY) fell 0.5%. The tech-heavy Nasdaq 100 (QQQ) dipped nearly 2%. Real estate equities were mixed again today ahead of the busiest 72 hours of REIT earnings. The broad-based Equity REIT ETFs (VNQ) finished lower by 0.7% with 5-of-19 property sectors in positive territory while Mortgage REITs (REM) declined by 1.3%.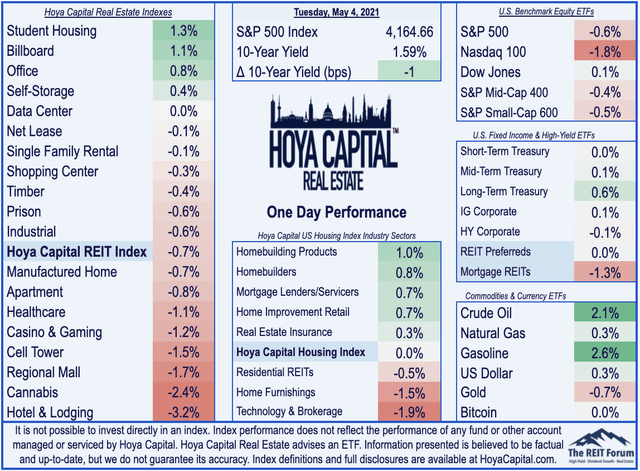 Equities were under pressure after Treasury Secretary Janet Yellen commented to an economic seminar that "interest rates will have to rise somewhat to make sure that our economy doesn't overheat." The Dollar (USD) posted strong gains as the U.S. appears increasingly likely to be the undisputed leader of the globally uneven economic recovery. The Materials (XLB), Financials (XLF) and Industrials (XLI) sectors led the way today while Homebuilders and the broader Hoya Capital Housing Index also finished modestly higher ahead of results this afternoon from Zillow (Z), which reported a 19% jump in website visits in Q1 to a record 2.5 billion.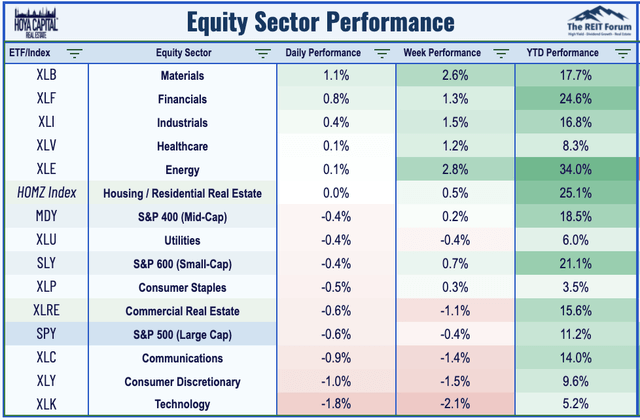 Commercial Equity REITs
Today, we published our REIT Earnings Halftime Report. The major themes this quarter have been "Beat and Boost" and the revival of long-dormant "Animal Spirits." Nearly 90% of REITs have topped consensus earnings estimates. Of the 57 REITs and homebuilders that provide full-year guidance, nearly two-thirds have raised their full-year estimates. Positive surprises thus far in Q1 have been primarily in the residential REIT sectors where self-storage, manufactured housing, and sunbelt-focused apartment REITs have reported stellar results. We'll hear results from 75 REITs over the next 72 hours.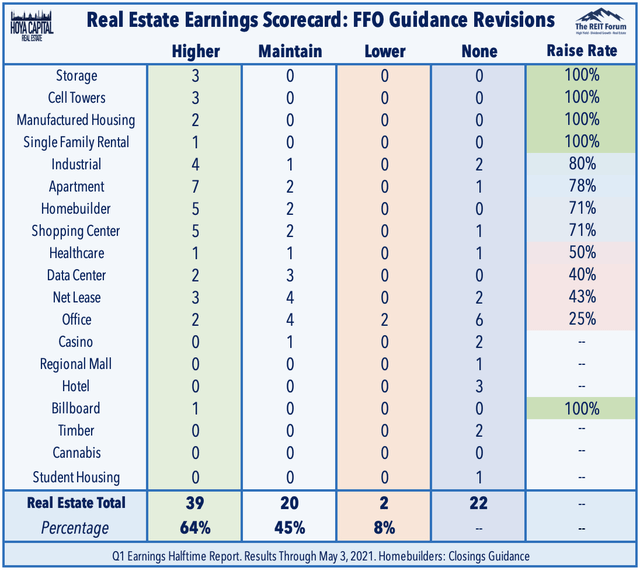 Net Lease: National Retail (NNN) finished higher by 2.5% after reporting that it collected 97% of rents in Q1 and boosted its full-year AFFO growth outlook to 16.2%, up from its prior outlook of 11.8%. Realty Income (O) was roughly flat today after reporting collection of 94% of rents in Q1 and held guidance steady. Agree Realty (ADC) was also roughly flat today after reporting collection of 95% of rents and boosting its full-year acquisition guidance to $1.2B in purchases. Essential Properties (EPRT) traded lower by about 2% after holding guidance steady with expectations of 11.7% AFFO growth this year. Broadstone (BNL) reports results this afternoon.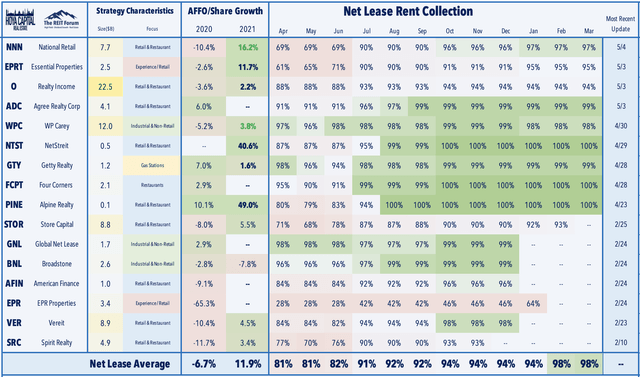 Billboard: Lamar Advertising (LAMR) jumped more than 1% today after announcing strong results this morning and boosted its full-year AFFO growth outlook to 7.7%, up from its prior outlook of 4.8%. Lamar noted that the "advertising rebound is well underway with bookings in March and April for the rest of 2021 handily exceeded bookings in the same months of 2019 for the rest of that year." Last week, we published Billboard REITs: In Your Face, But Under The Radar which analyzed the challenges and opportunities of the sector following a rough year - particularly for public transit-oriented advertising. We'll hear results from Outfront (OUT) this afternoon.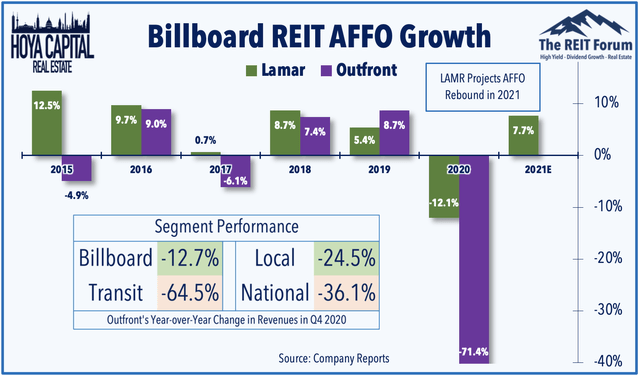 Shopping Center: Brixmor (BRX) finished slightly lower today despite boosting its full-year FFO growth outlook to 12.2% - the strongest in the shopping center REIT sector - and noting that it collected 94% of rents in Q1. Same-store NOI growth improved to -1.5%, the second-best in the sector behind Weingarten (WRI) which reported a -0.6% decline. Urban Edge (UE) was roughly flat after reporting collection of 95% of rents and noting a sequential improvement in same-store NOI growth to -5.8% from its trough of -20.1% in Q3 of 2020. We'll hear results this afternoon from Retail Value (RVI), Retail Properties (RPAI), and Whitestone (WSR).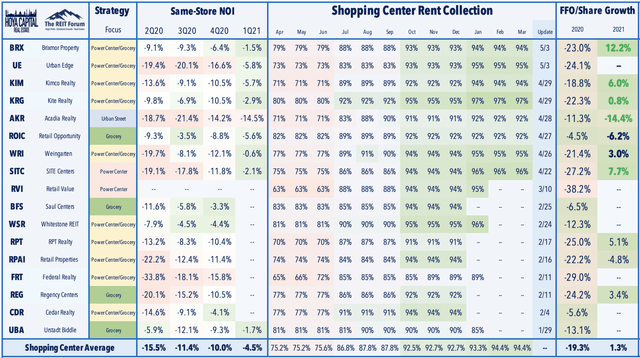 Hotels: Ryman Hospitality (RHP) plunged more than 6% after reporting yesterday that its occupancy rate was just 16.4% in Q1 while Sunstone (SHO) dipped more than 3% after reporting that its hotel occupancy rate remained at just 18.3%, underscoring the continued challenges facing the business-focused and luxury resort segments of the hotel market. TSA Checkpoint data showed that travel recovered to 65% of pre-pandemic levels in late March after bottoming at less than 5% but while the recovery in leisure travel may be swift, business demand may take a half-decade or longer to return to pre-pandemic levels amid the "new normal" for work from home. We'll hear results from Host Hotels (HST) this afternoon.
Mortgage REITs
Per our Mortgage REIT Tracker available to The REIT Forum subscribers, residential mREITs finished lower by 1.4% today and are now lower by 0.9% this week. Commercial mREITs finished lower by 1.5% and are now off by 1.1% this week. Ellington Residential (EARN) dipped more than 4% today after reporting yesterday afternoon that its Book Value Per Share ("BVPS") dipped 1.9% in Q1, the weakest among residential mREITs to report thus far. Ares Commercial (ACRE) declined by 0.6% today after reporting in-line results and declaring a special supplemental cash dividend of $0.02/share.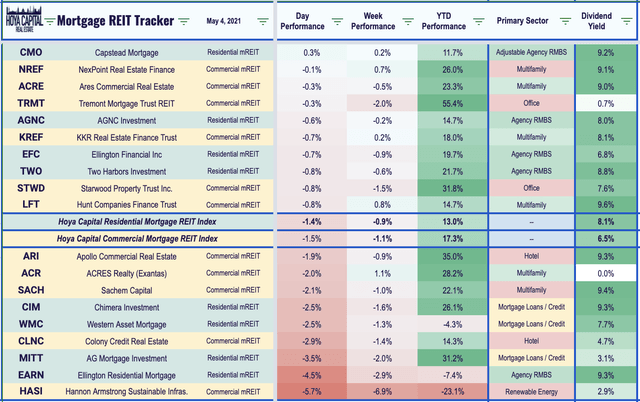 Thus far, residential mREITs have reported an average increase in Book Value Per Share ("BVPS") of about 2.5% this quarter while the reported BVPS for commercial mREITs has been flat. We'll hear results this afternoon from Hannon Armstrong (HASI), Acres Capital (ACRE), and TPG Real Estate (TRTX), and tomorrow we'll hear from New Residential (NRZ), Invesco Mortgage (IVR), Two Harbors (TWO), and Chimera Investment (CIM).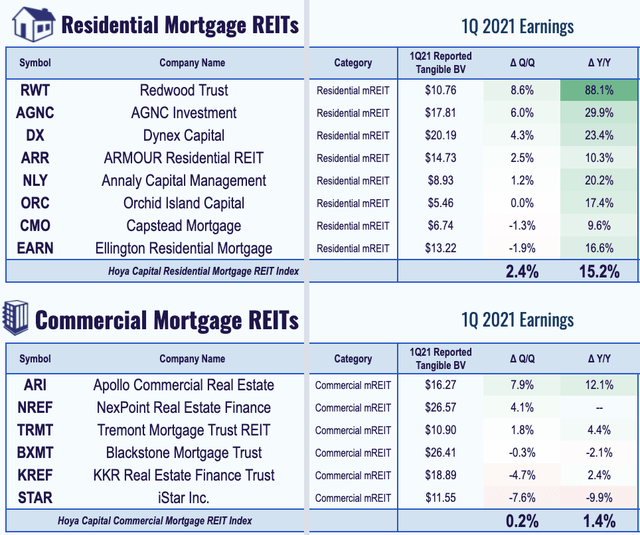 REIT Preferreds & Bonds
Per the REIT Preferreds & Bond Tracker available to The REIT Forum subscribers, REIT Preferred stocks finished higher by 0.01% today, on average, and outperformed their respective common stock issues by an average of 1.34%. So far in 2021, REIT Preferred stocks are higher by 7.15% on a price return basis. The average REIT preferred currently pays a dividend yield of 6.26% and trades at a slight premium to par value.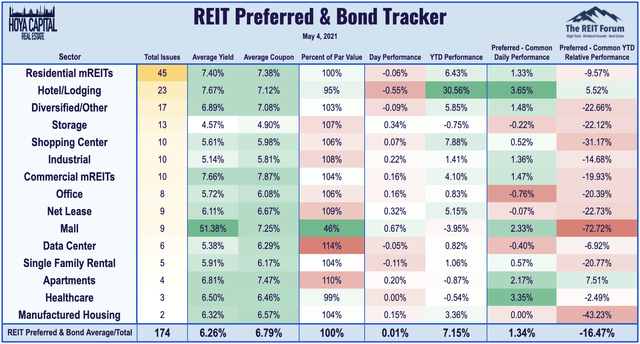 Economic Data This Week
We have another frenetic week of earnings reports and economic data in the week ahead, headlined by ADP Employment data on Wednesday, Jobless Claims on Thursday, and the BLS Nonfarm Payrolls report on Friday. Economists are looking for job growth of nearly 1,000,000 in April following similarly-sized gains last month as temporarily unemployed workers return to the labor force. We'll also see Construction Spending data on Monday, and a flurry of Purchasing Managers' Index (PMI) data throughout the week.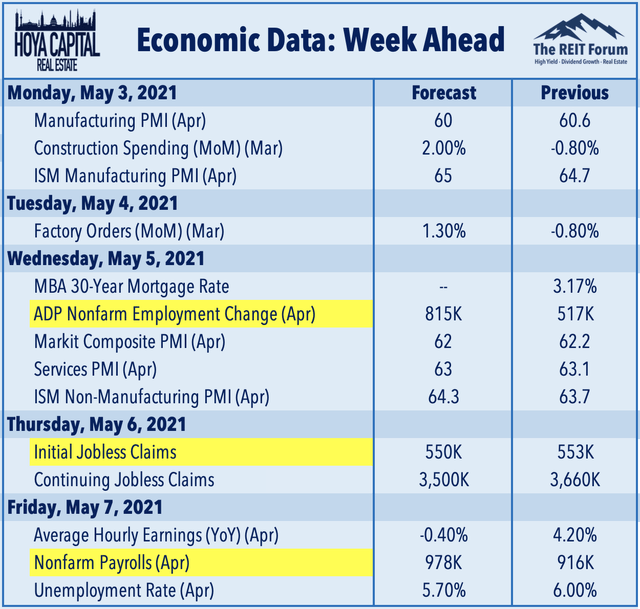 Hoya Capital Joins The REIT Forum
Hoya Capital is excited to announce that we've teamed up with The REIT Forum to bring the premier research service on Seeking Alpha to the next level. Exclusive articles contain 2-3x more research content including access to The REIT Forum's exclusive ratings and live trackers and valuation tools. Sign up for the 2-week free trial today! The REIT Forum offers unmatched coverage and top-quality model portfolios for Equity and Mortgage REITs, Real Estate ETFs and CEFs, High-Yield BDCs, and REIT Preferred Stocks & Bonds.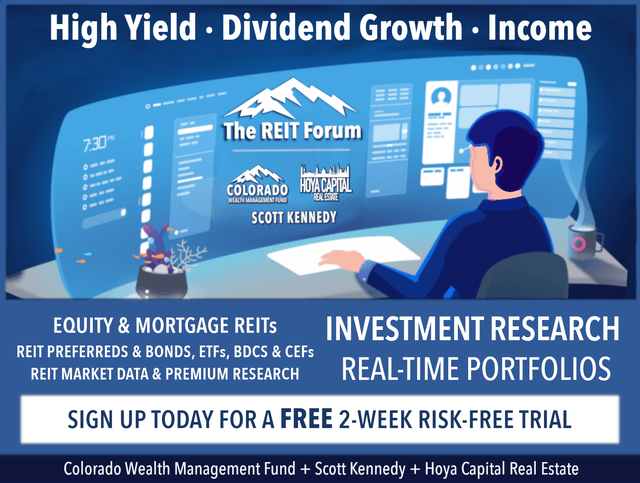 Join our Mailing List on our Website
The REIT Forum is the exclusive home to Hoya Capital premium research. Visit our website and join our email list for quick access to our real estate research library: HoyaCapital.com where we have links to all of our real estate sector reports and daily recaps. You can also follow our real-time commentary on Twitter, LinkedIn, and Facebook.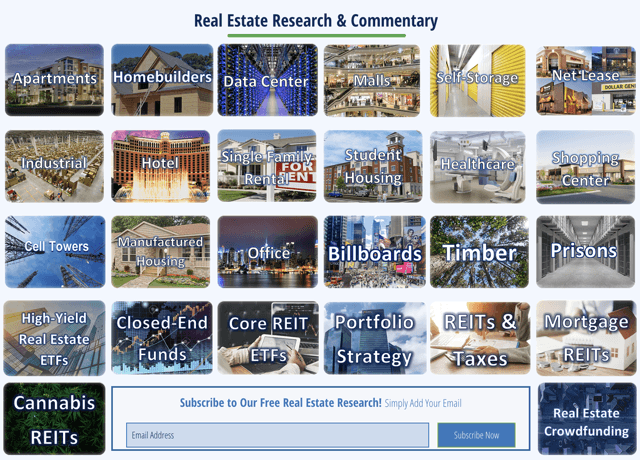 Disclosure: A complete list of holdings and Real Estate and Housing Index definitions and holdings are available at HoyaCapital.com. Hoya Capital Real Estate advises an Exchange Traded Fund listed on the NYSE. Hoya Capital is long all components in the Hoya Capital Housing 100 Index.

Additional Disclosure: It is not possible to invest directly in an index. Index performance cited in this commentary does not reflect the performance of any fund or other account managed or serviced by Hoya Capital Real Estate. Data quoted represents past performance, which is no guarantee of future results. Information presented is believed to be factual and up-to-date, but we do not guarantee its accuracy.
I am/we are long all holdings listed at www.HoyaCapital.com