Real Estate Daily Recap
Our Real Estate Daily Recap discusses the notable news and events in the real estate sector over the last trading day and highlights sector-by-sector performance. Sign-up for our email list to keep up with the latest developments in the commercial and residential real estate sectors. Follow our real-time commentary on Twitter and LinkedIn and subscribe to The REIT Forum for full access to our premium analysis, exclusive tools and trackers, and The REIT Forum's exclusive ratings and model portfolios.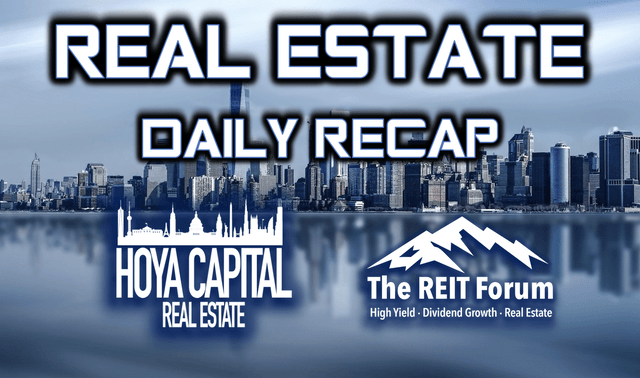 U.S. equity markets were sharply lower Wednesday - posting their worst three-day decline since last November - after inflation data showed the sharpest year-over-year jump in consumer prices since 2008. Pushing its losses to 4% this week, the S&P 500 ETF (SPY) finished lower by another 2.1% today while the Mid-Cap 400 (MDY) and the Small-Cap 600 (SLY) each dipped 3.1%. The tech-heavy Nasdaq 100 (QQQ) finished lower by 2.6%, barely hanging onto its 2021 gains. Real estate equities were lower today as the broad-based Equity REIT ETFs (VNQ) dipped 2.5% with all 19 property sectors in negative territory while Mortgage REITs (REM) declined by 3.3%.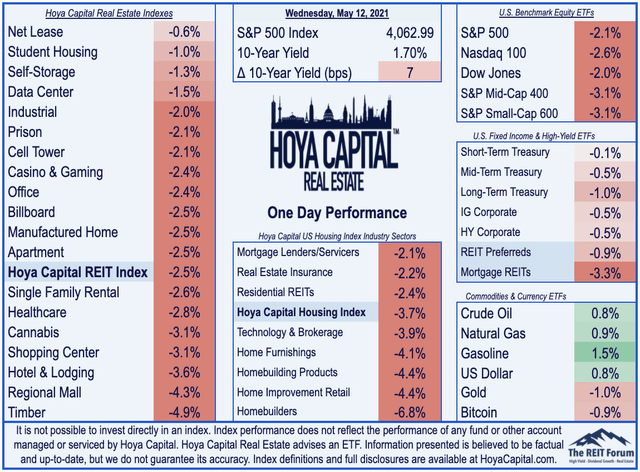 Inflation concerns pushed the 10 Year Treasury Yield higher by 7 basis points to 1.70%, on the cusp of the highest levels since January 2020. Unprecedented levels of fiscal stimulus - much of it untargeted - have combined with surging demand from post-pandemic reopening, and have further clashed with supply constraints to drive a surge in prices and emerging shortages of goods and labor across many industries. Tensions between Israelis and Palestinians continued to intensify as well, sending ten of the eleven GICS equity sectors lower on the day with Energy (XLE) as the lone sector in positive territory.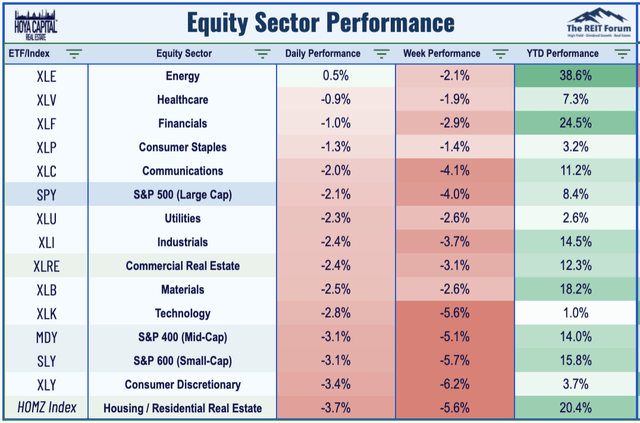 The BLS reported this morning that consumer prices rose 0.8% in April,  pushing the year-over-year increase to 4.2%, which was the largest annual increase since September 2008. Core CPI - which excludes food and energy - rose 3.0% from a year earlier, which was the largest annual increase since 1995. Nearly all major component indexes increased in April with shelter, airline fares, recreation, and household furnishings among the categories with the largest impact on the overall increase. 
Commercial Equity REITs
Data Centers: Today, we published Data Center REITs: Tech Trouble. Data Center REITs - in synchrony with the broader technology sector - have woefully underperformed their more cyclical and value-oriented counterparts since late 2020 amid an ongoing "Reopening Rotation." Fundamentals were remarkably unaffected by the pandemic, but that's precisely the issue. The worst-performing major REIT sector this year, these REITs are 10-20% below their recent highs set last summer. While cloud spending continues to boom, it is increasingly concentrated in a smaller number of providers - Amazon, Microsoft, and Google. With muted pricing power, REITs must rely on development and M&A to fuel growth.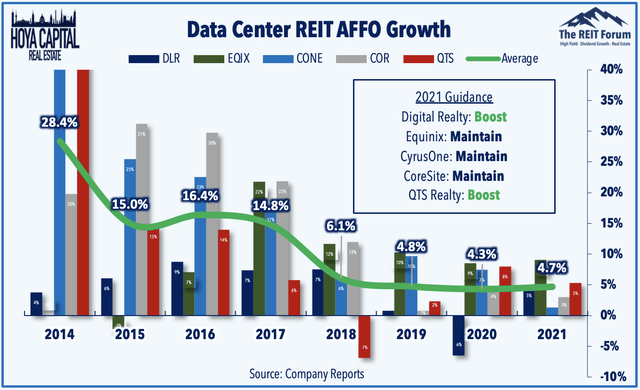 Casinos: MGM Growth (MGP) was a relative leader today after it announced that it acquired MGM Resorts' (MGM) property in Springfield for $400M. The transaction represents a 13.3X rent multiple/7.5% cap rate and should be 1% to 2% accretive to MGP AFFO/share. MGP is expected to fund a portion of the transaction via equity given high leverage relative to target ranges. Earlier this week, we published Vegas Is Back, Baby which noted that external growth through acquisitions is the modus operandi of the casino REIT sector and should continue to provide a steady source of FFO growth for the foreseeable future given these REITs' favorable cost of capital and unique competitive positioning.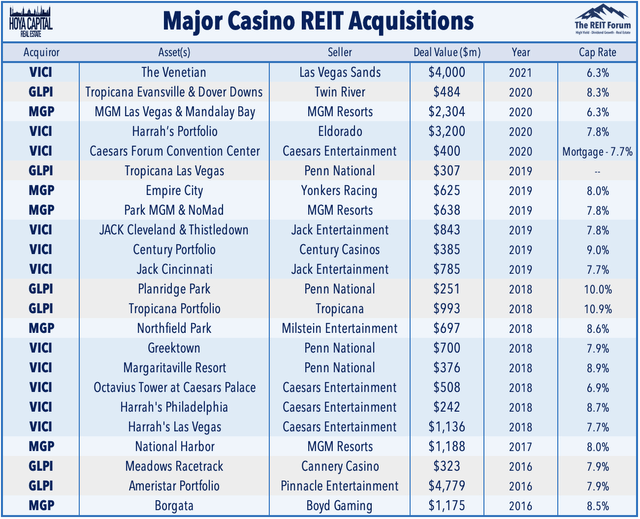 Shopping Centers: After the close today, shopping center REIT Kite Realty (KRG) boosted its dividend for the second time this year, declaring a $0.18/share quarterly dividend, a 5.9% increase from its prior dividend of $0.17. Yesterday, Site Centers (SITC) declared a $0.12/share quarterly dividend, a 9% increase from prior dividend of $0.11 and its second increase this year. In all, 53 equity REITs and 18 mortgage REITs have increased their dividend this year which is higher than the full-year total for 2020. Last week, we published our REIT Earnings Halftime Report. The major themes this quarter have been "Beat and Boost" and the revival of long-dormant "Animal Spirits." Roughly 85% of REITs topped consensus earnings estimates. 
Mortgage REITs
Per our Mortgage REIT Tracker available to The REIT Forum subscribers, residential mREITs finished lower by 3.4% today and are now off by 5.7% this week. Commercial mREITs finished lower by 3.2% to push their weekly declines to 6.4%. Residential mREIT Ellington Financial (EFC) was among the relative leaders today after news that it will join the S&P Small-Cap 600. Self-storage REIT National Storage (NSA) will move from the Small-Cap 600 to the Mid-Cap 400.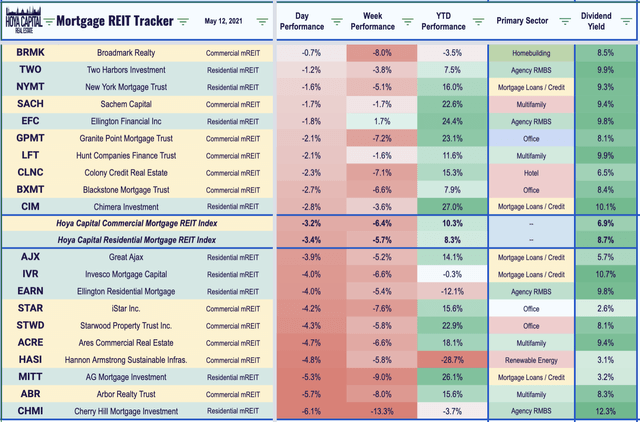 REIT Preferreds & Bonds
Per the REIT Preferreds & Bond Tracker available to The REIT Forum subscribers, REIT Preferred stocks finished lower by 0.75% today, on average, but outperformed their respective common stock issues by an average of 2.35%. So far in 2021, REIT Preferred stocks are higher by 5.93% on a price return basis. The average REIT preferred currently pays a dividend yield of 6.64% and trades at a slight discount to par value.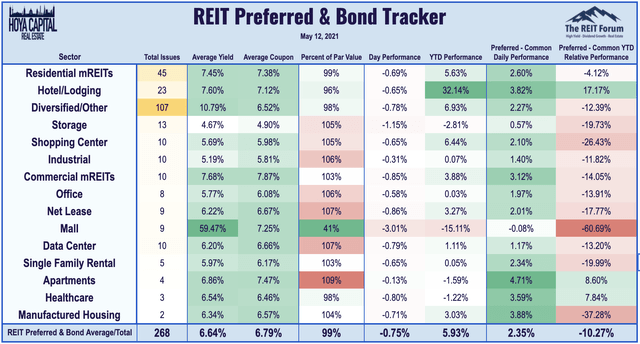 Economic Data This Week
Inflation and retail sales data highlight this week's economic calendar. On Wednesday, we saw the Consumer Price Index for April. On Thursday, we'll see the Producer Price Index which is expected to show the sharpest year-over-year rise since 2008 at 6.0%. On Friday, we'll see the Retail Sales report for April which is expected to climb to new record-highs following the stimulus-aided surge in March. We'll also be watching for shifts in inflation expectations and consumer confidence on Friday in the Survey of Consumers as well as Jobless Claims data on Thursday.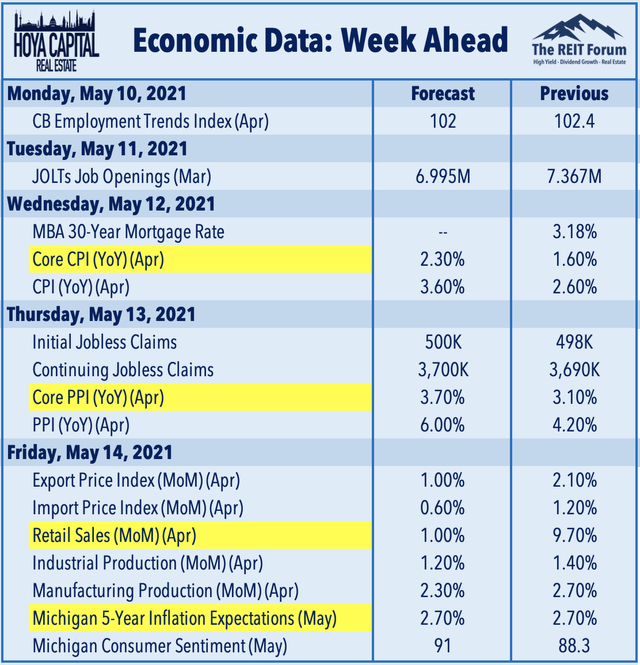 Hoya Capital Joins The REIT Forum
Hoya Capital is excited to announce that we've teamed up with The REIT Forum to bring the premier research service on Seeking Alpha to the next level. Exclusive articles contain 2-3x more research content including access to The REIT Forum's exclusive ratings and live trackers and valuation tools. Sign up for the 2-week free trial today! The REIT Forum offers unmatched coverage and top-quality model portfolios for Equity and Mortgage REITs, Real Estate ETFs and CEFs, High-Yield BDCs, and REIT Preferred Stocks & Bonds.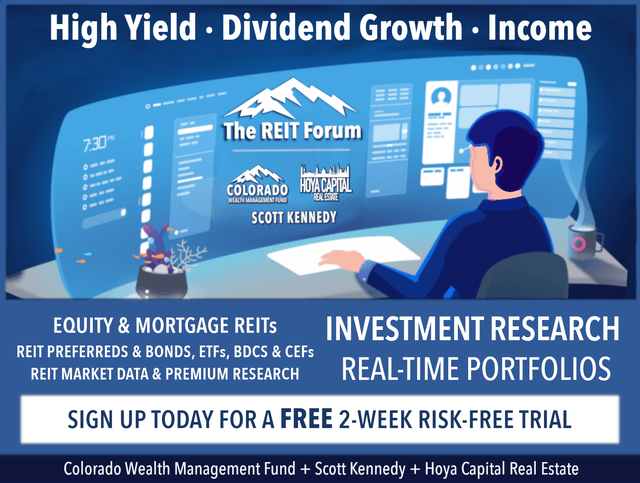 Join our Mailing List on our Website
The REIT Forum is the exclusive home to Hoya Capital premium research. Visit our website and join our email list for quick access to our real estate research library: HoyaCapital.com where we have links to all of our real estate sector reports and daily recaps. You can also follow our real-time commentary on Twitter, LinkedIn, and Facebook.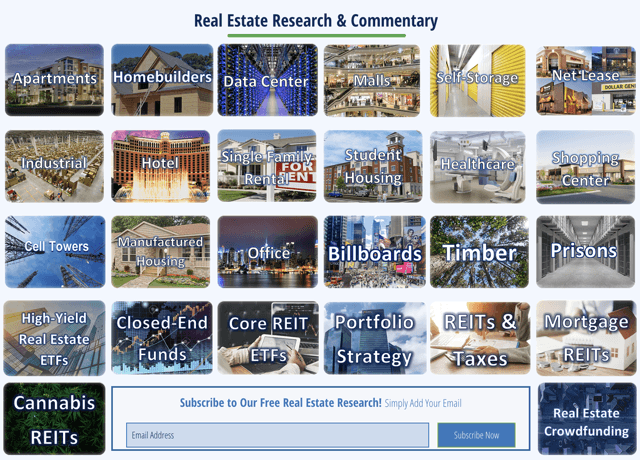 Disclosure: A complete list of holdings and Real Estate and Housing Index definitions and holdings are available at HoyaCapital.com. Hoya Capital Real Estate advises an Exchange Traded Fund listed on the NYSE. Hoya Capital is long all components in the Hoya Capital Housing 100 Index.

Additional Disclosure: It is not possible to invest directly in an index. Index performance cited in this commentary does not reflect the performance of any fund or other account managed or serviced by Hoya Capital Real Estate. Data quoted represents past performance, which is no guarantee of future results. Information presented is believed to be factual and up-to-date, but we do not guarantee its accuracy.
I am/we are long all holdings listed at www.HoyaCapital.com