Real Estate Daily Recap
Our Real Estate Daily Recap discusses the notable news and events in the real estate sector over the last trading day and highlights sector-by-sector performance. Sign-up for our email list to keep up with the latest developments in the commercial and residential real estate sectors. Follow our real-time commentary on Twitter and LinkedIn and subscribe to The REIT Forum for full access to our premium analysis, exclusive tools and trackers, and The REIT Forum's exclusive ratings and model portfolios.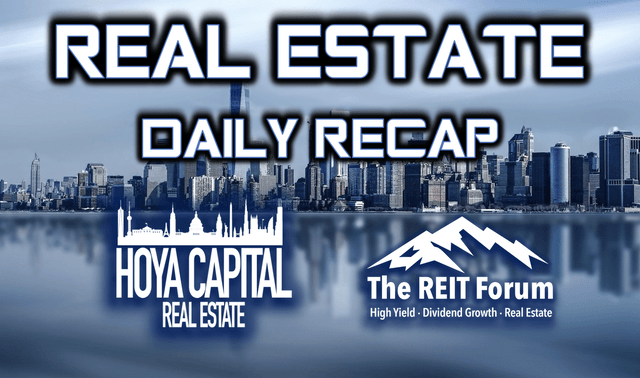 U.S. equity markets extended their declines Wednesday as investors continue to unwind bets in the most speculative areas of the markets including cryptocurrencies as shares in digital assets plunged. Declining for the third-straight day, the S&P 500 (SPY) declined by 0.3% today while the Mid-Cap 400 (MDY) declined by 0.6% and the Small-Cap 600 (SLY) pulled-back 0.7%. Real estate equities were mostly lower as well with the Equity REIT Index declining by 0.3% with 16 of 19 property sectors in negative territory while the Mortgage REIT Index gained 0.4%.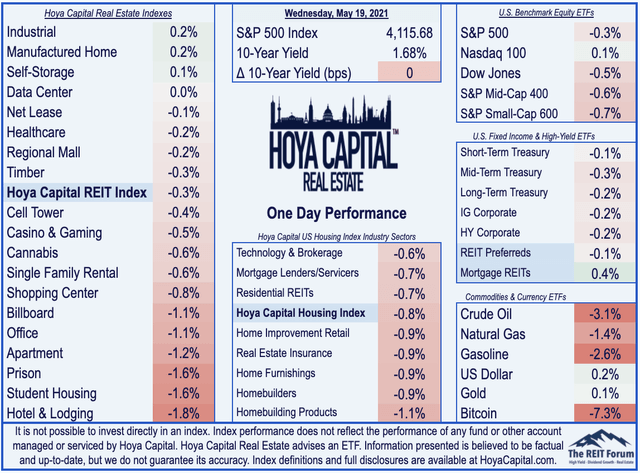 Volatility across markets continued today as investor unease over inflation and emerging shortages of goods across many critical industries continue to weigh on sentiment. Nine of the eleven GICS equity sectors finished lower on the day, dragged to the downside by the Energy (XLE) and Materials (XLI) sectors. Cryptocurrencies were slammed today with Bitcoin (BTC-USD) plunging as much as 30% at the lows of the day as investors question the inherent value - if any - of many "digital assets" that have emerged over the past year.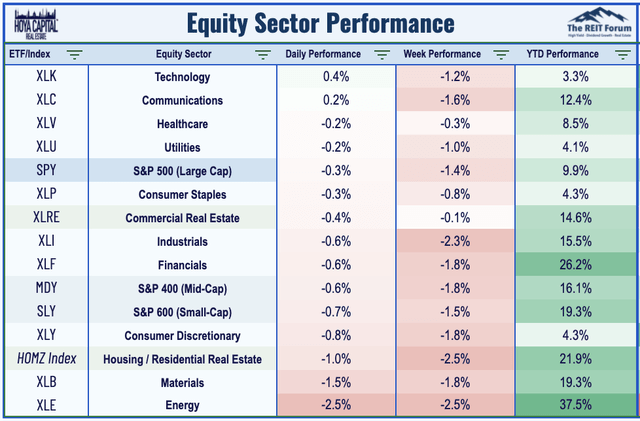 Home improvement retailer Lowe's (LOW) finished lower despite smashing sales estimates, reporting a 25.9% increase in same-store sales in Q1. Yesterday, competitor Home Depot (HD) reported that its comparable-store sales rose 31.0% in Q1. Lowe's says it's sales momentum continued into May and that it's tracking ahead of the Robust Market scenario provided at its December 9, 2020 Investor Update, but has not provided specific guidance in recent earnings reports. On its earnings call, Lowe's commented "as the housing stock continues to age, we're in a repair maintenance business. We see really robust year-over-year growth potential relative to the macro."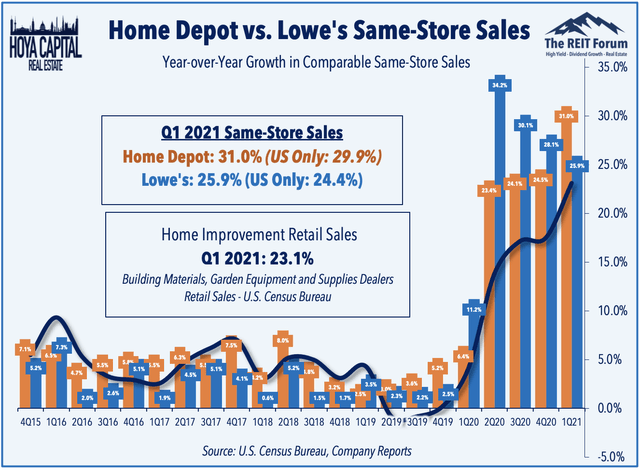 Commercial Equity REITs
Malls: Washington Prime Group (WPG) declined 1.5% after it announced that it has been granted another week-long extension to its forbearance agreement with certain noteholders and lenders, the sixth extension as it seeks to avoid becoming the third mall REIT in the past year to file for Chapter 11 Bankruptcy protection. The new extension pushes the forbearance pact out to May 26th while it is continuing negotiations with both groups to restructure its capital structure. As we'll discuss in an updated report on mall REIT sector published to The REIT Forum, occupancy rates and leasing spreads remain in free-fall for mall REITs and a return to sustained positive NOI growth looks increasingly unlikely for the foreseeable future.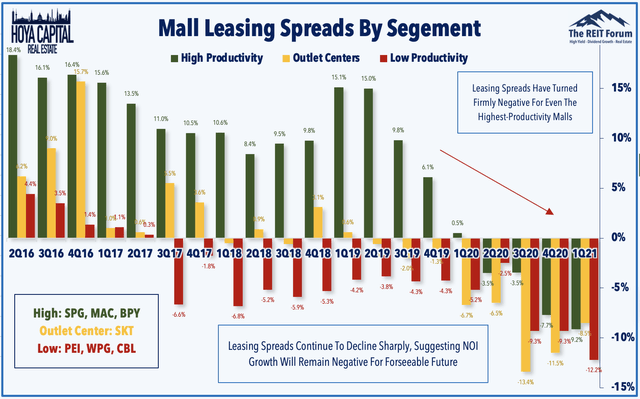 Healthcare: Senior housing REIT Welltower (WELL) provided a business update in which it noted that its senior housing operating ("SHO") portfolio spot occupancy rate improved to 74.0% through April 30, 2021, up roughly 80 basis points from its pandemic low on March 12, 2021. Both U.S. and U.K. SHO portfolios saw occupancy gains of ~130 bps since March 12. Welltower reported that 99% of communities have zero reported resident COVID-19 cases over the past two weeks and that most communities have eased rules around visitation and social programs. WELL maintained its FFO guidance for Q2 at a range of $0.72 - $0.77 per share.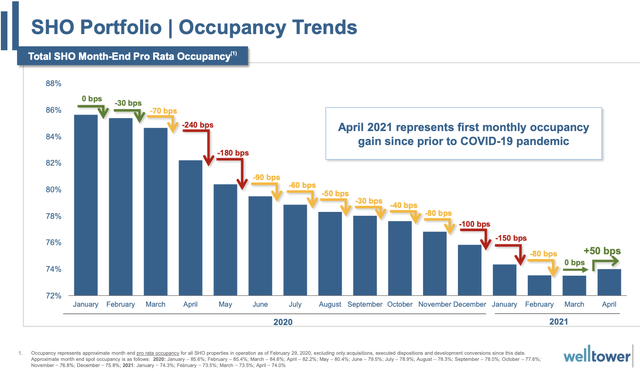 Timber: Yesterday, we published Timber REITs: Lumber Shortage Inflames. Reignited by the red-hot U.S. housing market, timber REITs and lumber producers have "caught fire" since mid-2020 as lumber prices have soared to record highs amid a historic supply shortage. Caught flat-footed by the velocity of the rebound in lumber demand from homebuilding and remodeling activity, sawmills are scrambling to catch-up as producers invest in building immediate and long-term capacity. Recent commentary suggests that bottlenecks may be beginning to ease, which is good news for these REITs and the broader housing industry and Q1 earnings results showed that the vertically-integrated timber REITs are starting to fire on all cylinders.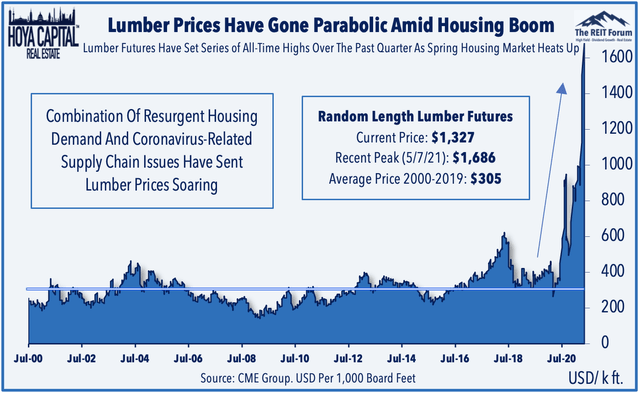 Last week, we published REIT Earnings Recap. Overshadowed by concerns about rising inflation, a frenzy of real estate earnings reports over the last month has provided critical information on the state of the real estate industry. Results were better than expected across most major property sectors with roughly 80% of the 170 equity REITs and 40 mortgage REITs in our coverage universe beating consensus FFO estimates. Positive surprises were primarily in the residential sectors where self-storage, manufactured housing, and sunbelt-focused single-family and multifamily REITs saw accelerating rent growth.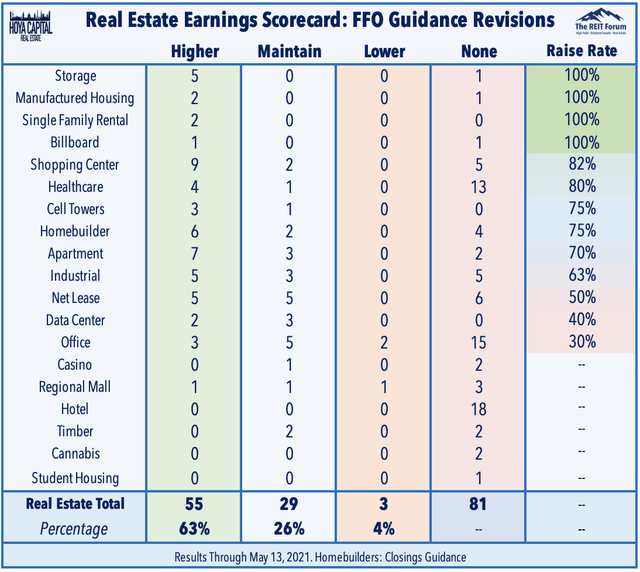 Mortgage REITs
Per our Mortgage REIT Tracker available to The REIT Forum subscribers, residential mREITs finished higher by 0.1% today to push their weekly gains to 0.9%. Commercial mREITs finished higher by 0.3% and are now higher by 0.8%. On a slow news day, Hannon Armstrong (HASI) led to the upside but remains the worst-performing mREIT this year. As discussed in our Earnings Recap, the average residential mREIT reported a 1.1% increase in its tangible BVP in Q1 from the prior quarter while the average commercial mREIT reported a 0.3% decline in its tangible BVPS in Q1.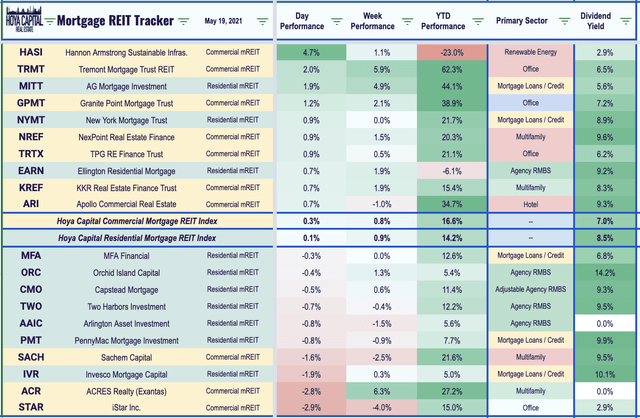 REIT Preferreds & Bonds
Per the REIT Preferreds & Bond Tracker available to The REIT Forum subscribers, REIT Preferred stocks finished higher by 0.11% today, on average, but outperformed their respective common stock issues by an average of 0.76%. Over in the bond markets, Braemar Hotels (BHR) closed on its previously announced private placement of $86.25 million aggregate principal amount of its 4.5% Convertible Senior Notes due 2026 with an initial conversion price of $6.34 per share. Independence Real Estate (IRT) closed on a new 5-year $200 million term loan at LIBOR plus 1.20% to 1.90% based on IRT's leverage ratio. At closing, the interest rate spread will be 1.25%. Finally, American Tower (AMT) priced note offering due 2027, 2029 and 2033 at 0.450%, 0.875%, and 1.250%, respectively.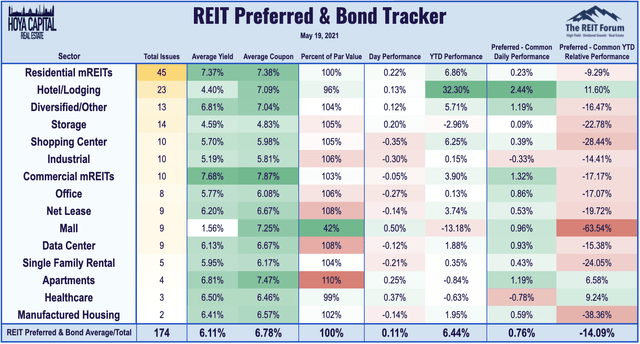 Economic Data This Week
The jam-packed week of economic data continues tomorrow with Jobless Claims data and Manufacturing data from the Philadelphia Fed. Then on Friday, we'll see Existing Home Sales for April which is expected to climb to a 6.1M annualized rate as the Spring housing season heats up.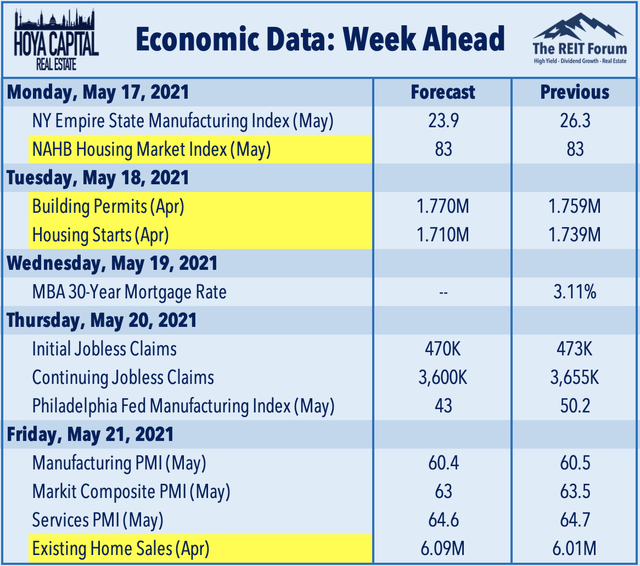 Hoya Capital Joins The REIT Forum
Hoya Capital is excited to announce that we've teamed up with The REIT Forum to bring the premier research service on Seeking Alpha to the next level. Exclusive articles contain 2-3x more research content including access to The REIT Forum's exclusive ratings and live trackers and valuation tools. Sign up for the 2-week free trial today! The REIT Forum offers unmatched coverage and top-quality model portfolios for Equity and Mortgage REITs, Real Estate ETFs and CEFs, High-Yield BDCs, and REIT Preferred Stocks & Bonds.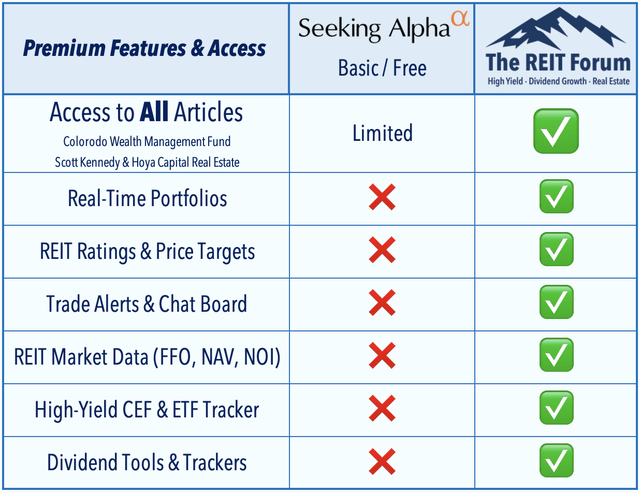 Join our Mailing List on our Website
The REIT Forum is the exclusive home to Hoya Capital premium research. Visit our website and join our email list for quick access to our real estate research library: HoyaCapital.com where we have links to all of our real estate sector reports and daily recaps. You can also follow our real-time commentary on Twitter, LinkedIn, and Facebook.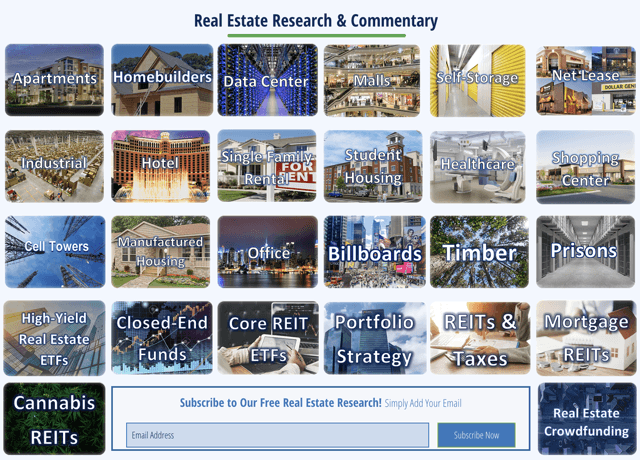 Disclosure: A complete list of holdings and Real Estate and Housing Index definitions and holdings are available at HoyaCapital.com. Hoya Capital Real Estate advises an Exchange Traded Fund listed on the NYSE. Hoya Capital is long all components in the Hoya Capital Housing 100 Index.

Additional Disclosure: It is not possible to invest directly in an index. Index performance cited in this commentary does not reflect the performance of any fund or other account managed or serviced by Hoya Capital Real Estate. Data quoted represents past performance, which is no guarantee of future results. Information presented is believed to be factual and up-to-date, but we do not guarantee its accuracy.
I am/we are long all holdings listed at www.Hoya Capital.com