Real Estate Daily Recap
Our Real Estate Daily Recap discusses the notable news and events in the real estate sector over the last trading day and highlights sector-by-sector performance. Sign-up for our email list to keep up with the latest developments in the commercial and residential real estate sectors. Follow our real-time commentary on Twitter and LinkedIn and subscribe to The REIT Forum for full access to our premium analysis, exclusive tools and trackers, and The REIT Forum's exclusive ratings and model portfolios.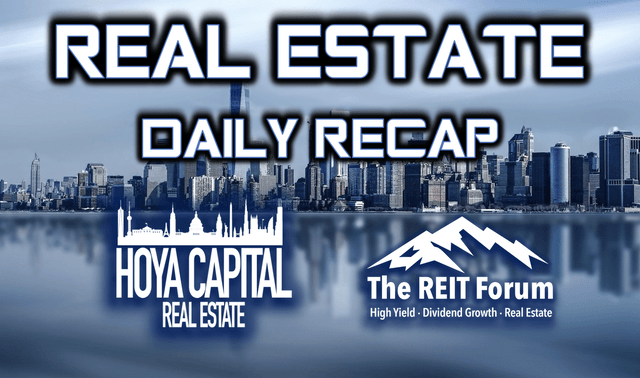 U.S. equity markets gained Friday - pushing the major indexes to their best week since February - following economic data that showed hints of normalization to the recent surge in inflation. Ending the week with gains of nearly 3%, the S&P 500 finished higher by 0.4% today while the Mid-Cap 400 gained 0.9% and the Small-Cap 600 finished higher by 0.1%. Real estate equities were among the leaders today as the Equity REIT Index finished higher by 0.7% with 17 of 19 property sectors in positive territory while the Mortgage REIT Index finished higher by 0.1%.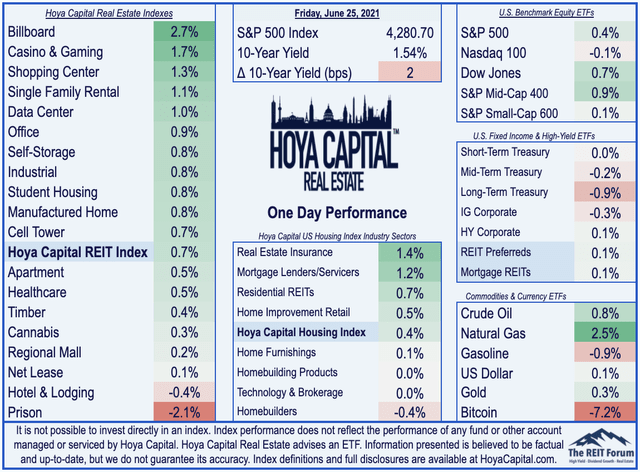 There were signs in today's data that the recent surge in inflation may be peaking as the BEA reported this morning that its PCE Index - the Fed's "preferred" gauge of inflation - came in slightly below economists' estimates. Prices rose 0.4% in May - slightly below the 0.5% rise expected, but still pushed the annual rise to 3.9%, the largest year-over-year rise in prices since 2008. The 3.8% annual rise in the Core PCE Index - which excludes food and energy - was the highest in nearly 30 years. The broad-based Commodity Index (DJP), however, has retreated roughly 5% from its peak on June 10.

Ten of the eleven GICS equity sectors finished higher today, led to the upside by the Financials (XLF), Utilities (XLU), and Consumer Staples (XLP) sectors. Elsewhere, residential REITs and housing-related financials led the Hoya Capital Housing Index to gains on reports of continued institutional interest in the single-family rental sector. We'll publish a full analysis and commentary of this week's developments in the real estate industry, as well as an analysis of the busy week of economic data in our Real Estate Weekly Outlook report on Saturday morning.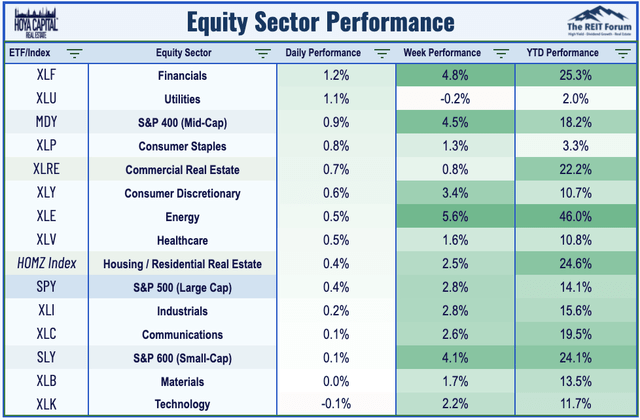 Commercial Equity REITs
The wave of REIT dividend boosts continued today as shopping center REIT Saul Centers (BFS) boosted its quarterly dividend by 3.8% to $0.55/share, representing a forward yield of roughly 4.8%. BFS was one of just three shopping center REITs that were able to avoid a dividend cut in 2020. 65 equity REITs have now raised their dividend this year, the majority of which have come from REITs that also boosted their payouts in 2020.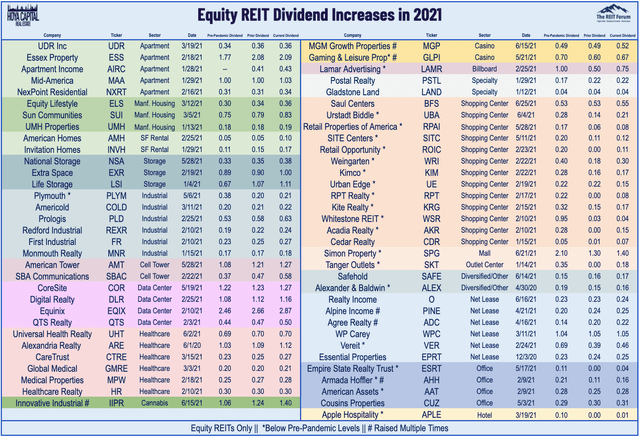 Single-Family Rental: Asset management firm KKR & Co (KKR) is reportedly making a move into the red-hot single-family rental sector with an investment in My Community Homes, that plans to buy and manage rental houses across the U.S. KKR joins a wave of other asset management firms that have entered or re-entered the space in the last several months including earlier this week, Blackstone Group (BX), which announced earlier this week that it will acquire SFR operator Home Partners of America — which owns more than 17,000 houses nationwide — for $6 billion. Last week, we discussed why SFR REITs have been the best-performing REIT sector since 2015.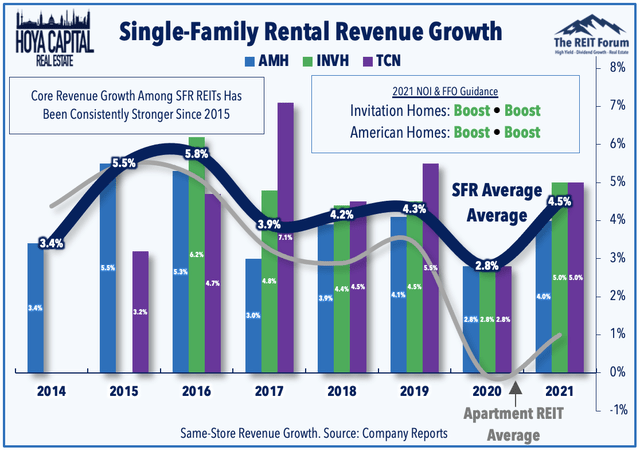 Manufactured Housing: Yesterday, we published Ground Zero of the Housing Shortage. Manufactured housing ("MH") REITs have been the top-performing property sector over the past decade, continuing the strong momentum into 2021. Consistent with the trends across the residential REIT industry over the past quarter, MH REITs significantly boosted their growth outlook, citing strong rental housing demand and substantial upward rent pressure. We analyzed Harvard's recently-published "State of the Nation's Housing" which concluded that the country is nearly 4-million housing units short of meeting long-term demand, a compelling backdrop for companies across the broader housing industry.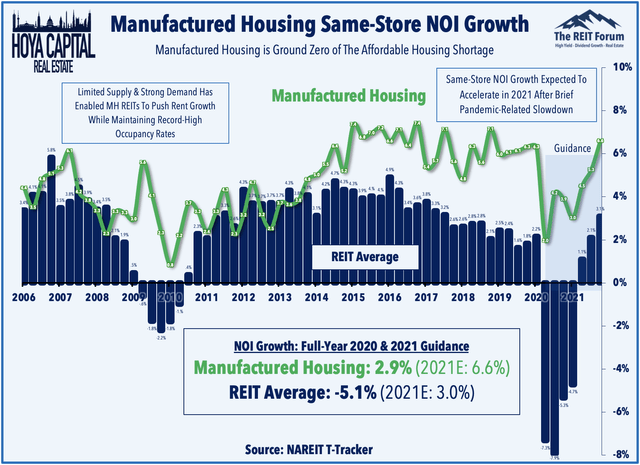 Mortgage REITs
Per our Mortgage REIT Tracker available to The REIT Forum subscribers, residential mREITs finished lower by 0.5% today but finished the week with gains of 1.5%. Commercial mREITs declined by 0.3% today but ended the week with gains of 3.9%. ARMOUR Residential (ARR) was among the leaders today after declaring a $0.10/share monthly dividend, in line with its previous rate, representing a forward yield of roughly 10.4%.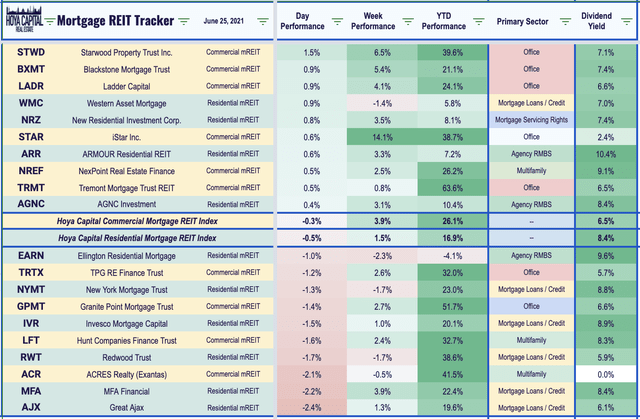 REIT Preferreds & Capital Raising
Per the REIT Preferreds & Bond Tracker available to The REIT Forum subscribers, REIT Preferred stocks finished higher by 0.08% today, on average, but underperformed their respective common stock issues by an average of 0.04%. So far in 2021, REIT Preferred stocks are higher by 9.87% on a price return basis. The average REIT preferred currently pays a dividend yield of 5.90% and trades at a slight premium to par value.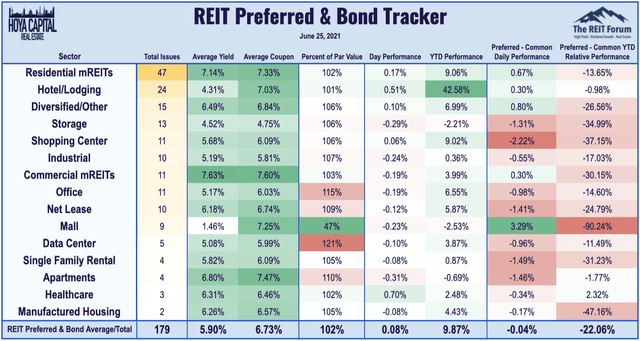 Economic Data This Week
We'll publish a full analysis and commentary of this week's developments in the real estate industry, as well as an analysis of the busy week of economic data in our Real Estate Weekly Outlook report on Saturday morning.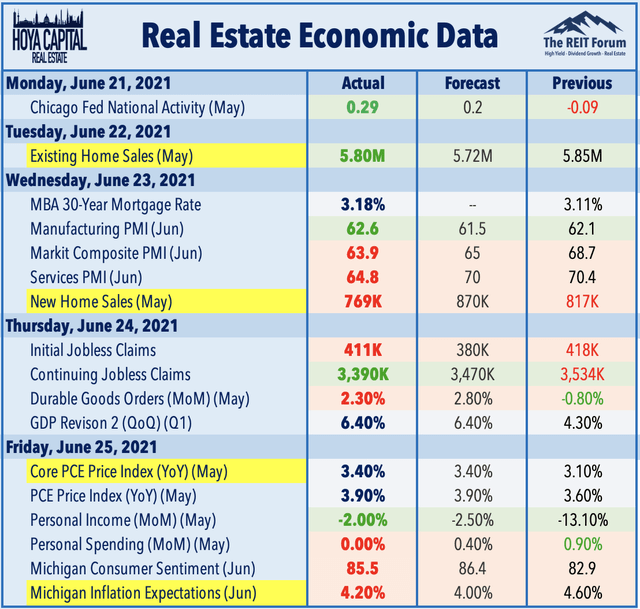 Join The REIT Forum For Our Full Research Library
Hoya Capital is excited to announce that we've teamed up with The REIT Forum to bring the premier research service on Seeking Alpha to the next level. Exclusive articles contain 2-3x more research content including access to The REIT Forum's exclusive ratings and live trackers and valuation tools. Sign up for the 2-week free trial today! The REIT Forum offers unmatched coverage and top-quality model portfolios for Equity and Mortgage REITs, Real Estate ETFs and CEFs, High-Yield BDCs, and REIT Preferred Stocks & Bonds.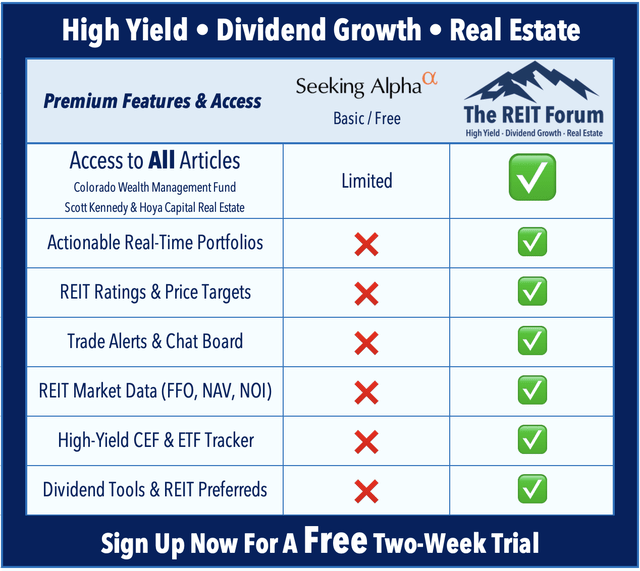 Join our Mailing List on our Website
The REIT Forum is the exclusive home to Hoya Capital premium research. Visit our website and join our email list for quick access to our real estate research library: HoyaCapital.com where we have links to all of our real estate sector reports and daily recaps. You can also follow our real-time commentary on Twitter, LinkedIn, and Facebook.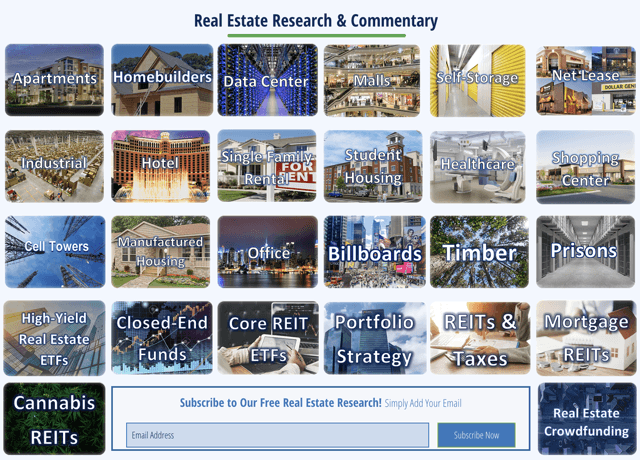 Disclosure: A complete list of holdings and Real Estate and Housing Index definitions and holdings are available at HoyaCapital.com. Hoya Capital Real Estate advises an Exchange Traded Fund listed on the NYSE. Hoya Capital is long all components in the Hoya Capital Housing 100 Index.

Additional Disclosure: It is not possible to invest directly in an index. Index performance cited in this commentary does not reflect the performance of any fund or other account managed or serviced by Hoya Capital Real Estate. Data quoted represents past performance, which is no guarantee of future results. Information presented is believed to be factual and up-to-date, but we do not guarantee its accuracy.
I am/we are long all holdings listed at www.HoyaCapital.com