Real Estate Daily Recap
Our Real Estate Daily Recap discusses the notable news and events in the real estate sector over the last trading day and highlights sector-by-sector performance. Sign-up for our email list to keep up with the latest developments in the commercial and residential real estate sectors. Follow our real-time commentary on Twitter and LinkedIn and subscribe to The REIT Forum for full access to our premium analysis, exclusive tools and trackers, and The REIT Forum's exclusive ratings and model portfolios.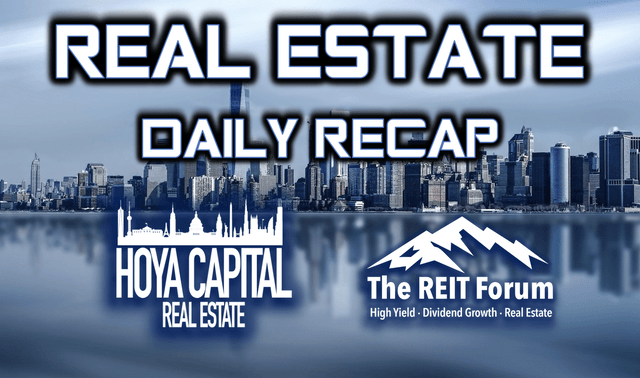 U.S. equity markets extended their rally Monday - pushing the major averages to fresh record-highs - ahead of a jam-packed slate of earnings reports, economic data, and Fed commentary throughout the week. Following gains of 2% last week, the S&P 500 advanced another 0.2% today while the Mid-Cap 400 also gained 0.2% while the Small-Cap 600 rallied 0.9%. Real estate equities were mostly higher today ahead of a busy week of earnings as well with the Equity REIT Index advancing 0.1% with 10-of-19 property sectors in positive territory while Mortgage REITs finished flat.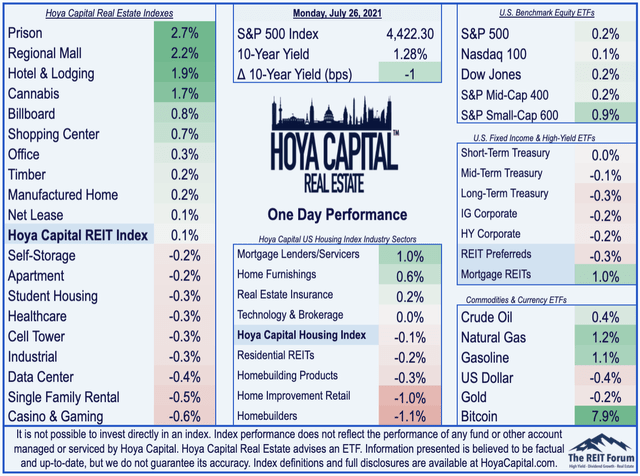 As discussed in our Real Estate Weekly Outlook, "American Exceptionalism" has been the theme of late as COVID concerns across international markets have created a "Goldilocks" environment for domestic-focused equities and real estate markets despite surging inflation. Eight of the eleven GICS equity sectors finished in positive territory today, led to the upside by the Energy (XLE) and Materials (XLB) sectors. Homebuilders and the broader Hoya Capital Housing Index were mixed today as New Home Sales data confirmed the "throttling" of the home sales among many of the largest homebuilders as they work through their massive backlog of existing orders.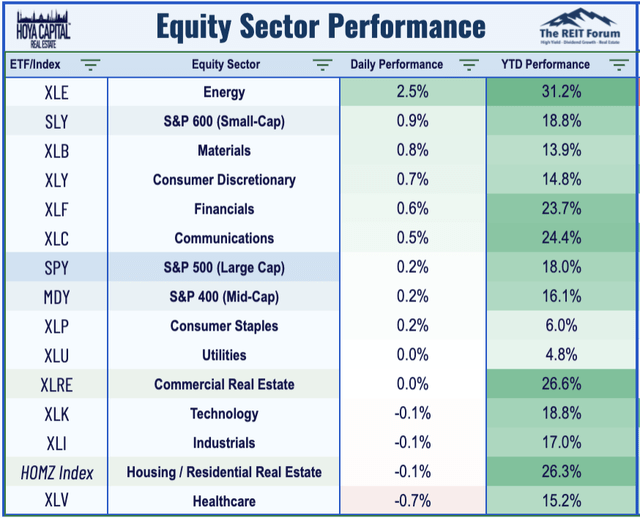 We have another jam-packed slate of housing data and earnings reports in the week ahead, kicking off today with New Home Sales and continuing on Tuesday with home price data from Case Shiller and the FHFA. On Wednesday, we'll hear commentary once again from Fed Chair Powell following the FOMC interest rate decision. On Thursday, we'll get our first look at second-quarter GDP, which is expected to show an 8.2% annualized gain, and we'll also see Pending Home Sales data for June. On Friday, we'll see inflation data with the PCE Price Index - the Fed's "preferred" gauge of inflation - which is expected to show that prices are rising at the fastest level in at least a decade as well as Personal Income & Spending data.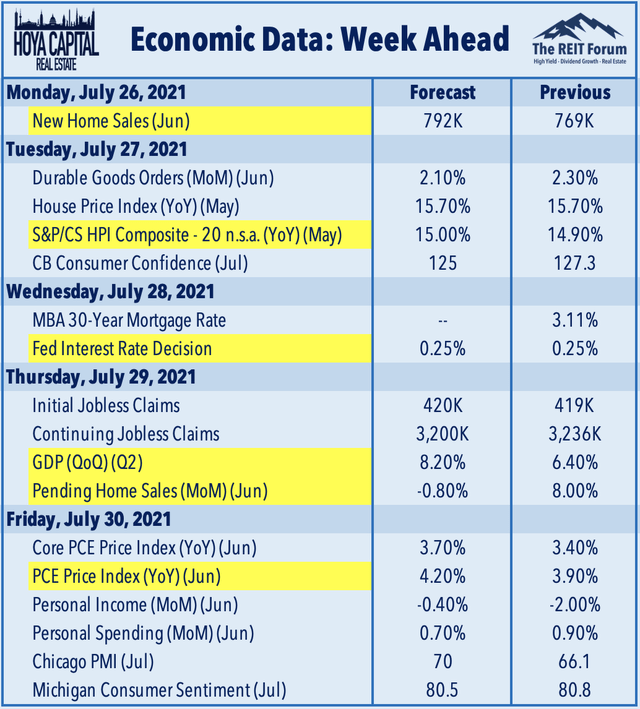 Commercial Equity REITs
As discussed in our Real Estate Earnings Preview, REIT earnings season kicks into high gear this week, and over the next month, we'll hear results from more than 175 equity REITs, 40 mortgage REITs, and dozens of housing industry companies. This afternoon, we'll hear results from apartment REIT Independence (IRT), student housing REIT American Campus (ACC), manufactured housing REIT Sun Communities (SUI), office REITs Alexandria (ARE) and Brandywine (BDN), net lease REIT Agree Realty (ADC), and timber REIT PotlatchDeltic (PCH).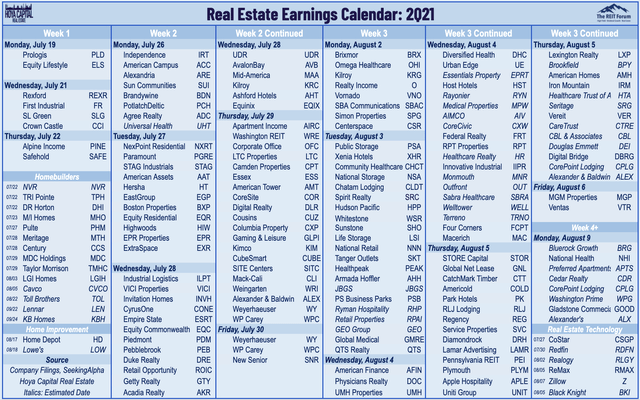 Malls: Done deal. Brookfield Asset Management (BAM) completed its previously announced acquisition of Brookfield Property (BPY) and Brookfield Property REIT (BPYU). The BPY units and BPYU shares will be delisted at the close of trading today and BPY will redeem all of its outstanding 6.375% Series A Preferred (BPY.PA) on August 19th. Unitholders in BPYU were able to elect to receive $18.17 in cash, 0.4006 of a BAM class A limited voting share, or 0.7268 of a new BPY preferred unit that will begin trading tomorrow.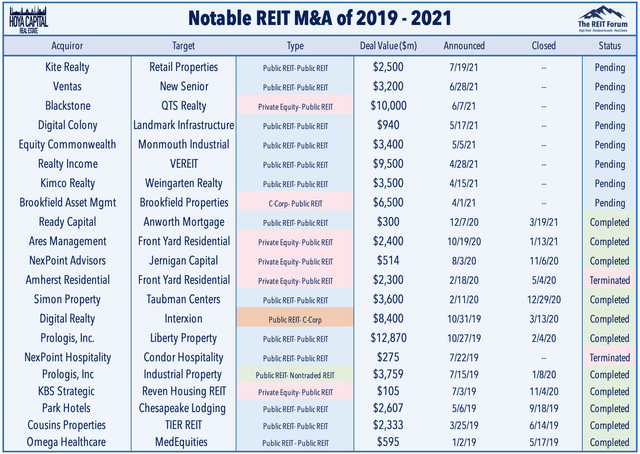 Mortgage: Benefit Street, an unlisted mortgage REIT, will acquire Capstead Mortgage (CMO) in a stock-and-cash deal at a 20% premium CMO's closing price last Friday. The combined company - to be called "Franklin BSP Realty Trust - will be externally managed by Benefit Street Partners, a subsidiary of Franklin Templeton. Upon closing the transaction, which is expected in the fourth quarter of 2021, the combined company will become the fourth largest commercial mortgage REIT with nearly $2 billion of pro forma equity and its common stock will trade on the NYSE under the new ticker symbol FBRT. Last week, we published Mortgage REITs: High Yield Bargains. Mortgage REITs endured punishing declines during the pandemic, but have nearly tripled from their lows and are back within shouting distance of pre-pandemic highs.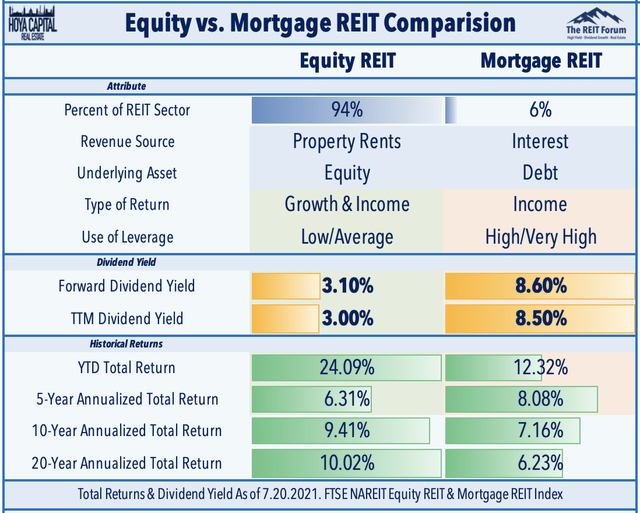 REIT Preferreds & Capital Raising
Per the REIT Preferreds & Bond Tracker available to The REIT Forum subscribers, REIT Preferred stocks finished lower by 0.10% today, on average, and underperformed their respective common stock issues by an average of 0.87%. So far in 2021, REIT Preferred stocks are higher by 9.15% on a price return basis. The average REIT preferred pays a current yield of 5.97% and trades at a slight premium to par value.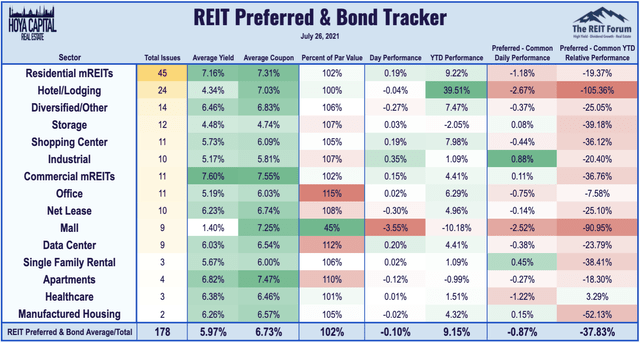 Hoya Capital Joins The REIT Forum
Hoya Capital is excited to announce that we've teamed up with The REIT Forum to bring the premier research service on Seeking Alpha to the next level. Exclusive articles contain 2-3x more research content including access to The REIT Forum's exclusive ratings and live trackers and valuation tools. Sign up for the 2-week free trial today! The REIT Forum offers unmatched coverage and top-quality model portfolios for Equity and Mortgage REITs, Real Estate ETFs and CEFs, High-Yield BDCs, and REIT Preferred Stocks & Bonds.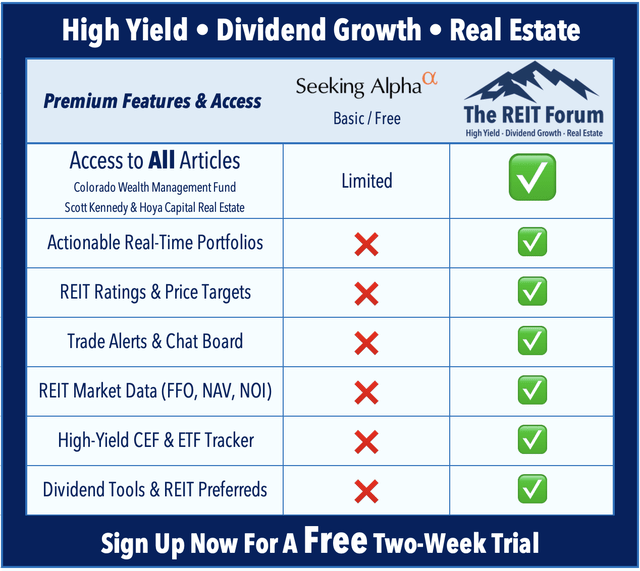 Join our Mailing List on our Website
The REIT Forum is the exclusive home to Hoya Capital premium research. Visit our website and join our email list for quick access to our real estate research library: HoyaCapital.com where we have links to all of our real estate sector reports and daily recaps. You can also follow our real-time commentary on Twitter, LinkedIn, and Facebook.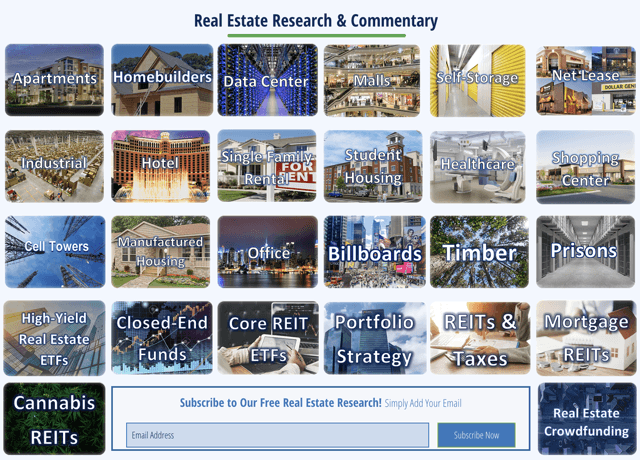 Disclosure: A complete list of holdings and Real Estate and Housing Index definitions and holdings are available at HoyaCapital.com. Hoya Capital Real Estate advises an Exchange Traded Fund listed on the NYSE. Hoya Capital is long all components in the Hoya Capital Housing 100 Index.