Real Estate Daily Recap
Our Real Estate Daily Recap discusses the notable news and events in the real estate sector over the last trading day and highlights sector-by-sector performance. Sign-up for our email list to keep up with the latest developments in the commercial and residential real estate sectors. Follow our real-time commentary on Twitter and LinkedIn and subscribe to The REIT Forum for full access to our premium analysis, exclusive tools and trackers, and The REIT Forum's exclusive ratings and model portfolios.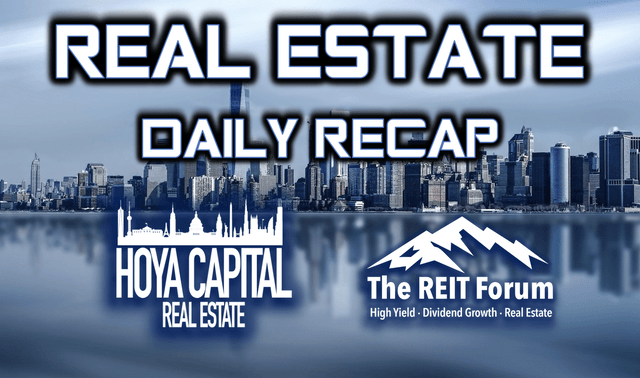 U.S. equity markets were mixed Monday as investors largely shrugged off renewed geopolitical concerns following a chaotic withdrawal from Afghanistan and weaker-than-expected economic data. Adding to gains of 0.7% last week, the S&P 500 finished higher by 0.2% today while the Mid-Cap 400 finished lower by 0.2% and the Small-Cap 600 slipped 0.3%. Commodities prices slipped while Gold (GLD) rallied. Real estate equities mixed today as the Equity REIT Index declined 0.1% with 15 of 19 property sectors in negative territory while Mortgage REITs declined by 0.6%.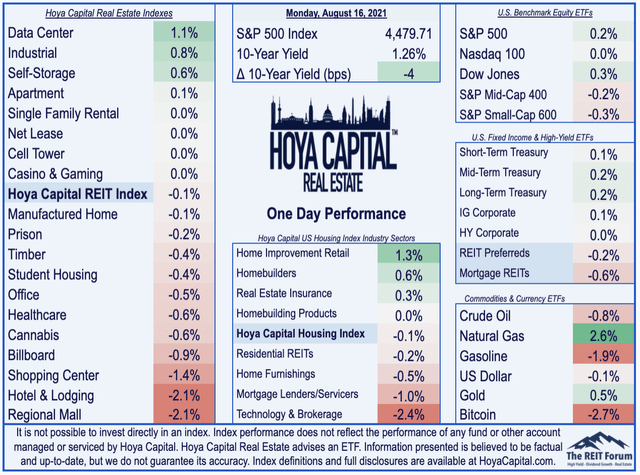 As discussed in our Real Estate Weekly Outlook, investors have continued to be unfazed by the ongoing "fourth wave" of the COVID pandemic and data last week showing that U.S. consumers suffered a "stunning loss" in confidence in early August due primarily to soaring consumer price levels. Seven of the eleven GICS equity sectors finished higher on the day, led to the upside by the Healthcare (XLV) and Utilities (XLU) sectors. Homebuilders led the Hoya Capital Housing Index today ahead of a busy week of housing data and key earnings reports this week from Home Depot (HD) and Lowe's (LOW) on Tuesday and Wednesday, respectively.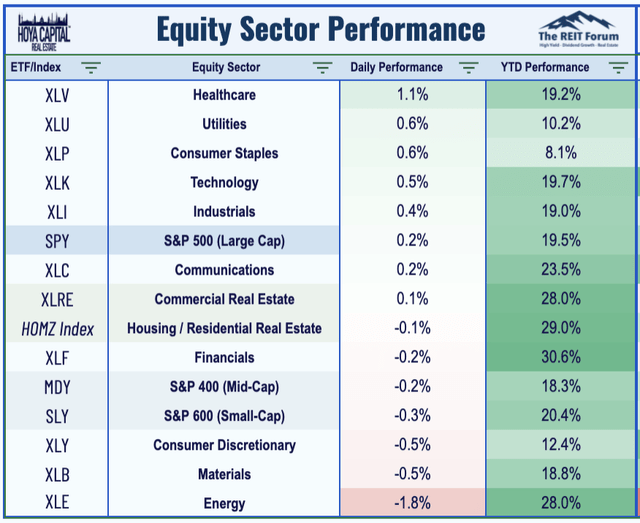 We have another jam-packed slate of economic and housing data in the week ahead, kicking off on Tuesday with the NAHB Housing Market Index for August and continuing on Wednesday when we'll see Housing Starts and Building Permits data, which is expected to show a mild reacceleration in home construction activity in July as supply chain constraints begin to slowly ease and construction materials prices cool from extreme highs. We'll also get a look at Retail Sales data for July on Tuesday, which is expected to show a continued cool down from the stimulus-fueled record-highs set in April.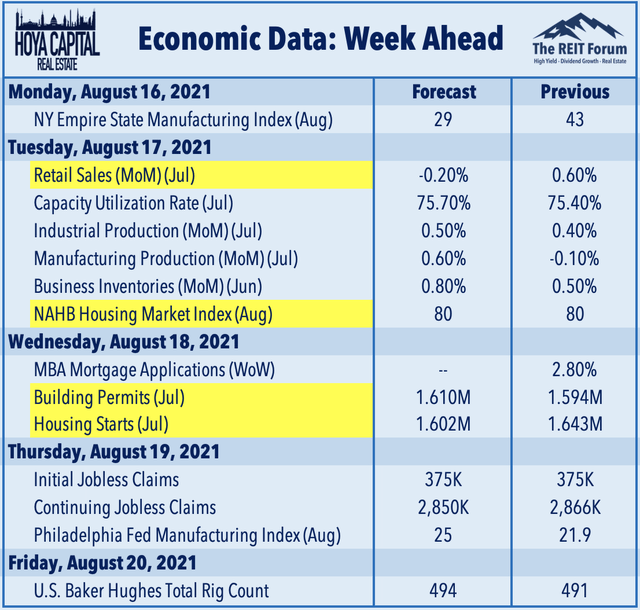 Equity REITs
Self-Storage: Small-cap Global Self Storage (SELF) rallied 5% after reporting strong Q2 results this morning, consistent with the stellar trends across the self-storage sector in Q2. SELF reported that its same-store revenues surged 11.2%, driving same-store NOI growth of 17.9%. SELF also reported that same-store occupancy increased to a record 96.3% from 92.9% at June 30, 2020. Catalyzed by the suburban housing boom and the desire for more space, self-storage demand has dramatically rebounded over the last twelve months, powering the most comprehensive "beat and raise" quarter for any REIT sector in recent memory.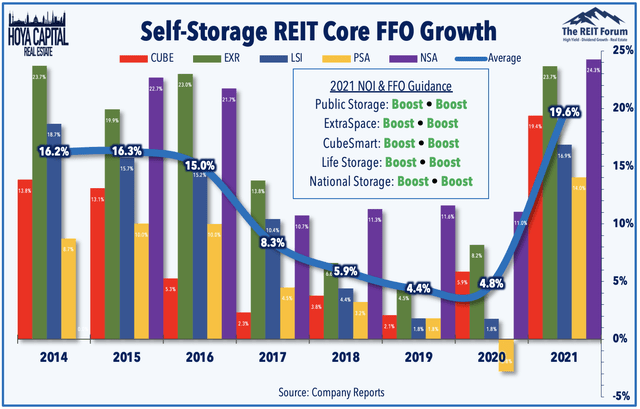 Office: NYC-focused office REITs including SL Green (SLG) were under pressure today after news that State Street is vacating its offices in New York City. A year into the pandemic, office utilization in major U.S. cities remains a fraction of pre-pandemic levels with coastal cities facing a particularly slow recovery as an increasing number of major corporations have announced delays in their plans to return to the office. Office REIT results this quarter underscored the widening bifurcation between coastal urban REITs and office REITs focused on secondary and Sunbelt markets. Led by strong results from Cousins (CUZ), Highwoods (HIW), and Piedmont (PDM), 6 of the 7 that raised their full-year outlook were secondary/suburban-focused REITs.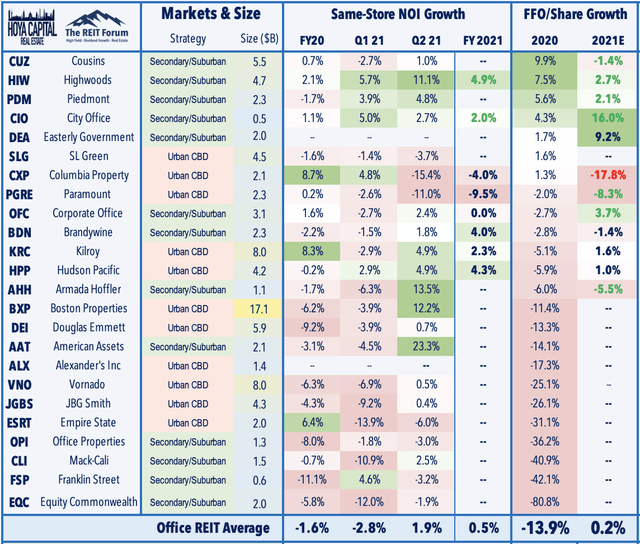 Mortgage REITs
Per our Mortgage REIT Tracker available to The REIT Forum subscribers, residential mREITs finished lower by 0.7% today after ending last week with 0.5% gains. Commercial mREITs slipped 0.4% following declines of 0.5% last week. Sachem Capital (SACH) declined 0.6% today after reporting Q2 results this morning that were roughly in line with expectations, as the small-cap mREIT reported a 56% increase in it revenue from Q2 of last year. 

REIT Preferreds & Capital Raising
Per the REIT Preferreds & Bond Tracker available to The REIT Forum subscribers, REIT Preferred stocks finished flat today, on average, and outperformed their respective common stock issues by an average of 0.87%. So far in 2021, REIT Preferred stocks are higher by 8.65% on a price return basis. The average REIT preferred pays a current yield of 6.03% and trades at a slight premium to par value.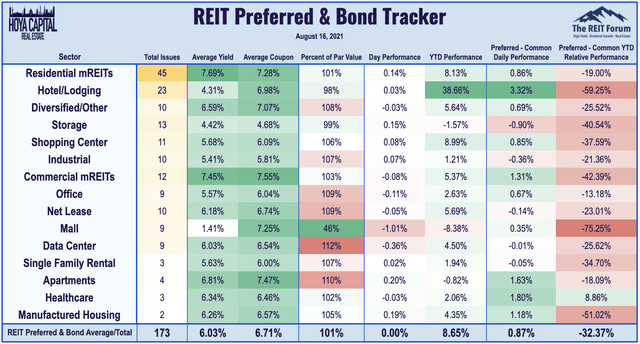 Join The REIT Forum For Our Full Research Library
Hoya Capital is excited to announce that we've teamed up with The REIT Forum to bring the premier research service on Seeking Alpha to the next level. Exclusive articles contain 2-3x more research content including access to The REIT Forum's exclusive ratings and live trackers and valuation tools. Sign up for the 2-week free trial today! The REIT Forum offers unmatched coverage and top-quality model portfolios for Equity and Mortgage REITs, Real Estate ETFs and CEFs, High-Yield BDCs, and REIT Preferred Stocks & Bonds.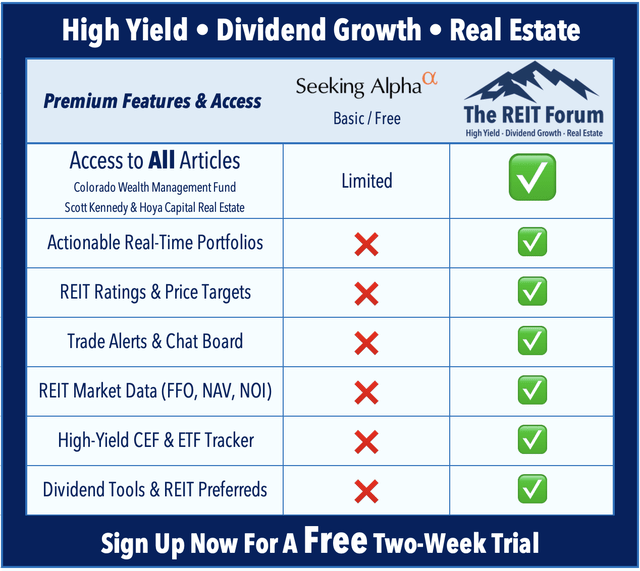 Join our Mailing List on our Website
The REIT Forum is the exclusive home to Hoya Capital premium research. Visit our website and join our email list for quick access to our real estate research library: HoyaCapital.com where we have links to all of our real estate sector reports and daily recaps. You can also follow our real-time commentary on Twitter, LinkedIn, and Facebook.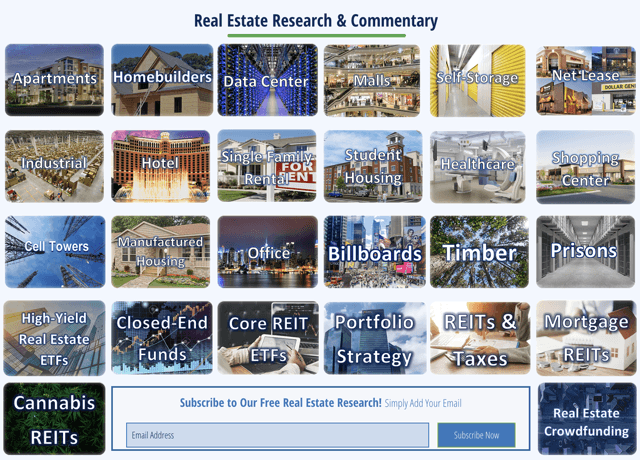 Disclosure: A complete list of holdings and Real Estate and Housing Index definitions and holdings are available at HoyaCapital.com. Hoya Capital Real Estate advises an Exchange Traded Fund listed on the NYSE. Hoya Capital is long all components in the Hoya Capital Housing 100 Index.