Real Estate Daily Recap
Our Real Estate Daily Recap discusses the notable news and events in the real estate sector over the last trading day and highlights sector-by-sector performance. Sign-up for our email list to keep up with the latest developments in the commercial and residential real estate sectors. Follow our real-time commentary on Twitter and LinkedIn and subscribe to The REIT Forum for full access to our premium analysis, exclusive tools and trackers, and The REIT Forum's exclusive ratings and model portfolios.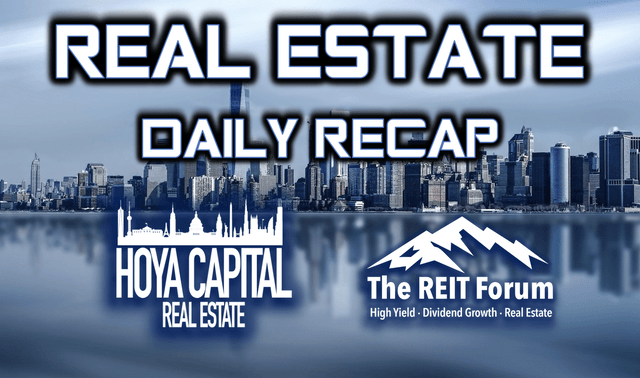 U.S. equity markets rallied to another set of record-highs Wednesday following better-than-expected manufacturing and housing data this morning ahead of the Fed's Jackson Hole Symposium which kicks off tomorrow morning. Closing at record-highs for the second-straight day, the S&P 500 gained another 0.2% today while the Mid-Cap 400 and the Small-Cap 600 each advanced 0.6%. Once again led by a rebound in the COVID-sensitive property sectors, real estate equities were mixed again today as the Equity REIT Index finished lower by 0.1% with 11 of 19 property sectors in positive territory while Mortgage REITs gained 0.8%.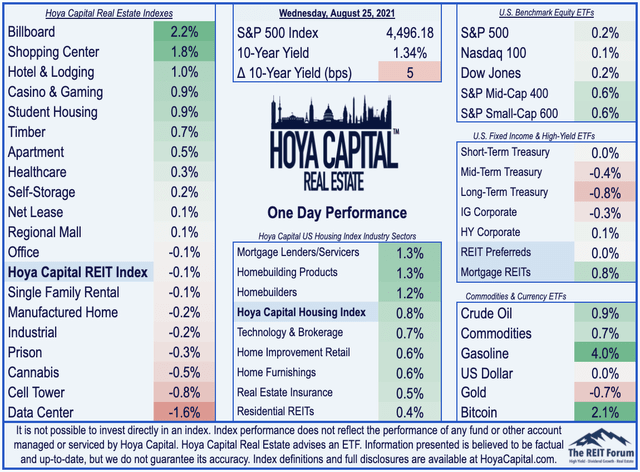 Signs of an apex in the "fourth wave" of COVID have sparked a shift back into economically sensitive assets and lifted the 10-Year Treasury Yield higher by another 5 basis points today to close at 1.34%. Seven of the eleven GICS equity sectors finished higher today, led to the upside by the Financials (XLF), Energy (XLE), and Industrials (XLI) sectors. Homebuilders and the border Hoya Capital Housing Index were again among the leaders following fresh data from brokerage firm Redfin (RDFN), which noted that homebuying activity has accelerated in recent weeks with its Homebuyer Demand Index climbing to its highest point since the week ending April 11.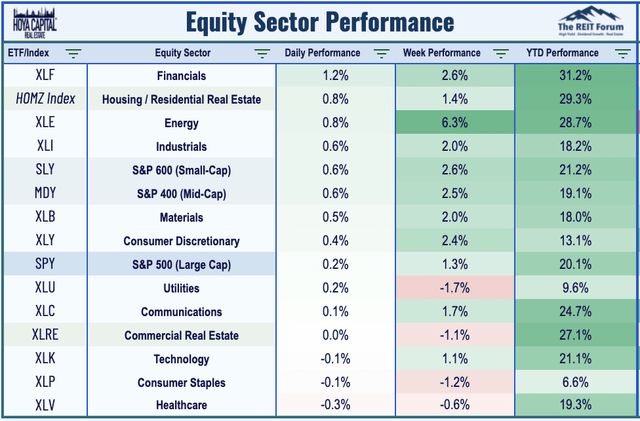 Equity REITs
Timber: Today we published Timber REITs: Upside As Shortages Ease.  Scorching-hot lumber demand from the resurgent housing industry - combined with sawmill production bottlenecks - sent lumber prices soaring to extreme levels. Inflating construction materials prices - and the outright inability to source necessary goods - forced home builders to delay projects and put many smaller-scale renovation projects on hold. Despite reporting the fastest revenue growth of any REIT sector in early 2021, timber REITs have been the weakest-performing property sector as lumber prices slump. Valuations and fundamentals appear compelling amid historic levels of demographic-driven housing demand and record-low housing supply, but investors must be able to tolerate elevated volatility and value inflation-hedging attributes.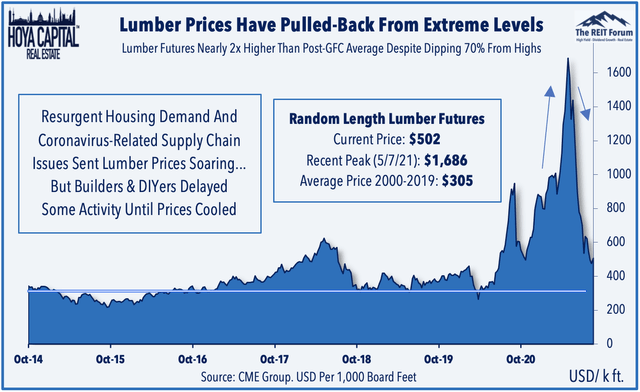 Small-Cap diversified REIT Presidio Property Trust (SQFT) declared a $0.103/share quarterly dividend, a 1% increase from its prior dividend of $0.102, becoming the 79th equity REIT to raise its dividend this year. Earlier this week, self-storage REIT ExtraSpace (EXR) and mortgage REIT New Residential (NRZ) each boosted their dividends by 25%. As discussed last week in our State of the REIT Nation report, REIT company-level metrics have exhibited a substantial rebound over the last year as FFO and dividends per share have now fully recovered the sharp declines from early in the pandemic.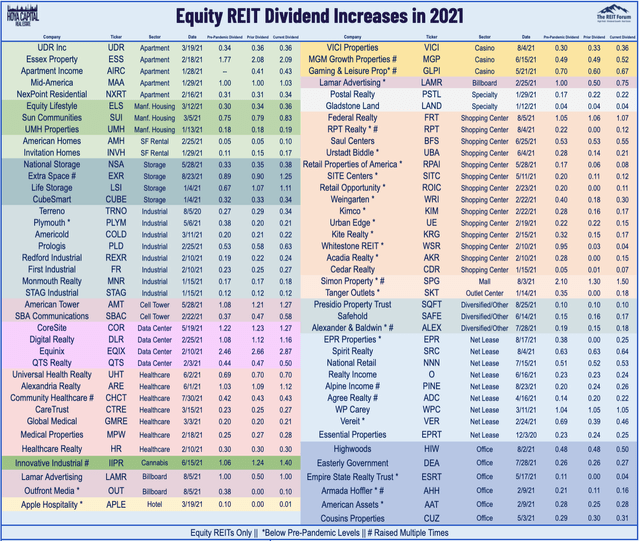 Mortgage REITs
Per our Mortgage REIT Tracker available to The REIT Forum subscribers, residential mREITs finished fractionally higher today to push their week-to-date gains to 2.5%. On a slow day of newsflow, Sachem Capital (SACH) led to the upside while ACRES Realty (ACR) was the laggard. Commercial mREITs gained 0.5% today and are now higher by 2.0% this week. The average residential mREIT pays a dividend yield of 9.0% while the average commercial mREIT pays a dividend yield of 6.9%.

REIT Preferreds & Capital Raising
Per the REIT Preferreds & Bond Tracker available to The REIT Forum subscribers, REIT Preferred stocks finished higher by 0.61%, on average, but underperformed their respective common stock issues by an average of 0.41%. So far in 2021, REIT Preferred stocks are higher by 9.70% on a price return basis. The average REIT preferred pays a current yield of 5.98% and trades at a slight premium to par value.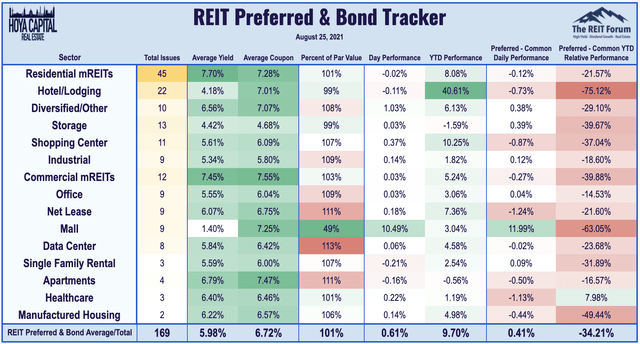 Economic Data This Week
The busy week of economic and housing data continues on Thursday as investors will be closely monitoring the Federal Reserve's annual Jackson Hole Symposium, looking for clues into changes in the Fed's outlook in light of the recent COVID resurgence. We'll see inflation and consumer spending data on Friday with the PCE Price Index - the Fed's "preferred" gauge of inflation - expected to show that consumer prices rose at the fastest rate in decades in July as well as Personal Income & Spending data.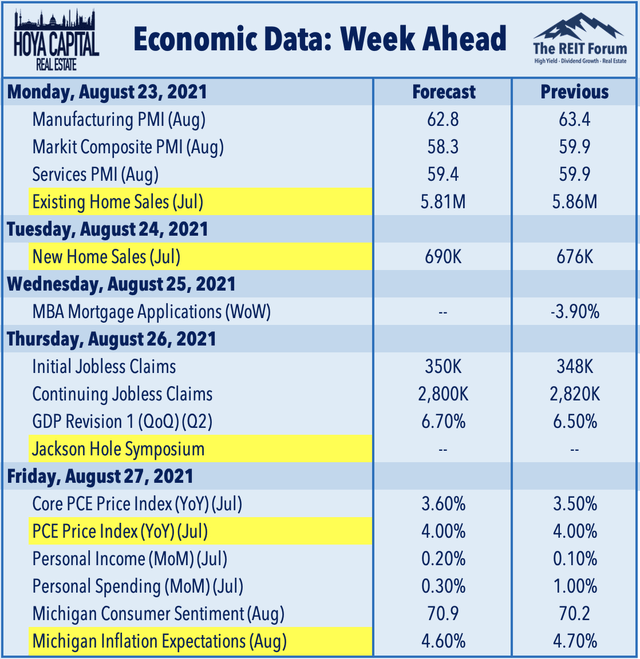 Join The REIT Forum For Our Full Research Library
Hoya Capital is excited to announce that we've teamed up with The REIT Forum to bring the premier research service on Seeking Alpha to the next level. Exclusive articles contain 2-3x more research content including access to The REIT Forum's exclusive ratings and live trackers and valuation tools. Sign up for the 2-week free trial today! The REIT Forum offers unmatched coverage and top-quality model portfolios for Equity and Mortgage REITs, Real Estate ETFs and CEFs, High-Yield BDCs, and REIT Preferred Stocks & Bonds.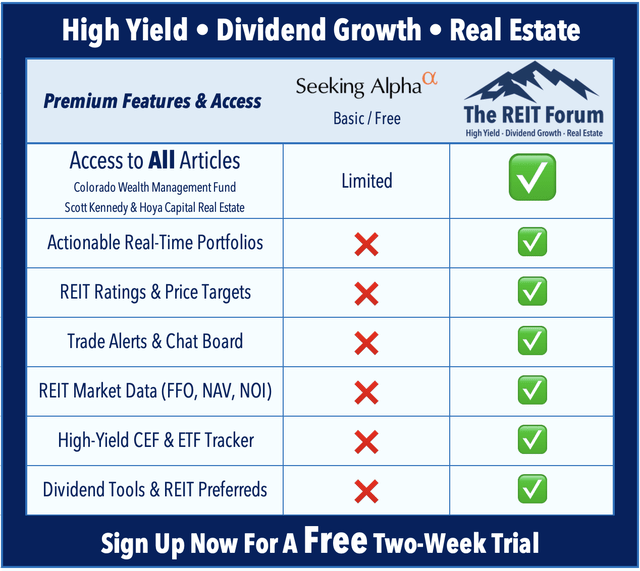 Join our Mailing List on our Website
The REIT Forum is the exclusive home to Hoya Capital premium research. Visit our website and join our email list for quick access to our real estate research library: HoyaCapital.com where we have links to all of our real estate sector reports and daily recaps. You can also follow our real-time commentary on Twitter, LinkedIn, and Facebook.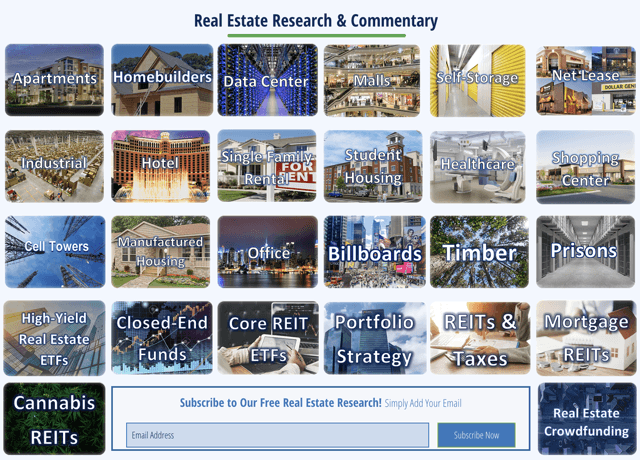 Disclosure: A complete list of holdings and Real Estate and Housing Index definitions and holdings are available at HoyaCapital.com. Hoya Capital Real Estate advises an Exchange Traded Fund listed on the NYSE. Hoya Capital is long all components in the Hoya Capital Housing 100 Index.